Boxing Weekend Preview: Eubank-Groves, PBC, Ray Beltran & more
I have experimented with the idea of a column that would make sense of the weekend, explain storylines as well as streaming options and now feel compelled to try it once again. So, for as long as it lasts here it is.
Ray Beltran fights for a world title
Ray Beltran has had a tough career working his way up as a sparring partner for Manny Pacquiao, beating Ricky Burns seemingly only to not be awarded the fight, a failed drug test, missing weight when fighting for a world title and now seemed to be on the brink of winning his first world title as he fights unknown to American fans, Paulus Moses for the vacant WBO lightweight title.
The bout which will air Friday, February 16th live on ESPN in primetime, will also be important as if Beltran gets by Moses as expected, he will be on a short list of opponents to face pound-for-pound boxing talent, Vasyl Lomachenko. Also featured on the undercard is a welcome to big stage type of fight for Egidijus"The Mean Machine" Kavaliauskas taking on for world title contender David Avanesyan. Kavaliauskas is a vicious puncher from Robert Garcia's Boxing Academy, who is known for his knockout power, but saw his meteoric climb up the ranks get stalled a bit after a very difficult fight with Cameron Kreal, who is now signed with Mayweather Promotions. If Kavaliauskas looks good in this bout, this opens the doors to big opportunities in the welterweight division.
Also featured on the card is Olympic silver medalist Shakur Stevenson and Bryant Jennings in a stay busy fights.
Chris Eubank, star-making performance?
Chris Eubank Jr. will take on George Groves in a heavily hyped bout in the quarter-finals of the World Boxing Super Series. The tournament largely has gone somewhat unnoticed in the United States as based on the lack of North American fighters in it. My personal enthusiasm is muted as well as Groves has lost in all of his big fights to date and Eubanks Jr. still appears to be a work in progress.
A lot of the fondness towards this fight boils down to how good the first Carl Froch vs. George Groves fight was as well as that in America this fight is relatively obscure and proves that you're a die-hard fan if you watch this, but forego watching fights on television later in the evening.
It will be worth a watch as Eubank Jr. is a character something boxing always needs, but with Groves never quite winning the big fight, this writer somewhat feels it will be more of the same with Eubanks Jr. getting closer to getting into a fight of substance.
Danny Garcia and Brandon Rios do battle?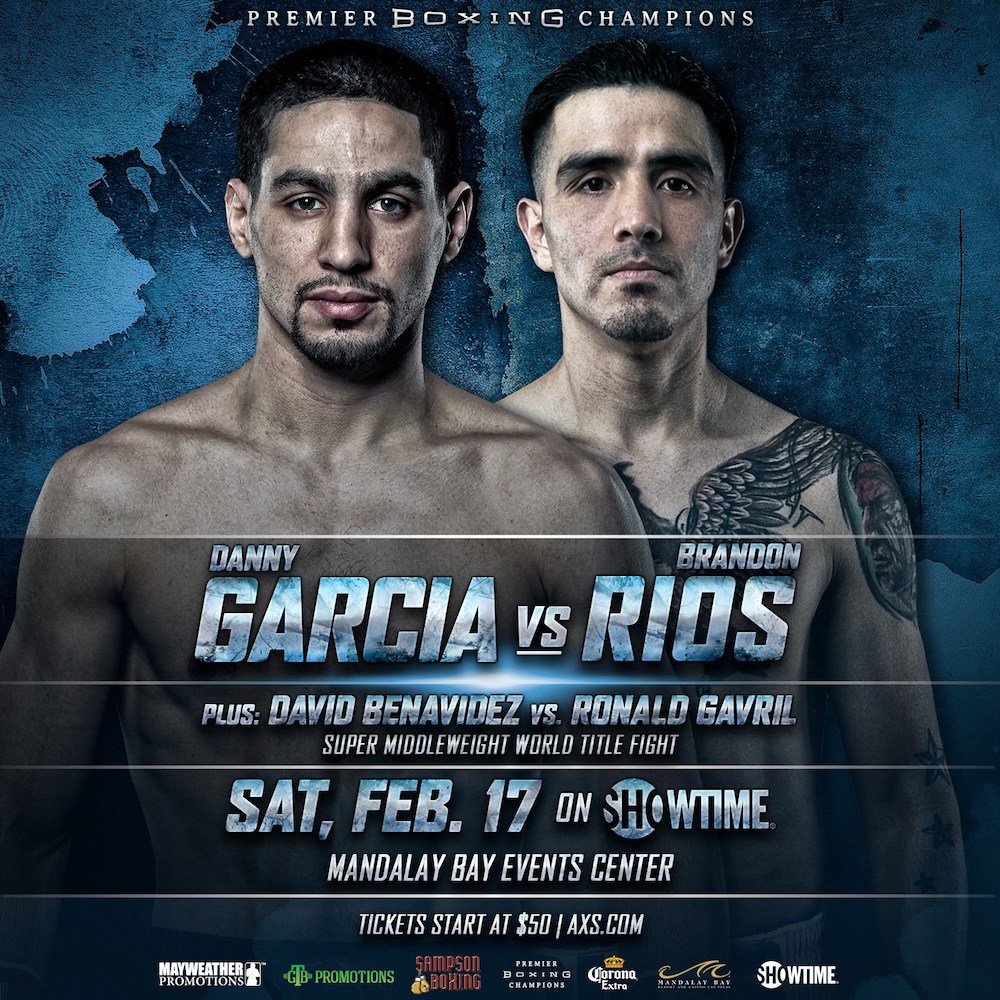 In a match-up I saw a lot of pundits laughing at, could be the one to steal the show as Danny Garcia will have to make sure his power holds up to Brandon Rios on Saturday night at the Mandalay Bay or he might have a very busy night ahead of him. The fight really lies in Danny Garcia's hands as Rios seems to be in shape, mentally ready and set to do what he does charge forward. Rios is like a dependable Toyota, it might not wow you in any way, but it will get the job done time after time, it is up to Garcia to separate himself from Rios in this fight.
Benavidez rematches Gavril
Last year, David Benavidez become the youngest WBC super middleweight champion by defeating Ronald Gavril in a hard-fought bout that saw Benavidez nearly winning the bout. Benavidez in the first bout seemed to gas out trying to finish Gavril and struggled to the finish line as Gavril.
My methodology when looking at rematches is to favor the younger fighter in the rematch, but Gavril this time is more confident and fighting in his hometown on his promoters cards making this not your average rematch.
Benavidez is the younger fighter, but at 21 years-old, one might wonder if he is a bit too young for his own good as his youthful ambition might cause problems for him in this fight or could the young champion make a statement to the rest of the division, Saturday will tell.
Also on this card is Ray Robinson vs. Yordenis Ugas in IBF welterweight eliminator for the dubious honor of a shot at one of the best boxers in the world, Errol Spence Jr's world title, as well as the return of Edwin Rodriguez, Chico, CA's Ava Knight and the professional debut of Joey Spencer.
Caleb Plant becomes a contender?
Super middleweight Caleb Plant is one of the most interesting and intriguing fighters in recent memory. The big question with Plant to this point has been punch output and Rogelio "Porky" Medina is if not one thing, active. Plant will need to show a full set of tools in this bout as this is an IBF world title eliminator with the winner fighting Caleb Truax.
As stated above with a big platform such as FOX all eyes are on Plant for him to take the next step in his career.
Devon Alexander vs. Victor Ortiz meet at the crossroads
In a bout that seemingly doesn't peak the interest of a lot of boxing fans in 2018 sees two stars of the early half of the decade fighting to see who can remain in the top tier of the division and who will get relegated to mid-tier cards and potentially ponder retirement.
Both Alexander and Ortiz looked good in their last outing, but in recent memory both have left us with a lot to be desired as Aron Martinez outpointed Alexander in a fight that most thought shouldn't have been as competitive and Luis Collazo stopped Victor Ortiz as well as Andre Berto knocking out Victor Ortiz, which sent Ortiz's career in a tailspin.
The bout features two elite fighters towards the end of their careers battling for the right to hold off the new generation of fighters.