Monday Morning Boxing Coach: McGregor Era Is Over, Zurdo Is Back, JoJo vs. Ryan Garica?
Prefer A Podcast? Listen to our show here.
The McGregor Era Is Over
It sure was fun, but as we now start to move on (slightly) from the COVID-19 pandemic, and into a new decade, familiar faces of our Saturday night fight entertainment naturally fade away, and so it is, we are seeing the twilight of McGregor's career.
The ride was fun, from a young and hungry emerging star calling his shots, highlighted by knocking out UFC legend Jose Aldo, in mere seconds. McGregor at his peak was the biggest star the UFC ever had and was what they need to bridge the gap from Spike TV to FOX, as he was a star people wanted to watch in-and-out of the ring.
McGregor kept the gritty vibe from the barely legal days of MMA, and combined it with a level of professionalism, from flashy suits to great interviews, as McGregor looked not like an athlete, but a star something, MMA hadn't truly seen before, with the exception of Ronda Rousey.
Dustin Poirier, on the other hand, a man who has fought in the UFC since he was 22-years-old, might go down as a Larry Holmes or Trevor Brebik figure, iconic for ending an era, but never getting his respect even though he beat McGregor two out of the three times they fought.
Not unlike when Mike Tyson fought Kevin McBridge, even when McGregor was having success it felt like the end was near, as his moves were no longer as dynamic, and it looked not just like the excitement of seeing Conor McGregor fight, but we also saw, a man who is 2-3 in the last five years of his UFC career.
McGregor is not as active in the sport as he once was, and even more so he is worth over 100 million dollars, leading into this bout. McGregor seems like he is trying to rekindle the magic, but in all honesty, it seems like, with a lot of the greats, Ronda Rousey, for example, his time is nearly over, as quite possibly the sport has evolved since his prime as this was Poirier's fourteenth fight over that same course of time, fighting nearly three times as often as McGregor.
For those wanting actually reporting of the bout, the two came out, McGregor started quick, but his early blitz from his prime of 2014-2016 is no longer the same, the fear isn't there, and the timing and speed isn't quite the same. The shots land and the opponents don't go down. Poirier's success in his last fight came from leg kicks, and Poirier landed a few that slowed down the fight, rather quickly. About a minute into the first round to be exact.
Towards the end of the first round, the two missed with punches in a brilliant display of defense from both, only for McGregor to look for a step-back counter left, his money punch, which in his prime, the timing was exceptional. On this night, his ankle gave way, as McGregor finished the round on his back, but was unable to get up, forcing the referee to call a halt to the bout.
Seeing the conqueror of worlds, McGregor on the ground, seemingly helpless, was a far cry from the invincibility he once held over the sport. McGregor talked trash and backed it up, now with three losses, all seemingly one-sided, one to Khabib Nurmagomedov, and two to Dustin Poirier, a lot of the luster is gone. McGregor is now, a legend, who still talks trash, but the fear is gone. He is now just a man.
Notable UFC fights that you might have missed
Heavyweight Tai Tuivasa knocked out Greg Hardy, a former NFL player, who was displaced from the league after a domestic violence case, as Tuivasa showed to be just too experienced for Hardy, who came to the sport late. Tuivasa, a heavyweight who had many ups-and-downs in his career is now on his biggest win streak in some time, which is three fights, which include also a win over Stefan Struve. Tuivasa a friend of IBF lightweight #1 contender George Kambosos Jnr, did a football dance celebration after his KO win. This is Tuivasa's second fight that has ended in less than a minute and a half. As usual, Tuivasa drank a beer from his shoe, after the win – his signature celebration.UFC @ufcDropped her and 𝗣𝗢𝗨𝗥𝗘𝗗 𝗜𝗧 𝗢𝗡 😳 @IreneAldana_ #UFC264 July 10th 2021424 Retweets1,435 Likes
Irene Aldana of Mexico missed weight by three-and-a-half pounds the day prior, went on to stop Yana Kunitskaya in the first round via brutal ground-and-pound, further proving size matters in MMA, as often times the fighters who miss weight tend to win these bouts. I once was at a dive bar attached to a chain hotel, and a marathon of Irene Aldana fights played, so I will always have a fond memory of her, as on that day getting lunch, I saw most of her career.UFC @ufcWith only 23 seconds left! ⏱ @SugaSeanMMA gets the finish at #UFC264. July 10th 2021660 Retweets3,597 Likes
If the internet was a UFC fighter it would be bantamweight Sean O'Malley, a fighter who a dynamic skill set that only a younger fighter could have a look that is that only a younger fight could have, as he defeated late replacement opponent, Kris Moutinho, with roughly 30 seconds to go in the third and final round.
Sacramento, Ca Welterweight Max Griffin won a unanimous decision over former UFC champion and MMA legend Carlos Condit. The fight very well could be Condit's last bout in the UFC.
Middleweight Dricus Du Plessis of South Africa knocked out Trevin Giles, in the second round after the bout, Du Plessis took a minute after the fight to explain how to say his name, seriously.UFC @ufcOH. MY. GOODNESS. 🇿🇦 @dricusduplessis putting South Africa on the map! #UFC264 July 10th 2021345 Retweets1,088 Likes
Jessica Eye suffered a brutal cut to her forehead in her prelim fight, which she lost to Jennifer Maia, in the 125 lbs division. Eye had trained a bit with boxing coach Chris Ben-Tchavtchavadze in Las Vegas, Nevada, prior to this bout, along with using the UFC Performance Institute. ESPN MMA @espnmmaJessica Eye suffered a nasty cut in the middle of her forehead 😬 #UFC264 July 10th 2021294 Retweets1,796 Likes
Gilberto "Zurdo" Ramirez talks with Bernard Hopkins / Photo: Sye Williams
"Zurdo" Returns With Golden Boy, Wants Bivol
Former WBO super middleweight world champion Gilberto "Zurdo" Ramirez defeated former world title challenger Sullivan Barrera, via a fourth-round knockout.
Ramirez dropped Barrera, multiple times to the body before stopping him in the fourth. The bout showed two things, Ramirez has improved in his time away from our television screens, and at age 39-years-old, as time has caught up with Sullivan Barrera.
Ramirez's end goal for the near future, one of the boogeymen at light heavyweight, and current WBA world champion Dmitry Bivol. The news should bring excitement to Bivol as well, as Bivol has been one of the best fighters on the planet, but void of any sexy match-ups that the fans were calling for, or that seemed feasible. Ramirez being with Golden Boy, who puts fights on DAZN, creates a clear path for the fight to occur.
Ramirez goes from being in the mix at Top Rank to now being one of the focal points of Golden Boy Promotions moving forward, as Ramirez appeared to be embraced by the Southern California fight fans, as Ramirez trains in the L.A. area as well. Ramirez, known for his high volume, showed an ability to fight on the inside, more so than in previous fights before.
"I think my performance was great," said Zurdo Ramirez. "I was training for the body shot, and I think it was beautiful. At 175 pounds, everyone saw a better Zurdo Ramirez. This is my division. I'm going to take the souls of all the champions in the 175-pound division."
This was one of Ramirez's best performances as a pro, as the knock-on Ramirez has been his fight often were not exciting or entertaining, stopping Barrera was a statement to change people's opinions.
The good thing I saw was despite promoter issues, inactivity, and opponents of varying levels over the course of his career, Ramirez has not decayed, but if anything has gotten better, and is a legitimate, top-10, if not top-5 light heavyweight.
Joseph Diaz Jr / Photo: Sye Williams / Golden Boy Promotions
Joseph Diaz Jr. Next For Ryan Garcia
With veteran East L.A. boxing coach Ben Lira being the main voice in Joseph Diaz Jr., Diaz Jr. got past Javier Fortuna to win the interim WBC lightweight title, previously held by Ryan Garcia, who stepped away from the sport for mental health reasons, as Diaz Jr. won a twelve-round decision in a competitive bout.
Diaz invested in the body earlier, but was cut over his right eye in the third round, the same round the referee warned both fighters, he might take a fight from either.
The referee took one point from Joseph Diaz Jr., in the fourth round, as Fortuna landed well to the body, prior as well. Fun fact, Robert Easter Jr. also lost a point against Fortuna for a similar situation.
The fifth round saw Fortuna assert himself and have the most success of the fight, coming forward, and throwing a slew of combinations.
Halfway through the fight, it was clear Joseph Diaz Jr.'s power wasn't impacting Fortuna, who was content to pick his shots on the outside. Fortuna's corner was frustrated late in the fight as they felt he wasn't letting his hands go, and felt that close rounds were too close based on inactivity. Diaz's overall talent was the difference as he took over the latter rounds to soundly outpoint Fortuna.
The battle was a fight between wills, as the experience of Diaz Jr. proved to be the difference.
So what is next for Diaz?
"Javier Fortuna was a warrior," said Joseph Diaz Jr. "I thought I would easily land body shots, but he's a slick defensive fighter. He's very talented. I wish him the best, and I hope he continues. When I saw the cut, I had hoped that it wasn't as bad as the Tevin Farmer fight. It wasn't, so I just dictated the pace from then on. I can fight all the big names, Ryan Garcia or Tevin Farmer"
With the win, Joseph Diaz Jr. looks like he might be able to land a Ryan Garica fight, and he looked mortal enough to quite possibly get it. Garcia, a star-in-the-sport, will more than likely want some advantages over his foes, and Diaz Jr. is a naturally smaller man, who looked human against Javier Fortuna.
Diaz Jr. continues to be one of the most unique stories in boxing, as coming from the amateurs he was a bright-eyed child-like pro boxer, who now looks like a man who the business of boxing has frustrated him, and possibly burnt him out to an extent. That being said, Diaz Jr might be the most talented fighter in the Golden Boy roster, or at least in the top-3.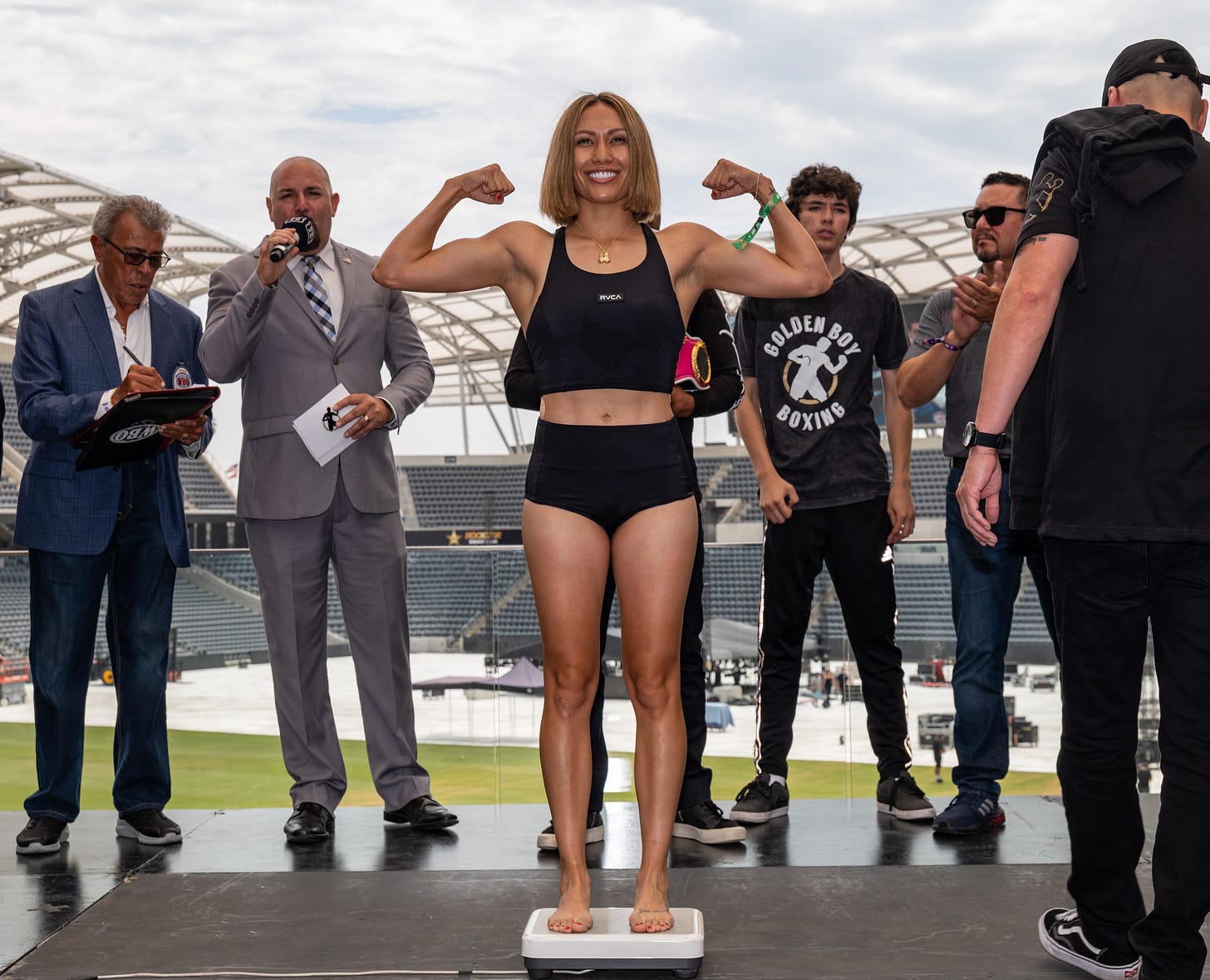 Seniesa Estrada Photo: Sye Williams/Golden Boy
The Female Ricardo "Finito" Lopez, Meet Seniesa Estrada
If ever we have seen a generational women's boxer not named Claressa Shields, we're seeing one in Seniesa Estrada. A master of angles, movement, speed, and combination punching, needed all of that to win her second world title in her second weight class, at light flyweight, defeating WBO world champion Tenkai Tsunami in an entertaining fight, via a ten-round unanimous decision.
The two traded, and made even the biggest hater of women's boxing, more than likely enjoyed this bout, as Tsunami pressured, and Estrada picked her shots. Estrada is never in a bad fight, and Tsunami made for a great foe on this stage, Golden Boy's return to the L.A. market with fans, as the little giant in the ring, entertains, and also functions as a symbol of empowerment for women across the world.
Estrada fought smart and targeted the body of a bigger fighter.
At what, do we start to consider putting Estrada on the pound-for-pound list, amongst her male peers, because she is more exciting and more noteworthy than some of the fighters who occupy those lists?
When watching Estrada, I can't help but think is that what it was like 15-or-so-years-ago when Ricardo Lopez, fought as the hardcore tuned in, and those who enjoyed the sport didn't.
Man, Estrada is something special, with a homegrown fanbase in the L.A. region, and credit to Golden Boy for believing her, and more important investing in her.
Estrada wants to be undisputed in both 105 lbs, and 108 lbs.
When asked about rematching her rival, Estrada showed little interest in a prizefight but told Esparza, she could get the rematch in the parking lot.
William Zepeda Stops Hector Tanajara Jr.
Lightweight William Zepeda is now nearing a world title as he defeated amateur standout Hector Tanajara Jr., when Tanajara's corner stopped the bout in between the sixth-and-seventh round. Zepeda isn't flashy, but he throws a lot of punches and brings a lot of pressure, as the death nail for Tanajara was excessive movement without finding his range, and catching Zepeda coming in.
Zepeda builds up steam, like a locomotive, and not unlike, once Zepeda gets going, it isn't easy to stop him. Tanajara and Zepeda split rounds early, as at the end of the third round it looked as though Tanajara had adjusted to Zepeda, but the constant pressure, and Zepeda not respecting Tanajara's power, made the bout difficult for Tanajara.
The story of the fight was Zepeda was willing to throw six, seven, eight, and even nine punches at a time, whereas Tanajara was working from the methodology of three-and-out, meaning throwing three punches or so less in succession, which usually works unless your opponent is unphased by your power.
The sixth round was pivotal as it appeared Tanajara was moving away from fighting on the inside, and trying to move around on the outside, Zepeda started to have a lot of success at the end of the round, and Tanajara's corner called the fight
Tanajara was coming off nearly a year-and-a-half layoff.
Zepeda is now 23-0, with 21 KOs in his career, and is currently ranked #13 in the WBO world rankings at lightweight.
45-Year-Old Naoko Fujioka Defends World Title Against Sulem Urbina
45-year-old WBA flyweight world champion and five-time world champion Naoko Fujioka refused to give up her world title, as she won a majority decision over Golden Boy Promotions' Sulem Urbina couldn't mount enough offense in the final bout streamed on social media, and YouTube prior to the DAZN main card, to win her first world title. Urbina took advantage of Fujioka dropping her hands when throwing body shots, as the bout was two offensive fighters, who were willing to get hit to give one themselves. Fujioka started slow, but targeted Urbina's body as the second half of the fight saw Urbina dramatically slower.
Urbina has a bad habit of abandoning her jab, which in the later rounds made the fight much harder for her. Fujioka weaponized pace, as Urbina showed the heart of a warrior, but just it wasn't her night. Fujioka is one heck of a special fighter. This is a hard break for Urbina who was coming off a hard-fought loss to Marlen Esparza and now lost her first crack at a world title.
After the fight, Fujioka said a bout with Marlen Esparza, a recently crowned WBC flyweight champion, who also commentated, looks to be the next bout which would be a unification bout in the women's flyweight bout.
Chevalier Wins In-and-Out Of The Ring, Gets Belt, and Fiance
DAZN Boxing @DAZNBoxingSHE SAID YES 👏 Bryan Chevalier with a victory in & out of the ring 💍 July 9th 202111 Retweets74 Likes
James Wilkins impressed me with his composed pressure, as he walked forward moving his head subtly, and even though Bryan Chevalier had success early, it was the will of Wilkins that would not be stopped, yet the judges favored Chevalier who won NABO WBO featherweight title, a big milestone in a young fighter's career.
Bryan Chevalier lost a point in the eighth round for pushing Wilkins head down, it felt as though Chevalier's apex might be this level of fight, but Wilkins looks to be an exciting up-and-comer, as well, and the scorecards were a lot wider than most would've expected, but after the fight, Chevalier proposed to his girlfriend in the ring after.
Lamont Roach Ready For Another World Title Shot!
A decorated amateur boxer with only one loss on his professional record being to a world champion, LaMont Roach Jr., trained by his father LaMont Roach Sr., of Team NoXcuses Boxing Gym, defeated a known spoiler Daniel "Bad Boy" Rosas, via a second-round knockout. What impressed me the most about Roach was his work to the body and his control of distance. Roach deserves a big fight and with #5 ranking in the WBO at 130 lbs division, and fought a very composed fight.
"I just implemented what we've been working on," said Roach Jr. after the fight. "I have been working on getting strong, I have been sparring top, top, top opposition, like his size and stature, tough guys, former world champions, and stuff like that."
"My dad is going to say something, he thinks the left hook is my favorite punch. [when asked about his left hook that led to the KO win]."
Other Undercard Observations From Friday
Lightweight Miguel Gaona, who is a social media influencer made a successful professional debut going four rounds with Gilberto Aguillar in a fight that pushed Gaona and showed his passion for the sport.
Super bantamweight Azat Hovhannisyan had a hard-fought victory over tricky veteran Jose Gonzalez across a ten-round win. Hovhannisyan trained with Robert Garcia in Riverside, California for this bout, and should get a big fight in his near future, names that come to mind are Diego De La Hoya, Victor Morales Jr., or Manuel "Tino" Avila. Hovhannisyan is known for his aggressive come-forward style, fought off the backfoot for the second half of the fight, which is a dimension we haven't seen often in his career, but showed improvement in his overall game.
In an entertaining slugfest between two heavyweights, Mahai Nistor stopped Colby Madison in a wildly entertaining brawler that is why people like @TimBoxeo love club shows. Madison dropped Nistor in the first round as Nistor just came forward reckless with no jabs, but Nistor dropped Madison as well in the first round. The second was the same as Madison dropped Nistor, but Nistor's power was too much, as Nistor dropped him in the second round to win the bout. Nistor should be a good local attraction, for a year or two.
Starling Castillo pulled off a mild upset with a second-round KO of Bakersfield, Ca's Miguel "Caveman" Contreras. The bout was dead-even until an overhand left from the southpaw stance landed in the second round knocking out Contreras. Castillo works with boxing power broker, Sampson Lewkowicz. Contreras appeared to get caught while he was pulling up his trunks.
DAZN Boxing @DAZNBoxingStarling Castillo put him to sleep 🤯 #ZurdoBarrera July 9th 202142 Retweets141 Likes
Gregory Morales of San Antonio, Texas fighting at 124 lbs, got veteran rounds, and a bloody nose, en route to a six-round decision win over Rodrigo Guerrero. Morales will need to work on his defense for the next level of competition.
Upsets Over The Weekend
The only upset that I know of that occurred this week was when Isa Chaniev a well-traveled pro with three losses picked up a third-round one-punch KO of previously unbeaten Nurtas Azhbenov.MTK Global Boxing @MTKGlobalWOW ‼️ A huge upset, as Isa Chaniev knocks out previously unbeaten Nurtas Azhbenov in round three. Thankfully Nurtas is ok and can definitely come again 💪 ⭐ Tursynbay Kulakhmet UP NEXT on IFL TV. LIVE STREAM ➡️ bit.ly/36rkQkr #MTKFightNight #Boxing #KazakhBoxing
July 10th 20213 Retweets13 Likes
Lyndon ArthurBoxing on BT Sport 🥊 @BTSportBoxingIntroducing No Mercy @LyndonArthur 🤬 Talk of an Anthony Yarde rematch will not distract him from his ruthless pursuit of a world title. The WBO No.1 contender is out to seek and destroy 💥 #ArthurFaraci | Saturday | BT Sport 1 HD, 7pm. July 9th 202112 Retweets63 Likes
WBO Inter-Continental light heavyweight champ Lyndon Arthur stopped Davide Faraci in dramatic fashion in the ninth round of their scheduled ten-round main event bout. Arthur is growing on seemingly everyone who watches him, sure he might not be a transcendent talent, but he is humble, getting the most for his skill set, and is charismatic. A fair comparison is to that of Sullivan Barrera, but his personality outside of the ring is closer to a David Haye than Barrera.
Coming off his win over the ultra-popular internet sensation Anthony Yarde, and with Yarde originally scheduled to fight in the co-main event. The logical next step might be a rematch between the two, as the first fight was a darn good one, that didn't get enough attention.
Would I favor Arthur over Artur Beterbiev or Dmitry Bivol? – no. Would I enjoy seeing him fight Anthony Yarde or Joe Smith Jr., totally? Arthur is a fan-friendly fighter who gives an honest effort. Boxing on BT Sport 🥊 @BTSportBoxingThat was some finish from @LyndonArthur 💥 He found the answer against Davide Faraci. King Arthur delivers on his promise to make it 1-0 England 🙌 #ArthurFaraci July 10th 202120 Retweets120 Likes
Notable Undercard ResultsBoxing on BT Sport 🥊 @BTSportBoxingThe Menace @ODennismccann is all over John Chuwa like a rash 😤 He stops him in the second round. The emphatic statement he promised 🙌 July 10th 202129 Retweets170 Likes
Super featherweight undefeated Dennis "The Menace" McCann picked up a second-round stoppage of John Chuwa who was 20-4 heading into this bout. In only nine pro fights, McCann is looking like he has the makings of being a world champion. Jon Dunham @JonDunhamNTArchie Sharp just gave him the full back body [email protected]😭😭😭😂😂😂 July 10th 20214 Retweets10 Likes
Super featherweight Archie Sharp came on after the main event, and despite winning a one-sided decision, this feels like the ceiling of his success as a professional boxer, as his opponent, Diego Andrade, offered not much resistance beyond pressure without a lot of power, yet still caused a cut on Sharp, over his eye. Needless to say, Sharp needs to develop to win at the next level. Sharp won the vacant WBO super featherweight global title with the win, meaning Sharp could be a future opponent for the winner of Jamel Herring vs Shakur Stevenson, which will be contested for Herring's WBO super featherweight world title. Sharp is a good regional draw who needs to improve to enter a serious conversation on the world level.
Undefeated super middleweight Zach Parker won the WBO international super middleweight title by knocking out 41-year-old Sherzod Khusanov in one round, this is followed by his second-round KO of Vaughn Alexander, the brother of Devon Alexander, Parker is getting on a bit of run since his split decision win over Darryll Williams, which cooled excitement around his career at that time.
Tursynbay Kulakhmet Good, But Still Getting Used To Being A Pro
Tursynbay Kulakhmet is a Kazakh boxer, who recently turned pro, and is not going to the Olympics despite being ranked #3 in the world, training with Jamie Moore, and working with MTK Global belief is high that in three more fights the 154 lbs fighter will be ready for a world title.
Kulkahmet is a good fighter, he might be a special one, but one thing that stands out is the junior middleweight still has some habits from amateur boxing that need to be converted for the top fighters in his division, by that I mean, an overcommitment to offense, flurries, etc, while leaving himself prone to being hit. Kulkahmet competed at light heavyweight as an amateur, in which he was ranked #3 in the world this year, despite being pro since August of 2020.
Kulakhamet stopped Aleksei Evchenko in ten rounds his homecoming, as Kulakhamet is an interesting fighter to observe, as he will be in a meaningful soon.
The main event saw fellow Kazakh boxer Sultan Zaurbek win the WBO super featherweight European title over Ronnie Clark, who took the bout on a three-and-a-half-year layoff. Clark's last fight was a memorable one beating Zelfa Barrett.
Zaurbek won a unanimous decision over Clark winning every round.
We still haven't seen Zaurbek fight someone his own size, yet, let alone.
The Junior Olympics Are Taking Place In Lubbock, Texas
Stand-out fighters:
Deric "Scooter" Davis out of the D.C. area is a big puncher, who has skills to boot, and picked up a first-round stoppage early in the tournament. Davis has a dynamic personality, with skills to boot, and will be a fighter I feel fans will be drawn to.
San Francisco, Ca's Steve Johnson might be having the most impressive tournament of the bunch of athletes as he has already recorded two wins, including a win over the number one seed, Diego Bengochea.
Javier Zamarron had an impressive win over Danny Bodish, who is a solid boxer in his own right, as the 125 lbs division is one of the more noteworthy elite divisions.
165 EM Onaje Bullen has stood out as a fighter who can perform on the national level and could season into a force over the next few years.
A notable youth fighter at 141 lbs is Ferris Dixon, out of Detroit, Michigan, who has good use of range, and uses feints well for a young boxer, as well as YM 114 lber Jordan Roach, who is the brother of Golden Boy Promotions' Lamont Roach Jr., and coached by Lamont Roach Sr., out of the No Xcuses Boxing Gym. Jordan Roach is a good pressure fighter who targets the body well. Roach recorded a second-round stoppage of Allen Lee in his first fight
Sacramento, CA's 138 Lorenzo Powell is looking extremely good in the 138 lbs Men's Elite division with good power and speed, and despite losing to "Scooter" Davis looked good in his fights.
PA's 125 lbs Danny Bodish, trained by Tom Yankello, fought well, and was noteworthy despite not making it to the finals, and will be someone fight fans get to know, soon.
Soliman Loses
Former world champion Sam Soliman lost a 10-round decision to Victor "Hot Chilli" Nagbe, in a ten-round fight in Australia. Soliman is 47-years-old, and hopefully he doesn't need to fight for the money in future bouts, as it is hard to see veterans of the sport continuing late into their career.