Mikey Garcia Fights In Fresno + ESPN+ World Title Fight Info
Mikey Garcia To Fresno
Mikey Garcia is one of the best fighters of his era, and beyond that, more than likely the most popular Mexican-American boxer who is active in the sport today. So fighting in Fresno, California, a region that has deep ties to his stablemate, Jose Ramirez, and has been promoted over the years by California boxing legend Rick Mirigian, who has been one of the most successful young businessmen in boxing in the past decade, will see Mikey Garcia fighting at Chuchanski Park, this Saturday, October 16th, with the undercard starting at 1:30 PM, and the main card beginning at 3:30 PM PST.
"It's been a year and a half since my last fight, so I am excited to get back in there," said Garcia. "I am looking forward to giving my fans a chance to see me again, especially here in Cali, it's my home state but I haven't fought much here."
It is no secret – if you go to this fight you will be going mostly to see Mikey Garcia fight, and not because of the match-up itself as Sandor Martin, a solid-regional pro, on paper is heavily outgunned by the vastly more talented Garcia, yet Garcia – who has some of the best footwork in boxing, and controls the ring like a Klitschko, is worth admission.
The undercard will feature WBO light-flyweight world champion Elwin Soto versus Jonathan Gonzalez, and sadly Jesse "Bam" Rodriguez, a beloved light flyweight with pound-for-pound level talent, will no longer be fighting for a form of the WBA world title, but rather against Jose Burgos, who will take the fight on short-notice after the world title fight fell through.
Notable undercard attractions are Fresno's own, Marc Castro, one of the best amateur California has had in some time fighting in the same venue he fight as an amateur years prior and his first time fighting in Fresno as a pro, as well as Brisbane, Ca's Charlie Sheehy, a fighter who qualified for the Olympics in 2020, but due to COVID restrictions saw his spot go to Keyshawn Davis, who had a star-making performance at the Olympic Games. Sheehy is a special talent.
Other guys to note, Khalil Coe, who is best known for knocking out Olympic Gold Medalist Julio de la Cruz in the amateurs will be in action, Nikita Ababiy will face the tough veteran Sanny Duversonne, Diego Pacheco will be in-action as well.
Interested in going to the fight? You can buy tickets here
Crawford vs. Porter Press Conference
Terence Crawford and Shawn Porter will meet for the WBO welterweight world title come, Saturday, Nov. 20 at Michelob ULTRA Arena at Mandalay Bay in Las Vegas, presented by Top Rank and TGB Promotions, Crawford-Porter will be a Top Rank PPV exclusively on ESPN+ in the United States at 9 p.m. ET/6 p.m. PT. Tickets can be purchased by visiting AXS.com.
Notable quotes from this.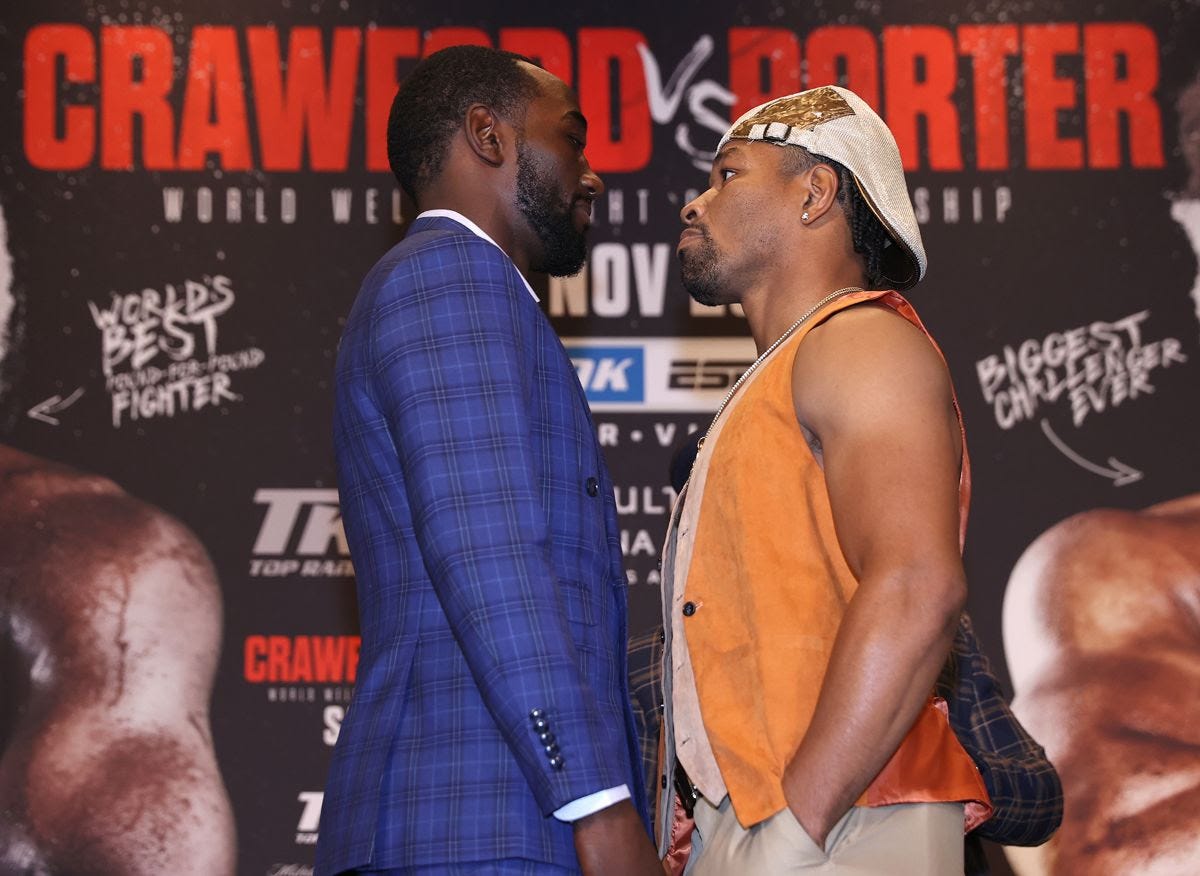 "It's put up or shut up. In my eyes, I can stand up and pull my shirt out and I can really show this 8-pack I got because you know I stay working. I stay working. That is nothing new to me, and it isn't anything new to you. You know what you are up against on November 20. I know what I'm against on November 20," said Crawford. ""A dominating win against Porter will boost my status as the number one pound-for-pound fighter in the world."
"We can talk all about resumes, but when I look at his resume, nobody that has been in the ring with him, knows him as I know him. The best of Terence Crawford will bring out the best of Shawn Porter. What I do know is November 20 is a big day for boxing and it will be a big day for Team Porter," said Porter. ""He is a dominant fighter. Everyone he gets in the ring with, he dominates. I want to be the one fighter that he can't dominate. Everything that is required to beat Terence, I got it. It's time to take on this challenge."
On paper this is the best fight for Terence Crawford to date, and one that should take Crawford's career to the next level with a dominant performance, but do not underestimate Shawn Porter, a man who has been competitive with every fighter he has faced.
World Title Fight on ESPN+, Friday.
Emanuel Navarrete will face Joet Gonzalez for Navarrete's WBO featherweight title, hamaking it the second time Gonzalez will fight for that title in two years, as his previous attempt was in a losing effort to Shakur Stevenson.
Navarrete is tough and untraditional, and I think if some got descriptive with words they could even say borderline awful – in terms of technique. Navarrete is a terminator, and a tough guy, not unlike Miguel Berchelt, in which his biggest asset is boxing is a physical sport, and fights not unlike a Rocky Mariciano in which his toughness tends to defeat his opponents, along with unusual punches he has perfected like the lead-left uppercut.
Joet Gonzalez is a smart pressure fighter, in the mold of world-class Mexican pressure fighters before him. A thinking man's fighter, who looks to apply the pressure, but also will throw a lot when inside what he deems his punching range.
This fight is a 50-50 fight for me, as Gonzalez is very tough, but Navarrete has proven to be a very formidable world champion, based on sized, strength and toughness.
Undercard
Giovani Santillan will face Angel Ruiz in a welterweight co-main event, the two sparred about 4-years ago, and Santillan who trains at the Robert Garcia Boxing Academy, and resides in San Diego where the fight is happening – is looking to make a statement. Santillan is promoted by Thompson Boxing and Top Rank Inc.
2019 Olympic Trials winner Javier Martinez will face Darryl Jones, as Martinez's last two KO wins have been very impressive, and Martinez – who is 26-years-old, should look to get fast-tracked over the next year. So in this fight, I am looking to see him make a leap from prospect to fringe-contender.
2016 Mexican Olympian Lindolfo Delgado will be in action on the undercard as well. Delgado is a very big puncher.
2019 Super Heavyweight Olympic Trials winner Antonio Mireles, who trains out of Robert Garcia Boxing Academy, will turn pro on this card. Mireles is a 6'7" heavyweight, who is known for incredible cardio as well as his physical gifts.
Floyd Diaz, known as "Cash Flow", will be in action in a four-round bout as well.
Regional Fights
Merced, CA's Jesus Haro, a straw weight will be in action in a six-round fight in Mexico City, Mexico.
IBF cruiserweight champion Mairis Briedis will look to defend his title against Artur Mann. Briedis will head to heavyweight more than likely soon.
Triller Fight Club has gone from being Teofimo Lopez versus George Kambosos Jnr., to now being Daniel Gonzalez vs. Petros Ananyan, and Cletus Seldin vs. William Silva – which are not bad fights, but fit the bill of regional and not world-class boxing, or world-class compared to its previous main event. For Triller, this will be a very humbling experience as this will more than likely be the first card in which they're largely ignored by most of the boxing media, which somewhat goes against their mission statement of "look at us." – a troubling trend.
Hughie Fury will face Christian Hammer in a twelve round heavyweight bout, that will air exclusively to U.K. fans on Sky Sports. The fight should be a good regional draw after the success of his cousin, Tyson, last weekend having one of the best heavyweight bouts ever.
Savannah Marshall will look to defend he WBO middleweight world title against Lolita Muzeya. With Claressa Shields fighting on this same boxing program channel, one could only imagine this will be the gateway for that bout.
Chris Eubank Jr. will face . Wanik Awdijan in a middleweight bout. Eubank Jr. was originally set to headline the first Boxxer card, but saw his opponent removed late. This should be a dominate performance for Eubank.
In a fun fight, U.K. regional fighter Lewis Ritson, who just signed with Probellum, will face aging veteran Hank Lundy, who gave Jose Zepeda a tough bout in their last outing. The bout will be a trajectory fight for Ritson – who has been shaky at best against world level opponents. 
MMA in 500 Words Or Less
Aspen Ladd vs. Norma Dumont – Saturday, ESPN+ 4 PM EST
A two weeks after a scary weight cut that cost Aspen Ladd her fight, she will return to action against Norma Dumont. Aspen Ladd is one of the most talented 135 lbs fighters in the women's division of the UFC, but an overarching theme of scary weigh-in video is a theme that is following her. It will be hard to look at this bout as "just a fight", if you saw the image of her on the scale weeks ago.
Former UFC heavyweight champion and longtime veteran of the sport Andrei Arlovski will be in-action as well as lightweight veteran Jim Miller, and popular social media figure, Julian Marquez.
The card will be
Bellator
Bellator offers a Friday night card on Showtime, with Vadim Nemkov fighting Julius Anglickas in some form of a tournament semi-final, but most importantly, for the Bellator light heavyweight title. Hopefully someone comes out of this bout with traction. The hard part is, if the UFC put forth this card it would be vastly more watched than if Bellator promoted the UFC card, so the major issue – I see, is Bellator needs to standout more, and be more visible.
The co-main event will feature Ryan Bader versus Corey Anderson in the other light heavyweight semi-final. Bader has revived his career in Bellator and become one of the organizations legendary fighters since his tenure with the org.