Boxing TV Schedule: Gervonta Davis vs. Rolly Romero PPV

Saturday, May 28th, 6 PM PST | Showtime PPV ($74.99)
The biggest fight of the weekend will see three-division world champion Gervonta "Tank" Davis fight brash trash talker Rolando Romero in a 12-round PPV fight that will occur at the start of summer, Memorial Day weekend.
On paper, Davis holds every edge in terms of pedigree, skills, talent, etc, but Romero is not unlike Deontay Wilder, his power changes everything. The refreshing rivalry sees two fighters who don't like each other at all, as the beef stems from Romero claiming Davis didn't show up to spar him. This feud has now turned into a war of words, and pride that will be the centerpiece to start a loaded summer boxing schedule.
Davis is a unique character. A lower-weight fighter with all of his wins, but one coming by way of knockout. Davis emerged around the time Chief Keef transformed rap, depicting the projects, and gang warfare in catchy songs that played in ballparks, the suburbs, and classrooms. Keef figured out how to make the hood into a meme, and create an archetype from tattoos to certain clothes that still has an aesthetic most who subscribe to his cultural inspiration adhere to.
The genre that was started was called "drill music". Essentially, drill meant murder, and it was rapping about that. Davis has the look, and the aggression that speaks to this movement, and I think that has mirrored his success commercial along with his relationship with Floyd Mayweather. In many ways, Davis is to the modern rap culture as Joe Calzaghe was to the Cool Cymru movement.
Romero on the other hand is a healthy underdog, but don't discount him. Romero is fearless, and also hits really friggin hard. That being said a week after this fight we're getting a lightweight title fight for all four belts between George Kambosos Jnr. taking on Devin Haney, which comes with a standalone, ESPN subscription.
The hard sell for some is the price of living right now is crazy in California, it costs nearly $70 to fill up a tank of gas, on a fuel-efficient car, my weekly groceries are now $ 50 more expensive, and it feels as though people are so tired of being in from the pandemic, so they will stomach the prices for a summer of fun. Every purchase right now, you feel like a consumer, and though I love seeing fighters paid fairly, this marks an alarming trend of too many fights on PPV.
We started the year with Luis Ortiz vs. Charles Martin on PPV, followed by "Tank" Davis vs Mario Barrios, Tyson Fury vs. Dillian Whyte, Canelo Alvarez vs. Dmitry Bivol, and now we have "Tank" vs Rolly. In total that is essentially $300 extra to all the other things going on in your life.
So, while I am excited about this fight, as I think it will be one of the better action-packed bouts of the year, which has a real chance to be a classic. I also don't fault anyone who is sticking to spending a ton for a cable package, gas, food, and everything, being fed up with all these paywalls.
I personally believe that Romero has all the tools to shock the world, and rarely is in a bad fight, but it is hard to not bring up the financial climate when looking at this bout.
undercard
The co-main event sees Erislandy Lara now fighting at middleweight when he was a somewhat small 154 lber fighting Gary "Spike" O'Sullivan in a fight that should be a showcase for Lara, but let's not act like this fight could get weird, or go the full duration void of highlights. In a perfect world, Lara gets some type of highlight-reel fodder in this fight that propels him into Showtime Championship main event-type bout, probably against one of the Charlo brothers, either Jermell who is undisputed at 154 lbs, who might move up, or Jermall who is at 160 lbs and hold a belt.
Our guy Jesus Ramos Jr., a future superstar at 154 lbs, seems to want to get some get back for his uncle Abel as Lucas Santamaria just beat Abel Ramos, Jesus Ramos Jr.'s uncle, and now Ramos Jr is fighting Santamaria next. Santamaria is a solid prospect who has a couple of losses and has a high work rate. The problem is Jesus Ramos Jr. looks to be the goods and just fought a similar, and in my opinion, a more dangerous fighter in Vladimir Hernandez. I am impressed with the type of fights Jesus Ramos Jr is taking in a back-to-back fashion.
Ramos Jr. is being groomed to be a dominant world champion.
Eduardo Ramirez, who reminds me of a modern Miguel Marriaga, the man he just beat as well, will face Luis Melendez, who should've lost to Thomas Mattice on a Top Rank undercard. This fight should produce a highlight-reel moment for Ramirez.
Beyond this, the only other fight listed, the Tuesday before the fight on the off-tv undercard is, Luis "Cuba" Arias, who coming off an undercard loss to Vaughn Alexander, who since he got that big win hasn't gotten a fight.
I hope that in the future we can get the undercard released a bit earlier, so I can notify y'all of potential good fights.
---
Rest In Peace Gary Russell Sr.
---
Clubs Shows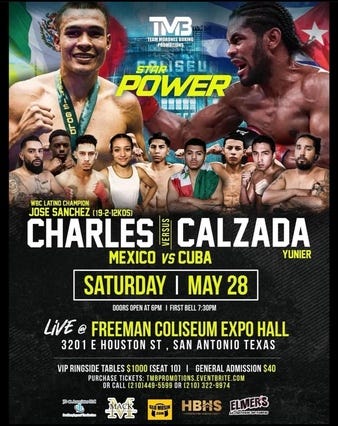 Hayward's own Aaron Coley returns to action in Texas against Cem Kilic in an interesting bout that I wish could've ended up on a ShoBox-type card as this is an evenly matched bout that should get the winner in the spot for a compelling fight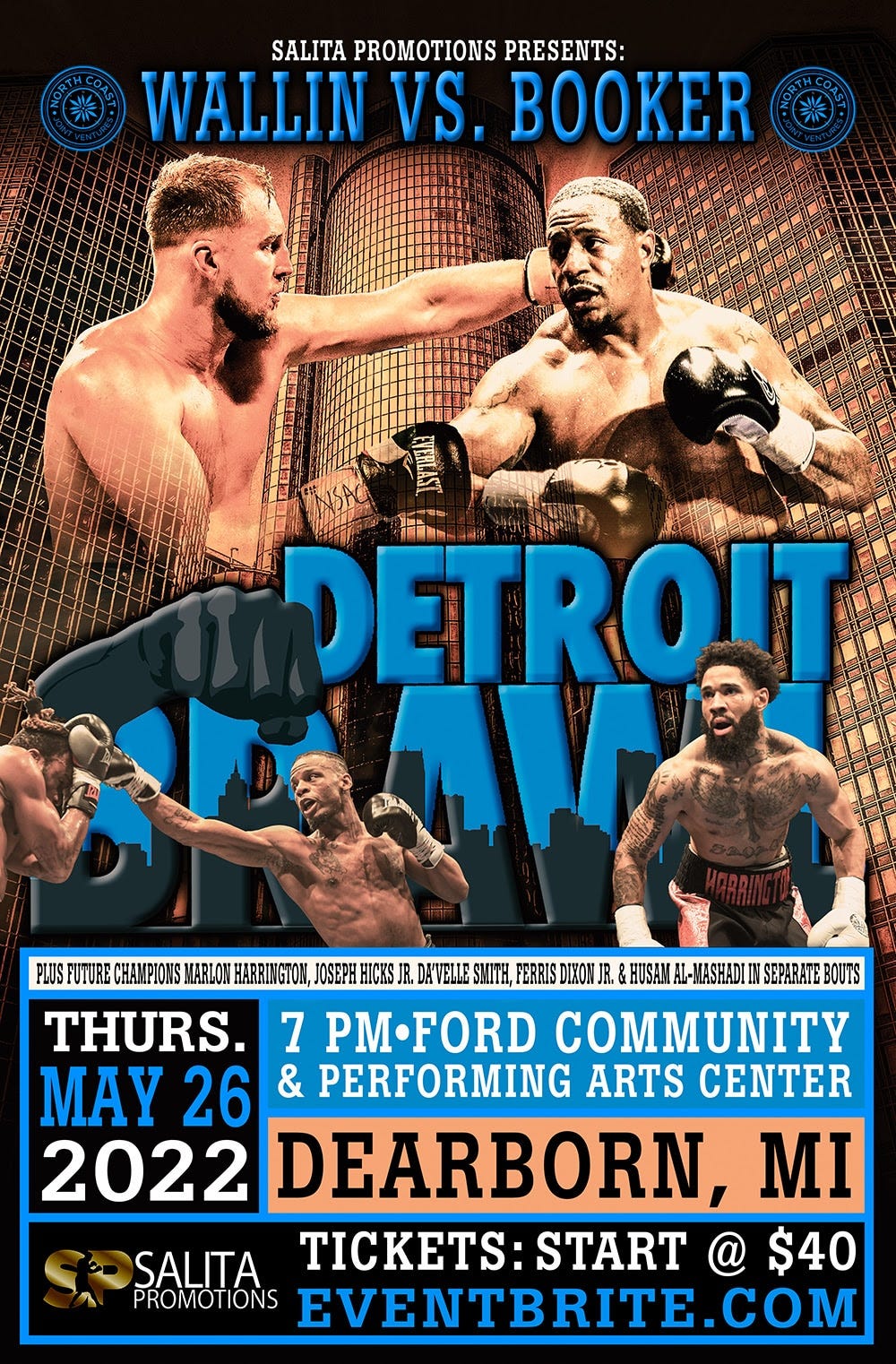 This Thurday Otto Wallin returns on a regional card against Rydell Booker, after Dillian Whyte pulled out of a fight against Wallin only to fight Tyson Fury. Boxing sucks sometimes and Wallin is being avoided, and no one is really speaking out on it. I hope he gets a high world-ranking and big fights get issued for him. Wallin really deserves more for his performance against Tyson Fury.
140 lber Shohjahon Ergashev will face Luis Alberto Veron. Ergashev is a guy who should be in the world title picture once the belts start to free up.
Joseph Hicks Jr. will be in action against Bruno Leonardo Romay. Hicks was on the 2020 Olympic team, but due to qualification standards, was not allowed to compete and was replaced by Troy Isley. Hicks is someone to chart his progress as a pro.
–
Merced's Daniel Haro will face Moises Garcia Zenteno in a six-round featherweight bout.
–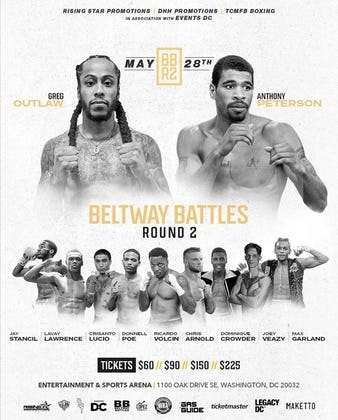 On the east coast, a slew of stay-busy fight will occur as Greg Outlaw Jr. faces Wilfrido Buelvas, Anthony Peterson takes on Saul Corral, and Domnique Crowder looks to beat Yeison Vargas. All three of these fighters are two-to-three fights away from a compelling match-up.
–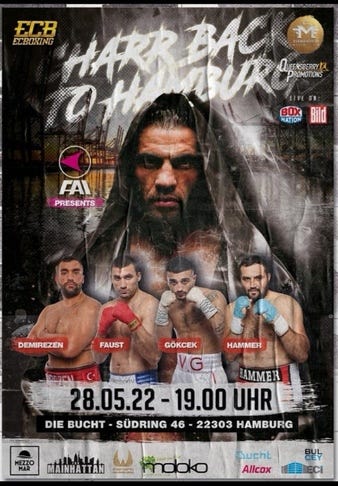 Mahmoud Charr, who holds some form of a world title will face vs. Michael Wallisch.
On that card, Ali Eren Demirezen will face veteran heavyweight journeyman Kevin Johnson.
–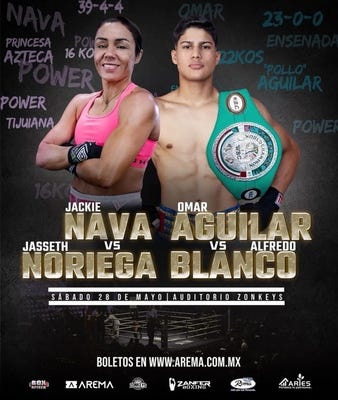 Women's boxing royalty Jackie Nava will face Jaseth Noriega in Mexico. Nava is one of the greatest fighters ever, and is often forgotten since she came before the streaming era.
–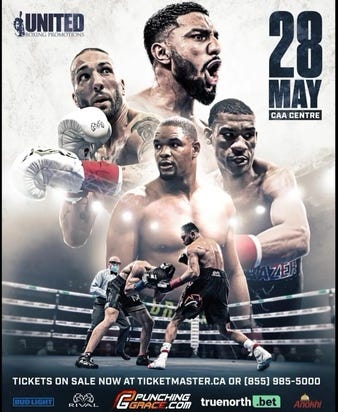 Mary Spencer, a very good pro, who can fight a slew of good fighters will be in action, and is closing in on a title shot.
–
Dalis Kaleiopu fights Wednesday in Beverley Hills, California, the event is confusing as it is listed on BoxRec, but is not listed on the Golden Boy Promotions website, and they are stated to be the promoter.
–
Ronald Gavril will fight in Mexico, as that means the super middleweight must be eyeballing, a guy like Anthony Dirrell, Caleb Plant or David Morrell as he is getting in a win real quick, and might return with a big bout. Gavril had a fight of the year contender with David Benavidez, some years ago.
---
MMA In 500 Words Or Less
No fights that matter this week.