Inoue Wins, Looking Ahead To Michel Rivera vs. Frank Martin | Boxing TV Preview
Inoue Wins In 11
Naoya Inoue continues his domination of boxing as not just is Inoue now a multi-weight world champion, but he is now the undisputed 118 lbs champion, holding all the belts at 118 lbs that matter.
His standard we have come to know, also was his curse on Tuesday morning as Inoue has made a career out of knocking out world champions rather quickly, and Paul Butler entered this fight with one major plan it seemed – survive. Butler took Inoue eleven rounds before being stopped, as the fight was rather uneventful and somewhat repetitive. The old adage goes, it is hard to stop a fighter who is not trying to be stopped and that is exactly what we saw on Tuesday night.
Inoue is the best guy in the lower weights now. All we ask for as fans are some compelling fights in 2023.
---
Rivera vs. Martin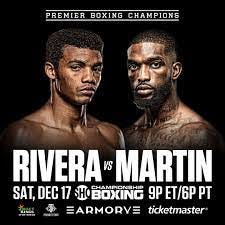 Michel Rivera will face Frank Martin with the WBA lightweight world title shot on the line. It is not made clear which world title shot would be granted, but given Showtime and PBC have a very good relationship with Gervonta "Tank" Davis, the working theory most might assume would be the winner would be in line to fight Davis, and not Devin Haney, as Haney and Davis both hold a form of the WBA lightweight world title.
The bout is interesting as both fighters occupy a similar space in the sport but in different ways. Michel Rivera has been heavily avoided and had trouble landing fights. Frank Martin is one of the breakthroughs of 2022, as his partnership with Derrick James, has made him a marquee fighter in the lightweight division.
Both guys are good. Rivera feels as though he has been held out at his shot for glory, while the general public seemingly has taken a liking and been drawn to Frank Martin, who has become a popular figure in the sport. What does this fight mean?
The winner of this bout, becomes a major player in the division, and the loser has to fend off some tough opposition.
undercard.
Former world champion Jose Uzcategui will face Vladimir Shishkin, for the IBF super middleweight eliminator, making the winner mandatory for Canelo Alvarez's world title, though I vaguely remember William Scull winning an IBF eliminator in the summer.
Uzcategui has been guy who has struggled since losing to Caleb Plant at the world level, and Shishkin hasn't gotten his chance to fight a top-level opponent. This is a big opportunity for both fighters.
Rounding out the television portion of the card we have an evenly matched fight between Nikolai Potapov and Vincent Astrolabio, with the IBF bantamweight eliminator on the line. With Inoue more than likely vacating the division, the winner is in a very prime position in the division.
undercard.
A great 140 lbs fight will see Omar Juarez, a tough battle-tested fighter, looking to get into contender status taking on Austin Dulay, a known tough opponent, who had an extensive amateur career.
My fight of the night will be streaming on BXNG.TV, will see the very dangerous Kevin Johnson, who is the self-proclaimed "gatekeep of the Mayweather Boxing Gym", facing one of the toughest fighters in Northern California, Cristian Baez. This is a true 50-50, and Baez will more than likely have a chip on his shoulder after losing via a knockout to Ruben Torres in a less-than-honest manner. 
Elijah Garcia taking on Cruse Stewart in the middleweight division is one to keep your eye on, as Stewart is dangerous, and it will tell a lot about Garcia.
Kenneth Sims Jr. will be back in action against Nicolas Pablo Demario, at 140 lbs. I hope Kenny Sims Jr., can land a big fight. He has a ton of talent, and it somewhat is depressing seeing him sitting on undercards.
Adrian Benton, a talented 140 lber, who is trained by 2022 Amateur Boxing Coach of the Year, Kevin Benford, is someone you need to be aware of in the future. He has the makings of a top-10 world-class fighter.
Two other Mayweather Promotions fighters to watch for, Micky Scala, 154 lber, who is a fan favorite, and Jalil Major Hackett, who is a big punching welterweight, who was met with a lot of fanfare when he signed with the company. 
Decorated amateurs such as Ray Ray Robinson, a featherweight, and 130 lbs. Robert Meriweather will be featured on this card as well. 
A lot of fights, it would be a good card to see live.
---
Toscano Boxing In Stockton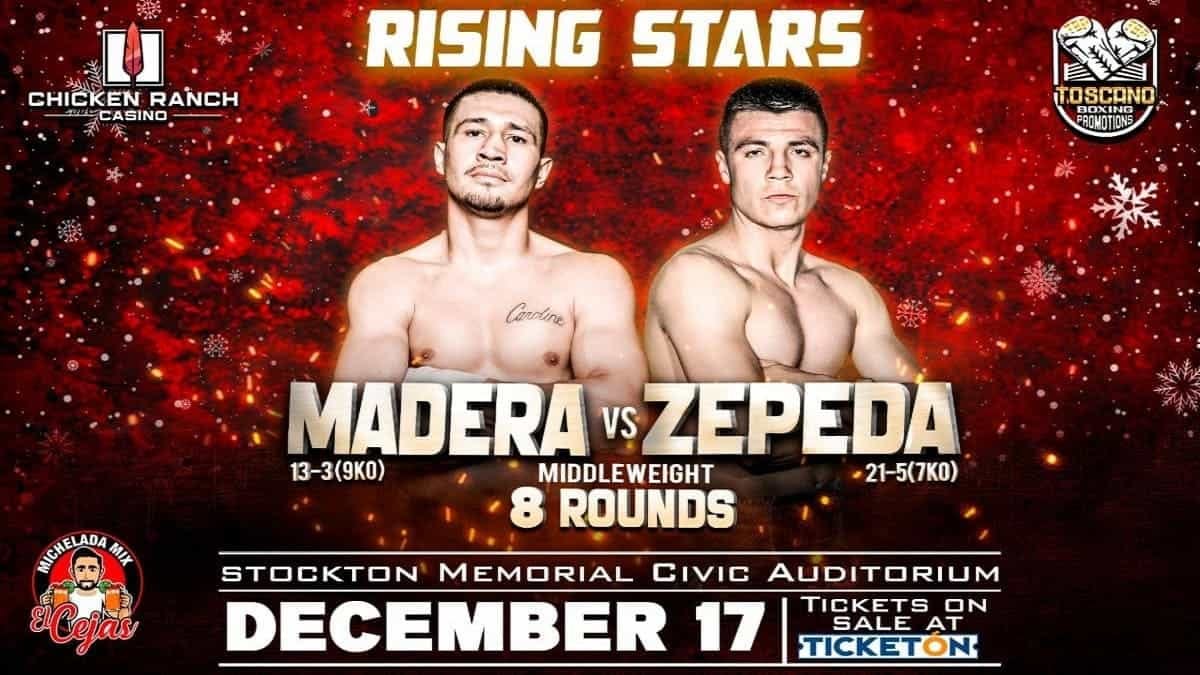 Two of my favorite fighters are in action in Stockton, California, as middleweight Quilisto "Kilo the Kid" Madera will face Hector Zepeda. The fight serves as a homecoming for one of the most exciting fighters from Stockton plus it will be a way for Madera to once again become an active fighter, as he is listed as inactive on BoxRec. A can't-miss local main event.
Lightweight Manuel Jaimes will face Ricardo Lopez Torres in an eight-round fight. Jaimes is coming off a hotly debated loss in Mexico, in which he lost his WBC Youth title, this is his first fight back, and should be a solid performance as he spent time sparring at Robert Garcia's Boxing Academy.
Arturo Popoca versus Alexis De Luna is a great match-up between two unddefeated featherweights, the brother of "Kilo the Kid"Ector Madera will fight in a six-round as rumor surround him with big potential fights in his future, Giovannie Gonzalez will face Marco Cardenas, outstanding young pro Irving Xilohua will face Jesus Arturo Guzman, in a 122 lbs fight, and Kenny Lopez Jr., will face Bryan Martinez to open the card.
---
Golden Boy Card On Saturday
Raul Curiel will step up in competition as he faces Brad Solomon, in a ten-round welterweight bout. Curiel is an Olympian, who hasn't fought at all in 2022, and his last win was against Ferdinand Karobyan.
Brad Solomon at one time was signed to Top Rank Inc. and has lost to notable fighters such as Blair Cobbs, so this will tell us about both fighters at this point.
A sneaky good fight is Diego De La Hoya, now fighting at featherweight, will face Jose Gonzalez in a ten-round fight. Manuel Avila fought Gonzalez to a draw, and Manny Robles III had a split-decision win over Gonzalez, as this isn't a walk in the park for De La Hoya.
Jousce Gonzalez, the brother of Joet Gonzalez, will face Ivan Cano, in a ten-rounder, and boxing legend, Cecilia Braekhus will fight in an eight-round welterweight fight.
Club Shows
Arslanbek Makhmudov, a promising heavyweight will fight Friday, on ESPN+, he has co-promotional agreement with Top Rank, and should get a big fight soon.
Mary Spencer will continue her impressive run towards the top of the division facing yet another top contender in Femke Hermans, in a ten-round fight. Spencer is nearing the point of facing Claressa Shields in the future.
Steven Butler and Joshua Conley will face each other in a ten-round middleweight fight. The winner should land something meaningful.
---
Christian Mbili, a top-10 super middleweight in my eyes, will face Vaughn Alexander, who is always tough. The problem is this, Alexander never performs well at super middleweight, or at least, up until this point. Mbili will have a big size advantage in this fight.
Souleymane Cissokho will also be featured on this card in the co-main event in France.
---
A promising cruiserweight in Chris Billam-Smith will face Armend Xhoxhaj, though I am unclear, this fight more than likely has implications towards the world title in some capacity.
Dan Azeez will face Rocky Fielding in a light heavyweight bout. This might be a test to see how much Fielding has left, as Fielding is best known for fighting Canelo at the advent of the DAZN deal.
Caroline Dubois, a very good young pro, will be featured on this card, as well as the return of Michael McKinson, his first fight back since his loss to Vergil Ortiz Jr.
---
A heavyweight bout between Mahmoud Charr and Lucas Browne will happen. This fight might create a viral knockout, so scan social media for that.
---
Timo Schwarzkopf will face Miguel Vazquez, as Vazquez continues to fight on, despite being well past his prime.
---