Boxing TV Guide: Artur Beterbiev Fights Anthony Yarde
Overview: A rather sleepy weekend of fights is highlighted by one of the ten best fighters in the world light heavyweight Artur Beterbiev facing an overmatched mandatory opponent in Anthony Yarde. We will also have a solid Golden Boy Promotions card on DAZN featuring Alexis Rocha vs. Anthony Young on the top of the bill.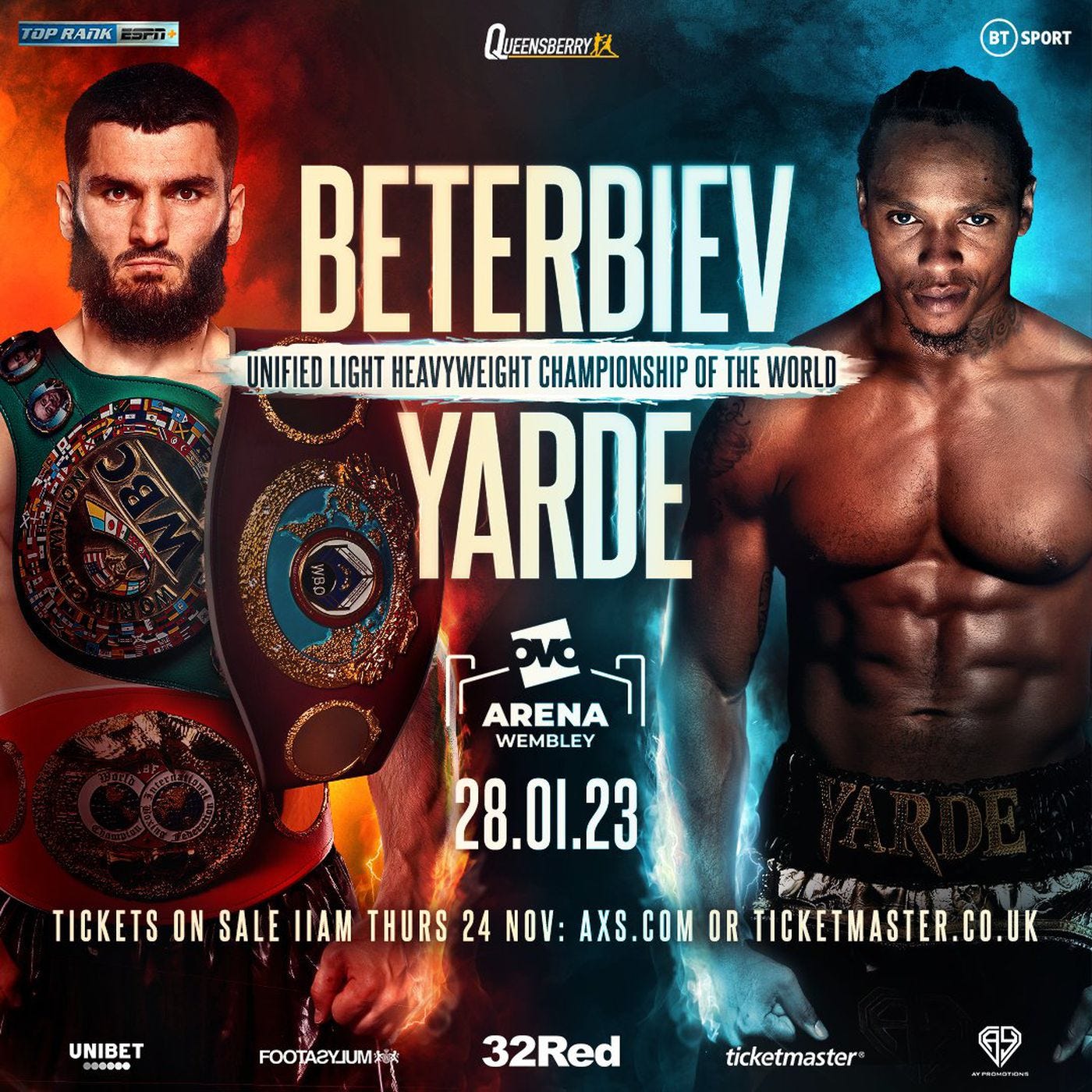 Saturday, January 28th, 11 AM PST | ESPN+
I hate to call a fight a mismatch, but the talent gap between Artur Beterbiev and Anthony Yarde is alarming. Beterbiev is an Olympian, an undefeated fighter who has won every bout at light heavyweight by knockout, whereas Yarde is a career-fringe contender who was knocked out by Sergey Kovalev with a jab.
Yarde is saying all the right things such as he will win, etc. One of the key selling points for Yarde in the build-up beyond his buff physique is that he says Oleksandr Usyk, who he sat next to at a fight gave him advice on how to beat Beterbiev, as Usyk beat Beterbiev in the Olympics.
"I sat next to Usyk at the Fury vs Chisora fight and he was talking to me, I was just listening. I'm so humble when it comes to learning," said Yarde to Boxing Social. "He fought Beterbiev twice, and he was just telling me some things, just a little advice. I think that's what it's about, being a student and trying to learn."
The thing working in Yarde's favor is that Beterbiev is 38-years-old, seemingly fights once-a-year, and might get old overnight, but it is a lot of "might" statements and all of which would require Beterbiev to be less than his ideal self.
Beyond that, Beterbiev has been stoic, and was a tad scary when he punched the table and smiled at a press conference a month or so ago. This will Beterbiev going to enemy soil and fighting Anthony Yarde in the U.K., yet the big thing Beterbiev has given us…Beterbiev has not ruled out moving up to heavyweight to fight Oleksandr Usyk.
Guys like Beterbiev are one of a kind, as I don't think he jokes about such statements and I truly believe if he can't get the fights he wants Beterbiev could move up in weight to that division to finish out his career and look for that mega-fight.
Beterbiev doesn't get the credit he deserves, because he has 18 fights over the course of a 10-year fight career. In short, he just hasn't fought enough for people, and most 13 of Beterbiev's 18 knockouts have come in less than five rounds. Beterbiev has a lot of ability to set up shots, and more so, loves to punish fighters who look to land punches on him.
Despite being a bout between Artur Beterbiev and Anthony Yarde, somehow Oleksandr Usyk is a big talking point of this bout.
undercard.
The undercard isn't all that great. Only one bout grabs my attention is the WBA flyweight fight between Artem Dalakian vs. David Jimenez. Dalakian is the odd man out in the division a world class fighter with an awkward and sometimes dirty fighting style. Jimenez is coming off a big win over Ricardo Sandoval in a fight that I thought Sandoval edged.
The winner of this fight should face the heavy hitters of the division in Jesse "Bam" Rodriguez or Sunny Edwards this year.
Golden Boy Show On DAZN
What a letdown. Alexis Rocha vs Anthony Young saw two fringe world-title contenders make sense of their position in the sport, but with Young suffering a fractured nose in sparring and withdrawing from the bout, per sources close to the situation, Rocha will now face Star Boxing's George Ashie.
The bout went from an interesting crossroads bout as Rocha seem good, but I am not sure just how good, to a dreaded 'I hope Rocha doesn't call out Crawford after this fight'-type bout, because Ashie is a career 135 lbs fighter now fighting at welterweight taking a fight on a week's notice at 38-years-old.
It should be a hometown-type fight for Rocha, but more so, Rocha has the #3 world ranking in the WBO welterweight rankings, and with Vergil Ortiz as well as Keith Thurman having fights scheduled or agreed to, Rocha could land a Terence Crawford fight, which with no disrespect makes no sense whatsoever.
undercard.
Floyd Schofield, a potential superstar in the lightweight division will greatly step up in competition facing Alberto Mercado. Mercado has met O'Shaquie Foster, Chris Colbert, Lamont Roach, and Jayson Velez, all of whom beat him, but…he was never stopped. I am less interested in the result and more in the outcome. What does that mean…?
Quite simply, can Schofield stop Mercado?
Also, Bektemir Melikuziev will face Ulises Sierra. Sierra is a tough sparring partner type guy, and "Bek The Bully" has lost a lot of his glamour since his KO loss to Gabriel Rosado.
ProBox TV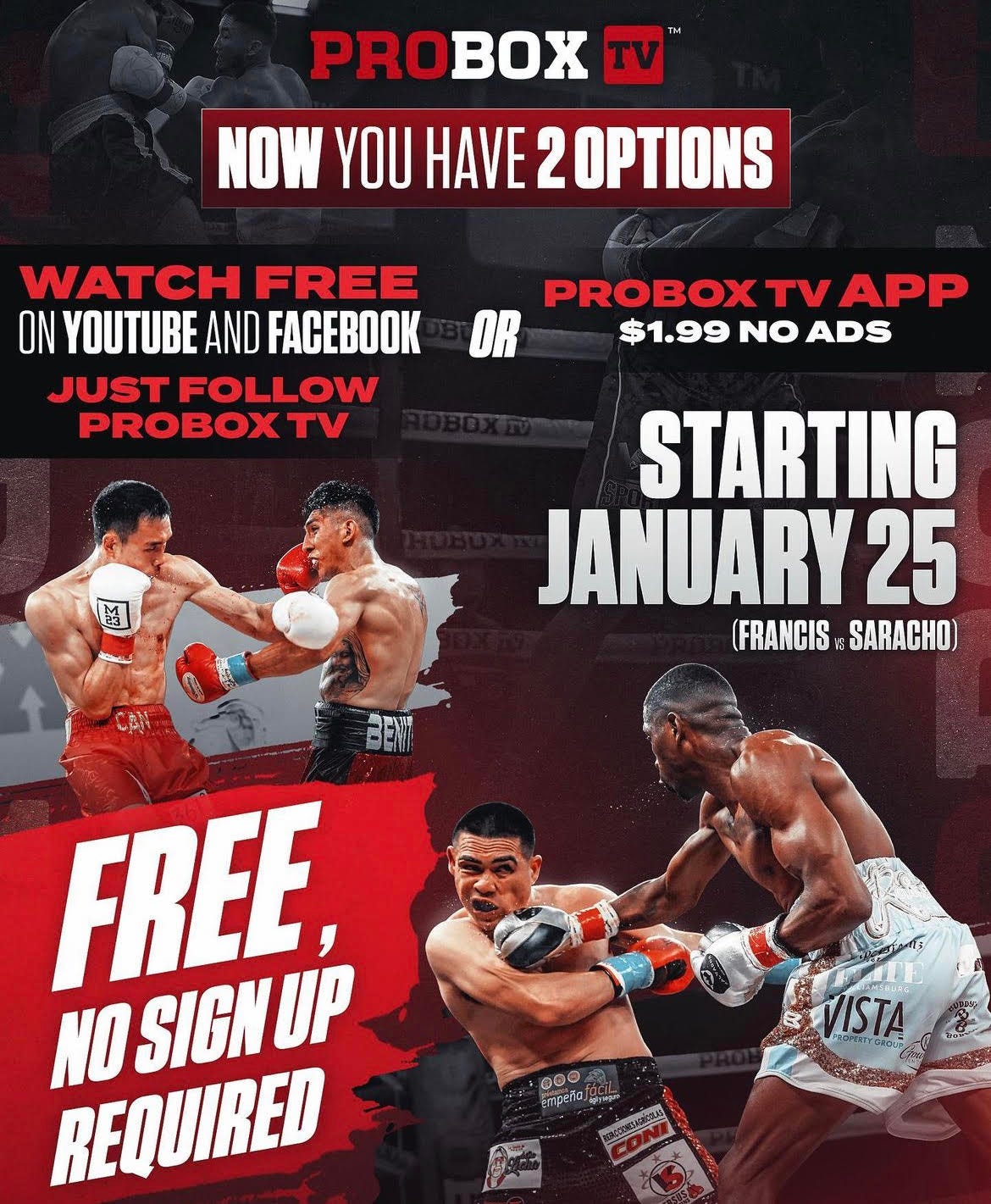 FYI, I am doing a watch-along on the ITRBoxing YT channel tomorrow night for the ProBox TV card which you can watch on YouTube and Facebook.
The main event will see a good battle between 140 lbs fighter, Cesar Francis of New York City, New York, taking on Jesus Saracho. This is an interesting style clash and more interesting, Francis is calling out the winner of Arnold Barboza Jr. vs Jose Pedraza.
A really tall 130 lber in Oscar Alvarez, who has a video game-like record for his amateur career will face the toughest opponent of his career, and Jorge Carlos will also be featured in his ProBox TV debut.
Club Shows
Serhii Bohachuk will continue fighting the best regional 154 lbs fighters in the nation who don't have a promotional contract as he faces Nathaniel Gallimore. Bohachuk might be limited, but is tough and hits hard. This fight will be on UFC Fight Pass, and is promoted by 360 Promotions.
You might wonder why I am not talking about Joeshon James of Sacramento, California, against Eric Priest. Priest pulled out last week with a hand injury, and Sacramento, California's James is no longer featured on the card.
Heavyweight Otto Wallin is staying busy on a regional card. Wallin deserves a big fight.
An interesting regional fight between undefeated regional fighter Leonardo Ruiz and Cameron Kreal, also on that card Gabriel Muratalla, as well as Saul "Neon" Rodriguez in separate bouts. A fighter who trains out of the Bay Area, Jose Delgado
Steve Geffard is returning off-TV, he was stopped a year ago, by Joe Smith Jr.