The Return of Golovkin & King Ry + Lubin vs. Fundora & Mikaela Mayer on ESPN | Boxing Schedule On TV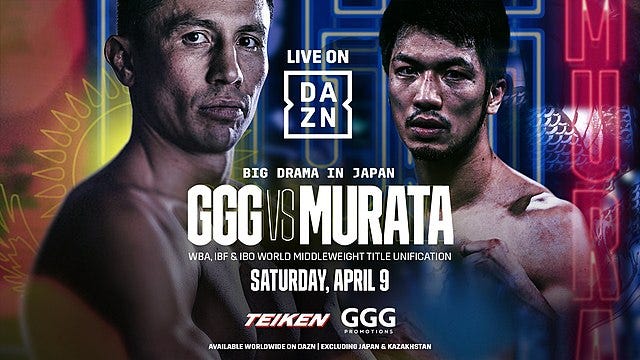 Saturday, April 9th, 12:30 AM PST | DAZN
World champ Gennadiy Golovkin will face fellow world champion, Ryota Murata, as both the IBF and WBA middleweight titles will be on the line creating a unified champion after the bout.
A fun fact as well is that Golovkin is a former Olympic silver medalist, while Murata was a gold medalist, for those who like amateur boxing. Golovkin won his in 2004, and Murata in 2008.
Golovkin, one of the marquee stories of the past decade, who had a love affair with the L.A. fight fans, hasn't fought since December 2020, when he stopped lesser–known Kamil Szeremeta. Golovkin isn't old at 39-years-old, but he isn't young anymore – and by fight night Golovkin will be 40-years-old, as April 8th is his birthday. 
Time is fleeting in his boxing career, and since his two losses to Canelo Alvarez, Golovkin, who was once very public and available to the L.A. media, has gone reclusive and private. The sport of boxing has made Golovkin bitter, and he just wants to be left alone. 
Golovkin is now heading to Japan, where Murata, a 2012 Olympic gold medalist, who is now a two-time world champion, will face the future hall-of-fame fighter, in a fight that is odd. Why is it odd – Golovkin will be going to enemy soil, despite being a mega-star.
One can't help, but think of Buster Douglas beating Mike Tyson, when looking at fights taking place in Japan, and with a Canelo fight seemingly lined up after this – are we tempting the boxing gods too much to throw a wrench in that pre-planned fight.
Regardless, it is nice seeing the offensive wizard that is Golovkin back in the ring, as we probably will only see him fight two or three more times again.
You also can tell Golovkin is past his prime, as most would view Golovkin as a big favorite in his prime, but Golovkin is down to -400 on some sportsbooks with Murata at +325. A telling sign that some observers feel that Golovkin isn't the same guy anymore. 
undercard
Emerging contender Shuichiro Yoshino, who is 30-years-old will face former world champion, Masayuki Ito, in a lightweight bout. To be honest, I am not super engaged on this bout, but it is happening – and if something dramatic happens, I will care.
Saturday, April 9th, 6 PM PST | DAZN
Lightweight Ryan Garcia, took a break from boxing for the betterment of his mental health, and will now face Emmanuel Tagoe, an awkward spoiler, ready to ruin the return of Garcia.
Garcia will no longer train with Eddy Reynoso for this fight electing Joe Goossen, someone Ryan has a long history with. The bigger story is…does Ryan want to simply be a boxing star or is he looking to have a massive legacy in the sport. In short, does he want to be rich or respected by his boxing peers? Even deeper – does Ryan want to be a star or a hall-of-fame fighter? 
Garcia is on his way to the rich part, but in terms of respect, outside of fighting Luke Campbell, Garcia has a lot to prove to the world, after his performances thus far. In his last bout against Campbell, he showed toughness, heart, and valor to get off the deck to stop Campbell, but then a long hiatus, from the sport seemingly undid all the goodwill. 
Tagoe, despite being unknown is at or above the level of fighters he has been fighting his whole career. Garcia, a speedster with good power is looking to emerge into the boxing landscape as a capital G Guy, based on his performance and not his looks, and for DAZN – the broadcast partner of the bout they seemingly would hope to see an amazing bout regardless of the outcome that cements a star.
Tagoe is a tough outing, a fighter who is hard to hit and might not be a big puncher, but an awkward one. Tagoe appears to be someone who is tricky to understand what he is doing on film, and even harder to figure out in the ring. Tagoe seems destined to at the very least make Garcia, who is shaking off a lot of rust, and drama, look bad, as well as has an outside chance of pushing Garcia – and beating him.
Javiel Centeno is an underrated coach and one who led George Kambosos Jnr to a career defining win against Teofimo Lopez, and he is in Tagoe's corner. 
undercard
An interesting unification bout will see Marlen Esparza vs. Naoko Fujioka fighting for their respective WBC and WBA women's flyweight titles. Fujioka in her last bout outworked fan-favorite Sulem Urbina in an upset. Esparza has had a rollercoaster of a career and now finds herself back in Texas, as she looks to move towards the historic goals she set for herself being a part of the historic first-ever women's Olympic boxing class in 2012. Esparza has the talent, and Fujioka has the motor – this could be an interesting one, and one decided by the late rounds.
Well-respected super middleweight Gabriel Rosado will face Shane Mosley Jr. in a fight that could see the loser, no longer fighting under the Golden Boy Promotions banner. Rosado is a talented hard-luck fighter, who recently lost to Jaime Munguia, and Mosley Jr., the son of hall-of-famer, Shane Mosley, just lost to Jason Quigley. This fight will give one of these guys another chance at the top of the card.
Mosley Jr., who has shown brief glimpses of his talent on The Contender TV show, but never put it together for long periods of time, and Rosado has been through so much in his career it is hard to judge where he is at based on the miles he has put on his boxing career, spanning nearly a decade-and-a-half, mostly in the wrong corner, and his last bout saw the relentless motor of Munguia be a bit too much for him.
George Rincon is inching toward a big fight as he will face Alejandro Frias in a ten-round, 140 lbs fight. You know what is after ten, twelve – and that means really big fights. So Rincon is about to get a chance at something big if he keeps winning.
A very interesting fight that will fly under the radar will see undefeated Gregory Morales face one of the toughest battle-tested fighters in boxing in Katsuma Akitsugi, as in only eight fights Akitsugi has defeated five undefeated fighters, most from the wrong corner. Below is a feature we did on him in January. 
Santos Ortega, a highly touted featherweight will return after a long break from the ring. Ortega could develop into a real player in the division with a solid slew of fights.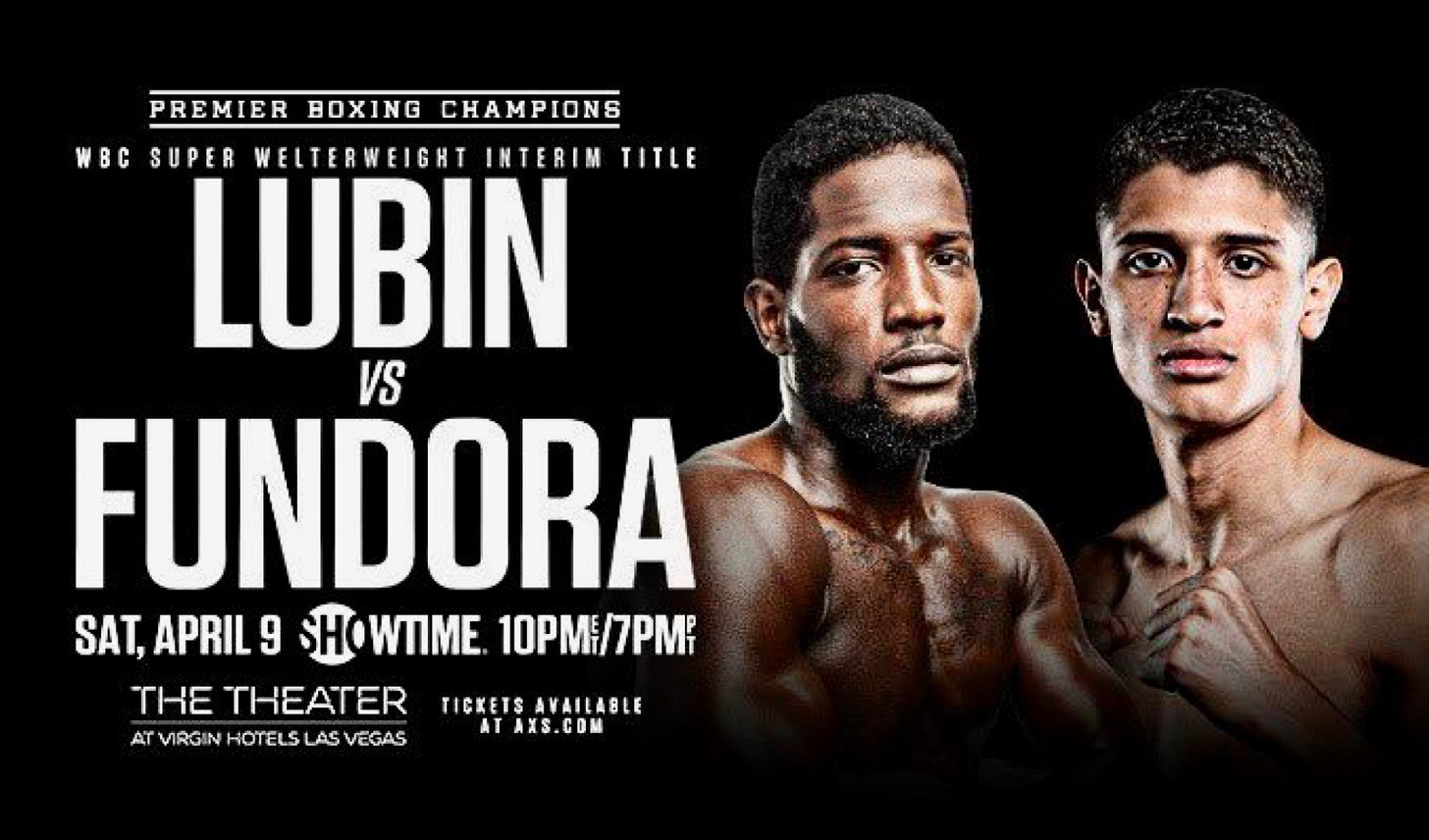 Saturday, April 9th, 7 PM PST | Showtime
A very good bout that will create the WBC junior middleweight interim champ, between Erickson Lubin and Sebastian Fundora is flying under the radar, based on so much going on. Sadly, this could be the best fight of all the action.
An evenly matched bout that seeing Lubin looking to complete his comeback after being stopped in one round by Jermell Charlo, to become the child prodigy turned world champion, the world viewed him as, and Fundora to live up to his potential as one of the best action fighters in the division, in his era.
This is one of those fights that will set the trajectory for one of the fighters to go to the next level attempting to have a hall-of-fame-type career, and the other will stay put, fending off the new contenders. I am excited.
A true pick'em, with the oddsmakers unsure, making both fighters -120, meaning no one knows how to observe this bout.
undercard
The co-main sees Tony Harrison facing Sergio Garcia in a ten-rounder, serving not just as a co-main event, but offering a world-level replacement opponent for the main event if something bad were to happen, COVID-19, I see you. Harrison has struggled in his last bouts against Bryant Perrella, as many felt that Harrison should've lost rather than gotten a draw, as his talent is always there, but sometimes his focus isn't. Sergio Garcia gave Fundora nearly everything he could handle en route to a close decision loss. The winner of this is in the mix for a world title shot.
It would be nice if someone made a statement in this bout. 
Mexico's Kevin Salgado will face Bryant Perrella to round out the trifecta of 154 lbs. fights. Perrella seemingly got the raw end of a decision last year, and now gets a marquee TV fight, but Salgado is no walk in the park. 
Off-TV notables
Stockton, Ca's Ector Madera will be on the undercard fighting on the undercard. Madera is a special fighter with offensive gifts. The big thing with Ector is to keep him active, hopefully, PBC sees the talent Northern and Central California have seen with him, and invests in him – since he has the chance to be a boxing icon in his region, as he will always give an honest fight.
On Monday, Ector Madera took to social media to say his opponent pulled out of the bout.
Aaron Coley, a staple of the Northern California boxing scene will be in the biggest fight of his career facing Jamontay Clark in a fight that should help one of the fighters get into the world title picture. Clark has only lost to the elite of the division, so this is a world-class test for Coley.
Jalil Hackett of Mayweather Promotions will be fighting an undefeated prospect on this card as well. 
Saturday, April 9th, ESPN | 6 PM PST | Undercard | ESPN+
Mikaela Mayer may very well be the best women's fighter in the world, and she returns against Jennifer Han, the sister of former Top Rank Inc fighter Abie Han, for Mayer's IBF/WBO women's junior lightweight title.
Mayer is a star, and someone I see having a long career in sports in general as she is already transitioning to broadcast, and is pioneering what modern feminity looks like in boxing in the digital era.
Beyond all that, Mayer is a dog in the ring. Tough, nasty, and capable of controlling a fight at range, though at times she can choose the trenches. A suitable main event for those who don't have the premium services to watch all the fights.
San Diego, Ca's Giovani Santillan will face Jeovanis Barraza, a tough welterweight, who was stopped by Alexis Rocha in his last fight. Santillan needs to look good in this fight as he is undefeated with nearly 30 fights, meaning he needs to make a statement to get a big fight soon.
Both Jason Moloney and Andrew Moloney will be in action in separate fights, as two of the nicest people in the sport of boxing make a return in a stay-busy type fight before gearing up for a massive bout in the future.
#1 contender for the IBF featherweight title Luis Alberto Lopez will fight an eight-rounder as I am sure he is knocking off a bit of rust, before trying to get a title or interim title shot, as he should be the next in line for Josh Warrington, but who knows as Warrington has a broken jaw.
Fighting with a heavy heart, 2020 Olympic silver medalist Duke Ragan, will enter the ring for the first time without his father, as his father was incarnated, and sadly passed away while serving his sentence. Ragan is one of the most interesting American prospects, who has a truly inspiring story, up until this point, and that is prior to everything he will achieve after this fight as well. Ragan is a must watch – and is one of the most underrated boxers in the country.
Women's flyweight Ginny Fuchs will make her pro debut in a six-rounder. Fuchs is a close friend of Mikaela Mayer and is a powerful southpaw, who can punch. Fuchs will win a world title, she is that good.
Toscano Boxing Promotions
Friday, April 8th, 6 PM PST – Fite.TV PPV ($16.99)
Stockton-based boxing promotions Toscano Boxing Promotions will have a card in Mexico, which will be available on PPV as well.
The main event is Damian Sosa, who now holds a belt at 154 lbs., the WBO latino 154 lbs belt to be exact, and is making his first defense against Jesus Vega.
So what should you know?
Sosa has signed with Toscano Boxing Promotions, who have guided him to a belt, and now is in a position to get marquee bouts in the future. Vega has only fought in Mexico, against mostly limited competition. With a big win here – Sosa could be in the running for some of the bigger names at 154 lbs.
WBC youth lightweight champion Manuel Jaimes will face Pedro Bernal Rodriguez as Jaimes will make his first defense of his WBC title. Jaimes has the chance to be a very special fighter, as he has a high workrate, and is always in shape. Jaimes has the chance to be a big-time Northern California fighter.
Bantamweight Gabriel Muratalla, who was seen often on the Top Rank Inc. bubble cards, will be on this card as well
130 lbs Jose "Karma" Alvarado will bring his all-action style to this card as well.
Club Shows
Dina Thorslund will look to make a defense of her WBO bantamweight title against Niorkis Carreno. Thorslund is someone you could see on a marquee card soon.
Simone Federici will face Lyubomyr Pinchuk in a cruiserweight bout. Cruiserweight is a shallow division, so with a slew of wins Federici could become a world contender.
Antonio Tarver Jr. fights this weekend, he is 8-0 right now.
Harry Garside, an Australian Olympian fights as well, follow Twitter.com/TimBoxeo for information that card.
MMA in 500 Words Or Less
Saturday, April 9th, 6 PM PST | ESPN+ PPV | 5 PM PST | ESPN (Prelims)
Alexander Volkanovski is the current champ as faces Chan Sung Jung, better known as "The Korean Zombie", who became a staple in fight fans' hearts after an epic battle with Leonard Garcia on the fun WEC PPV from probably about a decade ago.
Volkanovski, an Australian kickboxer, will face a beloved fighter, who is past his prime, in "The Zombie", but he is undefeated in the UFC, beating every viable contender in Max Holloway, Jose Aldo, Chad Mendes, and Brian Ortega. Sure – this isn't a super sexy bout, but Volkanovski is slowly cemented his legacy as a UFC great.
Also, Volkanovski is part of this Australian invasion we're seeing right now with Tim Tszyu and George Kambosos Jnr. taking over the sport. 
undercard PPV
Co-main will feature bantamweight Aljamain Sterling rematching Petr Yan, as Sterling won their first fight to become a UFC champ via a DQ. Winning a fight in any fight sport by disqualification will hardly ever, get you on the side of the fans, not fighting in over a year, often furthers that.
This fight could have some really gross tone-deaf contexts from fans and pundits if this goes a certain way.
Welterweight Khamzat Chimaev will face Gilbert Burns. Chimaev is another one of these Russian wrestling machines, in the same ilk as Khabib.
With potential world title implications on the line, Mackenzie Dern, who is trending towards being a star at strawweight will face Tecia Torres, who has been a quality top-10 fighter for a decade. The winner probably faces Rose Namajunas, the current champ at some point.
Mark Madsen versus Vinc Pichel will start the card. Madsen is a highly touted wrestler.
ESPN – prelims | 5 PM PST
A slew of interesting names are on TV in bouts I know very little about. Serviceable main event heavyweight Marcin Tybura will be in-action, as well as Sacramento-area based Aspen Ladd taking on former world title Raquel Pennington, and Micky Gall, best known for beating WWE wrestler CM Punk will open the telecast.
ESPN+
Buried off-television on ESPN+, is an interesting bout between Heavyweight Alexey Oleynik will be on the card, as well as heavyweight Todd Duffee will be in separate bouts, as Anthony Hernandez, who had a notable fight a while ago.