Boxing TV Schedule: Haney vs. Kambosos, Fulton vs. Roman, and More
Saturday, June 4th, 5 PM PST | ESPN
All the belts are on the line at the lightweight division as four-belt champion George Kambosos Jr. will look to make his first defense against Devin Haney, as Kambosos Jnr will play host to Haney in Australia, in Kambosos Jnr.'s first fight in Australia in five years. 
The bout has some undertones that we must address, as Gervonta Davis feels to be the most culturally relevant lightweights currently, and holds some form of the WBA title, so viewing this fight as the fight that decides the division, sort of feels like a "yeah, but", as most would like to see the winner in with Davis, afterward. 
Beyond that, Haney's father, who is his trainer, was not allowed into Australia due to a prior conviction stemming from over 30-years ago. Why does this matter? Bill Haney and Church have served as the mouthpieces for Devin in his whole career, forcing the witts of the opponents, while Haney is rather quiet and respectful. This week Haney is going for legacy, but beyond legacy, he is doing it mostly alone – which most are not talking about.
Don't think that Kambosos Jnr. is not going to try to amp up the trash-talk as the week gets going, as Kambosos got Teofimo Lopez rattled, and Kambosos Jnr has a bit of the Conor McGregor confidence that many won't appreciate until looking back on.
In terms of the style, Haney on paper is the bigger, stronger, faster fighter, who has a style similar to Mickey Bey, who gave Kambosos Jnr problems, but Kambosos Jnr is an underrated awkward fighter, who is as confident as he has ever been after defeating Lopez.
This is a true 50-50 fight, in which the winner is one of the top guys in the sport. I am excited for this one.
undercard
The Moloney brothers are some of the nicest people in the world. Jason Moloney will face Aston Palicte, who has a draw over Donnie Nietes in a ten-round bantamweight bout. Moloney, who fought Inoue not long ago, and defeated Joshua Greer Jr., now is fighting at home, and looking to find himself in the mix for a world title. Three of the belts will be decided in this division in the fight between Inoue vs. Donaire, and the other champion is Paul Butler, who would make for an interesting fight as well. 
Heavyweight Junior Fa seemingly disappeared for some time will face a heavyweight we remember from the last decade in Lucas Browne. This should be a good reintroduction to Fa, who might be able to find himself in the position to fight a Jared Anderson in the near future.
Olympian David Nyika, who I was very impressed with, will be fighting at cruiserweight and he feels like a future world champion.
Oakland's own Amari Jones will face Ankush Hooda, at 154 lbs. Jones is fighting yet another tough fighter and speaks to the level of skill he holds, as Jones is jumping into the deep end of the pro game rather quickly. 
Andrew Moloney will be on the card along with his brother, and face Alexander Espinoza. Moloney had a great trilogy with Joshua Franco, and with so many good fights at super flyweight, I hope we see him in the mix with a top guy after his fight on Saturday in Australia.
---

Saturday, June 4th, 6 PM PST | Showtime
Stephen Fulton Jr., who holds the WBC and WBO 122 lbs title had a rough outing in his fight getting a narrow decision win over Brandon Figueroa, will now look to make a world title defense against L.A.'s own Danny Roman in a 12-round title fight on Showtime.
This will be an interesting assessment as Roman has been a staple of the division, and was previously an undisputed world champion in his own right, as DAZN randomly dropped Roman, despite putting forth some exciting fights. Fulton will have to show his world-class boxing skills, and radar as some people put it, as Roman has brought on a strength coach and seemingly is willing to leave a piece of himself in the ring on Saturday night. A sneaky exciting fight if Roman makes it close, or it could be a one-sided bout if Fulton executes to the best of his abilities. 
I will say this, never count out, Danny Roman.
Cuban super middleweight David Morrell will face Kalvin Henderson, for whatever form of a WBA super-middleweight title Morrell has. Morrell has been calling out David Benavidez, and honestly we are expecting a great performance, so anything less would be a massive disappointment, as Henderson has failed at the elite level, and Morrell is talking a big game. It is put up or shut up time for Morrell in the co-main event spot.
The former USA Boxing standout Karl Dargan will be featured on this undercard. 12 years ago, people had him pegged as a future star of the sport. It is crazy how things turn out.
Travon Marshall, a promising fighter out of the DMV area will face Evincii Dixon on the undercard
Demler Zamora, better known as D.J., or "The War Machine" will face Raul Chirino, in a 130 lbs fight.
---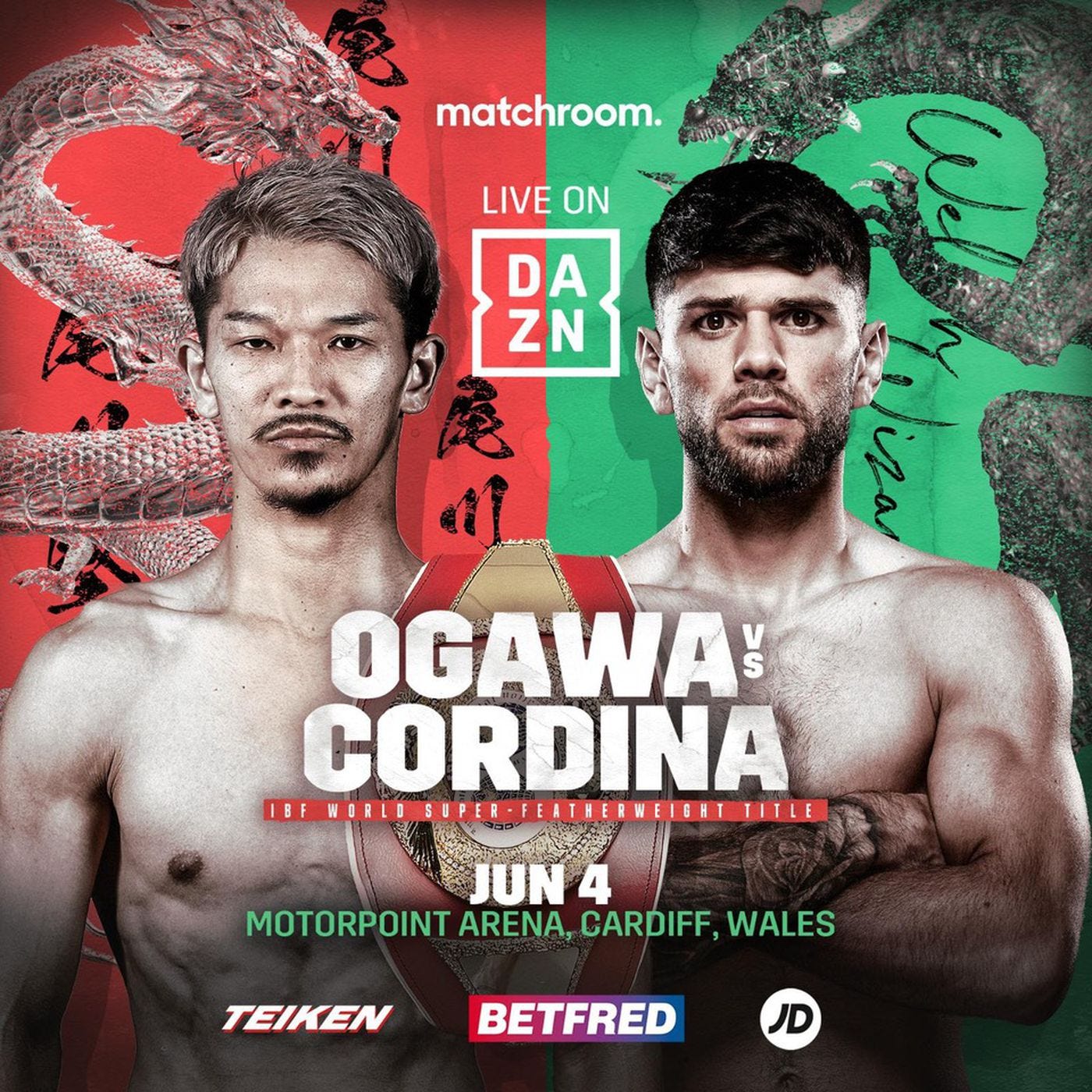 Saturday, June 4th, 11 AM PST | ESPN
Let's be factual. You'd have to be a very hardcore fan to be aware of IBF 130 lbs champion Kenichi Ogawa first world title defense against Joe Cordina. The bout which seems on paper as a chance for Cordina to win a belt, and then fellow regional draw Zelfa Barrett, should tell us more about Cordina.
Why?
Ogawa, who holds a win over Tevin Farmer, that was overturned to a no-contest, after a drug test failure, voiding his first title reign, is a pressure fighter, some craft, but mostly hits above average, is incredibly tough, and is willing to push a pace, from the first to last bell.
My gut tells me Ogawa is a bit too much for Cordina, but that is why they fight the fights.
Cordina should be the more technical sound fighter, but is he going to be tough enough to beat him? We will know come Saturday.
The co-main event will see Faroukh Kourbanov, who fought Cordina to a close majority decision loss, will face Zelfa Barrett, as Kourbanov's European junior lightweight title is on the line, and more than likely if Cordina wins, the winner of this fight would face Cordina in late quarter three or the fourth quarter of the year.
Also, featherweight Skye Nicolson is fighting yet again, marking her fourth fight in three months, first eight-round bout. Nicolson should be fighting for a world title at this rate in October.
---
The Monster vs. Donaire II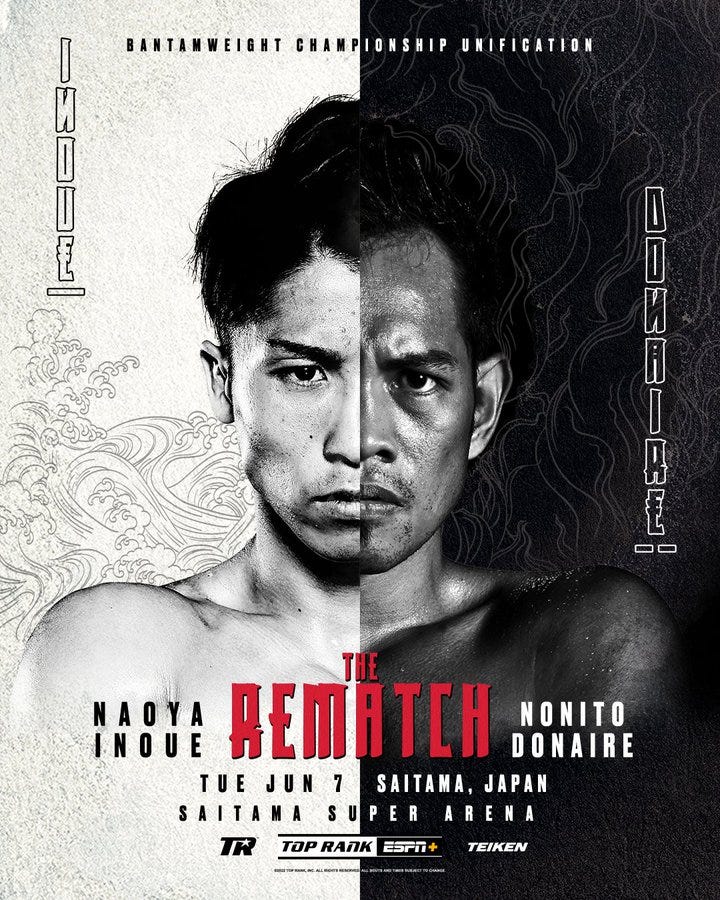 Tuesday, June 7th, 2 AM PST | ESPN+
I am thrilled to see Naoya Inoue vs. Nonito Donaire rematch, their epic bout from 2019, as the IBF, WBA and WBC bantamweight titles will be on the line. The timing of this bout, not so much. The bout will happen on the west coast at 2 AM PST, on a weeknight.
Inoue's career is strange, as his talent is obvious. He has traits we see in all great fighters such as timing, speed and power, at a world-class level, but since his epic run in 2018-2019, Inoue's career has slowed, and his massive rematch against Donaire, the only man to test him, isn't impacting the world at large, which is shocking.
For a fight, that was a fight of the year, not too long ago, this bout, and the time it is coming on, is playing second fiddle to all the other action over the weekend, and will more than likely be consumed via tape delays.
For those unaware, Inoue, who is undefeated modern champion of 118 lbs., defeated Nonito Donaire by a close decision in a modern epic. Donaire has since rebuilt himself, won a world title, and is ready to challenge Inoue once again.
This is a great fight.
---
Club Shows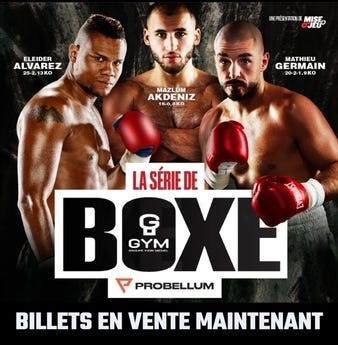 Charles Conwell fights in Canada this week, in a stay-busy type fight. Conwell, in my opinion, is one of the best 154 lbs fighters in the world, and he just needs a chance to prove it. I hope he gets a chance.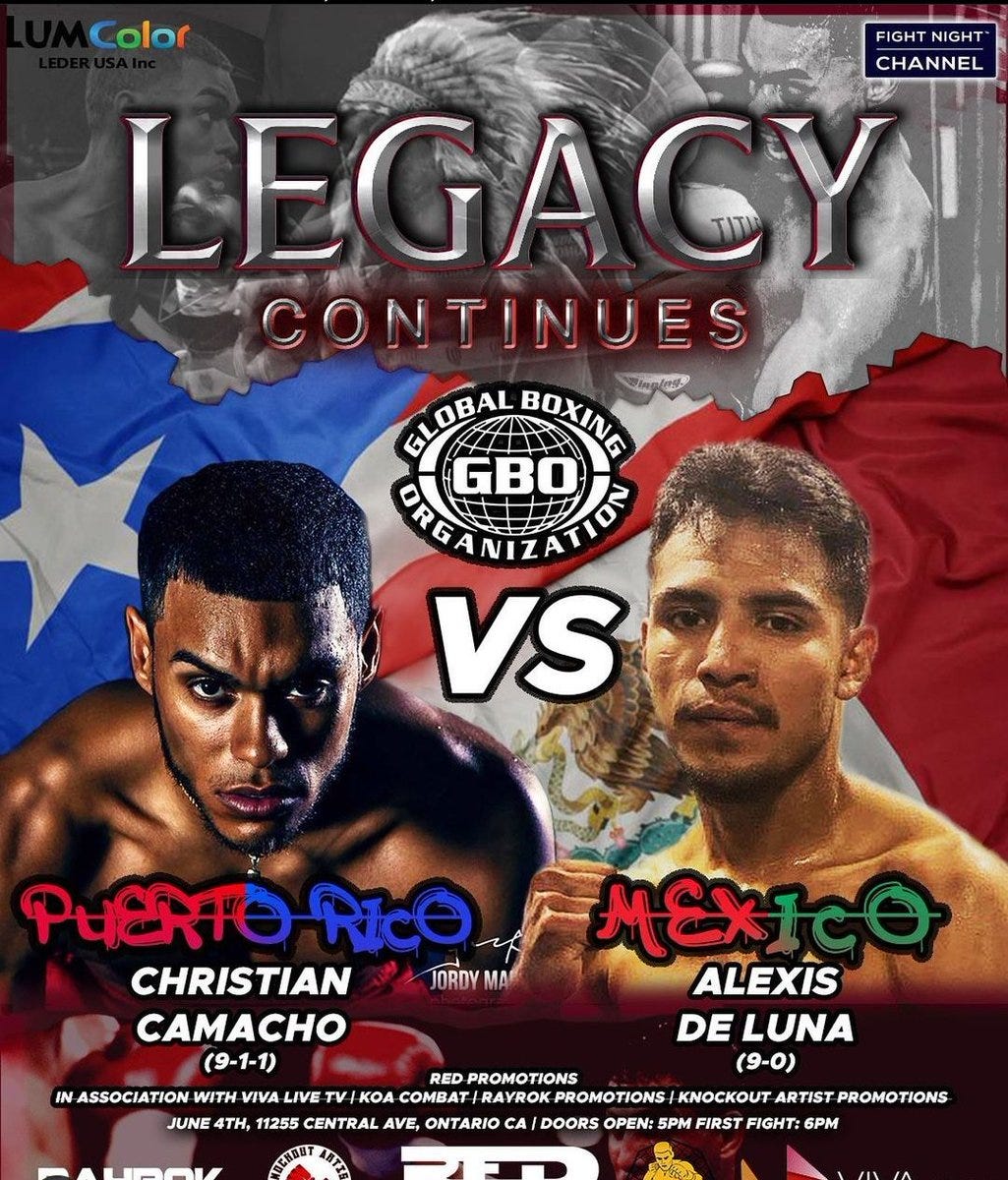 Red Boxing Promotions will return with a good main event bout between Christian Camacho taking on undefeated Alexis De Luna, also Hayward, California's Damari Cato-Cain will be in-action on this undercard. Cato is my favorite fighter, who is not signed, and living in the Bay Area. Big Cato is an awesome pressure fighter, who is able to think with his opponents, credit to Arvin Jugarap of Kennel Boxing for developing him.
Oakland, Ca's De'von Abraham will fight in Kentucky this weekend along with one of my favorite amateurs, Demontaze "Juicy" Duncan who is moving along somewhat silently, as he is 6-0, with 6 KOs, looking to be 7-0, with 7 KOs.
DeAndre Ware is listed to fight Christopher Booker this week, which is a TV quality fight on the club circuit.
MMA in 500 Words Or Less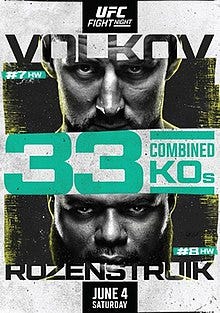 Saturday, June 4th, 1 PM PST | ESPN+
Alexander Volkov will face Jairzinho Rozenstruik, better know as "the biggie boy". In a fight that should determine who is the guy right below the top guys at the heavyweight division in the UFC, and you know what that isn't a bad thing, because heavyweights get more chances than any other fighters.
Dan Ige will face Movsar Evloev, and Felice Herrig will face Karolina Kowalkiewicz, beyond that – this is your typical ESPN+ card that is for the hardcore fight fan only.