Stacked Top Rank Card On Saturday, and Kim Clavel Top Fight Weekend.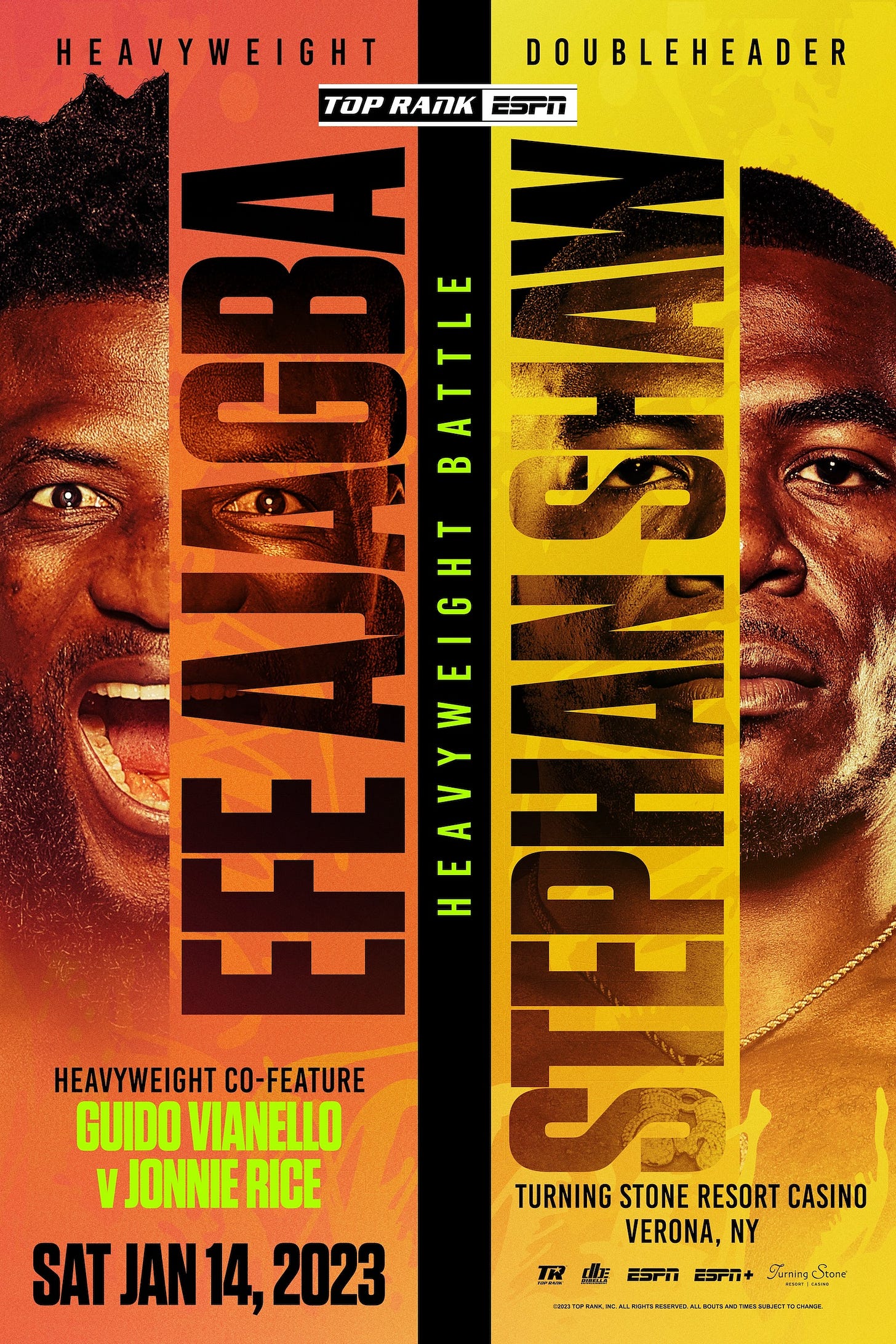 Saturday, January 14th, ESPN | 7 PM PST, undercard ESPN+
Top Rank's First Fight Card Of 2023.
A very interesting fight takes place on Saturday night on ESPN, as the card is stacked with competitive heavyweight boxing topping the bill. The night should tell us a lot about Stephan Shaw, a man my good friend Jeremy Herriges, who was too talented to be a boxing writer, and left the sport last year, explained to me in detail, is one of the best fighters he had ever seen.
I respect Jeremy and have taken his words to heart. Shaw, the grandson of St. Louis boxing legend, Buddy Shaw, will try to live up to his destiny as he faces 2016 Olympian Efe Ajagba in a ten-round main event. Ajagba was originally set to face Oscar Rivas, but Rivas had to be pulled from the fight when he suffered an eye injury.
We somewhat know what Ajagba is – a tremendous puncher, who at times can have trouble with movers and shakers of the division, such as Frank Sanchez. Ajagba has heavy hands and heavy feet. Ajagba fought once since his loss to Sanchez, and that was against Jozsef Darmos, who he stopped in two rounds. This will somewhat set Ajagba's boxing future for better or for worse.
Shaw has been a hidden gem, one with the help of David McWater's Split-T Management has been able to have a full-time strength program and be a full-time athlete in San Diego, California. Now, we have to see if is Shaw the top-15 heavyweight that most who know him say he is.
"my life is about to change," said Shaw when speaking to the Riverfront Times this week.
This feels like a moment if seized in which Shaw could write a feel-good story for his career in 2023, but that will take a big performance on Saturday night against a tough foe.
This is an interesting close fight.
undercard.
Heavyweight Guido Vianello had a shaky fight against Kingsley Ibeh, and since has fought three times, one of which was against cult boxing favorite, Jay McFarlane. Vianello will no longer face Shaw, and now faces Jonnie Rice, who stopped Michael Coffie only to beat him again in a rematch. Rice hasn't fought in over a year and took the fight on short notice.
It is simple. Vianello is in a tough fight with a veteran in Rice, who is on the best run of his career. This quite possibly could turn into the most competitive bout of the evening as Vianello has the athletic gifts, but Rice has the experience and is a Las Vegas sparring veteran.
The fight I advise everyone to watch is a great bout in which both Adam Lopez and Abraham Nova will be moving up to the 130 lbs division. Nova originally competed in this division for most of his career before trying to pursue a world title at featherweight. As Nova has fought as high as lightweight. Lopez last fought at 130 lbs in 2016 is the one and only time in the division.
The fight is simple to me can the talent of Lopez keep the size and strength of Nova off him? Nova will need to set the tone early, and if he doesn't expect Lopez to have a lot of success lately. 
Floyd "Cashflow" Diaz will face a fighter with a deceptive record in Edwin Rodriguez. Rodriguez holds a win over Saul Sanchez and a draw with Joshua Greer Jr., and is a very good fighter. Diaz is improving, but this will show if he is ready to be considered a world-class fighter, in my opinion.
Haven Brady Jr. will continue his run of facing tough opponents as he faced Eric Mondragon in his last bout, and now will face Ruben Cervera, a training partner of Ruben Villa, and part of the Max Garcia Boxing team in Salinas, California. Brady Jr. is floating under the radar but is beating very credible people.
Bruce Carrington will face Juan Antonio Lopez in a six-round lightweight fight. Lopez has had several close fights with reputable fighters, and Carrington will look to separate himself from his peers early in his career in this bout. Carrington feels like he could be a star in the making.
I know nothing about the 140 lber Bryce Mills, but I see he is part of the media week, so he must be notable. I think we will learn more about him, his story, and his skillset starting Thursday, and I think super hardcore boxing fans like myself should have him on their radar. With a quick google search, it appears Liverpool, New York, is a mere 36-minute drive from Verona, New York, and the 10-1 fighter could be a big ticket seller in the local market.
A sneaky good fight that I learned about from listening to the Prophets of Goom podcast from Bad Left Hook, light heavyweight Dante Benjamin Jr., who works with the great young boxing trainer Prenice Brewer will take on Emmanueal Austin, who has six-straight first-round knockouts. Something to watch for.
Two fighters working with a friend of ours, Adrian Clark, Brian Norman Jr., a 22-year-old welterweight, who is the crown jewel of AC's management company, Fighters First Management, which has former Main Events Promotions Jolene Mizzone working as the president of this managerial outfit. Rohan Polanco, who is also with the Fighters First will be on this card as well.
Club Shows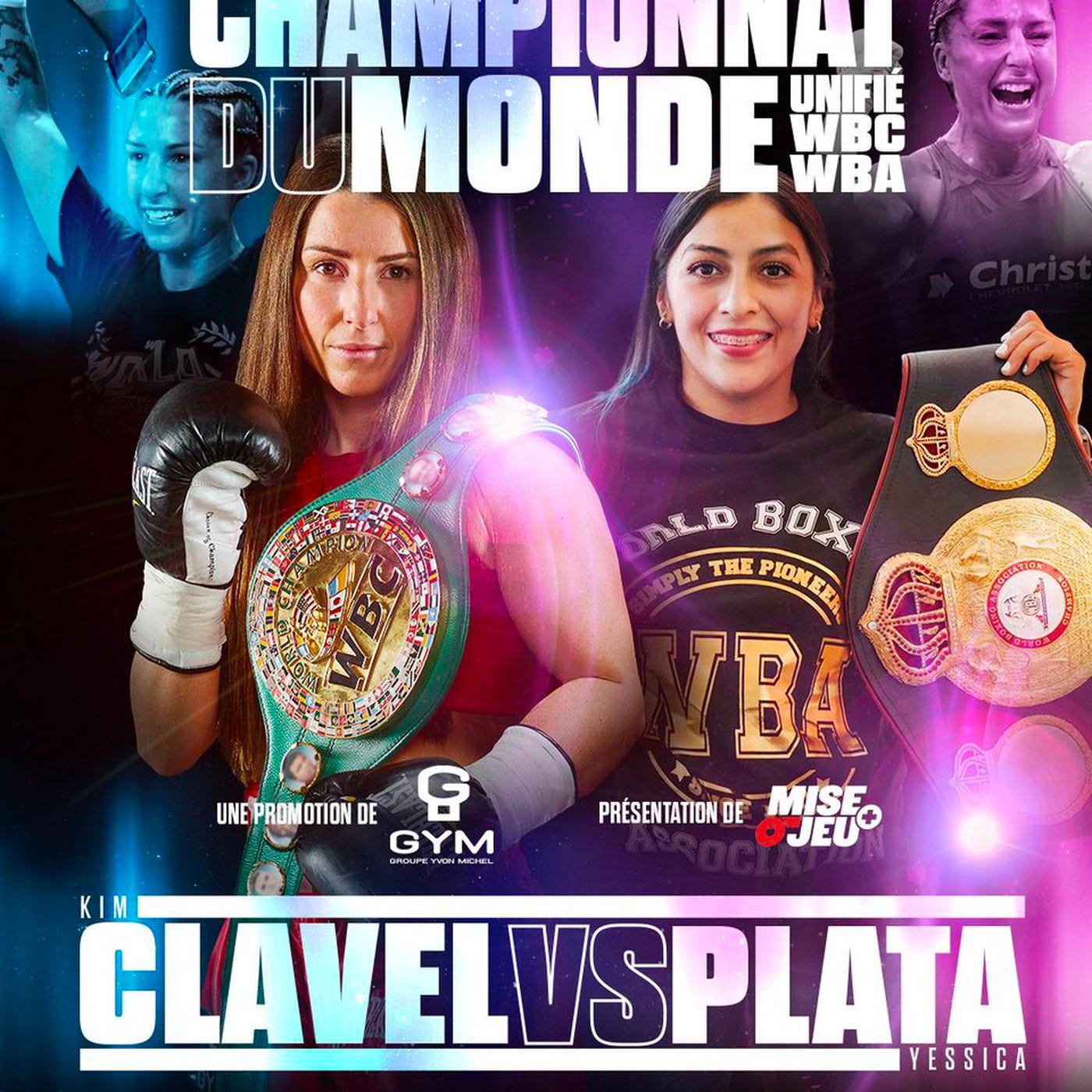 Friday's boxing card is somewhat interesting in the main event.
Kim Clavel is a well-regarded fighter, who holds a junior flyweight world title, but most notably made headlines as she was a nurse, and then during the COVID-19 pandemic she went back to the workforce to help others.
The 5-foot-1-inch fighter, Clavel, who weighs in the day prior at 105 lbs., yet it is her kindness I remember the most from an ESPN article a few years ago.
"The hardest part is not the people who die. The hardest part for me is people who live in that condition … the people who are alone and maybe [have] one year, two years, six months to live and live alone. That is the hardest part. To see people looking outside a window and waiting. To see people just sitting in a chair," said Clavel. "Sometimes I ask myself about what they think in their head. To see them alone makes me really, really sad. I love to go into the room, put on some music and talk to them. I put on the TV and we talk about memories and I ask about the name of their child. This is the hardest part for me — to see them alone waiting for nothing."
In the build-up to her fight with Jessica Nery Plata, a well-respected world champion, and the toughest test for Clavel to date, it will serve as a unification fight as the WBC and WBA junior flyweight titles will be on the line. Nery Plata defeated Yessica Bopp to win the world title, and now is going to Clavel's hometown to face her in Canada.
When speaking to Jake Donovan of BoxingScene.com this week it appears that if Clavel wins, she is looking for big fights…soon!
"The biggest fight out there for me is Seniesa Estrada," Clavel said when speaking to Jake Donovan of BoxingScene.com. "There is Yokasta Valle out there as well but I think the big blockbuster fight for me is when Seniesa and I eventually fight."
The undercard is full of developmental talent. Welterweight Marie Pier Houle is a notable name on the undercard and Caroline Veyre is a fighter who quite possibly might be the most talented fighter on the card. A solid Friday watch if you want to see a competitive main event.
–
Tyler Tomlin will look to rebound from his first career loss as he faces Donald Ward in an eight-rounder over the weekend off-television.
Tomlin had this to say about the fight.
"I am ready to get my 2023 started off right in the right direction," said Ty Tomlin, who at 23 years old, is ten years younger than his opponent. "I had a hard fight last time, but I am not dwelling on the past, I am looking toward the future. I have been out of the ring for six months and can't wait to be back. I have a strong team, who hasn't lost faith in me as a fighter, and this will be another major milestone in my career. As always, I'll be gunning for a knockout."
–
Oh, brother….
The weird world of influencer boxing is back, as KSI will face FaZe Temper in a six-round cruiserweight fight. FaZe Temper is super famous and so is KSI. KSI is probably in the top 5 of social media influencers turned boxers, so if you like this sort of thing – outside of Jake Paul this is as good as it gets.
The bigger story is FaZe Temper is taking the fight on late notice, because Dillion Danis, a once-promising Brazilian Jiu-Jitsu fighter who trained with Conor McGregor during McGregor's rise, who has turned into more of an internet troll withdrew from the fight.
"I did hear whispers, especially on Twitter and a few comments here and there, being like, 'He's not going to show up. He's not going to show up. He's not going to show up. He's not going to fight. He's not going to fight,'" KSI said when speaking to Ariel Helwani on "The MMA Hour". "…I was just like, 'No, man, especially with the amount of money that he was going to be getting.' I was like, 'There's no way he's just going to pull out, especially with everything he said. … There's no way he can come with this much smoke and then pull out.' And then he did."
KSI regrets now not fighting Tyron Woodley his original opponent, as he feels he would not have pulled out of the bout.
"I know between Danis and Tyron Woodley I'm going to get more entertainment from Danis because he's just wild and weird stupid. He gravitates eyes towards it and makes it a big spectacle. Also, to get the MMA community into watching it. It was kind of a smart play. And I know I would just knock him out anyway." furthered KSI. "[expletive] him. [expletive] Dillon. I hope everyone forgets about him, and he disappears into irrelevancy."
The most entertaining influencer is Salt Papi who will face someone named Josh Brueckner in a four-round cruiserweight fight. Salt Papi has traits that make him good at boxing mostly good hand-eye coordination, and an ability to make his body move altogether toward one goal. Which is not common, if you end up watching this card, watch him.
Joe Fournier is really rich and once fought David Haye on a Jake Paul card. He is on this thing.
The Faith Ordway vs. Elle Brooke bout will center around a bet with Ebanie Bridges which will probably be a major story of this fight. Shoutout to Ebanie Bridges for sponsoring a lot of fighters once she made good money in the sport.
Anthony Taylor, who has ties to Oakland, California will fight on this card. Oakland's very own Bilal Mahasin has made it known that he would fight Taylor at the next influencer card if possible.