Boxing TV Schedule: Emanuel Navarrete On ESPN, Two Unifications On DAZN
Friday, February 3rd, ESPN | First bout 3:25 PM PST, main event 6:30 PM PST
A sneaky interesting bout between Emanuel Navarrete vs. Liam Wilson, that will be overlooked as it is nothing compared to the exciting original bout of Navarrete vs Oscar Valdez. The pirze will be the vacant WBO junior lightweight title, which both fighters will compete for.
Navarrete is a two-weight world champion looking to become a three-weight world champion, and Liam Wilson is a very big fighter for the weight class who avenged his lone career loss recently.
Navarrete is starting to develop a troubling trend of lack of discipline and went from being a fringe pound-for-pound fighter to one who doesn't get mentioned after his forgettable performance against Eduardo Baez, in which Navarrete was getting outboxed until he landed a big shot in the sixth round. More troubling was the lack of accountability veteran boxing broadcaster Tim Bradley Jr., spoke of with Navarrete's diet, as it sounded troubling.
"This is my opportunity to become a three-division world champion. I am going for that crown. Liam Wilson is a good fighter, but this is my moment, and everyone will see a much more complete 'Vaquero' Navarrete that has a lot of thirst for victory. My ideal weight is 130 pounds, and that will be demonstrated on February 3rd when I become world champion for Mexico and San Juan Zitlaltepec. Wilson will not get in the way of my dream," said Navarrete
Wilson is by no means an all-time great, but he is a world-class fighter. One who will be mocked by the U.S. fight fans who don't know who he is, but will see he is actually taller than Navarrete which should answer a new question, how does Navarrete handle fighting a bigger man? Wilson is a guy who I wouldn't pick to win, but I would pick him to make it honest. This is not going to be a cake-walk to win a world title, and our veteran reporter Nibs will be there to cover it for ITRBoxing.com.
"He's a champion, a warrior, and a household name around the world, but now it's my time. I'm coming to upset the parade. I've waited my entire life for this moment, and I won't let it slip because it means more to me. I swore an oath to my father on his deathbed that I would one day win a world title for him. I'm looking forward to fulfilling this promise on February 3rd," said Liam Wilson.
undercard.
140 lbs contender Arnold Barboza will find himself in a spot he has been in for a lot of his recent fights, win this fight and get a world title…the next contestant will be Jose Pedraza, a former Olympian and two-division world champion.
"Man, this is the toughest fight to date for me. I have nothing but respect for Pedraza. I'm excited to showcase what I can do and I'm coming to make a statement on February 3rd," Arnold Barboza said when speaking to Ryan Burton of BoxingScene.com. "[when asked if it is hard to stay motivated without a world title shot] It is not hard at all. I don't mind, especially knowing the magnitude of the fight. Sacrifice comes with the sport and the fans can expect to see another exciting fight."
Richard Torrez Jr. will face former Sonny Conto opponent, James Bryant, in a six-round fight. If you're looking for a possibly 2023 breakout star, Richard Torrez Jr. is a good pick. This should be a stand-out performance for the 2020 Olympic silver medalist.
Emiliano Vargas will be in action on the undercard, and is one of the more exciting fighters on the undercard.
The sneaky good fight of the night, Andres Cortes vs. Luis Melendez. Melendez is a tremendous fighter who got a split-decision win over Thomas Mattice, and Andres Cortes was riding a knockout streak until fighting Abraham Montoya. A really good fight. This fight to me puts the winner in the same tier as Abraham Nova and Xavier Martinez. Cortes, brother Luis Cortes, stated that he wanted to fight Navarrete in the main event.
"We are on a mission to fight the best in the world," said Luis Cortes, manager, brother, and trainer of Andres. "We sought to replace Valdez for the Navarrete fight, but his team chose the easier unknown Australian guy. Emanuel Navarrete, Oscar Valdez, Shakur Stevenson, or any other big name, we want them all in 2023. Melendez is going to be a tough fight and that is where our focus is, but I want to let it be known that we feel we are ready for anyone in the division."
Xavier Martinez will face a sneaky good opponent Yohan Vasquez, who was undefeated for five years before he faced a great young fighter in Adrian "Playtime" Benton. Martinez will display his great power and physical strength in this one, but Vasquez is tricky. He will have to work for it.
Nico Ali Walsh will be featured in a middleweight six-round bout, and Lindolfo Delgado will come off his big win in his last outing to face veteran of the sport Clarence Booth, in a 140 lbs bout.
---
Women Wear All The Belts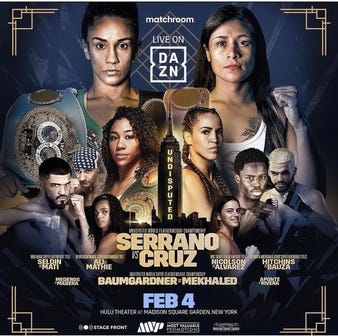 Amanda Serrano will face fellow featherweight champion Erika Cruz in hopes to unify all four major titles at the women's featherweight division. Cruz is a proven champion, winning the WBA featherweight world title nearly two years ago against Jelena Mrdjenovich. Cruz has made two defenses of the title most recently a September rematch against Mrdjenovich, whom she soundly outpointed.
Now, is the endgame. Cruz has to face probably the best women's featherweight to ever live, as this seems to be a celebration of Amanda Serrano's career. Serrano is one of the best fighters of her era, and seemingly unbeatable at 126 lbs. This will more than likely be an iconic moment for Serrano's career as she is becoming one of the best New York City fighters of all-time.
"It wasn't always a dream of ours, or the team, it wasn't always the main goal to become undisputed champion," Serrano said when speaking to ESPN.com this week. "I was satisfied just being the WBO champion at featherweight but now, that's the era."
Alycia Baumgardner will look to hold all of the belts at 130 lbs as she faces Elhem Mekhaled for all the titles. It appears Choi Hyun Mi must have been stripped of the WBA 130 lbs title as she was the last reigning champion I could remember, but in doing research I couldn't see any stories of that occuring.
Mekhaled is coming into this fight in the most boxing fashion, a loss in May of 2022 to Delfine Persoon, a very talented fighter. This should be a moment in which Baumgardner, who has let her star shine since 2021 goes to another level, and possibly starts to angle for fights with Amanda Serrano and Katie Taylor in the future.
A really good prospect bout that will turn a fighter into a contender overnight will see Richardson Hitchins take on John Bauza, at 140 lbs. Both had previous promoters, as Hitchins, a 2016 Olympian was with Mayweather Promotions, and Bauza previously with Top Rank Inc. A classic match-up in which Bauza in the gyms is known for his power, and displayed that against Michael Williams Jr., whereas Hitchins is a very classy and slick boxer. This will come down to who can dictate the terms of the fight. I am looking forward to this one.
Shadasia Green signed with MVP Promotions, Jake Paul's outfit this week, and will face former champion Elin Cederroos, in a WBC women's super middleweight eliminator. The current champion of that division is Franchon Crews-Dezurn, who holds all four belts in the division. That would be an exciting fight if made.
Skye Nicolson will be featured on the undercard in a ten-round fight, as well as trained and sparred with Alycia Baumgardner in preparation for this fight. So that is something to keep in mind to see if you see any differences from a camp outside of her comfort zone.
Ramla Ali spent her camp working with Adelaida "La Corba" Ruiz, a well-respected world champion form L.A., to prep for her fight with Avril Mathie, in a 10-round 122 lbs fight. Mathie is no slouch either as she has been in camp with Javiel Centeno, the famed trainer of Xander Zayas. This is deep on the undercard, but this fight might steal the show, in my opinion. Ali will have to show more than just an ability to box to win this one.
A very good lightweight Harley Mederos will fight Julio Madera who is best known for dropping Marc Castro in a few fights back.
---
Club Shows
A sneaky good ESPN+ card on Thursday is headlined by undefeated super middleweight Erik Bazinyan welcoming Alantez Fox, to Canada for the first time in his career. Erik Bazinyan is an Armenian who is living in the Montreal area, and in his last fight fought Marcelo Coceres who dropped Edgar Berlanga. I have never truly sat and studied Bazinyan, but facing Fox is a big step-up in competition as Fox has only lost to truly elite, world-class fighter.
For those unaware, Fox has only lost to the top fighters in fact his last loss was two years ago in 2021 to David Morrell, his other notable loss was to Demetrius Andrade in Andrade's HBO debut. At six-foot, four-inches and with a 79-inch reach, Fox is a problem for most. So this type of opponent means Eye of the Tiger sees Bazinyan as a potential star who could be fast-tracked to a title shot.
The co-feature is a darn good one. 140 lbs contender Yves Ulysse Jr. will face former Olympian Javier Molina in a ten-round bout. Ulysse Jr beat Cletus Seldin when HBO was trying to push Seldin, and Javier Molina had a good resurgence in 2019-2022, but is currently riding a three-fight losing streak. Albeit to top names in the sport. This could be a true 50-50 fight.
Ernesto Mercado should be in action this weekend, he was set to face Hank Lundy, but the fight fell through and now we have to see if he will get another opponent for that date.
In the DMV area the outstanding amateur turned professional Rianna Rios will once again headline a card and a very good amateur who is turning pro in Deric Davis will be featured on the card.