Boxing Schedule: The Return Of Anthony Joshua.
Joshua's Return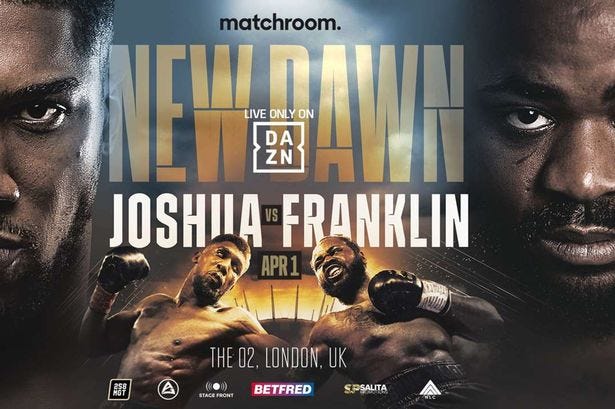 Saturday, April 1st, 11 AM PST | DAZN
It is Anthony Joshua fight week, but it sure doesn't feel that way, yet. His opponent Jermaine Franklin is seemingly having legal issues with his promoter, and it feels very similar to Chris Algieri when he sued people prior to the Errol Spence Jr. fight and Algieri seemed as though to not be focused on the Spence fight when it occurred. It is always a bad omen for a fighter to have that occurring during a major fight.
The most notable thing of fight week so far, is Franklin feels offended that the media and fans have told Joshua that he needs to retire if he doesn't win.
Joshua will be training with a famed coach, Derrick James, and trained in the United States for this bout as well – the first time he has ever done that. That said, it is remarkably quiet for an Anthony Joshua fight, as he is coming off back-to-back losses to Oleksandr Usyk, and essentially now has to look for the best viable options as opposed to securing a legacy as an all-time great.
The Joshua equation is bittersweet as he is the British version of "Sugar" Ray Leonard, but has never truly had to come in as an opponent in any fight, as Joshua has always had a size or stylistic advantage including his home turf. With everything in his favor, Joshua has walked away with three losses as of now, and with a marquee coach in Derrick James, he is looking to rebuild not unlike how Wladimir Klitschko did when he went to Kronk.
Currently, in terms of the best heavyweight of his era, Joshua is well behind Usyk who beat him twice, and Tyson Fury, who would beat them if they fought. Now he is fighting for the third best of his era, as Deontay Wilder and him, are looking to see who can occupy that space for the time being.
This is a fight to propel Joshua into marquee bouts, and attractions with the biggest names in the sport, or at the very least, rebrand him to be in a position to bring up their names, and so forth and so on.
undercard.
Fabio Wardley, a former white-collar boxer will face a former prospect, Michael Polite-Coffie, who lost to Jonnie Rice twice, and was stopped in his last fight by Gurgen Hovhannisyan. Coffie is 36-years-old but hits hard. Wardley is a heavyweight, who throws a lot of punches, but has a clear ceiling. Though Wardley is the favorite this fight feels a lot closer, and the scales might be the best indication of where Coffie is at as Coffie weighed a career-high 297 lbs in his last fight. His best performances have seen his weight between 267-270 lbs. If Coffie comes in around that range this could be competitive.
Wardley obviously hits hard, but also the elephant in the room is Frazer Clarke, the 2020 British Olympic bronze medalist is pretty clearly targeting him. This is a test to see where he shakes out in that level of opponent.
The weird thing is Felix Cash and Austin "Ammo" Williams are not fighting each other on this undercard, but rather – in separate bouts. Cash is fighting Matteo Signani, who holds the European middleweight title. Williams is fighting River Wilson-Bent.
Hopefully, the two can fight next. Seems like a delay of an inevitable match-up.
ESPN
Saturday, April 1st, 4:10 PM PST | ESPN+
This feels like Robeisy Ramirez's moment to become the best featherweight in the world. Ramirez, ITRBoxing's 2022 Prospect of the Year, is a fringe top-ten fighter in terms of his talent. Isaac Dogboe is a former WBO super bantamweight world champion looking to become a two-division world champion.
Dogboe's last three wins over Christopher Diaz, Adam Lopez, and Joet Gonzalez, showed his warrior mentality as we continue to count out Dogboe, and he continues to wins.
That said, Ramirez feels to me like a fighter who will run the division, and his nearest competition would be some form of a catchweight bout between Vasiliy Lomachenko if that fight could be enticing to both guys and if the weights and ages were every to match-up.
Not unlike how the theme of last week was David Benavidez getting a major win, and cementing himself as a top fighter in the division. This should be the introduction of a new star in the sport of boxing, Robeisy Ramirez.
undercard
A battle of punchers will see Joet Gonzalez, a man who had a case to be made for a title shot, as he could've been awarded a victory over Isaac Dogboe, as he will face the always tough Jose Enrique Vivas. It is a featherweight co-feature, as Joet Gonzalez is proving to be a professional top-ten featherweight.
The most interesting undercard attraction is 154 lbs Jahi Tucker who has called out Xander Zayas, is fighting Zayas' sparring partner, Nikoloz Sekhniashvili. This is a very competitive bout on paper.
Tiger Johnson, one of my favorite young fighters in the sport of boxing will face the durable veteran Alfonso Olvera, in a 140 lbs fight. This is a chance for Johnson to steal the show.
Lightweight Abdullah Mason continues his impressive run of opponents as he is facing Erick Garcia Benitez, who defeated Ioannis Manouilidis on a Thompson Boxing card. Mason should be on the verge of an eight-round bout soon if he continues to look good.
Local fan-favorite Jeremiah Milton will look to bring the "Dreamland" experience to Tulsa, Oklahoma once again, as he appears to be in action. A high-upside heavyweight.
Emiliano Vargas will continue the Vargas dynasty as he fights in a four-round fight.
Dante Benjamin Jr., better known as "Tizzy" will face Bay Area fight veteran, Jasper McCargo in a six-round light heavyweight bout. Benjamin is flying under the radar but had a very solid performance last week against a dangerous opponent.
Sacramento Fight Card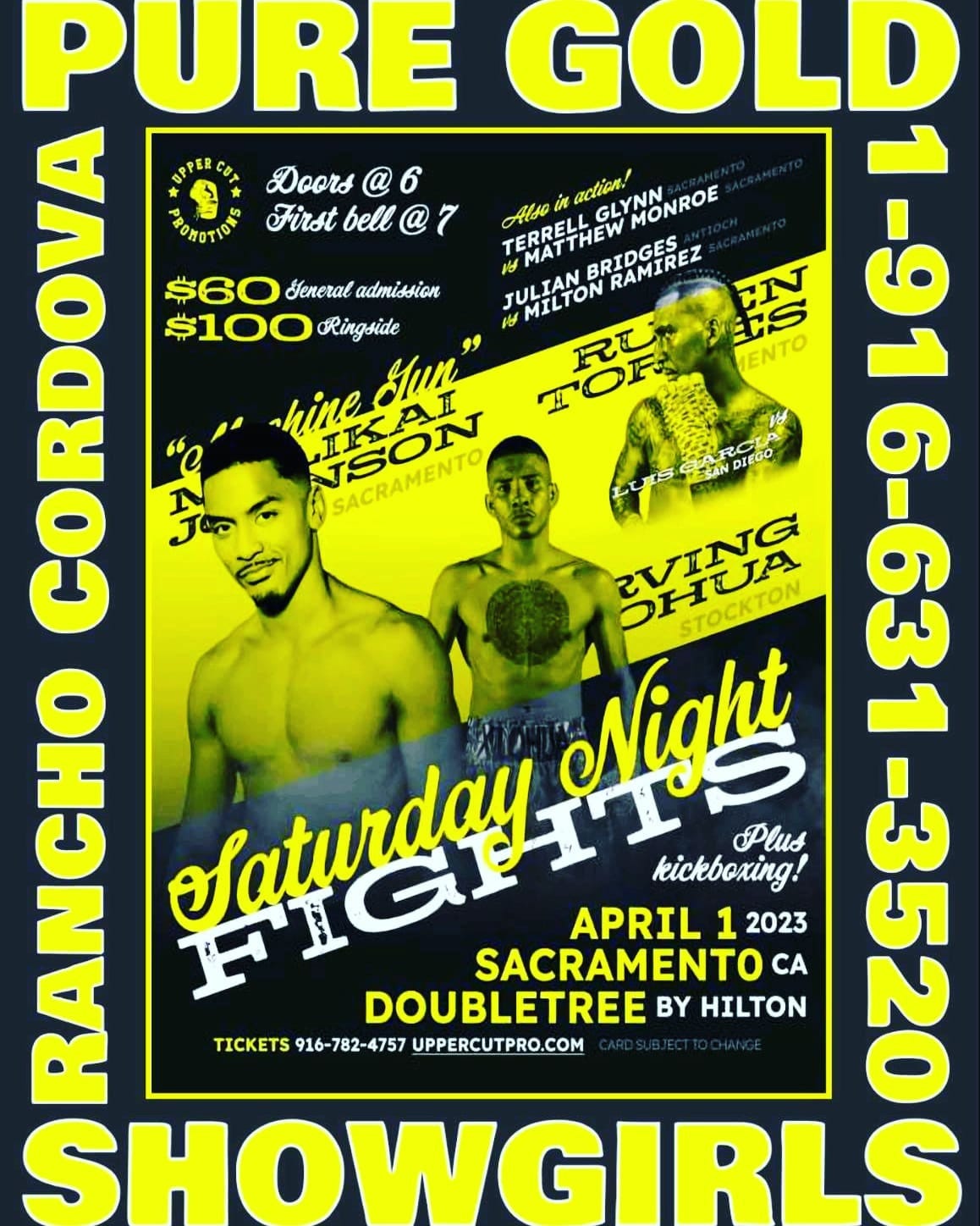 Boxing returns this Saturday, as the main event will see Malikai Johnson of Scarmaneto taking on veteran tough guy, Diuhl Olguin. Other notables, Irving Xilohua a very good fighter out of Stockton, California, Julian Bridges a big puncher who has started out 2-0 by beating undefeated fighters, and Ruben Torres, now training with Jose Morales.
Other bouts
Anselmo Moreno will fight Hugo Berrio in a ten-round fight. Moreno is a former world champion.
–
A bizarre pay-per-view happens this weekend as Roy Jones Jr. will fight former UFC world champion Anthony Pettis in an eight-round fight that really will go on Roy Jones Jr.'s official record. Other bouts will feature former UFC fighter, Vitor Belfort facing Ronaldo Souza, UFC legend Jose Aldo facing hard-punching MMA legend, Jeremy Stephens, Paul Daley will face the new face of these types of attractions Anthony Taylor, and UFC fighter and model Pearl Gonzalez will be in action as well.
–
Team Combat League will start a two-day opening week or (days). The TCL does have some good fighters and will bring a team format to the sport of boxing as fighters will represent cities that will earn points that go to some end goal.
The best fights on the card, Atif Oberlton versus Samuel Arnold, Cobia Breedy vs. Javier Fernandez, Pete Dobson vs. Sharif Rahman, the pro debut of Nasheed Smith, Deric Davis, Hasim Rahman Jr. will fight, Nicole Ocasio, the pro debut of "Right Hook Roxy", and Sean Garcia. I have no clue what the rules are, but I hope it is a standard boxing match.
This is from Team Combat League's website about how it will work.
Our competitions employ a unique and exclusive point-scoring system. Every match is 24 rounds (3 minutes each) of nonstop action with approximately 1 minute between each round. After the first 12 rounds, there is a 10-minute half-time.
Teams compete across six weight categories; five male and one female. There are 3 Judges. Each round is scored individually. 3 points are awarded for unanimous decisions, while a split decision would be 2 points for the winner of the round's team and 1 point to the loser. Additional points are awarded for each judged knockdown with a maximum of 6 points for a round stoppage. At the conclusion of the 24 rounds, the team with the most points wins.