Boxing Schedule: Shakur, ShoBox, 'Bam' and Inferno…
Want more columns like this subscribe to my newsletter here.
Shakur is Now A Lightweight
The best fight of the week or most notable one will see two-division world champion, Shakur Stevenson taking on Japan's Shuichiro Yoshino, with the WBC lightweight #1 contender spot on the line. Stevenson is trending in the direction of all-time great, and it took until the seventh mandatory opponent for Stevenson to find a dancing partner.
Stevenson is a wizard in the ring as Bay Area boxing legend Eddie Croft would say. His use of distance is second to none in this era, and now Stevenson is looking to win this fight so he can be the mandatory challenger for the winner of Devin Haney versus Vasiliy Lomachenko.
As for Yoshino, he is strong, durable, and tough. The biggest advantage, Yoshino has is that he is a natural lightweight with world-class wins. The bout will take place in Newark, New Jersey, Stevenson's hometown, and be a homecoming of sorts.
What makes this fight interesting? How does Stevenson handle moving up in weight? Yoshino reminds me of a former world title contender, who lost to Sergey Lipinets in Akihiro Kondo.
undercard.
I'm slowly starting to believe heavyweight prospect Jared Anderson could fight Anthony Joshua right now and beat him (it didn't hurt that Mickey Bey told me this as well). Anderson is taking on a very tough undefeated fighter in George Arias, in a ten-round fight. Arias is a known spoiler, a good boxer, who will not 'wow' the fans, but will frustrate nearly any fighter in the ring with him. If Anderson can keep his knockout streak alive against Arias, who has never lost – Anderson should be pretty close to a world title. Arias being a five-foot, eleven-inch heavyweight might be a huge part of his downfall in this fight.
2020 Olympic Silver medalist Keyshawn Davis will fight Anthony Yigit in a ten-round lightweight fight. It is clear this is a Top Rank Inc tentpole event as Davis and Anderson look to be future main event fighters in their own right, who are fighting the highest upside Top Rank fighter currently, Shakur Stevenson's undercard.
Davis has had words with Rolando Romero, and Yigit was stopped by Romero in the recent future. Yigit stepped in as a late replacement as well. This should be a showcase for the talents of Keyshawn Davis, who is moving extremely fast and is already a world-level fighter.
Recent Top Rank heavyweight signee Damian Knyba will face the tough heavyweight journeyman Curtis Harper. Harper will always yo-yo as a professional beating some decent fighters, and losing to the really good ones. I know Knyba is strong and tall, and had De'Andre Savage in camp, but beyond that, this will be my first look at him. Also, after doing the Sunday podcast with Dakota, he has seen Knyba and says he is tall and has some talents.
Deeper on the undercard, the very talented featherweight Bruce Carrington will be in action as well as one of my favorite 154 lbs fighters Troy Isley, who seems to be leveling up, as well as Keyshawn Davis' brother, Kelvin Davis, who will be in-action.
The sleeper of the night, Antoine Cobb and Jaylan Phillips will fight for the third time, yes a trilogy to open the card. The two have fought to back-to-back draws. This could be a fight that steals the show, tune in early, or go early to see it.
Showtime Card.

Sebastian Fundora might find himself in a trap fight as many are overlooking Brian Mendoza, heading into Fundora's WBC interim junior middleweight title defense on Saturday night in Carson, Ca.
Fundora has come up the hard road taking tough fights, especially his stoppage win over Erickson Lubin, but his fights against Sergio Garica and Carlos Ocampo left him looking more mortal than one might think of a fighter at 154 lbs., who is well over the six-foot height limit.
Mendoza is a hard-working blue-collar fighter, trained by Ismael Salas, and who credits Tony Brady for changing his career. Now Mendoza will get the chance of a lifetime, fighting Fundora in the main event on Showtime.
undercard.
Brandun Lee will face Pedro Campa in a 140-lbs fight. Campa fought Teofimo Lopez last year, Lopez didn't look all that good in that fight, despite stopping Campa. Brandun Lee is a top prospect who had a rough 2022 and is looking to emerge as a big name in the 140 lbs division. This is the classic bout in which you expect Lee to try and look better than Teofimo Lopez, to shake off the lingering feeling people got when he was dropped by Will Madera.
Luis Nunez is promoted by Sampson Lewkowicz and will face Christian Olivo to open the card in a featherweight ten-round bout. Nunez has been slowly building momentum, as he seemingly has graduated from being a ShoBox main eventer to a Showtime Championship Boxing opener. A big performance could further move him along in his development.
"Bam" Returns.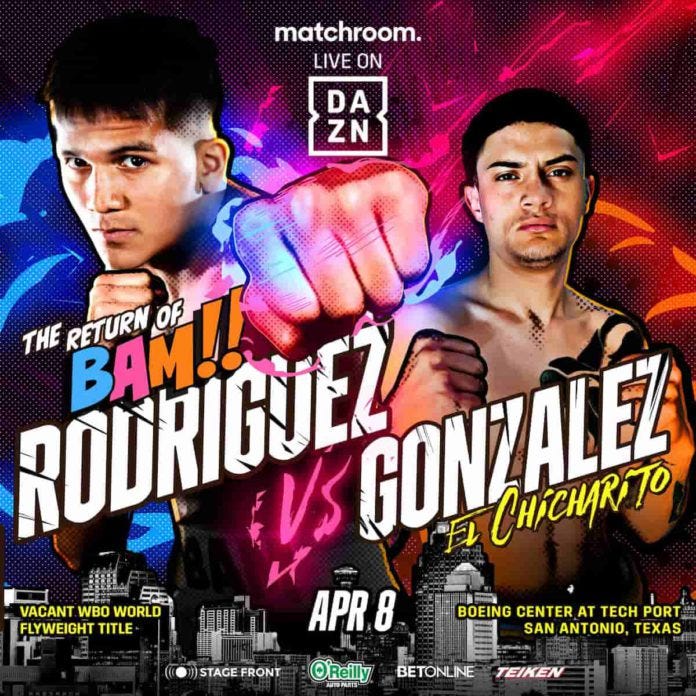 Jesse "Bam" Rodriguez was one of the breakout stars of 2022 along with Joe Joyce, as his rise to fame came quickly. Now Rodriguez has moved down to flyweight so his brother Joshua Franco can pursue the big fights at 115 lbs. In Rodriguez's first fight at flyweight, he will face Cristian Gonzalez, for the vacant WBO flyweight title.
Though not a lot of tape exists on Gonzalez, he appears a lot tricker than his record appears, and my gut tells me this could be a very compelling and possibly close fight. Rodriguez is a centerpiece of Matchroom Boxing at this point and the signing of Sunny Edwards last week seems to all but set up a future fight between the two.
Rodriguez fell out of the fighter of the year conversation with a rather uninspired performance against Israel Gonzalez. Now we have to see if that was simply a one-off, or if that trend continues coming into this fight.
undercard.
Murodjon Akhmadaliev is the forgotten 122 lbs champion. While Stephen Fulton Jr. and Naoya Inoue made a super fight in the division, Akhmadaliev has had long periods of inactivity, and it doesn't help that he has followed the route of pursuing his mandatory title defense as well. In the co-main event, Akhmadaliev, better known by his nickname "MJ", will face Marlon Tapales. What is Tapales best known for? Well – not a lot.
Tapales has frequently fought in recent memory in the L.A. market buried on undercards, and I believe is part of MP Promotions, and whenever you see Sean Gibbons backing a fighter, which I believe he will be backing Tapales, that is cause for concern.
That said, Akhmadaliev is really good – he is a unified WBA and IBF 122 lbs champion, that we often forget how good he is, because he doesn't fight all that much. This fight should serve as a reminder of his skills.
The most interesting fight on this card is Raymond Ford facing Jessie Magdaleno in a WBA featherweight eliminator. Magdaleno is not that far removed from being a world champion but has moved camps a few times since losing to Isaac Dogboe, or at least so it seems, facing Ford who is emerging as a top Matchroom Boxing fighter after a very hard fought-against Edward "Kid" Vazquez. This is a trajectory fight for both guys – just in different stages of their careers. For Magdaleno can he be a champion again, and for Ford can he defeat a top featherweight? One thing to note, Magdaleno can have some issues with weight so seeing the number Magdaleno touches the scale and how his body looks will tell us a bit before the fight.
Thomas Mattice, a top 130 lber will be back in action, as Mattice is now with Matchroom and looking to emerge as a contender in the future. Mattice is a very good boxer, look at his fight with Isaac Cruz.
Israil Madrimov is returning in a stay-busy fight against Raphael Igbokwe, in a middleweight bout. Madrimov is a top 154 lber, and will be coming back at middleweight to knock off rust it seems.
Top lightweight prospect Marc Castro will face the tough Ricardo Lopez, in an eight-round fight. Castro is a great amateur and built a strong following in the Fresno area organically through the internet. Castro should be nearing bringing a big fight to Fresno soon.
Khalil Coe, a/k/a 'the big steppa', will look to avenge his draw to Aaron Casper as he will be opening the DAZN telecast. Coe is best known for knocking out Cuban Olympic gold medalist Julio Cesar la Cruz.
ShoBox In Northern California.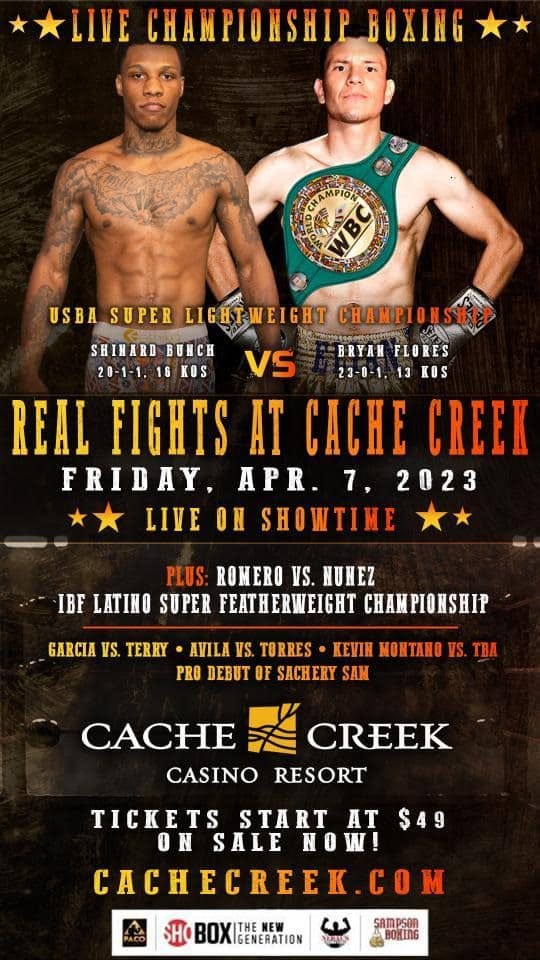 Shinard Bunch is on the cusp of being featured on bigger shows, such as Showtime Championship Boxing, as a year ago Luis Nunez was in this very spot, and is now opening Showtime Championship Boxing cards. Bunch, who has been incredibly active over the past four years since turning will face Bryan Flores, an unbeaten Mexican 140 lber. Bunch when speaking with told me he had heard Flores had been dropped five times in a previous fight, and if Bunch wants to go to the next level – this would be a good card to make a statement on.
This co-feature just came together as Jahyae Brown, who works a nine-to-five along with being a pro boxer will face unbeaten Guido Schramm, in a 154 lbs fight. This fight reminds me of the Friday Night Fights bouts we used to get a decade ago.
The TV opener will be Raul Garcia facing Robert Terry, in an eight-round junior middleweight bout.
Off-TV local card.
Former sparring partners, Manuel Avila and Alberto Torres, whom I wrote about here for NYFights.com, will face each other off-television. The major story of this featherweight bout is that Avila was cut in sparring with Torres in the build-up to his fight with Joseph Diaz Jr., and now the two are fighting each other, six years later.
Stockton's own, Sachery Sam will make his professional debut at featherweight working with Alberto Torres' manager, Marlon Diaz. Sam is known for explosive power.
Kevin Montano, who has a huge social media following and over 150 amateur fights will face an undefeated opponent on the card as well off-television.
Other Notable Shows
ProBox
ProBox always has fun cards, and they are back on Wednesday with another sequence of competitive fights. The main event will feature Carlos Sanchez vs. ​​Alexander Duran in a junior welterweight showdown. Sanchez has fought the better competition but lost to Pedro Campa, who went on to lose to Teofimo Lopez, whereas Duran has fought regionally until this point.
The co-feature will see Brandon Reyes and ​​Abraham Arreola doing battle in a six-rounder that should have the local crowd going wild.
Golden Boy Thursday Night Card
Golden Boy will put on a card this Thursday, on DAZN, and at times, these fights can emerge on YouTube as well, on Golden Boy's page, which is somewhat strange, but I enjoy it.
The main event is power-punching flyweight Angel "Tito" Acosta taking on Angelino Cordova in a ten-rounder. Acosta typically knocks out guys a little bit below the world level in a few rounds, if not one round, so this might be interesting to see as Acosta is a very explosive Puerto Rican fighter.
One of the more exciting fighters on the card is Grant Flores, a junior middleweight, who will be returning to action. It looks like he might be developed on this series in the short-term future.
The most interesting prospect is Daniel "Junebug" Garcia, a 130 lbs prospect, who just signed with Golden Boy Promotions. Garcia fought at the Olympic Trials in 2020, in Lake Charles, La.
Daniel Luna is a fighter from the Southern California area that people have high hopes for, but will
–
Tenshin Nasukawa, most famous for getting knocked out by Floyd Mayweather will turn pro in a main event on ESPN+ in a 122 lbs fight.
The real main event will be Kenshiro Teraji, a fighter many believe has pound-for-pound level talent taking on a very talented hidden gem of the L.A. boxing scene Anthony Olascuaga, who is stepping in for Jonathan Gonzalez. Teraji will be putting his WBC and WBA junior flyweight titles on the line. This fight will be early in the morning on the west coast, but could be a very good one – and at the very least, something to be aware of.
–
Neeco Macias returns off-TV in Washington.