Boxing Schedule: Haney vs Loma Fight Week
Haney vs. Loma PPV
Though it is flying under the radar, Devin Haney vs. Vasiliy Lomachenko, for all four of Haney's lightweight world titles which are the WBC, WBO, IBF, and WBA, is one of the best fights in the sport. All things point to the younger, stronger, bigger, and probably faster Haney winning the fight – yet is a formidable opponent.
Loma has made a whole career out of defying expectations, and what is most concerning to me is that Loma has accomplished every goal in his career he has set except for one; becoming undisputed. This is Loma's last chance to be a four-belt world champion.
Haney, on the other hand, traveled to Australia to become the youngest undisputed world champion ever. Despite taking different paths, Loma and Haney have the same mentality. Haney didn't have to take this fight, Haney wanted this fight.
Though the world will lie to you, or some outlets might – this is a very even fight with major implications for the history of both fighters' careers. If Haney wins, he continues his run as the leader of the new school of boxing, if Loma wins, his loss to Teofimo Lopez is remembered differently. We have pride, glory, and historical significance on the line – what a main event!
The winner is one of the most accomplished fighters in the sport.
undercard.
The co-feature will see Oscar Valdez return for the first time since losing his super featherweight world title to Shakur Stevenson, as he faces Adam "Blunose" Lopez in a rematch. The first fight saw Lopez drop Valdez, but Valdez win on a stoppage some questioned. Since Lopez has gone on a losing streak, this is a big chance for him to regain momentum for his career.
Raymond "Danger" Muratalla is being praised by Robert Garcia as the next star out of the RGBA, as he will face the big punching Jeremia Nakathila, to open the card. Nakathila knocked out Miguel Berchelt recently. Muratalla continues to impress but did get dropped in his last fight. This will tell us a lot about Muratalla.
Junto Nakatani will face Andrew Moloney, for the vacant WBO junior bantamweight title, as a prelim bout. Nakatani is very good, and Moloney's brother, Jason, won a world title in Stockton, this past weekend. If Andrew were to win, that would mean they'd be twin brothers holding world titles at the same time.
Nico Ali Walsh, Ali's grandson, will fight on the undercard in an eight-round fight, as well as Emiliano Vargas will fight in a four-round lightweight bout, and future star Abdullah Mason will be in a six-rounder.
Two fights to keep a close eye on; Floyd Diaz vs. Fernando Saavedra in an 8-round, 122 lbs fight. Fernando Saavedra has won a couple of upsets and is assisted by Marco Contreras. This is a very good and competitive fight. Also, Oakland, Ca's Amari Jones will face Pachino Hill, a tough middleweight, who has only lost to Javier Martinez and Lorenzo Simpson.
Taylor vs. Cameron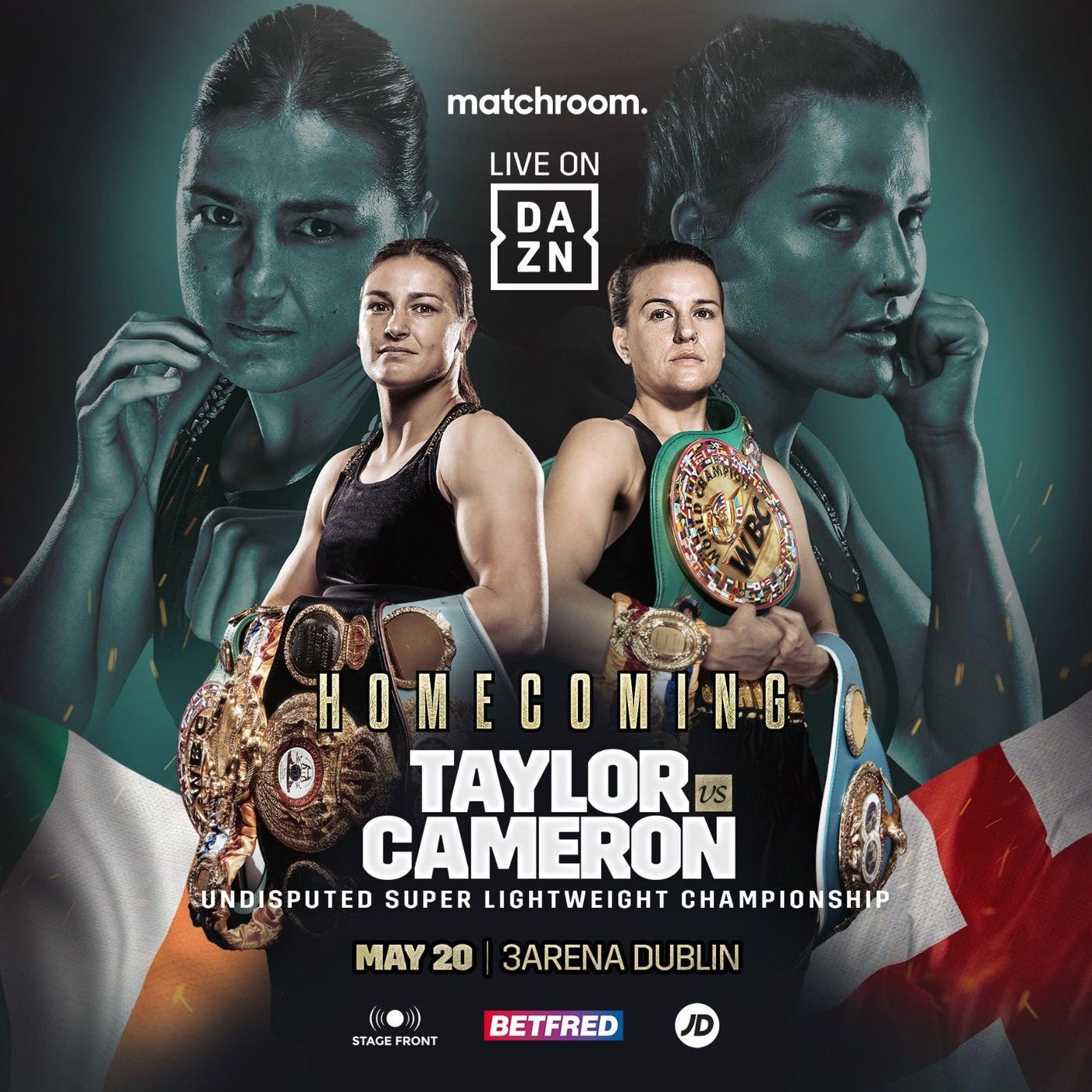 Chantelle Cameron will put all of her four world titles on the line against the Irish legend, Katie Taylor, in a 140 lbs main event.
One of the best fights to happen in women's boxing history, and a testimony to the character of Katie Taylor as Taylor was originally set to fight Amanda Serrano, but after Serrano pulled out Taylor forced a fight with the next best opponent.
Taylor has put women's boxing on her back, and shown it can make money. Cameron has called out Taylor for years, and though it might be huge in the U.K., this fight might be missing some of the traction from fight fans in the United States.
This has the makings of an all-time classic as Cameron reminds me of a female Roberto Duran and Katie Taylor is an all-time great before the first bell rings for this fight.
undercard.
Terri Harper vs. Cecilia Braekhus will see Harper looking to make her first world title defense four-division above her previous world title, against a 41-year-old fight legend. Harper's WBA women's junior middleweight title will be on the line.
Dennis Hogan will face James Metcalf, in the 154 lbs division. The winner of this fight will probably fight someone most people find entertaining and well-ranked in the division and Gary Cully, a lightweight with a lot of promise will face Jose Felix Jr., a fighter who at one time Top Rank had high hopes for, and now is more of a gatekeeper in the sport.
ProBox TV
On Wednesday, live on ProBoxTV.com, super featherweight Otar Eranosyan will face Edy Valencia Mercado, in a ten-round fight. The bout should be exciting as Valencia is a tough operator, but doesn't have great defensive skills, but can take a punch. Otar Eranosyan is very aggressive.
In other notable bouts, Darrelle Valsaint, a 2020 Haitian Olympian will face a late sub, and 154 lbs Marques Valle will be in a fight as well on the undercard