Boxing Weekend Preview: Top Rank at StubHub, Lipinets-Garcia and much more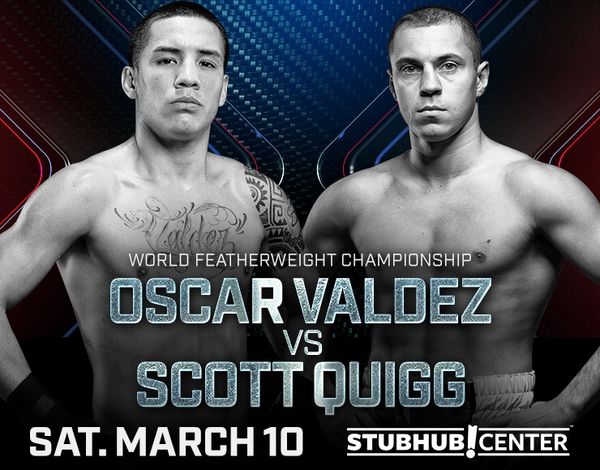 Oscar Valdez vs. Scott Quigg
In one of the most entertaining fights which might only be rivaled by the co-feature, featherweight powerhouse and two-time Mexican Olympian Oscar Valdez takes on Scott Quigg in a truly interesting ESPN main event promoted by Top Rank Inc as the promotion continues putting on quality fights on network television.
Valdez, one of the most fan-friendly fighter in the sport of boxing, who is coming off two tough fights against Genesis Servania and Miguel Marriaga, will see no difference in Quigg who is equally as game. The Servania fight even saw Valdez go down in the fourth round albeit more of a glancing balance shot, but it is of note. Valdez is one of the hardest workers in boxing and seems destined to be one of Top Rank's future stars of the lower weight classes.
Quigg, on the other hand, has rebuilt himself after a 2016 split decision loss to Carl Frampton. Frampton has uprooted himself to Los Angeles, CA and is now training with Freddie Roach at the famed Wild Card Boxing Gym. Quigg is a boxer at his best moments and at his worst will be a high guard fighter who leans with his right hand, something that if he does with Valdez will be exploited.
It is no secret what Valdez is looking to do as he has the best overhand right, left hook followed by overhand right combination in the game, the question is can Quigg avoid it?
Andy Vences vs. Erick De Leon
In a battle of Top Rank's two best super featherweights, undefeated fighters Andy Vences of San Jose, Ca and Erick De Leon of Detroit, Michigan (but trains in Riverside with Robert Garcia)  will put their perfect records on the line as they look to graduate to the elite of the division with a win.
Vences, a late bloomer in boxing, had an average amateur career only to have blossomed in the professional ranks. Andy Vences simply outworked his peers and now has one of the best jabs in the division, a speed that might not be matched and deceptive power.
Erick De Leon is a skilled boxer with a great amateur pedigree, who has the ability to box and fight off the back foot, but has often chosen to come forward in the professional ranks as De Leon lives and dies by his looping left hand to the body from the southpaw stance as well as clever check right hook.
This fight has the makings of a very good bout since judging by both fighters social media pages, neither has an inkling of losing and both are good at what the other is flawed in.
An interesting side note is that Robert Garcia, who works with Erick De Leon will be with his brother, Mikey Garcia, as "Pita" Garcia will head the corner duties for De Leon along with we assume De Leon's father. De Leon also has been somewhat inactive with his last fight being in August of last year, whereas Vences took a fight in November to stay busy picking up a second-round TKO.
It is also interesting to note that Andy Vences lost his beloved manager, Herb Stone last year as well as De Leon had to move to Los Angeles to take up training with Robert Garcia after his original trainer Emmanuel Stewart passed away. In essence, neither fighter is fighting for themseleves
Arnold Barboza vs. Mike Reed
Mike "Yes Indeed" Reed is getting no favors and neither is Arnold Barboza Jr. as they're being thrown in tough against one and another. Reed, who was stopped abruptly by Jose Ramirez will now look to regain momentum in the junior welterweight division as he hopes to work his way back to title contention.
Barboza last fought on the same August card De Leon fought on in a competitive bout with a person I know very well, Jonathan Chicas. It was a fight in which Chicas actually dropped Barboza as well and a good chance to get the victory.
This is a fight where it feels like the promoter wants to see which direction either fighters career is going and that the loser of this bout may end up getting served their walking papers potentially.
Another tidbit is I feel that most people would have favored Reed prior to the Ramirez fight, but now are unsure of his trajectory after that loss.
Mayer, Ruiz, Lua, Saucedo, Dadashev
The first women ever signed to Top Rank, Mikaela Mayer will be in action against an opponent with a good record as Mayer ascends the boxing rankings. Mayer is a decorated amateur boxer with good straight punches and good looks as well to match her skill, which means stardom could be in her future.
A potential suitor for the Barboza vs. Reed winner, Alex Saucedo will be in action as the Abel Sanchez trained fighter looks to have a big 2018 as he is a "stay-busy" type fight on the March 10th undercard. Saucedo has looked very impressive in his last few outings.
The extremely talented Maxim Dadashev at only nine fights looks to be moving ever so close to a title shot as he seems worthy of hype as he has come into his own in the last few fights starting with his win over Oakland, CA boxing veteran Bilal Mahasin and followed by a stunning win over Clarence Booth.
Andy Ruiz Jr. will be back in action, this will be his first camp working with Angel "Memo" Heredia as well.
Madera, CA's Bryan Lua will more than likely open the card, he is being touted as a future star of the Fresno area and fought on a January card in Tulare, CA. Lua has yet to record a knockout, it will be interesting to see if that changes on March 10th as the Central Valley fighter training at Robert Garcia's Boxing Academy looks to make a favorable impression.
Sergey Lipinets vs. Mikey Garcia
Sergey Lipinets is the IBF junior welterweight champion, who is seemingly being dismissed and written off as unworthy to Mikey Garcia, one of the five best fighters in the world who is looking to be a four-division world champion, even though Lipinets is the titleholder.
That being said Lipinets was never viewed as an a-side fighter beating Lydell Rhodes amongst others and fought his way to the top of the division, the hard way. Lipinets was feared up until his last fight with  Akihiro Kondo, which was for the vacant IBF super lightweight title in which he looked ordinary, but some may discount nerves for his first title fight for this performance. I am saying all of this to basically say, the narrative people are putting out dismissing Lipinets, isn't the greatest as Lipinets is the biggest fighter Garcia has faced as well as the biggest puncher, who has a great left hook to the body and a hard jab.
At the same time, Mikey Garcia seems to be one of the best fighters of this generation and to compare him to anyone outside of the top 5 pound-for-pound seems like a mismatch. The fight which was delayed by an injury to Lipinets' hand, which has flown under the radar the condition of Lipinets hand. Garcia is a no-nonsense fighter with every tool needed to win fights as well as an astute brain to think through fights, the only question is Lipinets power too much?
Barthelemy
Rances Barthelemy looked as ordinary as possible and seemingly barely edged a decision against largely unknown Kiryl Relikh in his last outing. The rematch will see the WBA super lightweight title on the line as their first bout saw both fighters on the canvas and a low work rate from Barthelemy keep it competitive with Relikh, who some thought edged it.
Not unlike last week's bout between Andre Dirrell and Jose Uzcategui, this is a rematch silence the noise from the first bout. It is not the most talked about the fight, but it could be very competitive.
Commey vs. Luna – THE TEST!
Richard Commey is a beloved fighter on the internet, who gave Robert Easter Jr. and Denis Shafikov tough outings will look to be a stern test for prospect Alejandro Luna in an eliminator bout in the lightweight division rounding out the three fight showtime card from San Antonio, Texas.
Both fighters have existed rather anonymously, Commey as hard-luck fighter looking to make a name off of others putting on good shows and Luna as a decorated amateur from Southern California, who is looking to take his career to the next level with a marquee win.
Mario Barrios
San Antonio, Texas' Mario Barrios, who trains in Hayward, CA, will be featured on the card headlining the ShoExtreme (a lesser known channel under Showtime's entertainment package plan). Barrios is a power-punching junior welterweight, who has the ability to box and is also an exciting fighter. A worthy watch.
Ronny Rios in a good fight Friday on ESPN2
A fight that is getting not very much publicity based on the club level vibe of it is Ronny Rios vs. Azat Hovhannisyan on ESPN2 taking place in Costa Mesa, CA on Friday. Rios, who has been up and down in his career is fighting in his hometown or near it in Costa Mesa as Azat Hovhannisyan is a veteran tough guy, who won't take a step backwards and honestly that has given Rios problems at times, will look to do what Hovhannisyan has done in the past play spoiler.
This ESPN2 headliner on Friday night from The Hanger looks to be a fight that could steal some headlines coming into Sunday based off the styles clash and both fighters not often adjusting to a more tactical plan and fighting for the fans.
Rocha, Cornejo and McKenna
Ronny Rios' brother, Alexis Rocha will be featured on the Friday night card in the co-main event creating an interesting story of sorts.
Future champion Maricela Cornejo in the women's middleweight division will be in action on the televised portion of the card. Cornejo fights in and/or around the same weight as Raquel Miller, Alicia Napoleon and Clarissa Shields all around the same weights, it seems that once each of these fighters get a title, we could see some good match-ups between all of them.
Irish amateur standout Aaron McKenna is also featured on the card with the rise of Conor McGregor, you sense a feeling of boxing trying to find an Irish sensation of their own, so it is interesting to chart the progress of McKenna.
Regis Prograis
A future star in the sport of boxing, Regis Prograis will fight former world champion Julius Indongo for the chance to fight the winner of Jose Ramirez vs. Amir Imam for the WBC super lightweight title in the near future. Prograis is a smart fighter with one punch knockout power as well as fighting out of a southpaw stance. If you like buying in on fighters early, Prograis is a good one to buy in on.
Prograis is likely to win on Friday night and likely to make a statement as well.
Ivan Baranchyk, Petr Petrov
Baranchyk was nearly without a dancing partner as Anthony Yigit got sick the week of the fight, so per Petr Petrov's modus operandi of his career, Petrov took the fight on five days notice. The bout stylistically is a fantastic one as both will come forward and slug it out as it will come down to the fighters chins and to see how well conditioned Petrov is.
The bout also or at least was prior an IBF junior welterweight eliminator meaning the winner would face the winner of Sergey Lipinets vs. Mikey Garcia.
On a side note, I saw Petrov last week in the gym and in great shape that is optimistic in terms of this fighting being entertaining.
Bam Rodriguez
Jesse "Bam" Rodriguez is regarded as one of the best young fighters in boxing currently. He will be headlining a card co-promoted by Mikey Garcia on Friday night in San Antonio, Texas. The junior flyweight Rodriguez is a talented fighter with my only concern being if he is truly right for the weight class he fights at currently because in some of his early fights he appeared to have problems with the size of some of his foes
Conwell, Powell IV really return
2016 U.S. Olympian Charles Conwell will return this week as we made a mistake and had him fighting last week just like our pal Money Powell IV, whom we made the same error with. Connell is the unknown Olympian of that class and has fought mostly off television.
Conwell will be fighting on the undercard of the DiBella Entertainment ShoBox card in South Dakota.
As for Money Powell IV, who is a highly likable fighter who has spent most of his career getting great wins in Paris, France. Powell IV was in camp with Jermall Charlo for this training camp
Souleymane Cissokho
The talented Frenchman with the best uppercut in the game that can land from anywhere will return to action in Paris this weekend and with the hype around the prospect in the Bay Area, it doesn't seem like it'll be long before he gets a world title shot. For those who don't know, Cissokho spends his training camps in Hayward, CA at Virgil Hunter's Gym.
Cissokho should come out of this weekend with a highlight reel win for the recap.
Sparrow, Nevin
Hardluck fighter Avery Sparrow, who has one loss on his record, that of which coming by way of disqualification, will face a game journeyman in Jesus Serrano in a bout taking place in Bensalem, Pennsylvania. Sparrow is your classic regional fighter looking to put together some good wins to get a name for himself in the sport. Sparrow also won two Briscoe Awards for 2017 for his outstanding year, which he hopes to parlay into the new year. 
The co-feature includes a fighter I am very high on John Joe Nevin, an Irish Olympic silver medalist, who saw inactivity stymy some of his progress in the professional ranks. Nevin is a terrific combination puncher with good skills that will need to adjust to the professional game, but in time and by staying active it seems they will. Nevin has only fought two times in the past two years.
Nevin is facing undefeated Alex Rynn.
Rob Brant return
Rob Brant will make a regional return after his loss in the World Boxing Super Series in Minnesota as he looks to shake off his loss in style in a bounce back fight. Brant is still an interesting middleweight to wabounce-back one loss above his optimum weight class. Brant was a highly decorated amateur.
Dina Thorslund
Undefeated Denmark women's fighter Dina Thorslund will look to win her first title of her career as she faces Alicia Ashley WBC super bantamweight title. Thorslund is a fairly good draw in her native country of Denmark.
Julian Sosa
Unsigned prospect Julian Sosa will be in action against a tough opponent Wilmer Rodriguez, who only has one loss. The bout will take place at the King's Theatre in Brooklyn, New York. Sosa is a fighter we are keeping our eye on.
Chazz Witherspoon back
Finally, heavyweight Chazz Weatherspoon will fight Saturday night in Atlantic City, New Jersey in a tune-up fight.