Zurdo Stops Barrera, JoJo Diaz Wants Ryan Garcia
"Zurdo" Returns With Golden Boy, Wants Bivol
Former WBO super middleweight world champion Gilberto "Zurdo" Ramirez defeated Sullivan Barrera, via a fourth-round knockout.
Ramirez dropped Barrera, multiple times to the body before stopping him in the fourth. The bout showed two things, Ramirez has improved in his time away from our television screens, and at age 39-years-old, time has caught up with Sullivan Barrera.
Ramirez's end goal for the near future, one of the boogeymen at light heavyweight, and current WBA world champion Dmitry Bivol. The news should bring excitement to Bivol as well, as Bivol has been one of the best fighters on the planet, but void of any sexy match-ups that the fans were calling for, or that seemed feasible. Ramirez being with Golden Boy, who puts fights on DAZN, creates a clear path for the fight to occur.
Ramirez goes from being in the mix at Top Rank to now being one of the focal points of Golden Boy Promotions moving forward, as Ramirez appeared to be embraced by the Southern California fight fans, as Ramirez trains in the L.A. area as well. Ramirez, known for his high volume, showed an ability to fight on the inside, more so than in previous fights before.
Joseph Diaz Jr. Next For Ryan Garcia
With veteran East L.A. boxing coach Ben Lira being the main voice in Joseph Diaz Jr., Diaz Jr. got past Javier Fortuna to win the interim WBC lightweight title, previously held by Ryan Garcia, who stepped away from the sport for mental health reasons, as Diaz Jr. won a twelve-round decision in a competitive bout.
Diaz invested in the body earlier, but was cut over his right eye in the third round, the same round the referee warned both fighters, he might take a fight from either.
The referee took one point from Joseph Diaz Jr., in the fourth round, as Fortuna landed well to the body, prior as well. Fun fact, Robert Easter Jr. also lost a point against Fortuna for a similar situation.
The fifth round saw Fortuna assert himself and have the most success of the fight, coming forward, and throwing a slew of combinations.
Halfway through the fight, it was clear Joseph Diaz Jr.'s power wasn't impacting Fortuna, who was content to pick his shots on the outside. Fortuna's corner was frustrated late in the fight as they felt he wasn't letting his hands go, and felt that close rounds were too close based on inactivity. Diaz's overall talent was the difference as he took over the latter rounds to soundly outpoint Fortuna.
The battle was a fight between wills, as the experience of Diaz Jr. proved to be the difference.
So what is next for Diaz?
With the win, Joseph Diaz Jr. looks like he might be able to land a Ryan Garica fight, and he looked mortal enough to quite possibly get it. Garcia, a star-in-the-sport, will more than likely want some advantages over his foes, and Diaz Jr. is a naturally smaller man, who looked human against Javier Fortuna.
Diaz Jr. continues to be one of the most unique stories in boxing, as coming from the amateurs he was a bright-eyed child-like pro boxer, who now looks like a man who the business of boxing has frustrated him, and possibly burnt him out to an extent. That being said, Diaz Jr might be the most talented fighter in the Golden Boy roster, or at least in the top-3.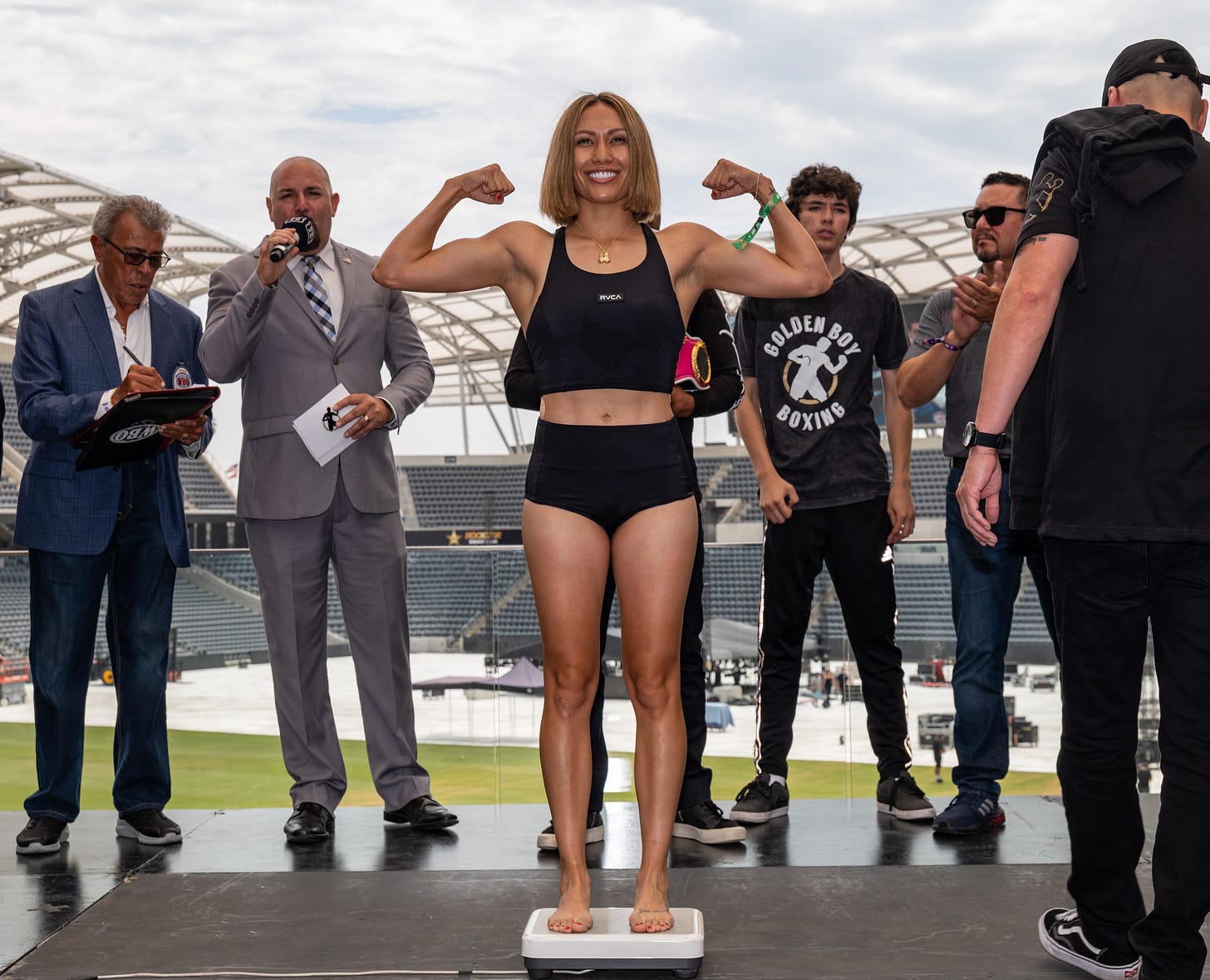 The Female Ricardo "Finito" Lopez, Meet Seniesa Estrada
If ever we have seen a generational women's boxer not named Claressa Shields, we're seeing one in Seniesa Estrada. A master of angles, movement, speed, and combination punching, needed all of that to win her second world title in her second weight class, at light flyweight, defeating WBO world champion Tenkai Tsunami in an entertaining fight, via a ten-round unanimous decision.
The two traded, and made even the biggest hater of women's boxing, more than likely enjoyed this bout, as Tsunami pressured, and Estrada picked her shots. Estrada is never in a bad fight, and Tsunami made for a great foe on this stage, Golden Boy's return to the L.A. market with fans, as the little giant in the ring, entertains, and also functions as a symbol of empowerment for women across the world.
Estrada fought smart and targeted the body of a bigger fighter.
At what, do we start to consider putting Estrada on the pound-for-pound list, amongst her male peers, because she is more exciting and more noteworthy than some of the fighters who occupy those lists?
When watching Estrada, I can't help but think is that what it was like 15-or-so-years-ago when Ricardo Lopez, fought as the hardcore tuned in, and those who enjoyed the sport didn't.
Man, Estrada is something special, with a homegrown fanbase in the L.A. region, and credit to Golden Boy for believing her, and more important investing in her.
Estrada wants to be undisputed in both 105 lbs, and 108 lbs.
When asked about rematching her rival, Estrada showed little interest in a prizefight but told Esparza, she could get the rematch in the parking lot.
William Zepeda Stops Hector Tanajara Jr.
Lightweight William Zepeda is now nearing a world title as he defeated amateur standout Hector Tanajara Jr., when Tanajara's corner stopped the bout in between the sixth-and-seventh round. Zepeda isn't flashy, but he throws a lot of punches and brings a lot of pressure, as the death nail for Tanajara was excessive movement without finding his range, and catching Zepeda coming in.
Zepeda builds up steam, like a locomotive, and not unlike, once Zepeda gets going, it isn't easy to stop him. Tanajara and Zepeda split rounds early, as at the end of the third round it looked as though Tanajara had adjusted to Zepeda, but the constant pressure, and Zepeda not respecting Tanajara's power, made the bout difficult for Tanajara.
The story of the fight was Zepeda was willing to throw six, seven, eight and even nine punches at a time, whereas Tanajara was working from the methodology of three-and-out, meaning throwing three punches or so less in succession, which usually works unless your opponent is unphased by your power.
The sixth round was pivotal as it appeared Tanajara was moving away from fighting on the inside, and trying to move around on the outside, Zepeda started to have a lot of success at the end of the round, and Tanajara's corner called the fight
Tanajara was coming off nearly a year-and-a-half layoff.
Zepeda is now 23-0, with 21 KOs in his career, and is currently ranked #13 in the WBO world rankings at lightweight.
45-Year-Old Naoko Fujioka Defends World Title Against Sulem Urbina
45-year-old WBA flyweight world champion and five-time world champion Naoko Fujioka refused to give up her world title, as she won a majority decision over Golden Boy Promotions' Sulem Urbina couldn't mount enough offense in the final bout streamed on social media, and YouTube prior to the DAZN main card, to win her first world title. Urbina took advantage of Fujioka dropping her hands when throwing body shots, as the bout was two offensive fighters, who were willing to get hit to give one themselves. Fujioka started slow, but targeted Urbina's body as the second half of the fight saw Urbina dramatically slower.
Urbina has a bad habit of abandoning her jab, which in the later rounds made the fight much harder for her. Fujioka weaponized pace, as Urbina showed the heart of a warrior, but just it wasn't her night. Fujioka is one heck of a special fighter. This is a hard break for Urbina who was coming off a hard-fought loss to Marlen Esparza and now lost her first crack at a world title.
After the fight, Fujioka said a bout with Marlen Esparza, a recently crowned WBC flyweight champion, who also commentated, looks to be the next bout which would be a unification bout in the women's flyweight bout.
Chevalier Wins In-and-Out Of The Ring, Gets Belt, and Fiance
James Wilkins impressed me with his composed pressure, as he walked forward moving his head subtly, and even though Bryan Chevalier had success early, it was the will of Wilkins that would not be stopped, yet the judges favored Chevalier who won NABO WBO featherweight title, a big milestone in a young fighter's career.
Bryan Chevalier lost a point in the eighth round for pushing Wilkins head down, it felt as though Chevalier's apex might be this level of fight, but Wilkins looks to be an exciting up-and-comer, as well, and the scorecards were a lot wider than most would've expected, but after the fight, Chevalier proposed to his girlfriend in the ring after.
Lamont Roach Jr Ready For A World Title Shot!
A decorated amateur boxer with only one loss on his professional record being to a world champion, Lamont Roach Jr., trained by his father LaMont Roach Sr., of Team NoXcuses Boxing Gym, defeated a known spoiler Daniel "Bad Boy" Rosas, via a second-round knockout. What impressed me the most about Roach was his work to the body and his control of distance. Roach deserves a big fight and with #5 ranking in the WBO at 130 lbs division, and fought a very composed fight.
"I just implemented what we've been working on," said Roach Jr. after the fight. "I have been working on getting strong, I have been sparring top, top, top opposition, like his size and stature, tough guys, former world champions, and stuff like that."
"My dad is going to say something, he thinks the left hook is my favorite punch. [when asked about his left hook that led to the KO win]."
Undercard Notes –
Lightweight Miguel Gaona, who is a social media influencer made a successful professional debut going four rounds with Gilberto Aguillar in a fight that pushed Gaona and showed his passion for the sport. Gaona per the broadcast had sold over 300 tickets alone to the fight.
Super bantamweight Azat Hovhannisyan had a hard-fought victory over tricky veteran Jose Gonzalez across a ten-round decision win. Hovhannisyan trained with Robert Garcia in Riverside, California for this bout, and should get a big fight in his near future, names that come to mind are Diego De La Hoya, Victor Morales Jr., or Manuel "Tino" Avila. Hovhannisyan is known for his aggressive come-forward style, fought off the back foot for the second half of the fight, which is a dimension we haven't seen often in his career but showed improvement in his overall game. Hovhannisyan dropped Gonzalez in the eighth round which was set up by body shots.
In an entertaining slugfest between two heavyweights, Mahai Nistor stopped Colby Madison in a wildly entertaining brawler that is why people like @TimBoxeo love club shows. Madison dropped Nistor in the first round as Nistor just came forward reckless with no jabs, but Nistor dropped Madison as well in the first round. The second was the same as Madison dropped Nistor, but Nistor's power was too much, as Nistor dropped him in the second round to win the bout. Nistor should be a good local attraction, for a year or two.
Super lightweight Starling Castillo pulled off a mild upset with a second-round KO of Bakersfield, Ca's Miguel "Caveman" Contreras. The bout was dead-even until an overhand left from the southpaw stance landed in the second round knocking out Contreras. Castillo works with boxing power broker, Sampson Lewkowicz.
Featherweight Gregory Morales of San Antonio, Texas fighting at 124 lbs, got veteran rounds, and a bloody nose, en route to a six-round decision win over Rodrigo Guerrero. Morales will need to work on his defense for the next level of competition.