Jake Paul vs. Tyron Woodley II + Boxing On Every Network This Weekend – Full Boxing Schedule
Jake Paul vs. Tyron Woodley II
Saturday, December 18th, 6 PM PST – Showtime PPV

Jake Paul and Tyron Woodley will rematch in an 8-round cruiserweight bout that has been sprung upon us after Tommy Fury pulled out of the bout with an injury. Paul, having to work on the fly to make this bout happen, will rematch Woodley, who had some success, but also didn't let his hands go enough.
In this bout, the former UFC world champion will get a chance to redeem his loss to Paul, but the big question is; will Woodley still be plagued by his inability to let his hands go, which seemed to stall the later half of his UFC run.
undercard
Amanda Serrano will face a former Katie Taylor opponent in Miriam Gutierrez at lightweight as this seems to be a direct comparision of Serrano to Taylor, as this fight is looking to be made in the future. Barring an upset, Serrano appears to be the front-runner for women's boxer of the year in 2021.
A weird one between former Utah Jazz point guard Deron Williams taking on former San Francisco 49ers RB Frank Gore, in a four-round slugfest. Both athletes have used boxing and MMA as ways to stay in shape in the off-season, and now will do it for real. The winner might inevitably fight Paul at a later date.
J'Leon Love, who has been helping Jake Paul will return after a long hiatus from the ring to face Marcus Oliveira on the undercard.
Kris "Lightning" Lopez trained MMA fighter turned boxer, Anthony Taylor, who was last seen in a valiant effort against Tommy Fury will face Chris Avila of the Nate Diaz MMA crew in an undercard bout that should be really fun.
Mike Leanardi managed welterweight Jeovanny Estela will face Chris Rollins – Estrella is really tall for the weight class and has above average power.
Morrell Returns on Fox Against Fox, Saturday
Saturday, December 18th, 5 PM PST – FOX
David Morrell Jr., who holds the WBA regular super middleweight title will face Alantez Fox, as he looks for his second world title defense in his adopted hometown of Minneapolis, MN. Morrell, a Cuban who is being fast-tracked is facing one of the divisions boogeymen as Alantez Fox, might be void of the big win, but as we just saw with his brother Mykal Fox, who on everyone, but the three judges scorecard, who mattered defeated Gabriel Maestre.
This is a true test to see where Morrell really is in the division, as he has spent his career mostly on Fox and in Minnesota – Alantez Fox is a world-class fighter, who is hellbent on spoiling the party.
Lightweight Jose Valenzuela, who trains with the Benavidez family, is looking to enter into the top of the division as he faces former prospect, Austin Dulay in a ten-round bout. Dulay has struggled against this tier of opponent, and Valenzuela is nearing the point to face an Isaac Cruz, Michel Rivera or Rolly Romero, if he wins in an impressive fashion.
Mayweather Promotions will have two fighters facing each other as undefeated 2016 Haitian Olympian Richardson Hitchins faces Malik Hawkins, in a ten-round 140 lbs bout that is being
Light heavyweight Suray Mahmutovic will face undefeated Pachino Hill on this undercard. Mahmutovic is a very talented fighter who should make a statement on this card
Anthony Sims Jr. will fight for the first time since his loss to Roamer Alexis Angulo in January of 2020, after that loss Sims Jr. was released from Matchroom Boxing.
Beterbiev vs. Browne – Friday
Friday, December 16th – 5 PM PST | ESPN +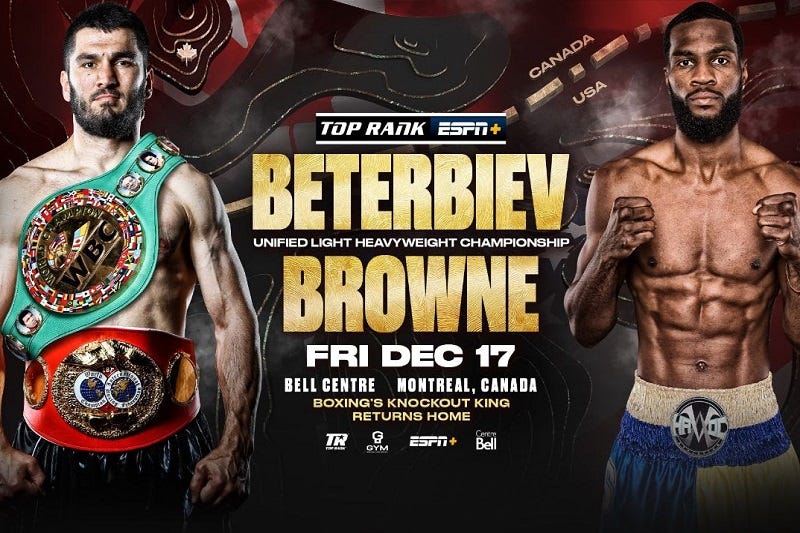 Artur Beterbiev will look to defend his WBC & IBF light heavyweight world title against former world champion Marcus Browne, in his homecoming back to Canada this Friday on ESPN+
Beterbiev is arguably one of the best light heavyweights, ever, yet his career is slipping away as despite being undefeated he seemingly fights very infrequently. His bout against Marcus Browne is a good one, as Browne now trains with Derrick James, the coach of Errol Spence Jr., and someone who can present movement issues to Beterbiev. That being said, Lenin Castillo and Jean Pascal have dropped Browne in previous fights, and Beterbiev might be the biggest punching light heavyweight in the history of the sport.
Marie-Eve Dicaire is a big-ticket seller and will seemingly become a world champion yet again as she faces Cynthia Lozano for the vacant IBF women's junior middleweight title. Dicaire has been a staple in the Candian market for years.
Brandon Moore, the heavyweight who impressed me at the 2020 Olympic Trials, who is a high-motor guy, and now is with Probellum, has been fast-tracked as a pro, fighting often. Moore is on this card, and is someone that is getting to the point of challenging established heavyweights, and has an interesting physical style for those at the top of the division.
This card is void of a lot of Top Rank talent, that we're used to seeing on ESPN production might I add.
Khan vs. Brook Sells Out In Ten Minutes.
Amir Khan vs. Kell Brook Sells Out in Ten Minutes https://t.co/8pvx0fnwBP pic.twitter.com/9OjH7nXePz

— BoxingScene.com (@boxingscene) December 13, 2021
You could say this fight is well past when it should have happened, but as you can tell the fans still want to see it, and as it gets closer, let's be honest, so do we. This will be fun. 
Parker vs. Chisora II
December 18th, Saturday, 11 AM PST | DAZN
Joseph Parker will rematch Derek Chisora, in a twelve round bout that will advance the winner to some type of fight that will get them a lot of money. The first fight was weird, who knows what this one will be. Parker is an underrated, boxer's boxer, and Chisora is a tough guy brute. Hopefully we get a solace to this odd rivalry at the end of the year.
Lee McGregor is one the more exciting bantamweights, and being trained by Ben Davison helps a bit for hi star power as well. He is in a 12-round bout against Narek Abgaryan.
Carlos Gongora will return after beating Ali Akhmedov and Chris Pearson, both via knockout. Gongora now will face undefeated Lerrone Richards, who just doesn't seem to have the experience needed to face a fighter like Gongora, but we will see.
Zelfa Barrett faces Australian Bruno Tarimo, in a fight that will decide the IBF junior lightweight eliminator and set up who will face Kenichi Ogawa, the IBF 130 lbs champion in his first fight under contract with Matchroom Boxing. Tarimo is a very live dog in this and trains with Maloney brothers.
David Nyika was one of the more exciting Olympians in the dreadful heavyweight division, known as cruiserweights in the pros, picking up a bronze medal, losing to Muslim Gadzhimagomedov, the inevitable gold medalist of the tournament. Nyika, a New Zealander, could be a lot of fun with what he brings to the ring.
Gilberto "Zurdo" Ramirez will face his second Cuban boxer in a row as he takes on Yunieski Gonzalez, in a 12 round bout that will be an elimintor for Dmitry Bivol's WBA light heavyweight world title. Ramirez seems to have found a home with Golden Boy Promotions, and looks to go down as one of the great Mexican boxers of all-time. To do that, he has to be in good fights, and beating Gonzalez paves the way for a big 2022.
One of the best fighters in the world Seneisa Estrada will look to defend her WBA strawweight title against Maria Santizo. Anytime Estrada fights you should watch. She is that good, reminds me of women's boxing version of "Finito" Lopez.
Lamont Roach Jr. will look to put himself into position to fight for a world title as he faces Rene Alvarado in a ten-round 130 lbs fight. Roach Jr. is a good body puncher, coming from an established team headed by his father, Lamont Roach Sr.
Marlen Esparza will look to defend her WBC flyweight title against Anabel Ortiz. For those who might be familiar with Ortiz's name, she fought Estrada in her last bout.
Nayoa Inoue Fought and Won…
Naoya Inoue stopped Aran Dipaen in eight rounds, to retain his IBF and WBA bantamweight title. The bout wasn't streamed on ESPN+, which is strange given Inoue's signed to Top Rank Inc., and the event had little fanfare outside of Inoue's hardcore fight fans on boxing Twitter. A shame since he is truly special.
Ricky Burns fights on Probellum.com
Ricky Burns is a former world champion, Lewis Ritson is a guy that in the U.K. fight fans had really high hopes for. They both fight, though in different bouts, with a high-quality stream on Probellum.com.
Daniyar Yeleussinov will face Dante Jardon, in a welterweight bout, the strange thing is Yeleussinov, who was fighting on Matchroom Boxing card is now fighting off-TV and seems to be a solid prospect who could contend against the world's best. Odd not one network choose to pick up this bout.

For those still watching Julio Cesar Chavez Jr., he faces David Zegarra this weekend.
On Friday, December 17th, from Ontario, California, Thompson Boxing returns with a card featuring their top draws Saul Sanchez, and Ruben Torres at the top of the card.
ShoBox Returns January 7th
ShoBox: The New Generation will start the year off fast as the first Friday of the new year, January 7 at 10 p.m. ET/PT from Caribe Royale Resort in Orlando, Fla, we will see Luis Nunez versus Carlos Arrieta in a battle of unbeaten lightweights
The co-feature pits hard-hitting Starling Castillo against ShoBox returnee Otar Eranosyan in an eight-round lightweight bout. In the telecast opener, knockout artist Edwin De Los Santos will face William Foster III.
Every bout features undefeated fighters, Brian Campbell is added to the TV telecast as well.
Joseph Hicks Signs With Salita Promotions
The 2020 Olympic nominee who was unable to compete at the Olympic Games due to qualification standards, Joseph Hicks, signed with Salita Promotions.
"We were sparring with Marlon Harrington," explained Hicks. "Marlon is a really good fighter. After I finished sparring him, I got a call from Marlon's coach that his promoter, Dmitriy Salita, wanted to talk to me. Once I sat down with him, I liked everything he said. I can tell a good person when I meet him. He's genuine and honest. I called my manager David McWater and told him I wanted to go with Salita. So, here we are, ready to get started."