Mark Magsayo Is Your New World Champion + News & Notes Of The Week
Mark Magsayo, The New World Champ
Photo: Amanda Westcott/SHOWTIME®
Featherweight Mark Magsayo might have entered this bout as someone the average fight fan, may or may not know, but he left with his name in the record books, as he beat the longest-reigning world champion, Gary Russell Jr., by a majority decision. On my card, the fight wasn't close, Magsayo and outlanded and outworked, a step-slower Russell Jr., who looked like he had the camp from hell, on top of that, he just didn't throw the same volume as he usually does. This could have been from a shoulder injury that occurred in the fourth round, during the fight, but even still it was a jarring visual.
The second half of the fight got dull, to be honest. Russell Jr. waited on Magsayo to come in and throw his left hand, and Magsayo threw, but not at a high volume as he didn't want to get caught, so the bout had a lot of lulls as a lot was on the line for both.
Magsayo, is yet another world champion, who is involved with Sean Gibbons, one of the smartest minds in all of boxing. The big thing is hopefully with Magsayo having the belt, we will see the WBC featherweight title defended more often as Russell fights very infrequently.
A though a day after. Should the athletic commission have stepped in and not let Gary Russell fight, because he was injured? Russell obviously was not himself or at full strength, do these government agencies have any code of ethics that they need to uphold in these circumstances.
After the fight, Devin Haney, who Russell Jr. had a lot to say and posted this.
undercard
Super lightweight Subriel Matias outlasted Petros Ananyan, the only man to ever beat him, as the referee called the bout in-between rounds nine and ten, but was set up by a left hook that Ananyan could barely get up from at the end of the ninth round. 
Matias is so tough, because he never stops punching, has a good chin, and seems legitimately crazy. I think the fighter he most reminds me of is Edwin Valero, as something about him is scary not just inside the ring, but outside as well, and he is not just fighting his opponent, he is trying to hurt them.
Matias is a TV-friendly fighter, who I want to see the fight for a world title. He threw nearly 700 punches over the course of nine rounds and was on pace to throw 1,000+ fights. He also gives off a true sense of fear, of what might happen to his opponent after his sad and unfortunate bout with Maxim Dadashev. I can't help, but watch anyone of his bouts and feel concerned for his opponents.
In the TV opener, featherweights Tugstsogt Nyambayar and Sakaria Lukas fought to a ten-round split draw. The bout was entertaining as Nyambayar started strong, but the late-notice opponent Lukas, who traveled 30-hours on late notice to replace Vic Pasillas who got COVID. Nyambayar's inactivity and possibly looking for a stoppage, gave Lukas confidence in the second half of the fight, as Lukas got stronger in the second half of the bout.
In the eighth round, Lukas dropped Nyambayar yet, a boneheaded call by Eddie Claudio, who not just ruled it a slip, ignored the bad call on his part when being interviewed by Showtime's Jim Gray, which just furthers the point of why boxing is not a mainstream sport.
With the fight on the line, Nyambayar won the last round, and despite a terrible knockdown being not called, it still was a fight that no one clearly pulled a way. In the end, Lukas made a statement, and Nyambayar now has questions to answer about his spot in the world-class conversation.
Off-TV
Middleweight LeShawn Rodriguez KO'ed Atlanta-based fighter Sixto Suazo in one round.
Results From Sacramento
On Friday night, Uppercut Promotions put on a card in front of a sold-out crowd in Sacramento, that saw the main event middleweight bout between Anthony Hernandez and Kenny Lopez Jr., get canceled as Hernandez called in the day of the fight to report that he was sick and unable to fight.
With this news, middleweight undefeated Joeshon James headlined the card defeating pro debuter Bryan Martinez via a four-round decision. James, a guest on my podcast this week, has a high upside as a prospect but has to be moved and built correctly, from reports I read, the fight was physical. James won all four rounds on the cards.
In an upset, Luciano Ramos got a split-decision over undefeated Mark Salgado of Dreamland Boxing. Ramos, who last fought Charlie Sheehy and was stopped in the fourth round of that bout, fought to a stalemate with Salgado, as ringside reports state that Ramos' punches created a visual image of the more telling blows that might have edged the fight on two of the three judges scorecards. The fight had a lot of clinching and seemingly from all accounts was a tough fought to clearly choose a winner. Two of the three judges gave the fight to Ramos, and one scored to for Salgado, making it a split-decision win for the last-minute replacement opponent from the Stockton area. I could see this bout being fought again in the future.
Undefeated Malikai Johnson coming off a year lay-off fighting at the 130 lbs division got a third-round KO of Jude Yniguez. Johnson looked like a million bucks, nine fights into his pro career, I would like to see Johnson take a step-up bout in a fight or two.
Lightweight Cmaje Ramseur stopped Sergio Ibarra in the second-round stoppage. Ramseur is a tough physical fighter, who is all-gas, no brakes.
In an exhibition bout, Iris Contreras of Richmond, Ca, fought Neveah Martinez, who lost her opponent the week of the fight.
---
News
The March 19th Top Rank had been announced as super-middleweight sensation Edgar "The Chosen One" Berlanga will defend his NABO belt against former Gennady Golovkin opponent, Steve Rolls in the 10-round main event Saturday, March 19 at Hulu Theater at Madison Square Garden.

In the junior middleweight co-feature, 19-year-old Puerto Rican star Xander Zayas will take a step-up in competition facing the man who beat Clay Collard in, Quincy "Chico" LaVallais.

The eight-round televised opener will see the return of lightweight U.S. Olympic silver medalist Keyshawn Davis against Mexican veteran Esteban Sanchez. Davis is being fast-tracked to a world title after his impressive Olympic run.
Announced undercard fighters are John Bauza, Pablo Valdez, Henry Lebron, and Kelvin Davis.
USA Boxing's first national tournament of 2022 will take place around the time of the start of the NBA Playoffs as the event taking place from April 23-30 at the Wolstein Center, will situate itself at Cleveland State University in downtown Cleveland, Ohio. For more information go to USABoxing.
Two-time Cuban Olympic gold medalist Robeisy "El Tren" Ramirez will cross the pond to battle Irish veteran Eric Donovan in a 10-round featherweight battle Saturday, Feb. 26 at OVO Hydro in Glasgow, Scotland, taking place on the undercard of the junior welterweight showdown between Scottish undisputed world champion Josh "The Tartan Tornado" Taylor and undefeated WBO No. 1 contender Jack "El Gato" Catterall.

The entire Taylor-Catterall card will stream live and exclusively in the United States on ESPN+.
Irish Olympian Kurt Walker will make his debut on this card as well.
The ProBox card from Florida that I mentioned in my preview column this week got pushed back to February, look at the poster above for details.
---
MMA in 500 Words Or Less
In what we thought would be a slugfest between UFC heavyweight champion Francis Ngannou, and interim champion, Ciryl Gane, who won a belt created seemingly due to the UFC's frustrations with Ngannou's contract negotiations, as Ngannou will no longer fight for the UFC in 2022, unless paid more after this bout, as we saw Ngannou retain his title.
The bout started out as exciting striking battle between two big sluggers, but from round three the bout turned into a chore to watch as it hit the mat via Ngannou took down Gane, and the two are both limited on the ground, and the world-level feel of the fight was lessened. We basically saw a grappling match with two strikers, stuff happened, but it wasn't really eye-catching. At a point, Gane tried a form of a leglock, and seemingly had it, but Ngannou muscled out and was just on-top of him. That was the second half of this fight.
Now we just have to wait a few months for a new interim belt to more than likely be created, as Ngannou is seemingly looking at other options.
The co-main event set forth an impending fourth bout between two flyweights Deiveson Figueroa defeated Brandon Moreno to reclaim the UFC flyweight world title via a five-round decision. The bout was action-packed that saw the two swap rounds throughout, but seemingly Figueroa picked the odd rounds in an odd numbered fight, and got the better. Targeting the leg of Moreno seemed to be the difference in the bout. Figueroa is now a two-time world champion.
Personality for days, and a great performance to boot, the first LFA champ, Vanessa Demopoulos, is looking to be a force in the UFC for years to come, and for ESPN+ undercard fighter, put forth a noteworthy, and epic performance that made me take notice. Add to the fact this was essentially a come from behind victory, as Demopoulous was getting caught on the feet, before submitting her opponent, we have found someone to follow from an early point onward in the UFC.
---
Club Shows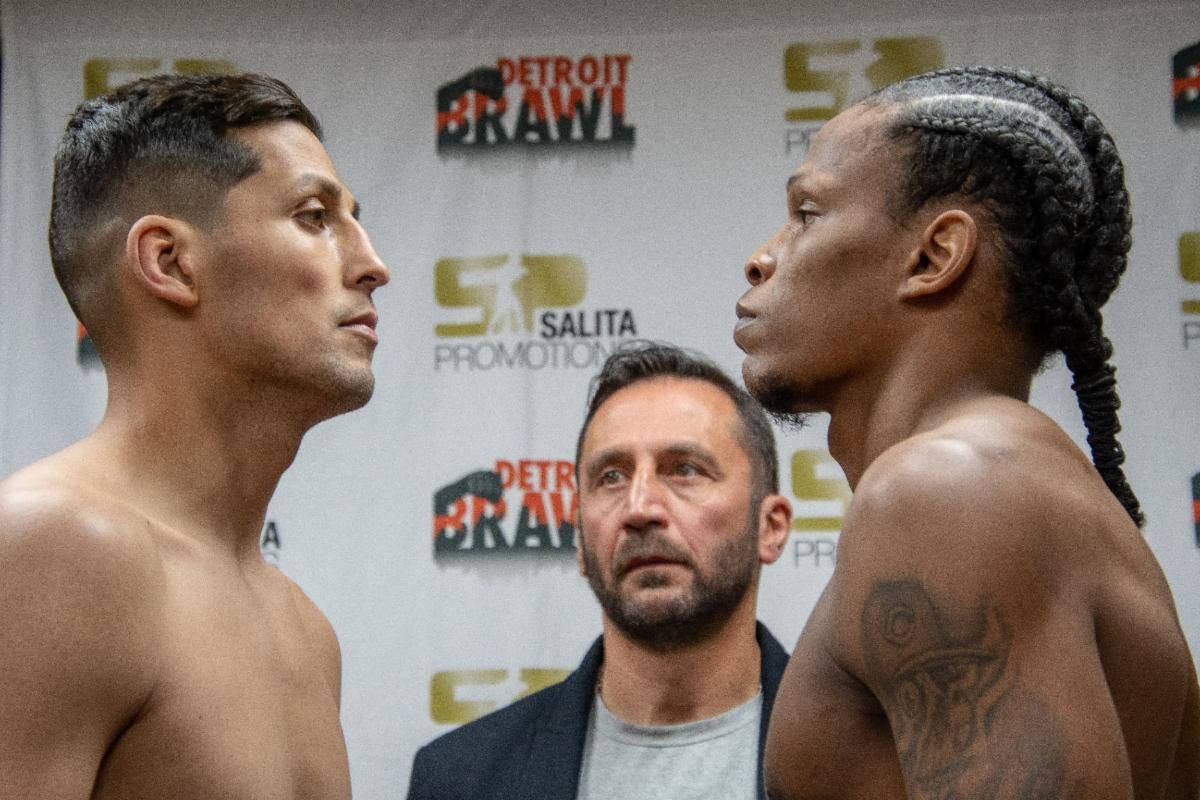 Atlanta's Antonio Todd upset former world title contender Hugo Centeno Jr., by way of a majority decision in a ten-round fight. Two of the judges scored the fight for Todd, one had it a draw.

On that same card, Joseph Hicks won his bout on the undercard, and recent national champion, Joshua Pagan won his bout as well.

Sadly, the most exciting fight on the card between Quinton Randall and Julian Smith got canceled. It seems that major issues were held over where the fight was supposed to be held. Smith came in at 145 lbs., believing the fight was to be contested at welterweight, and Randall came in at 151, beleiving the fight would occur at 150 lbs like his previous contracted bout. Randall traveling from Texas, also suffered two flight delays and lost his luggage. A story in which everything went wrong, and the fans didn't get a good fight
Rant
Over the past three months we have seen two pay-per-views, one at 74.99, the other at 39.99, and now next month we have yet another at 74.99, roughly $200 allocated to boxing in just three months, right before the tax season. Add to the fact that, DAZN wants $100 a year for a subscription to boxing content, and ESPN+ wants roughly $75 a year, and you are looking at no longer entertainment, you are looking at a new monthly bill you have to pay just to be a fight fan.
Sure, you see with the NBA, NFL, or other sports leagues, content at higher fees to see marque games, and such weekday games, yet, they don't put things you want to see behind paywalls. The extreme enthusiasts of the sport have to pay extra for their addiction, and the playoffs or meaningful events in each sports history go to the masses as it is the best representation of the product, as well as essentially an ad for how captivating the league is.
In boxing it is almost the opposite, the best representation of the sport is often behind a paywall, and the most uninteresting will be either on a stream or even on television. As a fight fan we have been trained that we need to pay for the best, and if a fight is on pay-per-view, that makes it better.
The UFC used to be better at this, but since the ESPN deal, they now have moved to a model of oversaturation, in which they have become a content-producing machine, whipping out fights left-and-right, and the lack of time to digest each fight, along with the means to have to navigate ESPN+ for a UFC fight, or buy a PPV using ESPN+ rather than an at-home distributor, now takes education. Sure it might not be a lot, but it is more so than it used to be, and it comes down to the enthusiasm one has for the product rather than a spur-of-the-moment purchase. Now add to the fact, that most of the UFC's stars are either aging out of the sport, or trying to box, which also adds to the problem.
Boxing doesn't have the loyal fanbase that MMA does, and that is for many reasons, we have very few public figureheads. Sure, MMA figures of Dana White and Joe Rogan are pretty embarrassing, they still accomplish the task of seemingly beer-drinking dudes who want to talk you through a fistfight. Boxing suffers from being in the past, the boxing media has too many know-it-all's that are too quick to be mean to fans who don't know as much, and the creative angles to stories only seemingly come from Greg Bishop, Mark Kriegel, Abe Gonzalez, Jeremy Herriges, and Anthony Saldana. The boxing telecast experience is often rough around the edges, and looks less than compared to other products on TV.
In short, boxing asks a lot, doesn't always make it easy for you to know what network to tune in to, and the sexy match-ups we want, oftentimes are not given to us until it is after a fighter has reached as Bill Simmons would say their "apex mountain" of earning potential, and a fight will be revisited. Sometimes we get to true greats fighting in their prime, but often it is with the belief a fighter is shot, less than or not as good as they once were. The sport of boxing is a beautiful sport, but to cover it from a top-down sport is so boring, the interest for me comes in the development of fighters, as once at the top fighters have to get as much money as possible, as this is their chance to make it in life, and as most don't have a plan b.
I was sitting here thinking about how much boxing I watch when setting my goals for 2022, and it was staggering. To be truly knowledgeable about the sport, you have to consume six-or-so-hours of boxing content on the weekend, often more, be aware of the start time, be aware of social media accounts that clue you in on fights that you may have missed, and even then with all that time invested you might have to invest money as well. Boxing is like that awful children's book "The Giving Tree", in which the tree gives and gives, and someone just keeps taking, it is awful view of the world, in my opinion, and though I love the sport, I get so burnt out on the industry as boxing, well fight sports as a whole are more of businesses than sport.
This might be why only five-or-six writers in the U.S. cover boxing full-time. The interest isn't there, the U.S. has more compelling sports, with more compelling athletes, who are seemingly available weekly as opposed to in limited spurts. The best in our sport only fight two times a year at most, the best in other sports appear, at least 15 weeks in a row in football, and half a year, if not more in baseball and basketball. The invisible nature of boxers, who are out of the ring far too long without a true nationwide fanbase makes their absence get forgotten.
A great example of a boxer who used media to stay in the public eye is Shawn Porter. I feel Porter through doing television, never left the conversation since he was so visible, and even if he fought one-to-two times a year he was still relevant. Boxers who are at the top of the sport such as Usyk, Inoue, Crawford, Spence, and more seem far too irrelevant for all that they have achieved. It is no wonder that Canelo Alvarez, a Mexican boxing icon, and Tyson Fury, who has crossed over to pro wrestling amongst many other avenues are so influential – they have seemingly rejected traditional boxing media and it is working.
Look at Jake Paul. His following is strong, and he is not catering to traditional media, and getting the same viewership ratings as established boxers. While some complain, I think people should learn since boxers who have talent should look to patterns of what Paul is doing, as Paul is bringing new life into the sport of boxing, as boxing is so far behind in terms of marketing, and using social media to attract viewership in teenagers.
Now let's think about the case of Terence Crawford. Crawford is from Omaha, Nebraska, somewhere, that if you're not from there, would simply refer to as "the middle of nowhere". Crawford arrived as a truly elite fighter in the past decade, winning world titles in three divisions, becoming undisputed in the process at super lightweight, and looking to be one of the best fighters of his era. Yet, Crawford is still rather anonymous to the culture at large outside of boxing, if a musician or actor references Terence Crawford, it is not a given, that the reference would be to a boxer. In short, being a great boxer in 2022 doesn't make you star as it once did in boxing. With Floyd Mayweather and Manny Pacquiao, and those who follow after them, you have to be able to entertain, be personable, and offer more than fighting, especially in an era, in which we know so much about athletes via social media.
Crawford is a case in which too much boxing, and/or fighting spread across so many platforms, has confused viewers to what is truly noteworthy, and beyond that, the belief that the fighters who world titles are not the best, because of hideous acts like Myke Fox vs. Gabriel Maestre, we no longer have any minds in boxing that the fans feel are shepherds of the sport. Whether right or wrong, boxing seemingly now seems interchangeable with the word corporation, and even worse, we seemingly make little effort to change that. Fighters test positive for PEDs yet we hear reasons why it is okay they can fight, fighters get world title shots over others not on achievement, but based on how much money they can make which sounds like payola, and add to that the love affair with the undefeated record, which stems from the Floyd Mayweather era.
Boxing in 2022 is in a better spot than it was in 2016, but it is also in a worse spot. We have seen two different major investments into boxing's U.S. market occur. Al Haymon's Premier Boxing Champions revolutionized boxing to network television in the last decade, and Eddie Hearn was granted a huge chunk of change for DAZN to start boxing on the network. Both have had positives and I have seen growth – as boxing has stayed on network television since the PBC started broadcasting fights on television, and I credit them with that, and DAZN has built a strong global boxing presence, but neither dramatically changed the sports landscape. All that money invested, and boxing still feels like a second-tier sport behind the major American sports.
Even the successful UFC feels watered down, and old at this point. Dana White's rants used to be exciting and fun, and now he seems a bit tired of the nonsense. The fight media has become more about gossip since the social media distributors that have far too much power, favor heavily searched names over substance. Hence, the coverage of the sport, has turned into die-hard fans, willing to lose money to get up-close access to fighters. In terms of narrative and growth, this hurts the sport, as the boxers learn to check out fight week since most of the questions are generic, and the average fan learns to watch mostly content from the promoter directly as it is the most professional, yet is a very "state-run" view of the fighter and promotion.
In summary, becoming a fight fan now takes up about 20-hours-a-month and at least a couple thousand dollars a year just to watch things live and be entertained. This is a far bigger ask than other sports, and it is no wonder why boxing instead of growing becomes stagnant or even retracts at times.
For me, what is still refreshing to see is the joy of seeing young fighters sign with a major promoter, young fighters traveling to nationals to compete, and doing well, but how many people enjoy that. Given my site analytics probably about a couple thousand, and that isn't sustainable in terms of a major network that is all about ratings. Boxing needs something new.