Why You Should Watch Robson Conceicao vs Xavier Martinez, And The Weekend Boxing Schedule
Robson Conceicao, who made a very good case to be the WBC featherweight world champion in his last bout against Oscar Valdez, which was a close fight I scored for Conceicao, but the judges didn't, will face Sacramento's Xavier Martinez in a ten-round, 130 lbs fight, that will surely create a future world title contender, as this is a battle of two top-ten 130 lbs fighters.
Conceicao is a 2016 Olympic gold medalist, who struggled to find himself as a professional, most notable with his close-fight with Louie Coria, in which the fight was up in the air in terms of a winner. Against Valdez, Conceicao proved himself as a world-class fighter, and the true Olympic talent that he was as an amateur. Conceicao is now a solid headliner heading into 2022, Conceicao has now established himself as a guy in the division, for years to come.
Xavier Martinez spent most of his career with Mayweather Promotions and has had a start-stop run in which he struggled with activity more so than his opponents. The 24-year-old, who trains with boxing legend, Ray Woods, fought twice in 2018, three times in 2019, once in 2020 in a fight he was dropped in twice against Claudio Marrero, and once last year against Juan Carlos Burgos. Xavier has all the tools to be a special fighter, but he could never stay active to get in the swing of things. Martinez now is working with Top Rank, and a win here will more than likely change his life. 
This is a 50-50 fight, that I slightly favor Martinez in.
Rene Tellez, who is managed by Espinoza Boxing, and is best known for an upset win over Karlos Balderas, will face Luis Melendez in a ten-round 130 lbs bout. Luis Melendez's last fight was shaky, as I felt Thomas Mattice should've edged him, but didn't get the decision on the cards. Rene Tellez is a come-forward, high-volume pressure fighter. A win here, sets up Tellez vs. Balderas II, which would be a good fight in the Los Angeles, California-area, and probably would be a loser leaves town bout. Melendez has to have greatly improved from his last performance to have a shot in this one.
Nico Ali Walsh will face Jeremiah Yeager, in a four-round middleweight bout. After a less than stellar last fight, Ali Walsh appears to be moving back in terms of competition, as Ali Walsh is very young in the game, but is fighting based on the reputation of his grandfather, and his own work ethic. His last name gives him TV time, but it is up to him to see if he can make the most of it.
A red flag is Ali Walsh is no longer working with "Sugar" Hill, the trainer of Tyson Fury.
ESPN+ undercard
2020 U.S. Olympian in the welterweight division, Delante "Tiger" Johnson will face undefeated Xavier Madrid in a four-round bout. Johnson has a chance to be a generational type boxer, and works with a good team including Prenice Brewer, and long-time coach Renard Safo. Johnson is someone that if you can watch early and often, as in his pro debut, he was cut, and that angered him, and he stopped his opponent mere seconds after getting cut.
Tusla, Oklahoma native, and recent Tony Holden Promotions signee, heavyweight Jeremiah Milton will face Jason Bergman in a six-round heavyweight bout. Milton was the runner-up at the 2020 Olympic Trials at the super heavyweight division
In an exciting eight-round heavyweight bout, DiBella Entertainment's Stephan Shaw will face Joey Dawejko. Shaw is someone one of my favorite boxing writers, Jeremy Herriges of Fansided.com, views as a top-tier talent in the sport, and being on Top Rank cards moving forward, along with Top Rank's deep heavyweight stable makes for good future fights. If successful I am all-in on a bout with Guido Vianello or Sonny Conto
"Free Smoke" Dante Benjamin Jr. will make not just his Top Rank debut, but his pro debut against Herman Rendon at light heavyweight. Benjamin should start his career off with a big, as the word is, Benjamin is a solid puncher.
Bruce "Shu Shu" Carrington faces yet another undefeated fighter in his pro career facing Steven Brown.
Featherweight Haven Brady Jr. is rumored to face game-spoiler Diuhl Olguin in the prospects first six-round bout of his career. Olguin holds a win over Brady's Split-T Management stablemate David Navarro and is known to upset people. This will be a solid test for Brady, who is a big puncher, and a talented young fighter.
Giovanni Cabrera vs. Alejandro Frias, will do battle in an eight-round lightweight bout. Cabrera was built up in the Pacific Northwest by matchmaker Andy Nance, and in which he fought a slew of undefeated fighters on club shows. Cabrera recently signed with Top Rank Inc., after training at Wild Card Boxing Club, and being in Manny Pacquiao camp.
An interesting addition to the undercard is Kalliopi Kourouni, better known as "Pink Tyson" facing Carla Torres. The bout is at 140 lbs., and Kourouni has developed a cult following on the internet as seen below.
Don King Returns To Boxing Promotion
ITRBoxing.com's own Ryan, better known as Boxing Addiction on Twitter will be live in Warren, Ohio this weekend to cover the WBA heavyweight title fight between Trevor Bryan vs Jonathan Guidry, and WBC cruiserweight world champion Ilunga Makabu facing fellow African Thabiso Mchunu.
Notable undercard bouts will feature Michael Moore, a decorated fighter, who is looking to go to the next level and was seen on the contender TV show against Anthony Lenk in a ten-round middleweight bout. Lenk was involved in one of the best action fights hardly anyone ever saw in Oakland, California, when he faced Ricardo Williams Jr., far too many years ago.
Another notable bout will be Cody Wilson vs Tre'Sean Wiggins in a ten-round welterweight bout. Wiggins fought Mykquan Williams to a draw on TV in the past year or so, with a good outing could get another contender-type opportunity.
For those wanting to watch this bout, tickets for the night of boxing set for the W.D. Packard Music Hall in Warren, OH are available at Ticketmaster or the W.D. Packard Music Hall (phone is 330-841-2619). The tickets will be priced at $550, $350, $250, $175, and $80. The fight is also available on Donking.com, DKPBoxing.com, or itube247.com. The retail price is $49.99.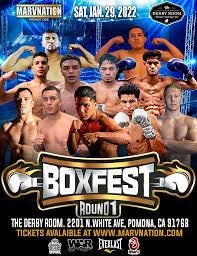 L.A. fight fans, Marvnation will bring a card to the L.A. market on Saturday, with the top of the bill seeing undefeated Angel Rodriguez facing known club show spoiler Jose Marrufo, a junior welterweight, who keeps up a high output and is capable of upsetting regional fighters, also Cris Reyes, a fighter who at times was fighting on Mayweather Promotions cards, and can crack a bit will face Lucas Alejandro Mignoni in a super lightweight bout. Reyes is a guy that I believe could end up on a ShoBox-type card this year.
The best thing about this card is, if you're unable to go to the card, you can still watch via their YouTube channel, something that I wish more promoters would take advantage of. Before you could put content behind a paywall, you need to build an audience and I love the idea of a quality product being available to fight fans.
Club Shows
For whatever reason, probably money, sadly Sergio Martinez will face Macaulay McGowan in Madrid, Spain. One of the best modern middleweights, Martinez, now is a middle-aged man, who has issues with his legs, best seen in his brutal loss to Miguel Cotto, years ago. The bout is being put on by Probellum, and I believe you can watch it on Probellum.com. Martinez is also climbing up the world rankings as well in the middleweight division.
Cuba will be in full effect on Fite.TV, as a card-based in Florida, will see Joahnys Argilagos vs. Michell Banquez in a 122 lbs fight that will show us a bit more about Argilagos.
Also of interest is, super lightweight Abram Martinez facing fast-tracked pro, Orestes Velazquez, who only has only two fights. Martinez is a guy I see as having a huge upside as a pro boxer, as I think he can make good fights with any top contender.
---
News
Looks like Tank Davis vs Rolly Romero will happen this year.
Despite being the challenger Chris "Primetime" Colbert will get his name above WBA Super Featherweight Champion Roger "The Kid" Gutierrez in the SHOWTIME main event Saturday, February 26 in a Premier Boxing Champions event from The Chelsea inside The Cosmopolitan of Las Vegas.

The undercard will feature Gary Antuanne Russell taking on Viktor Postol in a 10-round super lightweight bout, and IBF Junior Bantamweight World Champion Jerwin Ancajas looks to make his tenth world title defense against Fernando Martinez in the televised opener of the loaded tripleheader.

Tickets for the live event are on sale now and can be purchased through Ticketmaster.com.
The rich get richer as Julio Cesar Martinez will face Roman 'Chocolatito' Gonzalez at the Pechanga Arena San Diego in San Diego, California on Saturday, March 5, live worldwide on DAZN, in a bout that I found way more interesting than the previously scheduled trilogy bout between Juan Francisco Estrada vs. Chocolatito Gonzalez. Why? This is the young champion, Martinez, moving up, to fight a boxing legend and future hall-of-famer, and is what the sport is built upon.

TICKETS STARTING AT $50 (PLUS FEES) ARE ON SALE NOW AT AXS.COM

Juan Francisco Estrada was forced out of his trilogy clash with Chocolatito with COVID-19.
The grudge match between Amir Khan and Kell Brook will finally come to a head in a 149-pound catchweight battle Saturday, Feb. 19, at AO Arena in Manchester, England, as the bout has already sold out.

The event is promoted by BOXXER, Khan vs. Brook and select undercard fights will stream live and exclusively in the United States on ESPN+.
Bay Area fighter Jasper McCargo will fight in Montebello, Ca, on March 17th, against Marco Deckmann in what is a very good fight on paper.
Long Beach, California's Ashton Sylve will make his U.S. debut on February 26th in Pomona, California.
---
MMA In 500 Words Or Less
Bellator 273
Saturday, January 29th, 7 PM PST – Showtime
Ryan Bader faces Valentin Moldavsky in a Bellator heavyweight world title unification bout that could determine the best heavyweight in Bellator history. Bader, one of Bellator's best signees of recent memory, and has become an icon of the organization, during his tenure.
Bader has struggled in recent memory losing his light heavyweight title, and his last bout as well both via knockout losses at the division below light heavyweight. Bader will now face Moldavsky, a prodigy of the man he previously beat to win the heavyweight world title in the final of Bellator's heavyweight Grand Prix, Fedor Emelianenko, will look to be the next Bellator star, if he can beat Bader.
The co-main will see former UFC champ Benson Henderson face Islam Mamedov, in a lightweight bout.
This card is solid, but the brand awareness of the UFC over Bellator makes its presence known, as if this was a UFC card, it would be regarded as serviceable, but being a Bellator card, it will get probably a 1/3 of the coverage, just based on the branding and the investment in the philosophy of the organization.
The deeper question is, how does Bellator work around seemingly being the little brother to the UFC, which a decade-and-a-half later, it seemingly is no closer to closing that gap?
Eagle FC 44
The brainchild of one of the best UFC fighters ever, Khabib Nurmagmedov, will host its first event in the United States with two kickboxers turned MMA fighters, topping the card as Tyrone Spong vs. Sergei Kharitonov will face each other in heavyweight bout.
The positives of Eagle FC are that they are willing to pay fighters in crypto, have new weight classes that other promotions are not doing, and the bad-being seemingly older guys in bouts that don't give us that child-like joy as fight fans of bouts we truly want to see.
In short, the UFC has set the standard for MMA promotions, and Eagle FC's debut in the American market just doesn't feel to be the standard of product that the UFC would present.