Robson Conceição Defeats Martinez, Plus Everything Else In Boxing That Happened 
Rest In Peace Xavier Porter of Brooklyn Fights
With a heavy heart, we would like to share with you the sad passing of another member of the fight media in Xavier Porter of Brooklyn Fights. You can reflect on his work here.
Robson Conceição Defeats Martinez
Photo: Mikey Williams / Top Rank Inc.
Robson Conceição outpointed Xavier Martinez in the main event of an ESPN card in Tulsa, Oklahoma, promoted by Top Rank Inc.
The first two rounds saw Conceição throw more, but Martinez look to make his punches he threw mean more. In the third, Martinez rocked Conceicao, who was saved by the bell. This would set the tone for the second half of the fight even though it was only the fourth round.
The issue was Robson Conceição proved to be an awkward target and unwilling target who threw a ton of punches as well, especially after feeling Martinez's power. Martinez, a big puncher, looked to land, but the volume of Conceição along with his movement never gave Martinez the opportunities, along with just a sheer lack of volume. 
This fight proved Conceição is one of the world-class guys in the 130 lbs division, and with this win, the 2016 Olympic gold medalist, Conceição will be a formidable test for any young fighters, and reminds me of Miguel Marriaga in last decade as a stern test for any future hall-of-famer to face.
The scores were 99-91, 100-90, and 98-92 for Conceição.
Co-Main Is A Lull
Lightweight Giovanni Mioletti Cabrera defeated Rene Tellez Giron in a fight that I feel is highly cautionary for Cabrera as some of his flaws in defense were on display even in victory. Mioletti's hand placement will need to improve moving forward in regards to his defense in general.
Giron, who missed weight by seven pounds, saw his fight with Luis Melendez fall through and got a chance against the prospect Cabrera, who also missed weight as the bout was set up on Friday after the weigh-in. Cabrera is the definition of a spoiler, a fighter who at his best, makes the other fighter look bad, but might make a casual fan look away. 
Cabrera won via unanimous decision – Cabrera was scheduled to fight a four-rounder, and took an eight-round bout on a day's notice.
Olympian Johnson Looks Like A Veteran
In Delante "Tiger" Johnson's second pro fight, he looked like a true veteran, as he showed no fear punching with undefeated Xavier Madrid, to get a four-round decision. Johnson looks like a fighter who will move fast into the six-and-eight round fights, but we have to wait to give the final verdict until we see him with the next level competition, but he looks to be one of the best prospects in America.
undercard
The most impressive performance of the ESPN+ prelims was Bruce Carrington who got his first professional stoppage of his career, as the winner of the 2020 Olympic Trials, stopped undefeated Steven Brown in two rounds.
Stephen Shaw stopped Joey Dawejko in the eighth round, in Shaw's first bout with Top Rank. Shaw is someone who will inevitable face the likes of Jared Anderson, Guido Vianello, etc.
In an upset, journeywomen Carla Torres picked up a majority decision win over "Pink Tyson" Kalliopi Kourouni in a 130 lbs. fight
2020 super heavyweight Olympic Trials runner-up Jeremiah Milton, who recently signed with Tony Holden Promotions, stopped late-replacement opponent, Dell Long in one round.
Working with a new coach, artist/boxing coach Richard T. Slone, who was mentored by Ali's rival, Joe Frazier, Nico Ali Walsh recorded a second-round KO win after his rough last bout. Do we expect Ali Walsh to be the next Ali? – No. Ali Walsh is a feel-good story, and though I think the fans are sick of being forced feed the angle of his grandfather being one of the greatest fighters ever. I do find it kind of cool seeing Ali's grandson on TV, just not this much, the angle being talked about so much and his whole family being broadcast during his fights – and tonight he was buried deep on the undercard.
Haven Brady Jr. proved himself against a game spoiler Diuhl Olguin getting a six-round decision. This was an improvement over his last fight.
In the opener, Dante Benjamin Jr. won his first fight with Top Rank, and his pro debut by way of knockout.
Don King Card Results
Let's be honest, Don King Promotions put on a less than stellar PPV product for the general public, but we sent ITR's Ryan to be there live. Below are my thoughts.
Despite a good main event, ITRBoxing's Ryan, was not at a loss for words as he felt cruiserweight challenger Thabiso Mchunu did enough to win the WBC cruiserweight world title from Ilunga Junior Makabu, but the judges saw it another way.
The bout sounded like a great cruiserweight fight that proved the drama that most cruiserweight fans want, and absolutely no path to any form of a meaningful narrative arch that dooms the division, as the only hope of a relevant fight would be if Canelo Alvarez decided to fight Mchunu to win another title. For those unaware, Canelo's trainer, Eddy Reynoso brought this fight up at the WBC convention, and Mchunu called out Canelo after the fight.
Special credit to judge Steve Weisfeld, who scored the co-main event for Guidry, and the main event for Makabu, a performance where if he was a fighter he would be questioned, a promoter ridiculed, a referee forsaken, but being a judge will go unnoticed and judge a major fight soon.
Trevor Bryan, who holds a form of the WBA world heavyweight title, won a split decision over Jonathan Guidry, in a sneaky good heavyweight bout – too bad it was behind a paywall.
Bryan believes or tells the media that the heavyweight division goes through him, obviously, it doesn't, Tyson Fury, and Usyk do exist, but Bryan has a point, that he has a belt, and should get a big fight. Bryan, who is promoted by Don King has had major problems with staying active, which thus far has been his biggest opponent in and out of the ring. 
Heavyweight Dacarree Scott won a split-decision against one-loss Ahmed Hefny in a ten-round bout. This was Scott's seventh pro bout, yet the bout was a scheduled ten-round affair.
Tre'Sean Wiggins continues to be a spoiler as he stopped Cody Wilson in three rounds. Wiggins should be in a big fight soon.
News
Via a press release, Top Rank Inc, announced that Tyson Fury's next opponent will be Dillian Whyte. The purse bid was won by Frank Warren for a ton of money that I am too lazy to research, and the bout seemingly will be on PPV in any-and-all regions.
Gabriel Flores Jr., of Stockton, California will return on Friday, March 4th, at the Save Mart Center in Fresno, California. Tickets are moving quick so go to the SaveMart Center's website for tickets.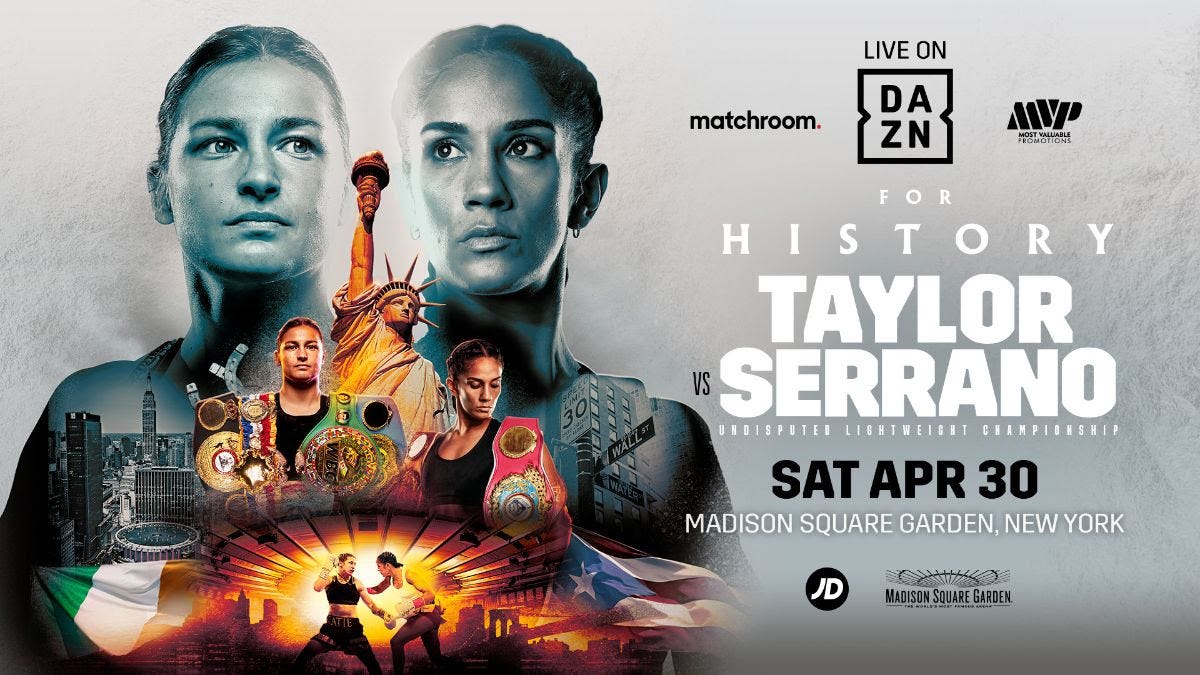 It is here! The biggest women's boxing bout in the history of the sport, and it is set for April 30th. Great news!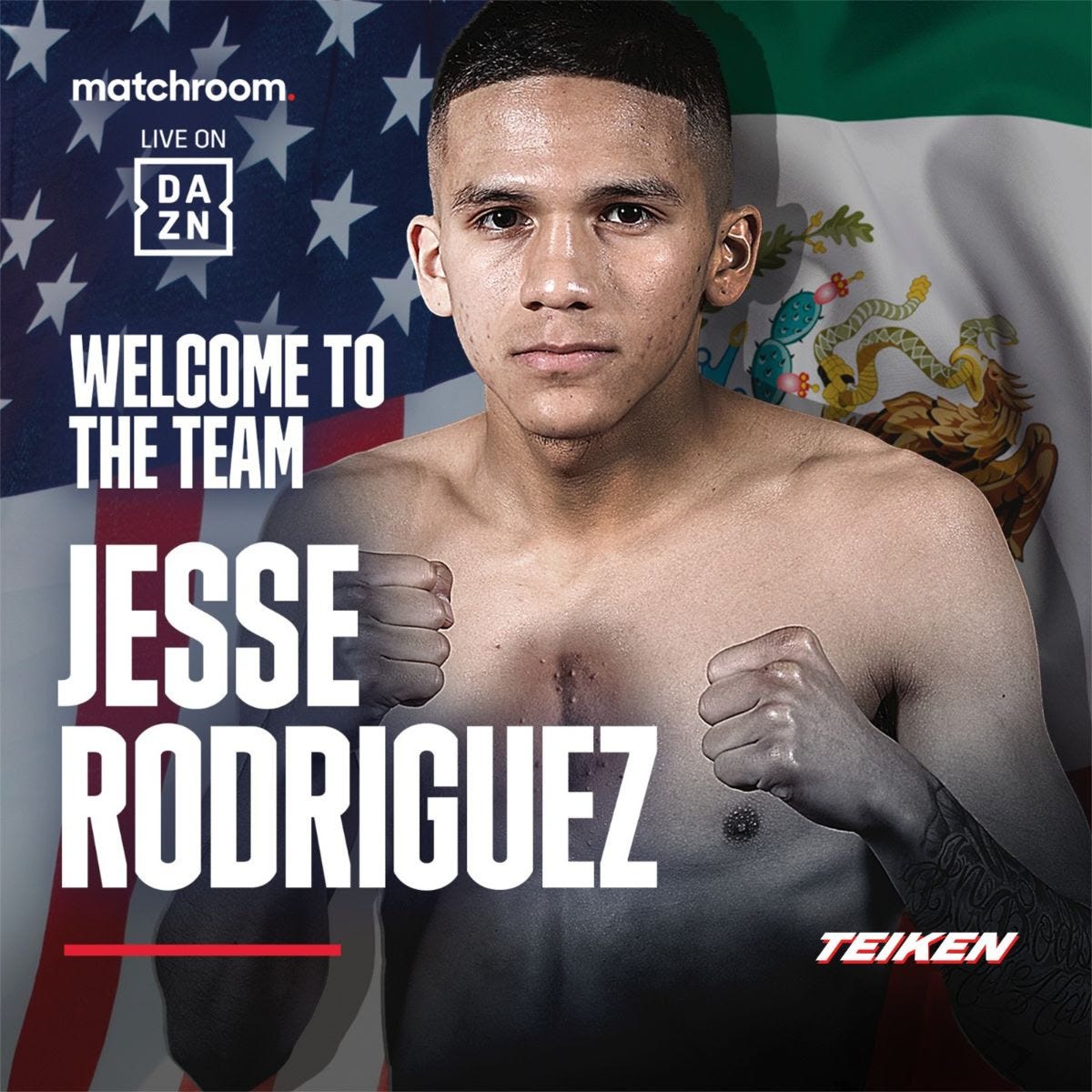 "Bam" Rodriguez fights this week, and now has a contract with Matchroom Boxing along with his current promoter Teiken. This is good news as "Bam" is a top-10 pound-for-pound talent, and should rule the lower weights in the future.
Galal Yafai signs with Matchroom, a major signing as Yafai won a gold medal at the flyweight division in the 2020 Olympics, here are my thoughts on Yafai from that time.
"Galal Yafai seems like a superstar in the making. No other gold medalist showed as much power over their weight class as did Yafai, as he seems like he could fight for a world title quickly, as Great Brittan's gold medalist, to me looks like a fighter who could take a nation by storm.
Yafai, who is a professional-style power puncher, saw him caught off the ring against his opponents and unload violent body shots to the body, and head.
Yafai started the tournament off on the note that was clearly his focal point, as he stopped Horyun Soghomonyan in the first round. Yafai looked as dominant as ever.
In the second round, Patrick Chinyemba gave Yafai the most issues of the tournament mostly around his awkward body type and ability to avoid the action Yafai looks to create, but Yafai edged a close, 3-2 decision.
Yafai's most impressive outing was against Cuba's Yosvany Veitía, as he just never allowed Yosvany Veitía to set distance, and showed him no respect. Someone could scoff at Yafai, and say it is crude, but to force world-level boxers out of avoiding action, is hard, and Yafai brought a fire-fight to Veitia, who couldn't withstand it.
Yafai in the medal round, nearly was robbed of a spot in the finals as Yafai dominantly beat Saken Bibossinov, but the judges had by a narrow margin. If Yafai hadn't gotten this decision, this could've been compared to the Michael Conlan decision in Rio 2016, in terms of bad cards.
The finals saw Galal Yafai fight the fight of his life dropping Carlo Paalam early, and never let him get going. Yafai had a hard bracket and won fairly easily and exciting fashion.
Notable facts about Yafai, he has two brothers who are pro boxers, Kal and Gamal Yafai. Yafai didn't start boxing until ten years ago, at 18-years-old, but said that he fought with his brothers as a child so that was similar in terms of experience to 30 or so amateur fights. Before competing at the Rio 2016 games Yafai quit his job at the car factory."
Jake Paul continues to make the UFC look old, and his mastery of the internet is really hurting the company, as Paul released a parody video against the UFC, and boss Dana White. Major points of insults are the UFC's awful fighter pay, lack of long-term benefits, and the companies inability to have a true star after Khabib Nurmagomedov's retirement. It is jarring to see how the UFC which grew off youth and a connection to the fans, seem far removed, and much more corporate than 13 years ago.
Meanwhile, Mairis Briedis continues to embarrass himself on the hunt for a Jake Paul fight, as more than likely the best cruiserweight in the world continues to look to get a reaction from the social media influencer, who continues to ignore Briedis. 
Pat McCormack, the welterweight Olympic silver medalist will make his debut on a Probellum card in March. McCormack looks to be the new era of British boxing.

Francis "Frank The Tank" Hogan is undefeated and is fighting for the tenth time in his career more so, he turned pro during the pandemic. This is impressive how active he has stayed. Good Northeast ticket seller as well. 
Club Shows
The mobility of Sergio Martinez is completely gone, yet he won a 10-round decision against Macaulay McGowan. Martinez in his mid-40's is climbing up the middleweight rankings, and I wouldn't be shocked if he faced an aging Gennady Golovkin, as BoxingScene.com's Jake Donovan jokingly tweeted today. 
MMA In 500 Words Or Less
In the main event despite a losing skid, Ryan Bader retained his heavyweight title by defeating Valentin Moldavsky, a star pupil of the man Bader beat to win the heavyweight world title Fedor Emelianenko. Bader won via a five-round decision with scores of 48-47 on all three judges cards. 
MMA legend Benson Henderson finishes his career with a win earning a split decision victory over Islam Mamedov. At one time, Henderson was the best fighter in the WEC and the UFC.
41-year-old Sergei Kharitonov knocked out Tyrone Spong in Eagle FC's first MMA card in America, the brainchild of MMA legend, Khabib Nurmagomedov. Other results saw UFC legend Rashad Evans defeat Gabriel Checco, Ray Borg decision'ed Cody Gibson, and Ramazan Kuramagomedov defeated John Howard. My hope is that this becomes a hub for Eastern European and Russian talent.