Josh Taylor, Chris Colbert & Lawrence Okolie Headlines This Weekend's Boxing Action – Boxing TV Schedule Here
---
Josh Taylor Returns
How To Watch: Saturday, February 26th, 11:00 AM PST – ESPN+
I wrote about Taylor this week on ITRBoxing – here is a little bit of my article read the full thing here.
Basic Info: Josh Taylor has the ceiling of being the greatest British fighter, ever and is very similar to the plight of the current U.K. GOAT, Joe Calzaghe, often doubted, and but never defeated. The Scottish Taylor is a fighter, who was moved quickly and has already amassed a hall-of-fame career in 18 fights. As Taylor accomplished much more than his peers did in fewer fights.
His first defense of all four of the lightweight world titles, which makes Taylor undisputed is against Jack Catterall, a fighter trained by Jamie Moore, and is currently the WBO #1 contender, as Taylor looks to make his first defense of his belts at home in Scotland at the OVO Hydro. Catterall is a good fighter, but Taylor appears to be a great one, yet, Taylor appears to be giving Catterall the fight since Catterall didn't force a mandatory between himself and Taylor prior to the Jose Ramirez undisputed bout.
Taylor's career is at a unique point as I don't see him fighting more than 25 fights at most as a pro, as he took a lot of hard fights early. Taylor is in the Calzaghe ilk in which he speaks to his people, the Scottish, but seems to be a world champion, who is fine with not having the fame most want from being a world champion, on a world stage. Not unlike Calzaghe.
Another notable is Taylor spent the beginning of his career with Shane McGuigan and Cyclone Promotions, but in 2020, Taylor signed with Top Rank Inc. and changed trainers to Ben Davison. It was in January of 2020 that Taylor also had partnered with MTK Global.
Taylor's story is not yet written, but it is at the closing stages and feels like a uniquely British story of boxing success, that has not had much interest in appeasing the American fight fan.
If You Could Watch One Fight To Get Ready For This Bout: Josh Taylor vs. Regis Prograis
Fighters Taylor Beat To Win The World Title: Ivan Baranchyk (IBF 140 lbs title), Regis Prograis (WBA 140 lbs title), Jose Ramirez (WBC & WBO 140 lbs title) – holds all four world titles at one time as of 2022.
01) UNDISPUTED AT 140 LBS.
Josh Taylor's return to the U.S. was a historic one. Defeating the fellow unified two-belt champion Jose Ramirez in Las Vegas, Nevada, Taylor strong-armed the 140 lbs division.
Taylor had turned pro in Texas on a Carl Frampton show and been featured on smaller undercards a bit as a prospect, but once he grew legs as a contender – he fought exclusively in the U.K. until this bout.
The fight showed a lot about Taylor, in the pre-fight build-up any reporter or manager who was associated with Jose Ramirez, was Taylor's enemy. In fact in this Top Rank released video you see Taylor get into it with Ramirez's team after the weigh-in. Taylor is a fighter, and when he is ready to fight – he truly flips a switch that is different than most, and that was on display in the U.S.
Despite being promoted by Top Rank, Taylor brought an attitude of the world was against him. It will take an awful lot for Taylor to surpass winning all four belts at 140 lbs, and is the only Scottish boxer to ever be undisputed alongside the great lightweight Ken Buchanan, but Taylor has the potential to be a two-or-even-three belt world champion if he wanted, or a fighter who can challenge the greatest of his era, in the weight class he chooses.
Taylor was akin to Canelo Alvarez, Teofimo Lopez, George Kambosos Jnr, and Katie Taylor, who at one point in 2021, all of those fighters held every belt in the division – yet Taylor seemed to be the one people forgot.
Taylor also didn't have a platform for his undisputed fight in the U.K. Taylor vs. Ramirez ended up being on Fite.TV as a PPV, which more than likely a lot of fight fans passed on.
02) BEATING REGIS PROGRAIS, AND WINNING THE ALI TROPHY
Josh Taylor was viewed as one of the guys in the division and entering the World Boxing Super Series tournament, it was viewed as Taylor vs. Regis Prograis in the finals which happened. The downside to the event was….the birth of boxing streaming.
The WBSS was ahead of its time, as hardcore fight fans knew how to watch boxing on the internet, but with a lot of homes not having smart TVs, a lot of Taylor's fights came and went. Taylor achieved, but the audience wasn't what you would have hoped for such big of fights.
Taylor's opening bout was a stoppage win over Ryan Martin, a fighter at the time promoter by Tom Loeffler, followed by stopping Ivan Baranchyk, the IBF world champion, which was not the easiest of bouts to find, and despite Taylor stopping both, the impact on a world stage was rather muted.
Regis Prograis has the bigger personality, so heading into their bout – most of the coverage was about Prograis, as Taylor is not unlike another Taylor, Katie – in which they both have rather muted or intense interviews, and are all-in on fighting.
The fight was Taylor's toughest of his career. One that saw him win a majority decision over Regis Prograis.
The downside. Most fighters looking to be undisputed have to go on a long journey. Taylor's was short. He fought in the WBSS boxing tournament, and after that tournament, had to only face Jose Ramirez to win all four world titles. The journey was actually quite possible to miss, despite the achievement being so large, Taylor did it in a 2-to-3-year window.
03) DEFEATING VIKTOR POSTOL IN 13 FIGHTS
For The Scottish, who read my blog – this is probably when Taylor became the guy that they were ready to follow for his whole career. Not promoted on major networks such as Sky Sports, Taylor was the purist choice and fought Viktor Postol, who had only lost to Terence Crawford at this point on PPV, and in a mere 13 fights, Taylor replicated that win.
The bout which only had a few ads on regular television in the U.K., a few days out, saw Taylor overcome adversity early to beat a former world champion. This often is the kiss of death for U.K. fighters, as the first time going to the world level often, a world-level fighter will get a second-life to their career by beating British fighters. Taylor didn't let that happen. In fact, Taylor would drop Postol late in the fight to create the definitive moments of the fight.
Not unlike when he defeated Ohara Davies, Taylor was not happy with the win alone. Taylor's goals were bigger. For a U.K. fighter to feel unsatisfied with wins over Davies and Postol, told most – Taylor truly wanted to be the guy of his era, and currently is at the 140 lbs. division.
When Taylor looks good, man does he look good – when looks bad, he can look shaky. This fight shows both sides of him.
undercard
The only undercard bout I see on this bout is Robeisy Ramirez vs. Eric Donovan, a ten-round featherweight. Ramirez, a two-time Olympic gold medalist, lost his pro debut, and though now training with Ismael Salas, and avenging his lone-career defeat – has little momentum towards a world title. Ramirez is fighting Donovan, a solid fighter, but one without the accolades of Ramirez.
Ramirez needs to make a big impression in this bout as he should be nearing a title eliminator, as he needs a big fight soon – despite not a ton of pro fights, Ramirez is 28-years-old, and seemingly needs to catch up to Shakur Stevenson, whom he beat at the 2016 Olympics for gold, which would make for an interesting storyline fight.
---
Chris Colbert On Showtime
How To Watch: Saturday, February 26th, 7 PM PST – Showtime.
Chris Colbert will headline Showtime for the third time this Saturday, and his past two bouts have seen him lose his opponent a few weeks out, causing a massive decline in interest no fault of his own.
Colbert, who has fought a slew of very good fighters in his 16 pro fights, including Jezzrel Corrales, a former world champion, now is looking to get a major TV moment. Showtime seems invested in Colbert, and Colbert has a chance to be the next major boxer in New York City. His original opponent, Roger Gutierrez is the WBA super featherweight world champion, and many including myself favored him to win that – and hold a world title in an exciting division.
Now, Colbert is taking on lesser-known Hector Luis Garcia, who I believe trains with Ismael Salas, and will be tougher than advertised, as Colbert is in a no-win situation. If stops Garcia quick – the guy was a late-minute sub, if the fight is tough, heavy will be the burden upon Colbert.
2022 should be a big year for the rising New Yorker, who is part of the Sosa Boxing Krew, and this fight will set the tone for the year.
undercard
Gary Antuanne Russell will face Viktor Postol in a ten-round super lightweight bout. This is a very tough fight for both, as Russell looks to be a hybrid of Vergil Ortiz Jr. meets Errol Spence Jr., at a weight class one lower than them, 140 lbs, with similar power. That being said, Postol's three career losses are two world champions, Terence Crawford, Josh Taylor, and Jose Ramirez. To beat Postol, you have to be elite, and possibly a hall-of-famer. Antuanne Russell can announce himself on the world stage with a win here, but let's also not forget that prior to his brother and coach Gary Russell Jr.'s loss to Mark Magsayo, a lot of tragic events have surrounded the family.
I am interested to see how Russell fairs in this one, as I have been extremely high on him so far.
IBF junior bantamweight Jerwin Ancajas will look to make the tenth title defense of his belt in an active 115 lbs division against Fernando Martinez. Ancajas has impressively held his belt for six years, a feat that was rarely done, and in a division with great modern fighters like Roman "Chocolatito" Gonzalez, Juan Francisco Estrada, Jesse "Bam" Rodriguez, and Joshua Franco. If Ancajas is successful, maybe we can see him test himself against one of those names in the future – I sure hope so.
Martinez is an unbeaten Argentine boxer, who fought at the 2016 Olympics, and has only fought once outside of Argentina, which was his last fight in Dubai. This is his first fight in the United States.
Lawrence Okolie Returns Sunday
How To Watch: Sunday, February 27th, 11 AM PST – DAZN
"The Sauce" Okolie is one of the guys of the future. Managed by Anthony Joshua, promoted by Eddie Hearn, Okolie is one of the next guys, who should make a run at the top of the heavyweight division in the next decade, as he looks to be the best cruiserweight currently, and when that happens – you know what cruiserweight do? Move up to heavyweight. Add to the fact, Okolie has England behind him, and well – we are looking at a player in the division, once Joshua goes away.
Okolie is one of the most promising prospects in British boxing, and someone to keep eye on, no disrespect to Michal Cieslak, but this should be a lot to ask of him, to get the win against the current WBO cruiserweight world champion.
undercard
Olympic gold medal flyweight Galal Yafai will turn pro in a ten-round fight. It is clear, not unlike what I said in the Olympic boxing recap, Yafai will probably look to challenge for a world title at/or around six fights, and has a feud of some sort with Sunny Edwards that could be a mega-fight at one point.
Heavyweight slugger Fabio Wardley should be on the card, Wardley tends to be fun – not sure what his ceiling is though.
The son of Ricky Hatton, Campbell Hatton will face Joe Ducker in a six-round lightweight bout. Hatton is learning on the job and in the public eye, I am cheering for him since a lot is being asked of him as it appears it is his last name, and not the pedigree of his amateur career that has put him in this spot.
---
Club Shows
Guillermo Rigondeaux will fight in Dubai this week.
Joseph Adorno will fight Iron Alvarez in Florida, in a ten-round lightweight bout. Adorno is no longer with Top Rank, and has had issues making weight – he is a sleeper choice for a Ryan Garcia opponent in the future, so a win here could get him a fight against a contender. Let's see how he performs since he should be more motivated than ever.
Former Ringstar Promotions fighterMoney Powell IV will face Fidel Monterrosa Munoz in a eight-round super middleweight bout, also on this card in Atlanta will be world-rated Albert Bell, who fights at 130 lbs., and is rumored to be in-action against Kid Galahad soon, will fight in a stay busy-type fight.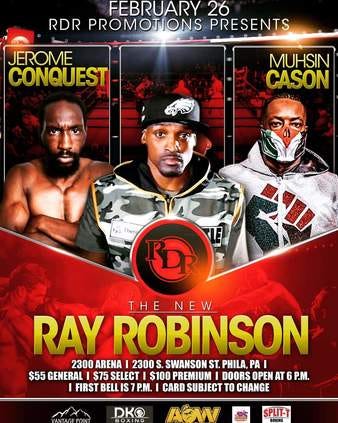 Our friends in Philly, RDR Promotions is back with an exciting card that will see welterweight Ray Robinson taking on well-traveled Cleotis Pendarvis. Robinson has a draw with "Mean Machine", and would be an interesting opponent for a Conor Benn or Vergil Ortiz in the future…or even say Blair Cobbs.
Marie Pier Houle will fight for the first time after she fought Jeanette Zacarias Zapata, who lost her life from damages from the fight. Houle will face Yamila Esther Reynoso. Reynoso has gone ten-rounds with Amanda Serrano, so I think Houle should be careful in this fight, as Reynoso has fought the more talented fighters thus far.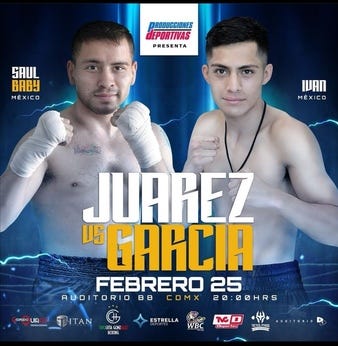 Merced's Jesus Haro will face Oscar Salas in a ten-round junior flyweight bout in Mexico. Haro is a future world champion from Northern California.
ProBox in Florida has an interesting card this weekend as Kanat Islam, a middleweight, who was once rumored to face Canelo, will take on Jimmy "Kilrain" Kelly. Islam is a guy I'd like to see face a fighter like Jaime Munguia.
An interesting 154 lbs bout between Jose Miguel Borrego and Pete Dobson will serve as the co-main event, and an all-action affair as big puncher Mark Reyes Jr. will take on pressure fighter Kendo Castaneda at welterweight.
All of manager Tim VanNewhouse's guys Najee Lopez, and Tommy Wu are on that card as well. 
Darren Cunningham will face Ernesto Guerrero in Arizona, Cunningham has stated he wants to fight six times this year, which would mean he'd be very active this is his first fight of the year.
Philly heavyweight Sonny Conto will face Mike Marshall, 140 lbs Daiyaan Butt will be on the card as well
MMA In 500 Words Or Less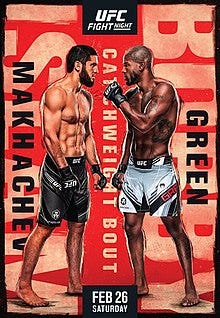 UFC Fight Night, Saturday, February 26th – 4 PM PST, ESPN+
A lightweight bout between Islam Makhachev and Beneil Dariush fell apart as Dariush was injured and despite fighting a week ago, Bobby Green took the bout at a 160 lbs catchweight on ten days notice.
Everything about this is strange, but Bobby Green gets his chance to headline a UFC card, which is good. Makhachev is a submission specialist as he is on a nine-fight win streak, four coming by way of knockout, and his last three wins are all by submission.
A lot of hype around Makhachev currently, as fight fans of Khabib Nurmagomedov, are looking at him as possibly someone to fill their lost void of the famed fighter, as Makhachev trains at AKA, and has ties to Khabib.
undercard
Light heavyweight Misha Cirkunov was a thing at one point in the UFC, but he is on a two-fight losing streak his bout against Wellington Turman, should tell us if Cirkunov has any more left to be a UFC level fighter.
Social media influencer women's strawweight fighter Hannah Goldy will face former Invicta champion Jinh Yu Frey. The winner should be in the mix for something as they are notable. This fight should be on the main card, just saying.
Bellator 275 , Friday, February 25th, 1 PM – Showtime
Bellator is going to Ireland, and one of the best Bellator MMA fighters they have had Gegard Mousasi, the current middleweight champion, will face undefeated Austin Vanderford, who is best known for being, fighter and celeb Paige VanZant's husband.
The rest of the card – well, if you're more hardcore than me you probably could find something you would want to watch, but I'll be honest I just don't see it, for me, that is. This is a fight where you can throw it on if you want, but it comes down to the main event.