Boxing TV Schedule | Spence Jr. Vs. Ugas Tops Must-Watch List
Errol Spence Jr. vs. Yordenis Ugas

Saturday, April 16th, 6 PM PST | Showtime PPV
2012 U.S. Olympian and long considered one of the best welterweights of the decade, if not the best, Errol Spence Jr., will face the man who defeated Manny Pacquiao, Yordenis Ugas in a welterweight clash that will leave only one fight remaining, a future clash with Terence Crawford, the other historical great of the era.
Everything on paper says Spence Jr. should win this and make a statement. Spence is younger, stronger, and has a better pedigree both amateur and professional than Ugas. Spence has been built as a marquee draw, and a fighter with unique abilities, yet a car crash of his own doing and an eye injury that saw him lose the Manny Pacquiao fight, now has the clock on his career in the final hours, in my opinion.
Ugas started as a journeyman, losing to Amir Imam, a long time ago on Showtime. Ugas began training with Ismael Salas and got a career rebirth in which, he defeated undefeated prospect Jamal James, gave Shawn Porter a tough fight, and essentially kept winning at the top of the sport. As a late replacement, Ugas beat Pacquiao in replacement of Errol Spence who suffered an eye injury, and that meant at the very least the next two-to-three years will see him fighting every marquee boxer in welterweight looking to make a name for themselves, as Ugas more than likely will be the last man to beat Pacquiao. 
Ugas' massive upside, he seems to be better at fighting southpaws than almost any other fighter in the welterweight division. Despite nothing jumping off the page, awkward punches, and such, Ugas knows what to do in there, and sometimes knowing is half the battle.
In these types of fights historically, the younger superstar looks to emerge as the guy, and with fellow generational great Terence Crawford, a promotional free agent, waiting in the wings, this screams as a moment Spence Jr. reminds us who he is. Keep in mind also that Ugas looks to stand in front of opponents and isn't elite with movement as most Cuban boxers are, meaning that Spence will probably invest in the body earlier than one might think. 
Spence passed Keith Thurman's achievements by fighting the same and equal competition while Thurman was inactive due to injuries, and the only reason we forget about Spence is inactivity.
PPV undercard
The co-main will feature 135 lber Isaac Cruz taking on former Olympic gold medalist and two-time featherweight world champion Yuriorkis Gamboa in a fight that might remind us how old we are, as Gamboa is now the same age as Gennadiy Golovkin, at 40-years-old. Gamboa, once an exciting prospect, is now an older fighter with a name, seemingly taking fights not unlike Joel Casamayor at the end of his career when he fought Robert Guerrero and Tim Bradley, and Cruz as confident as ever coming off a great performance in a pay-per-view main event against Gervonta "Tank" Davis.
Cruz should look great in this one as Gamboa would need a youthful performance to win, as I think this might be Gamboa's last fight of his career, given that he was injured prior to his last bout as well.
Jose Valenzuela, who is trained by Jose Benavidez Sr., should look like a million bucks as he faces fellow puncher and former world champion Francisco Vargas. Vargas has had a lot of facial damage over the years, and this fight might be Vargas' last as Valenzuela is everything that is wrong for the former champion – a younger, strong puncher, look to lay down a demonstration for the world.
The PPV opener, a good one – Cody Crowley, one of the sports of boxing's good guys, faces a true boxing professional in, Josesito Lopez. Lopez has fought everyone and only the truly elite beat him, and Crowley is flirting with a world title shot in the highly coveted welterweight division. This, to me, is a 50-50 fight, in which we can see if Crowley youth can beat Lopez, or if the experience will trump all. I wouldn't be surprised if this is the fight of the night when all is said and done. 
prelims | 4 PM PST | Showtime Sports YouTube Channel
Quite possibly the most interesting fight of the night could be on the prelims, so shoutout to Showtime for giving us such a good bout for free, as Radzhab Butaev will face Eimantas Stanionis for a form of the WBA welterweight title that Yordenis Ugas holds. The WBA created a tournament after Myke Fox received one of the worst decision in the history of boxing defeating Gabriel Maestre, but on paper two judges say Fox lost – which is untrue. The result of this awful decision saw the WBA, the sanctioning committee of the bout having to consolidate all of their titles based on the back lash of the decision, as the broadcast crew of FOX and most media scored the bout for Fox.
Butaev, a big puncher beat Jamal James, a PBC fighter, who never seemingly got his big fight, but built a solid marketplace in the former pro wrestling AWA territory of Minnesota, and now has his eyes set on Stanionis, a Wild Card Boxing Club guy, who was supposed to fight Ugas, but stepped aside to allow him to face Spence. I would assume the winner of this would face the winner of the main event in the not too distant future or at the very least, get marquee bouts on the top of Premier Boxing Champion cards. 
Both of these guys can punch and bring pressure this fight will be like Lubin vs. Fundora, as I think it comes down to who receives the punishment better.
140 lbs Brandun Lee will face his toughest test on paper facing former prospect Zachary Ochoa. Ochoa, at one time was signed by Golden Boy Promotions, but now is a dog of war looking to revive his career. Lee is as big of a puncher at 140 lbs as we have, the question will be how does he handle movement. This fight should offer a clue to that. 
Vito Mielnicki Jr will face former Xander Zayas' opponent, Dan Karpency. This will be a direct comparison to see how he does compared to Zayas, one of the most exciting prospects in the sport currently.
Coming off an exciting loss, cruiserweight Efe Apochi will face Adrian Taylor in an eight-rounder. This is a battle of Texas fighters and could be sneaky good as they have similar records with Apochi facing the harder level opposition.
Off-TV
Olympic Trials heavyweight winner Darius Fulghum, who won the Trials as the #8 seed in the bracket, fighting at light heavyweight will fight on the card. Light heavyweight is a historically weak division, so Fulghum has a very good chance to be a world-level fighter.
Samuel Arnold, who has never Sebastian Fundora height, at middleweight will be in action. Spence Jr. watched him fight live at his last fight, and now Arnold is on this undercard. Arnold has a lot of upside as a pro.
Angel Barrientes' comeback continues as he will be fighting against an experienced opponent as well.
---
Conor Benn vs. Van Heerden
Saturday, April 16th, 11 am PST | DAZN
Conor Benn sure looks to be the next Matchroom Boxing massive ticket seller as Anthony Joshua and Katie Taylor are in the last few years of fighting, and his bout against a tough veteran and former world champion in Chris Van Heerden is a good one.
Van Heerden is a true live dog as he is a southpaw and only lost to Errol Spence Jr., who could be the best of his era, his other rough fight, a no-contest to "Boots" Ennis, who might be the next best of the era, in which a head clash ended the bout. In short, Van Heerden's skills are being undervalued since the very best of the era looked really good against him. I refuse to look past him since he was one of the main guys to spar Miguel Cotto during Cotto's middleweight run, and could be accredited for helping with Cotto's late-career run.
Benn is a big puncher, an action fighter, and one who I believe has some boxing skills, but would rather impose himself through power, not unlike a young Anthony Joshua. Benn feels like a guy, who will have a lot of exciting fights, but for him to go undefeated or even be one of the best of his era, a lot would have to go right for him. Benn has all the political advantages from this being in Britain, and so forth, and so on, but he needs to continue his forward progress from the Chris Algieri KO that put his name on the map as a viable prospect. 
This to me will show if Benn deserves to be mentioned with the best new guys at welterweight which are Jaron "Boots" Ennis and Vergil Ortiz, as Benn himself keeps his name in the mix with them, but I have been tentative. This is also Benn's first high-level southpaw of his career.
undercard
A cruiserweight rematch between U.K. fighters Chris Billam-Smith and Tommy McCarthy has Britain boxing fans excited, and die-hard fight fans should check for this bout. Will these guys be world-class guys, well it depends on the era, but probably not, but their flaws could make for an exciting bout once again. Billam-Smith won the first fight via split decision in a domestic fight of the year contender overseas. 
130 lbs WBC world champion Alycia Baumgardner will make her first title defense against Edith Soledad Matthysse. Matthysse is best known for former world champion Ewa Brodnicka kissing her at a weigh-in, and losing a highly disputed split decision to her.
Cruiserweight Jordon Thompson could be next in line in the domestic U.K. title scene, as he will fight on the card.
Also, Campbell Hatton, the son of Ricky Hatton, will be featured on this card.
Thompson Boxing
Friday, April 15th, 7:30 PM PST | ThompsonBoxing.com
One of the best featherweights I have ever seen Ruben Villa, a tricky southpaw with tons of skill returns after losing his first world title. Villa is deserving of a watch, as he has the chance to be great, in my opinion.
The co-main event will be Richard Brewart Jr., a middleweight coached by Henry Ramirez out of Riverside, California. 
Club Shows
Fight Club OC will see the return of Ernesto "Tito" Mercado, a very promising 135 lbs lightweight in action. Mercado has a very good chance at fighting for a world title at some point, and in my opinion, becoming a world champion. Also on this card, Cain Sandoval, of Sacramento will look to continue his first-round KO streak to four, as he fights an experienced fighter. Sandoval is a great pressure fighter. You watch this card on Fite.TV, see flyer for details.
Sacramento, Ca's Joeshon James, a middleweight, will fight in Mexico this weekend. He is undefeated and this will be his sixth pro fight.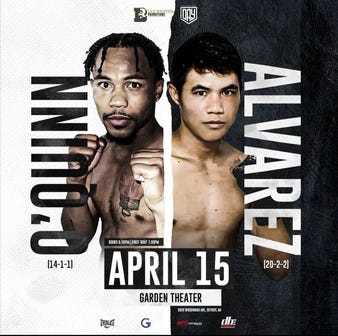 In Detroit, undefeated heavyweight Mike Balogun, who knocked out Trey Lippe Morrison in one round in his last fight will be in action.
World title contender Albert Bell will be fighting at 130 lbs, as he awaits a chance at a big name fighter, and coach Roshawn Jones will be fighting on this card ending his professional boxing retirement.
DeMichael Harris will be fighting this weekend. Harris has been in some big name fighters camps in the past. Harris fights at 130 lbs.
MMA in 500 Words Or Less
Bellator returns to San Jose on Friday night more than likely, because Saturday is booked up for the Showtime Sports PPV between Errol Spence Jr. and Yordenis Ugas, which will have the network's main focus over the weekend. 
Topping the card will be undefeated A.J. McKee will defend his featherweight title against Patricio Freire, the man who had become the most dominant Bellator champion until McKee beat him. McKee feels like Bellator's first fighter, a homegrown who has the chance to eclipse UFC fighters in his division, as he is a compelling and dynamic fighter, that merits media attention. 
That being said, McKee has to beat a generational great two-times in a row, no small feat, as Freire nicknamed "Pitbull", went undefeated for five years and with seven straight wins.
My gut tells me, McKee is the guy Bellator has been looking for as he is the first fighter since Ronda Rousey or Fedor, in his prime, that is making people watch a rival MMA promotion with major interest.
undercard
Vadim Nemkov and Corey Anderson face each other for the light heavyweight title. Anderson is a UFC veteran who found new life and Bellator, and Nemkov is MMA legend, Fedor's protégée.
Adli Edwards will face Bellator's once crown jewel Aaron Pico. Pico was signed to be what A.J. McKee is now, though he is by no means done, Pico really needs to start making history soon, as his aggressive style is not going to age the best.
UFC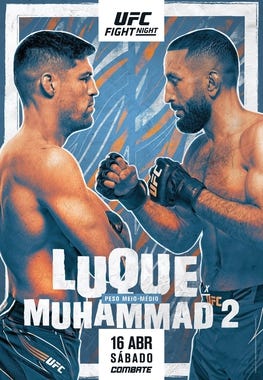 A rather than fight card put forth by the UFC on Saturday will be topped by a solid main event, though it will more than likely not provide the drama nor excitement of Spence v. Ugas, as Vicente Luque will face Belal Muhammad in a five-round main event. I have stopped watching MMA closely, but during that time, these guys became fighters who fought a lot and deserve the main event. This is a battle between #5 and #6 in the welterweight division, and with Khamzat Chimaev looking good over the weekend, the winner could springboard into fights with marquee names like Colby Covington, Leon Edwards or even Gilbert Burns who just lost. Solid fight for an MMA purist. 
Even worse, I didn't know it was a rematch – which kind of shows you my interest in MMA currently.
Luque won the first bout by brutal knockout.
The card has a few other interesting bout but essentially is top-heavy in terms of the main event, as the rest are for the hardcore fight fan.