Boxing Schedule: The Return of Claressa Shields
GWOAT Returns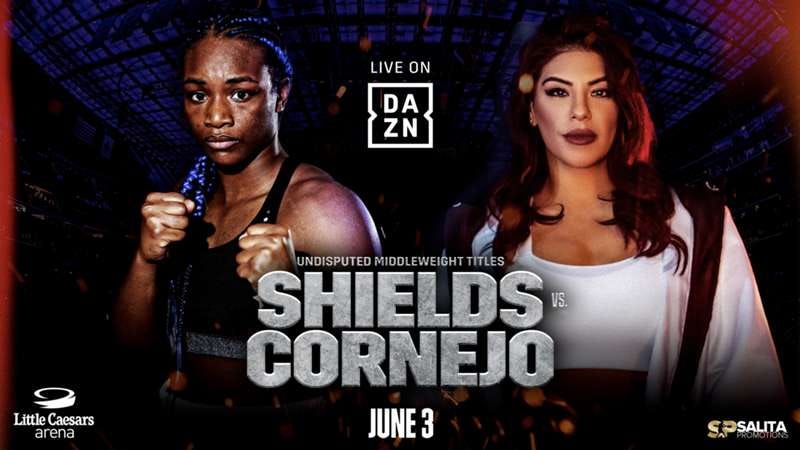 The biggest fight of the week will be an undisputed women's middleweight bout with the undefeated champion, Claressa Shields taking on the ever-popular Maricela Cornejo, in a ten-round main event from the Little Caesars Arena.
The bout is happening because Hanna Gabriels, who is the only fighter to drop Claressa Shields, tested positive for a banned substance. Gabriels at this point is an inactive fighter, who fought in 2021 and prior to that 2019. 
The replacement bout might be better, as Cornejo became a sensation in Southern California due to her Baywatch red bikini during weigh-ins and heavy push from Golden Boy Promotions. Cornejo has been training in Las Vegas, with Ismael Salas, and is a true veteran of boxing. Cornejo reminds me of the women's boxing version of Gabriel Rosado, a fighter who stays in shape and is ready for the challenge that awaits.
That said, Shields is one of the best to ever do it. It is a quality main event, in my opinion.
undercard.
The undercard is really not that good. The 154 lber Ardreal Holmes, who is a contender, will face one-loss pro, Wendy Toussaint. Toussaint's only loss is to Charles Conwell, a top-ten junior middleweight. Holmes defeated Ismael Villareal on ShoBox, last year.
In other notable bouts, Joshua Pagan, an undefeated fighter, who won a national title as an amateur before turning pro will be in a solid step-up fight, and Joseph Hicks Jr., a sneaky good middleweight will be in an eight-round fight. Hicks is approaching the step-up fights. 
Joseph Hicks Jr. will fight on the undercard. Fun story, he was the 2020 Olympian prior to the qualifications changing, and he will be fighting in an eight-rounder. Given the awful state of middleweight, Hicks is worth watching.
Other Notable Bouts
On Thursday, June 1st, ESPN+ will air a card from Canada. The main event will be Erik Bazinyan will face Jose de Jesus Macias in a ten-round main event. Bazinyan is coming off a big win over Alantez Fox. Macias is the fighter, who KO'ed Steven Butler in Mexico, a few years ago. I wonder if Bazinyan versus Butler could happen in the future. Macias is also the type of guy, who can upset an unfocused fighter.
Junior welterweight Steve Claggett has been fighting for well over a decade will face former 130 lbs world champion Alberto Machado. Machado has moved up to 140 lbs and got a win over Jose Angulo. Now Machado will travel to Canada in a very good sink-or-swim fight for both fighters.
–
Jonathan "La Roca" Lopez looks like a potential future world champion. A big test is in store for him this week as he faces former world title contender Eduardo Baez. This comes on the heels of a win at the start of May in Mexico on ProBox TV. Lopez is really good.
Adelaida Ruiz, a solid L.A.-based fighter in the 122 lbs division will face Lucia Hernandez Nunez. Ruiz should land a good fight at some point as well.
Fernando Vargas Jr. is a very good puncher with a high upside. Vargas Jr. fights Jesus Cruz Silva. Interesting fight. Former 130 lber Mario Ramos, who now fights at 154 lbs., will be fighting as well.