Canelo vs. Bivol Preview | What To Expect From This PPV
Canelo on PPV
Saturday, May 7th, 6 PM PST | DAZN PPV
Canelo will headline DAZN's first-ever pay-per-view against WBA light heavyweight world champion, as Canelo Alvarez looks to go for all the titles at the next weight class above 168 lbs, where he holds all the belts.
For Canelo, he is already a hall-of-famer, now it is just seeing how far he can push himself into the realm of being an all-time great. In his lone, 175 fight, Canelo had some trouble with Sergey Kovalev before knocking him out, Bivol is a fresher, and more than likely tricker fighter than that version of Kovalev.
The major issue with this bout is it feels as though there is little build-up to the fight.
Canelo turned pro at 15-years-old and went on to be the greatest Mexican boxer ever. Bivol amassed an amateur record of 268-15, started late as a pro, and was moved quickly. That being said, Bivol's star power has been hurt as two networks went through massive change during his prime. HBO Boxing which originally aired his fights left boxing, and during the last two years, DAZN has been working around what the pandemic did to their company, and felt like Dmitry Bivol was one of the guys who didn't get many chances to be on notable cards, let alone fight in general. 
Canelo is widely considered the best of his era, and Bivol is a fantastic fighter, with a great active jab, as well as a size advantage in terms of height and frame, but Bivol seemingly is void of letting go a lot of power shots, at least to my eye test when watching.
The fight is a lot closer than people think, but the greatness of Canelo has everyone thinking this will be an easy fight, because Canelo is great. Canelo is so talented he has to look for fights in multiple divisions to get people excited – that is a true throwback fighter.
the undercard…
The undercard is not all that good from a marquee match-up standpoint. 
The co-feature and chief support of the PPV card is a 140 lbs between recently signed Matchroom Boxing contender Montana Love against Gabriel Gollaz Valenzuela, who holds a win over Robbie Davis Jr. Love is a guy Eddie Hearn has high hopes for, and this fight could turn out to be good, but on paper, nothing about this screams that you have to stop what you're doing to watch it. 
An interesting heavyweight between Zhilei Zhang and Filip Hrgovic, which would have been for the IBF heavyweight #1 contender spot is off, as Hrgovic withdrew this week. We now have to see if Zhang stays on the card. The new replacement Zhang will face heavyweight contender Scott Alexander.
Rounding out the PPV, welterweight Shakhram Giyasov, a stablemate of Bivol, will face Christian Gomez, a rather unheralded contender, who has been on big cards.
For the rest of the card, Middleweight Alexis Espino will be in action, also Fresno, CA's Marc Castro, but honestly, the card is pretty all-in on Canelo, and Canelo only for this fight week.
Club Shows
Friend of the site, Lee Reeves, a 140 lbs prospect will fight for a regional fight in Toronto, Canada.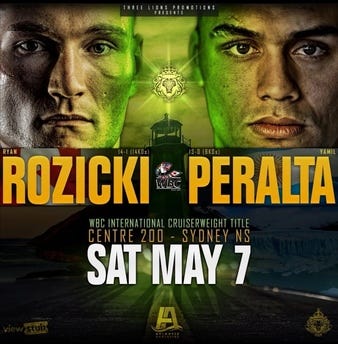 Ryan Rozicki, who just fought the bridgerweight title, will face Yamil Alberto Peralta for the WBC cruiserweight international title.
An interesting prospect in Lucas Bahdi, who is undefeated in ten fights will return on this card. Bahdi could fight for a world title at some point in his career.
Former Oakland, Ca fighter, who now is with Andy Ruiz Jr Promotions, Anthony Garnica will fight in Mexico.
Cornelius Bundrage better known as K9 will have a comeback fight.
Maureen Shea will fight in New York as well. She was involved in the filming of the movie "Million Dollar Baby", which came out probably 15-20 years ago now….
MMA in 500 Words Or Less
Saturday, May 7th, 7 PM (PPV) – 5 PM (ESPN)
Yet another time the UFC is going head-to-head with a Canelo Alvarez PPV, as they bring forth one of the best cards they have had all year.
The main event will see the promotions lightweight champion Charles Oliviera taking on "The Human Highlight Reel" Justin Gaethje in a fight that should be brutal as Gaethje is MMA's Arturo Gatti. The fight seem obvious if you're Gaethje try to keep the fight stand as long as possible, if you're Oliviera try to withstand the onslaught you know is coming, and look for submission on the ground.
Co-main event will feature another world title fight as the 2-time champ Rose Namajunas will face Carla Esparza, who beat her to win the original strawweight title. Since that fight, Namajunas has gone on to become an icon in the UFC, and Carla Esparza has bounced around in somewhat of a journeywoman role. This fight will show if time changed anything or if the result when they face was the same no matter what year it was.
The third from the top billing might be the best fight of the night as Michael Chandler, an all-action fighter, faces Tony Ferguson, a wild man in his own right. In a fight that feels like Diego Sanchez vs. Clay Guida in the modern era.
Former champion "Shogun" Rua still fights and will face Ovince Saint Preux. This feels kind of weird.
Donald Cerrone will open up the card against Joe Lauzon as a battle of UFC veterans.
Notable undercard fights on ESPN are the return of André Fialho, a big puncher who spent most of his prime on random Bellator cards, as well as Tracy Cortez, who has the Instagramer influencer look that I could see the promotion getting behind.