Artur Beterbiev vs. Joe Smith Jr. Preview + Boxing TV Schedule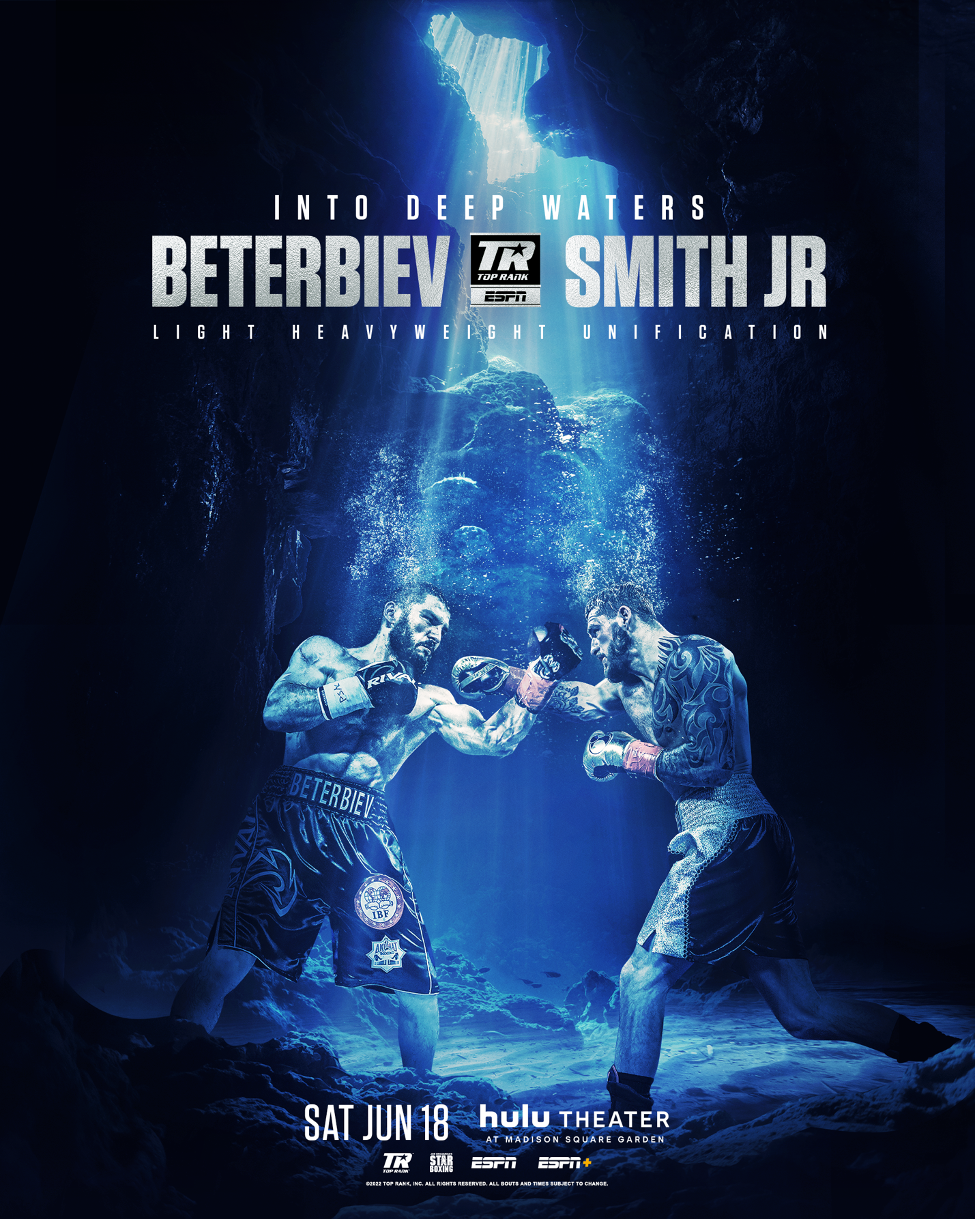 Saturday, June 18 ESPN | 7 PM PST | 3 PM PST (ESPN+ Undercard)
We are close to yet another undisputed champion in the sport as three of the four light heavyweight world titles will be on the line as Artur Beterbiev fights Joe Smith Jr. for the WBC, WBO and IBF titles, with the only one not being on the line in this bout is Dmitry Bivol's WBA light heavyweight title.
Bivol holds the WBC and IBF light heavyweight titles as he unified by defeating Oleksandr Gvozdyk in 2019, and essentially retired Gvozdyk after that loss. Smith Jr., won the WBO world title against Maxim Vlasov in a very close fight that was broadcast last year on ESPN.
"This is a very important fight for me. With regard to the place, it's not different for me. I'm more focused on the fight. I'm more focused on my opponent, not on the place. I always ask my boxing coach and my conditioning coach about how I'm doing. I ask them if it's less than I was doing two years ago. They tell me that I'm doing better than two years ago," said the WBC and IBF light heavyweight world champion, Artur Beterbiev.
The fight is strange, but exciting. Both guys bring one thing to the dance, and that is power meaning the fight should entertain. Beterviev has won every fight of his career by knockout, and all of Joe Smith Jr.'s big wins have involved knockdowns or knockouts.
Yet, what we have is an overachiever in Joe Smith Jr., fighting an underachiever in Artur Beterbiev, a fighter who should be on the pound-for-pound list, but has been so inactive, most don't rate him. In fact, Beterbiev's most active year as a pro was in 2014, his second year of being pro, in which he fought three times in that year once against former champion Tavoris Cloud who he stopped in two rounds.
It looked like Beterbiev was going to be a potential higher ceiling Sergey Kovalev, who was regarded as one of the best light heavyweight at the time in the pros in that era. His win over Gabriel Campillo on the at-the-time upstart, PBC platform seemed to signal that Beterbiev was coming, and that the division might lay in his wake.
Follow that by being dropped by Callum Johnson in his next fight (he still knocked out Johnson, by the way), and people leaving the arena as Beterbiev walked to the ring when he fought in Stockton, California, after Gabe Flores Jr. earned a career-defining knockout. Beterbiev just didn't feel like a star, and sometimes it isn't just skill it is the way you act, and how others perceive you, and Beterbiev didn't feel like one. Beterbiev would stop Oleksandr Gvozdyk, who was the betting favorite against Beterbiev, as Gvozdyk was trained by Teddy Atlas for the fight. The win should have made him a guy in the sport, but it didn't.
Beterbiev was beginning to creep into the pound-for-pound lists again, and then, COVID-19 hit the nation, and Beterbiev didn't fight until March of 2021. I think no matter what Beterbiev achieves in the sport, and despite being a historically big puncher, a heavyweight-like punch at light heavyweight, nothing will be able to change the narrative of his career. From the fast start Beterbiev started, his career slowed down at the point where as a consumer we hope to see utter greatness.
Joe Smith Jr. is the opposite. Constantly an underdog, and constantly underestimated, Joe Smith Jr. knocked Andrzej Fonfara to burst on the scene. Smith would parlay that into a KO win over the legend, Bernard Hopkins, as he looked to be HBO's next marquee guy, but a loss to Sullivan Barrera in a fight in which his jaw was broken in the first-round derailed that.
Against Dmitry Bivol, outside of a big punching landing at the end of a round, Joe Smith Jr was outboxed by Bivol. Once again, Joe Smith Jr.'s career looked to be over, but back-to-back upset wins over Jesse Hart and Eleider Alvarez, not just revived Smith Jr.'s career it got him a world title shot.
Smith Jr. had trouble with Maxim Vlasov, with a lot of people believing Vlasov won, and followed it up with a sleepy performance against late-sub Steve Geffard, as Smith Jr. has not looked the same in his last two performances. That being said, Smith Jr. has a pattern of showing up for the big fights.
"I believe this guy is in his prime right now. I don't think age has anything to do with it. I know he's here at 100 percent and ready to go. I know I'm here fighting one of the best, so I trained at 110 percent. I made this camp a little longer. I made sure that I improved things that I wasn't doing at my best. I stayed more consistent with my training, so I feel comfortable about this weekend," said the WBO light heavyweight champion, Joe Smith Jr.
The bout on Saturday night is a career overachiever versus a career underachiever with most of the light heavyweight belts on the line.
My gut feeling is though, Beterbiev does everything Joe Smith Jr. does, but better from box to punch.
undercard
Featherweight two-time gold medalist Olympian Robeisy Ramirez will face emerging prospect Abraham Nova, in a fight that sets up a world title contender, or at the very least a guy that will look at a number one contender spot in the near future.
Nova is the better athlete, as I have seen him curl 45 lbs weights, do tons of bodyweight exercises, and just be more coordinated than the average boxer, Ramirez is a two-time Olympian who is trying to show the world he is a different guy than the one who lost his pro debut. In many this is a replay of the main event, in terms of two guys who are similar, only I don't see as much of a gap in the talent between these two.
A fun co-feature.
Featherweight Bruce "Shu Shu" Carrington is building a good buzz for himself, and the New York native, who is doing camps in Las Vegas, Nevada, is looking to get yet another highlight-reel KO, as if Carrington keeps going viral from his fights, he might be in the running for prospect of the year. Carrington will face Adrian Leyva, who has fought Rolando Romero, five years ago.
Welterweight Jahi Tucker is a ton of fun, and facing a one loss fighter in D'Andre Smith will be an interesting test. An offensively gifted fighter, a guy who punches to the body very well, and is an entertainer. Tucker has the chance to catch on like a Teofimo Lopez if he gets the right type of wins, as he has the personality to do it, be sure to watch for him.
Middleweight Troy Isley is a solid, strong fighter, worthy of watching, and facing a man who gave his amateur rival, Javier Martinez some issues in Fresno, as Isley faces Donte Stubbs. Isley has a pro-ready style, and is a hard worker as he should progress nicely into the world title scene in two-to-three years
Olympian Kurt Walker, a featherweight wasn't on my radar, but signed with Top Rank. He hasn't stood out to me yet, I am hopefully he does on this card.
---
Thompson Boxing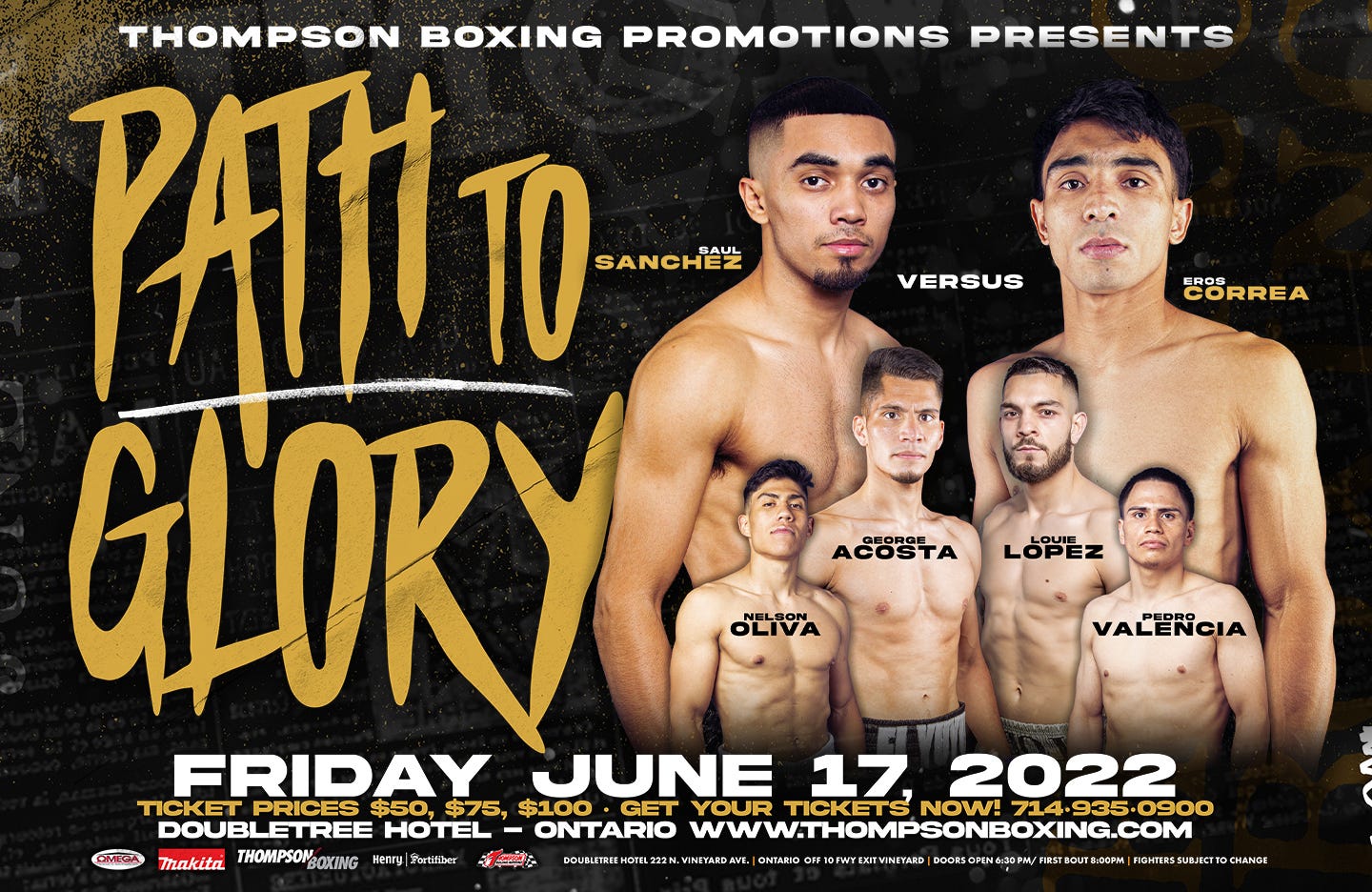 Who doesn't like value especially as we near an economic recession and amazingly high gas prices? Well, if you do, like I do, a bantamweight fight between Saul Sanchez, who is lurking towards a world title shot after two televised first-round KOs, and 2012 Olympic alternate Eros Correa doing battle is just that. This is an evenly matched fight between two very good fighters, and better yet, you can watch it on YouTube, Facebook and ThompsonBoxing.com. I highly recommend you watch this.
The co-main will also be good as lightweight George Acosta will stop up to face Marlin Sims, in a trajectory fight for both fighters and one that is also evenly matched up. Sims' lone loss came to Dominique Crowder and Acosta's loss came to Ruben Torres. Welterweight Loui Lopez will also be on this card.
ProBox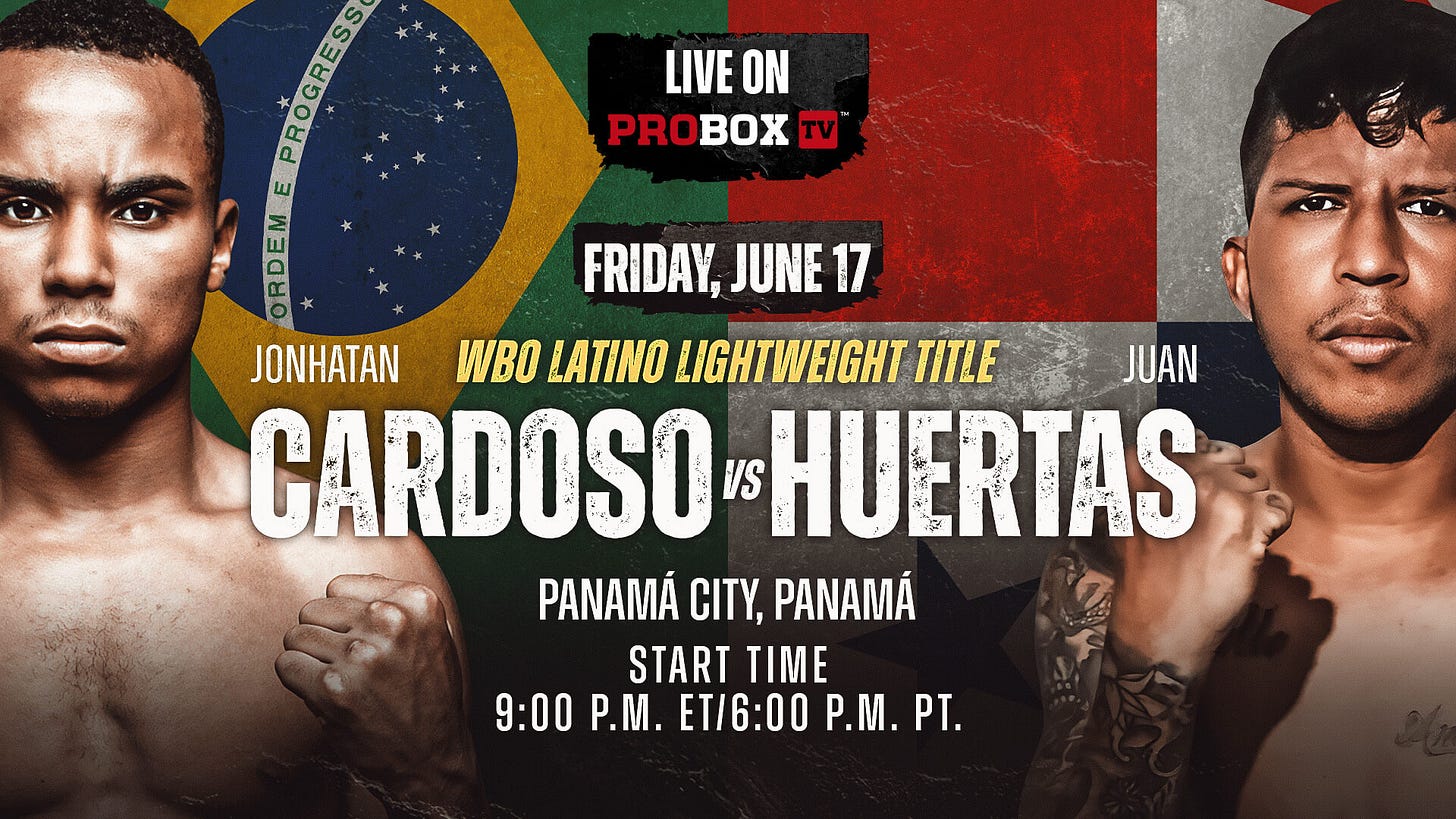 Friday, June 17th ProBoxTV.com | 6 PM Undefeated Jonhatan Cardoso will face Juan Huertas for the WBO lightweight Latino title. What does that mean? If Cardoso wins, he will either be ranked in the top-15 of the division or very close. Huertas has fought Gary Antuanne Russell and Jon Fernandez. This is a fun world-class bout on Friday taking place on ProBoxTV.comClub Shows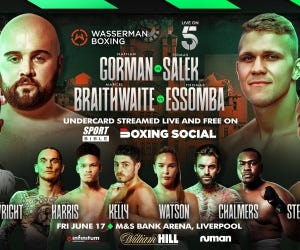 Nathan Gorman, a big likable heavyweight who probably won't leave the U.K. in terms of his talent in the ring will face Tomas Salek in a heavyweight bout. Josh Kelly, a welterweight Olympian, should return on this card.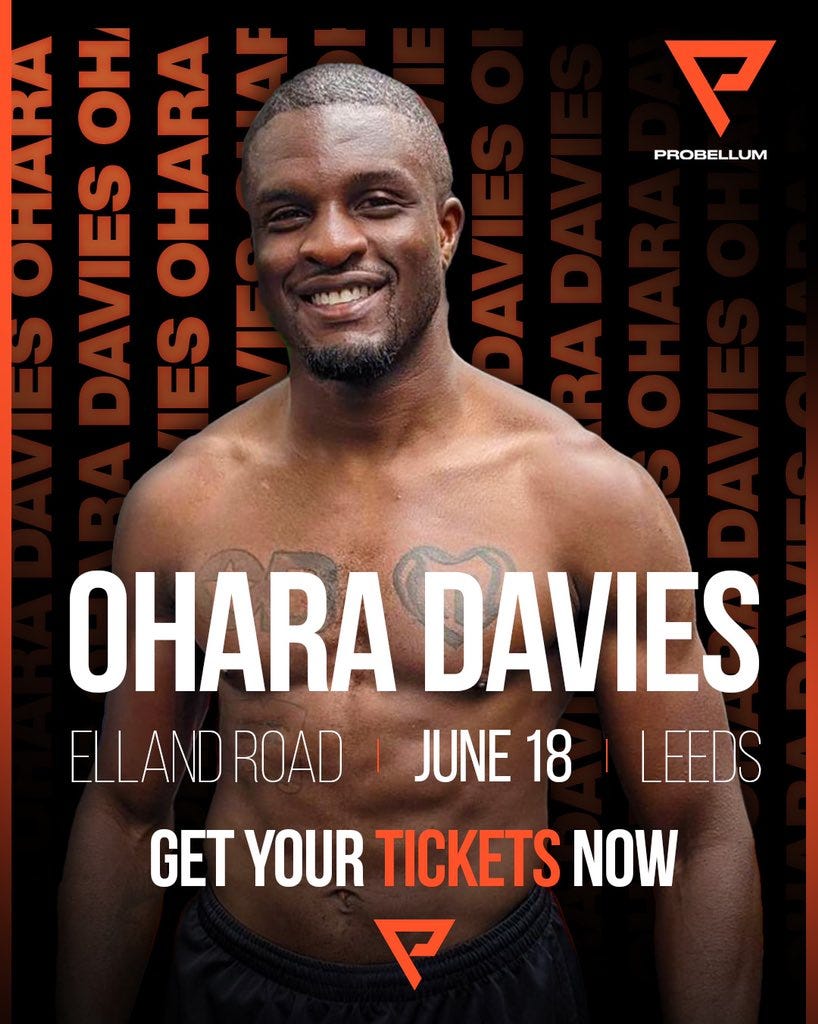 Ohara Davies has been listed to fight this weekend on a Probellum card.130 lbs Archie Sharp is continuing to look towards a march towards the top of the 130 lbs division as he fights on this card as well.–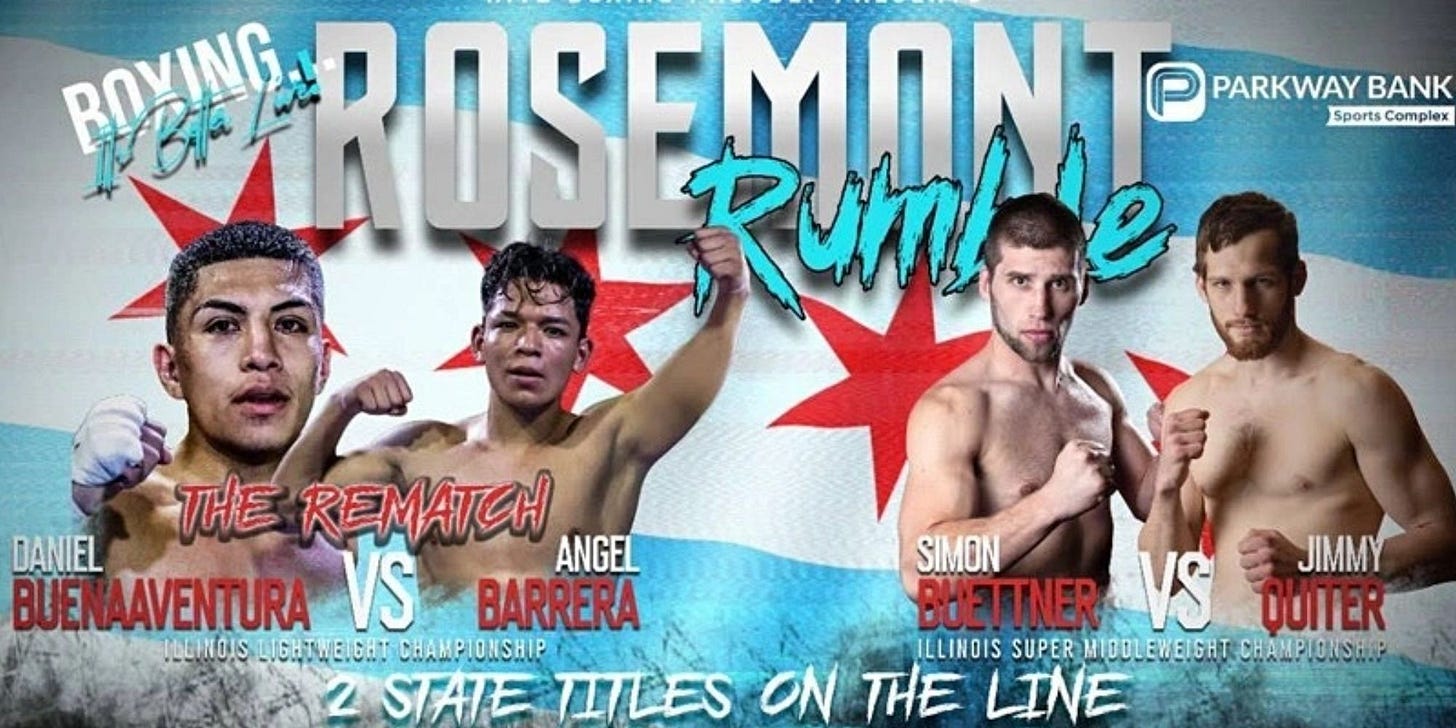 Entertaining Chicago based fighter, Daniel Buenaventura will be in-action against Angel Barrera, as Buenaventura is looking to become the rare grassroots fighter to survive a few early career losses and become a televised fighter. The bout is a rematch of a fight the two had last year in which Barrera won a majority decision over the course of four rounds. This fight, the rematch will be an eight-rounder. –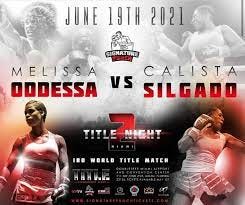 Melissa Odessa Parker will headline a card in Texas against Mikenna Tansley for the IBO bantamweight women's title. Middleweight Andreas Katzourakis, who is managed by Split-T Mangement will face Isiah Jones on this card. My memory might be bad, but I believe Jones at one point was managed by Split-T as well.Rounding out the bout, Giovanni Marquez, and Jiffy Morales will also be featured at this event.-Featherweight Leonardo Baez is going down to Mexico to pick up a win this weekend, he has been on TV a lot, so he will probably be in a marquee fight after his win.-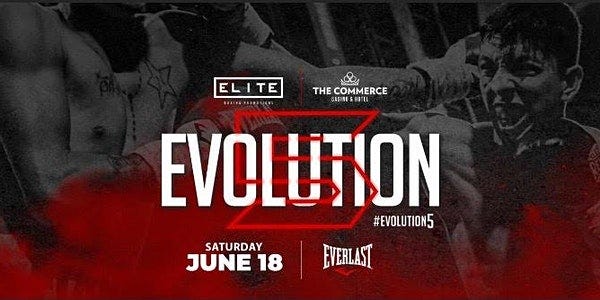 Stephanie Chavez and Eric Mondragon will fight in the L.A. area in different bouts of course, in Commerce, California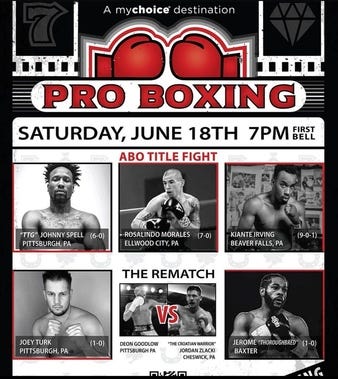 Super middleweight Kiante Irving will be looking to get back into the swing of things after a draw in his l last bout.
MMA In 500 Words Or Less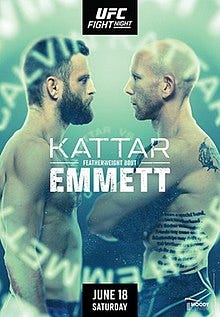 Featherweight Calvin Kattar will face Sacramento, Ca's Josh Emmett in the main event. Kattar is becoming a solid main eventer for the UFC, and has won three of his last four fights, with his lone loss to former champ, Max Holloway. Two UFC lightweight legends will face each other as Donald Cerrone will face Joe Lauzon in the co-main event. The fight was scheduled for May, but a food illness caused the bout to be delayed. This should be a fun old guy fight.Welterweight Kevin Holland will face Tim Means in a fight that will hope to see the semi-star of Holland attempt at greatness again.