Mark Magsayo vs. Rey Vargas Stands Out As Fight Of The Week | Boxing TV Schedule
---

Saturday, July 9th, 6 PM PST | Showtime
WBC featherweight champion Mark Magsayo is looking to get his second marquee win of the year, and put himself in the running for fighter of the year as he faces former 122 lbs. world champion Rey Vargas in a main event of a three-fight Showtime card on Saturday night.
Magsayo wins by will, as his motor, and toughness make him a formidable opponent for any and all, as well as his size and strength. Rey Vargas, on the other hand, is a purist's delight. A former 122 lbs WBC world champion who made six world title defenses when he was signed by Golden Boy Promotions, has now moved over to the Premier Boxing Champions world of boxing programming, as the Nacho Beristain trained fighter is looking to become a two-division world champion.
The big factor of this fight is Vargas' legs. He is a tremendous boxer, who loves to keep range and fight from a distance often outpointing his foes, but how will this new weight class and that injury impact Vargas. I often think of Vargas as Ichabod Crane, the protagonist in "The Legend of Sleepy Hollow".
Why?
He is long, awkward and at times fights to neutralize the action not unlike a Crane, when he saw the headless horseman.
If Magsayo wins this, he has a solid argument for being the best guy in the division along with his peers, Emanuel Navarette, and Leigh Wood. If Vargas wins, he slowly cements himself as a modern great Mexican fighter, with a Mexico vs. Mexico clash between and Navarette making a ton of sense.
A major credit to Sean Gibbons on guiding Magsayo's career to this point.
An absolutely awesome fight.
Even deeper this quite possibly could be the first time we see Freddie Roach and Nacho Beristain in rival corners since Manny Pacquiao vs. Juan Manuel Marquez IV.
undercard
The co-main event will see the 126 lbs debut of Brandon Figueroa taking on Carlos Castro, in a bout that will set up the next mandatory for the main event. This is Figueroa's fight to lose, as even though Castro is a supremely talented fighter, Figueroa gave Stephen Fulton hell, in a fight that could have gone either way, and earned my respect as a fan.
I think this bout also serves as a way to preserve the main event as well. If one of the main eventers got injured, got sick or something else happened, Figueroa would be a suitable main eventer. I am all-in on Figueroa as long as his chin holds up, as his relentless style is proven to be very tough to beat at the lower weights. Beyond that, Figueroa will also make for some good fights.
Castro has been a very big supporter of my writing, as he will have to improve upon his last fight a loss to Luis Nery. This is a very sink-or-swim fight for Carlos Castro, who at one point looked to be in position to be groomed for a world title. Boxing is a cold game.
Lightweight Frank Martin has been on everyone's radar since stopping Jerry Perez, as originally set to face former Gervonta Davis opponent, Ricardo Nunez, but now will face Jackson Marinez. Martin is a guy not unlike Michel Rivera, in which we see a ton of potential and now we just want to see him in the big fights, and see how he handles them. This should serve as a great introduction once again on premium cable, and as he gears up for a big money fight – my guess would be against Isaac Cruz later this year. Marinez has struggled againt this tier of opponent, but having a more notable performance against Rolando Romero makes Marinez more exciting to some.
Martin with a good performance could put himself in the prospect of the year of the year conversation.
On the YouTube portion of the telecast you were going to see the return of Rashidi Ellis, who is no longer with Golden Boy Promotions, facing Alberto Palmetta in a ten-round bout, but Palmetta pulled out last-minute with a back injury.. Ellis, defeated Alexis Rocha and absolutely saw no benefit from the win, just inactivity. As that was a year-and-a-half-ago, given the wealth of riches as Premier Boxing Champions, seemingly has every compelling welterweight, outside of one or two, Ellis should land a big fight, with a big performance.
Chisora v. Pulev Saturday, July 9th, 11 AM PST | DAZN
A fun old guy fight for DAZN subscribers will see the rematch of Dereck Chisora facing Kubrat Pulev, as neither looks to be the apex mountain of the heavyweight division, but both are world-level. The first bout was a split decision, and I am sure this one will be fun for those looking to see a fight.The bigger issue at heavyweight is the current log-jam. With Anthony Joshua losing to Usyk, and Fury, seemingly only returning to face those two, the young fighters, or veterans who would face those guys are sitting and waiting. In doing so, we have a year-or-so in which very little momentum is being made in the division. Add to the fact that, the best American heavyweight Jared "Big Baby" Anderson has been rather inactive, and we have a division full of 36-year-old plus people competing. 
Will either of these guys be world champion? Probably not. Will this be a sneaky fun fight that could see two guys punch each other a lot, quite possibly. 
undercard
 Junior middleweight Israil Madrimov will face Michel Soro, again after an odd ending in their last fight that Madrimov knock Soro out after the bell, but get credited with a KO win. As you probably predicted the fight took place in Madrimov's native country of Uzbekistan, which probably further hurt the optics of that. This fight I believe has implications for a world title at this division, with all four belts being held by Jermell Charlo, as Madrimov is a very athletic, strong and smart fighter, stopping Vladimir Hernandez in his pro debut, but has seen the pandemic slow his ascension to the world stage.
 Upset alert, middleweight Felix Cash will face Vaughn Alexander and anytime Vaughn Alexander is on a card, he always has a chance of pulling off an upset. Cash is someone U.K. fight fans have high hopes for, but Alexander fits the mold of a guy that often gives regional talent issues as he is tough, strong, and unwilling to stay on the outside. Also, heavyweight Fabio Wardley and super bantamweight Ramla Ali will be featured on this card as well.
ProBox TV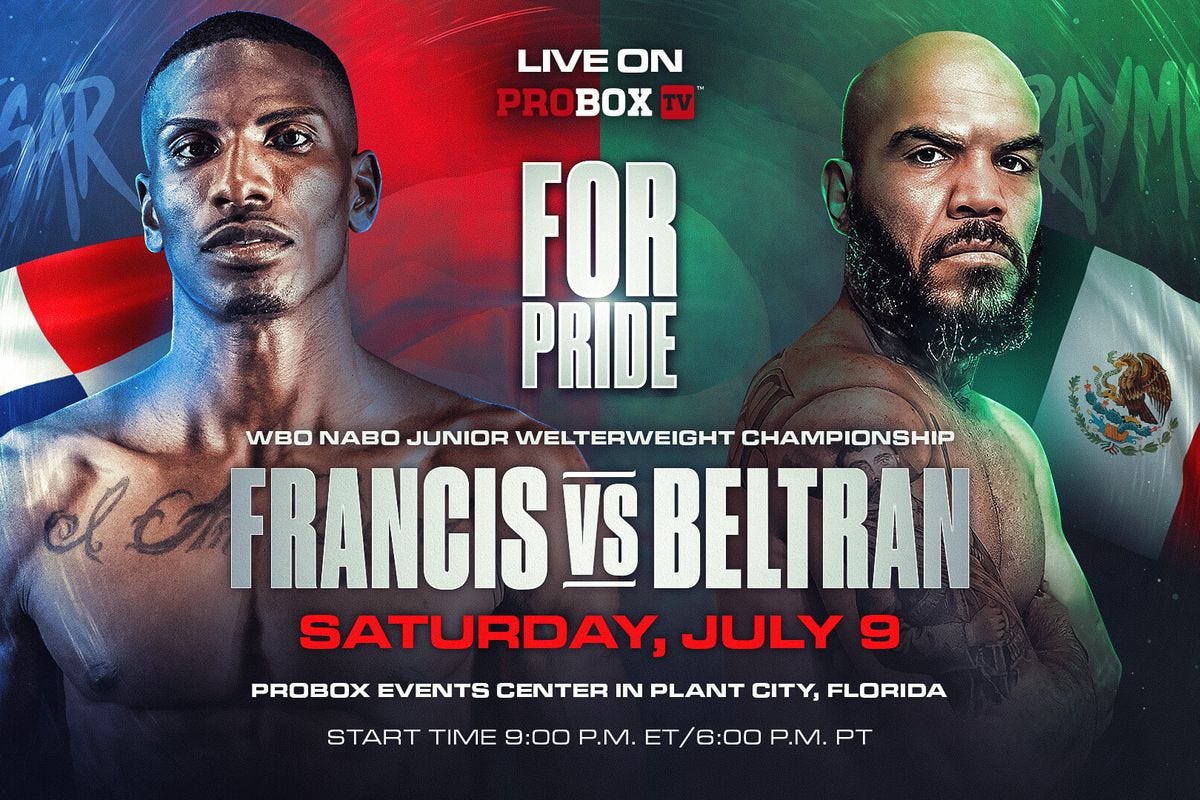 Cesar Francis of Panama is trying to be fast-tracked into the conversation of being a guy in the 140 lbs division, and hence he is fighting Ray Beltran. A really interesting fight, as Beltran is a class veteran, who can beat any contender on any given not, but probably will struggle against the elite at the late stages of his career now.
Heavyweight Christian Thun will face Curtis Harper, who is best known for leaving the ring on a PBC card. Thun is a fighter people have very high hopes for Brandon "Bulletproof" Glanton, is a cruiserweight trained by Coach Mustafa out of Decatur, GA, will face Deshon Webster. Glanton has the chance to be really good. The Valle brothers, Marques and Dominic will fight in separate bouts, on the cards. The two are boxers who are also male models. Tim VanNewhouse's 2020 Olympian Darrelle Valsaint will be in action at middleweight as well. 
Club Shows
Magomed Kurbanov will face Patrick Teixeira. Teixeira was last seen messing up the church's money as he got disqualified on a Golden Boy undercard which probably led to this type of bout.2020 middleweight Olympian Gleb Bakshi will fight Manuk Dilanyan in a six-rounder.
–
 Edward "Kid" Vazquez of Texas, will return in Philly against Jose Argel after a loss to rising contender Raymond Ford. Nahir Albright will look to bounce back from his loss to Jamaine Ortiz at the lightweight division. Damon Allen, a former prospect, will be in action as well.
–
2016 Olympic silver medalist Nico Hernandez will face Delvin McKinley as well.
MMA in 500 Words Or Less
Saturday, July 9th, 6 PM PST | ESPN+
Former champ Rafael Dos Anjos will face Rafael Fiziev in a lightweight bout. The screams of a marquee win for the young guy, Fiziev, as Dos Anjos has been around for quite some time.
Cynthia Calvillo is also on this card buried deep on the undercard.