Boxing TV Schedule: Danny Garcia vs. Jose Benavidez Jr. Fight Preview
---

Saturday, July 30th, 6 PM PST | Showtime
In the main event on Showtime, we will see two former 140 lbs fighting at 154 lbs late in their career. Danny Garcia, one of the three best 140 lbs fighters of the past decade will face Jose Benavidez Jr., who was also a highly touted fighter at that weight and has since moved up two weight classes.
The bout serves as an opportunity for both. Garcia was impressive at 140 but looked mortal against Mauricio Herrera, then had an era at 147 lbs prior to his big fights with Keith Thurman and Shawn Porter in which he fought strategically placed opponents to optimize his time bank account. Garcia is a potential hall-of-fame, but not a clear-cut first-ballot guy, and Jose Benavidez Jr. is currently trending in the direction of being one of boxing's greatest what-ifs.
That being said, this fight comes down to me, as to who has more left. Garcia is extremely rich now we see if that impacts his motivations, and Benavidez's best performance was a valiant effort against Terence Crawford, but getting shot in the leg, seemingly has dampened the trajectory of Benavidez's potential in the career.
Honestly, I expect a sneaky good bout that should surprise, and that Benavidez Jr. will surprise a lot of people with how he performs in this bout. Garcia has the edge, and also has a style that should get better as he moves up in weight as guys at 154 lbs don't move as much.
undercard
It is make-or-break time for both guys, as heavyweight Adam Kownacki coming off two straight losses to Robert Helenius, will face Ali Eren Demirezen, who is on a winning streak with his lone loss being to Efe Ajabga. The winner will have a hard fight next, but this fight creates an opportunity to further extend their career by seeing what potential ceiling they have in the sport.
One of the most exciting 140 lbs prospects Gary Antuanne Russell will face former world champion Rances Barthelemy in a ten-rounder. With a lot of Josh Taylor's belts becoming vacant, one has to think that Russell is nearing the point of fighting for a title, and winning every fight by knockout only furthers the excitement when tuning in. Russell has a lot to like early on, and facing a multi-division world champion will tell us a lot about his ring IQ, poise, and ability right now. I am expecting Russell to look amazing.
Sergiy Derevyanchenko vs. Joshua Conley will see Derevyanchenko look to bounce back from a loss to Carlos Adames, as Conley is coming off the biggest win of his career, an upset of Curtis Stevens.
A very interesting bout between Vito Mielnicki Jr. and Jimmy Williams, will be an exciting eight-rounder. Williams holds spoiler wins over Yuri Foreman, and such, but Mielnicki should be a different level.
Former world champion Julian Williams will be in action on this undercard, as will another Philly fighter Atif Oberlton who was very active on the FOX cards but has slowed down in terms of fight activity in 2022, but the light heavyweight is solid.
Junior Younan, the former Roc Nation Sports fighter will be on this card facing one loss fighter, Dauren Yeleussinov.
Leshawn Rodriguez will be on this card facing Ismael Villarreal in a trajectory fight for both men. In short, one fighter will go up, and one will go down.
Thursday Fights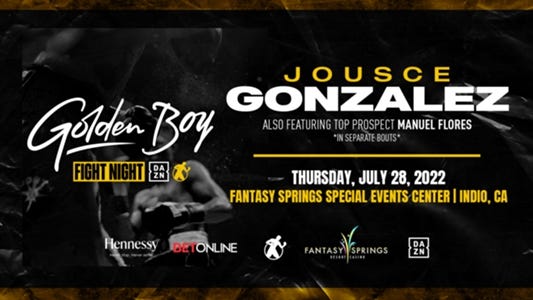 Thursday, July 28th, 6 PM PST | DAZN & YouTube
The younger brother of Joet Gonzalez, Jousce Gonzalez will face one of his toughest opponent Jose Angulo, who serves as his toughest test to date. Angulo, nearly pulled off an upset in Minnesota on ShoBox when the world went dark due to COVID-19, and now he is facing Jousce Gonzalez, a once-riding high prospect with a slew of knockouts on his resume. This is a big fight for both. The winner will get a chance at something.
The sister of Sebastian Fundora, Gabriela Fundora will be in-action against Lucia Nunez. Fundora has a star potential in this division, and should be a massive ticket seller for this event.
The opener, a real good one as Jasmine Artiga, an athlete first who boxes, will face Amy Salinas, notable fighter in which we will learn a lot about both fighters. This is a true test for both, and could steal the show.
Club Shows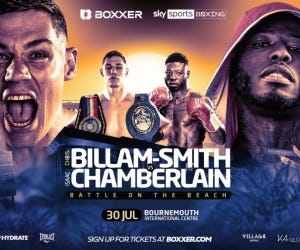 An interesting regional fight will Chris Billam-Smith will face Isaac Chamberlain for Billam-Smith's regional titles at cruiserweight. Billam-Smith is fun to watch as he is improving, but at the same time flawed, I don't see him as the best of any era. The bigger story to me is, this is the type fight that used to end up on DAZN, and now it is on Sky Sports – which makes me unclear if in the United States we have any means to watch it.
Olympic bronze medalist heavyweight Frazer Clarke will be in action. He is a likable figure, and one who could have a cult-following as his career keeps going.
One of my favorite Olympians, Ben Whitaker will be in a six-rounder against Greg O'Neill. Whitaker is a massive man, a great boxer, and a ton of energy. This is a guy to circle as one of the future forces of the division.
Olympian Caroline Dubois will also return as she is a fundamentally sound prospect.
–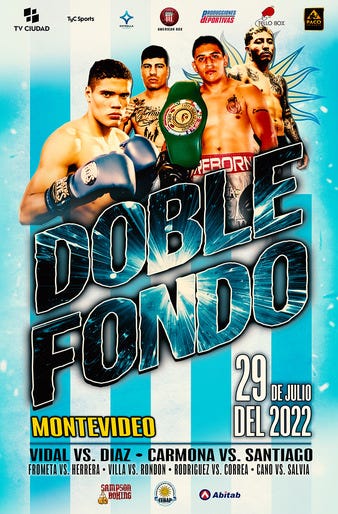 Amilcar Vidal, will return on a form of Spanish language TV. I remember once I incorrectly said that Freddy Fundora was his coach, and got yelled at for 30 minutes, a mistake I will never make again. Vidal, as long as he keeps winning will get something notable.
–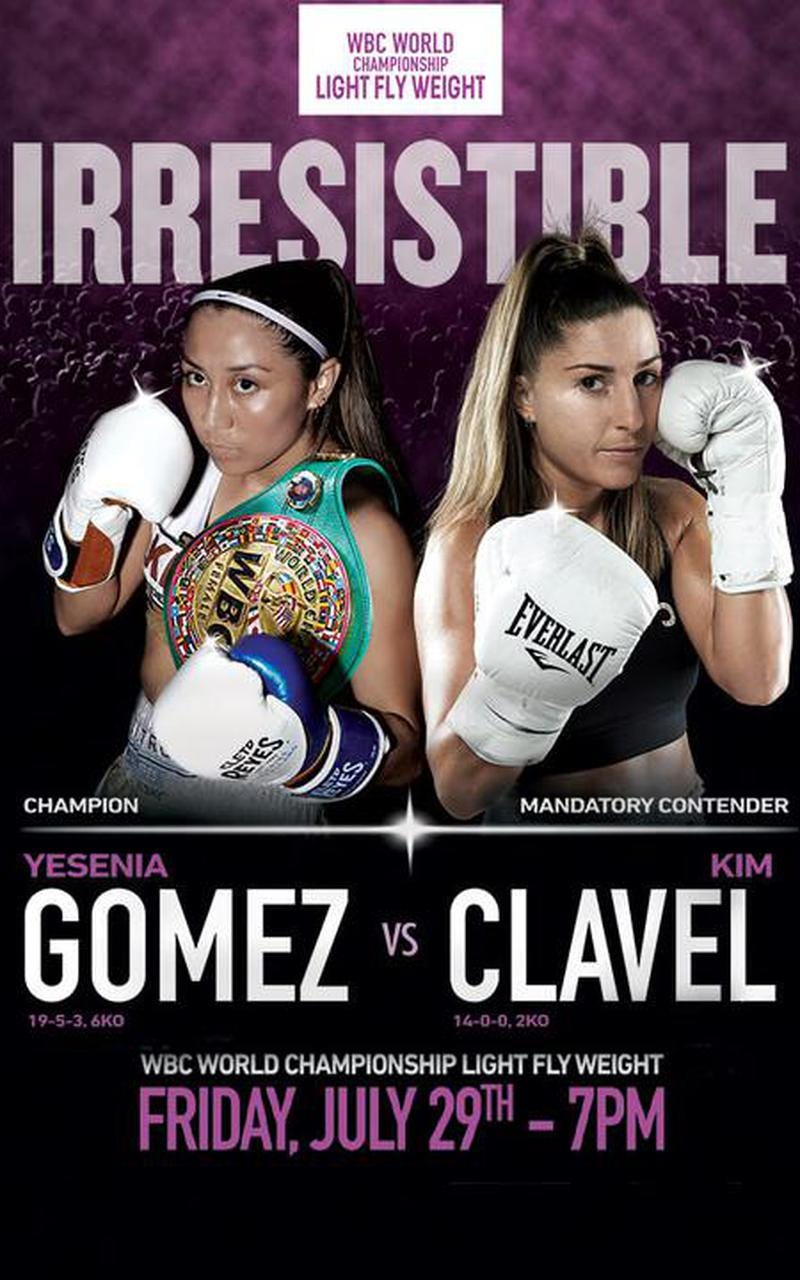 The world title fight between WBC junior flyweight champion Yesenia Gomez and Kim Clavel will take place. The original fight was postponed to this date, and now we will have a bout that is built around Clavel's stardom in Canada as Gomez will have her back against the wall in this one.
–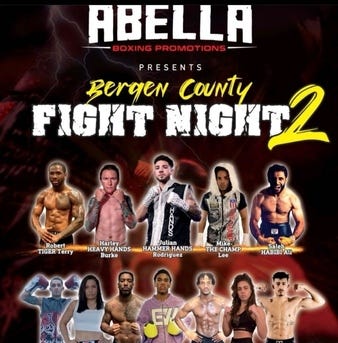 The former Top Rank fighter Julian Rodriguez will return in a regional northeastern fight card against Jeremy Mclaurin
–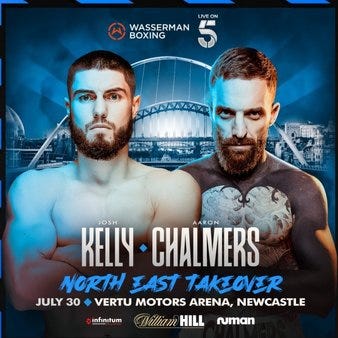 Josh Kelly will return to the ring for second time after a canceled bout return as he faces Lucas Bastida in a ten-rounder at 154 lbs. Kelly is a fighter who was a great amateur, has the look of a star, but we need to see him ascend after his loss to David Avanesyan.
Also, Chris Eubank Jr., relative Harlem Eubank will fight on this card.
One of my favorite Olympians, Pat McCormack is already moving into 8 round fights, as the 2020 Olympic silver medalist, reminds a lot of an improved Luke Campbell.
MMA in 500 Words Or Less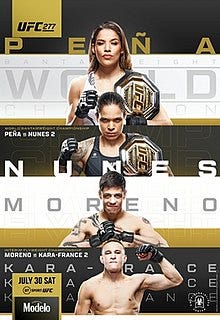 Saturday, July 30th, PPV 7 PM PST, undercard prior
The rematch that will see dethroned long-reigning champion, Amanda Nunes, try to avenge her loss to Juliana Pena topping the card. Pena's upset win over Nunes sent shockwaves around the MMA world, if she does it again – meet the UFC's next star.
Flyweights Brandon Moreno vs Kai-Kara France will do battle in the co-main event, as Moreno is looking to try to be the face of the division, which has lacked a figurehead after Demetrius Johnson and Henry Cejudo fought in the organization. Other notable PPV fights will be Derrick Lewis fighting in a heavyweight bout, and Anthony Smith fighting in a light heavyweight bout.
The ABC/ESPN prelim card will feature Alex Morono, as well Drew Dober in separate bouts.