Boxing Schedule: A Big Week For The Featherweight Division | Boxing TV guide
Venado vs. Conlan.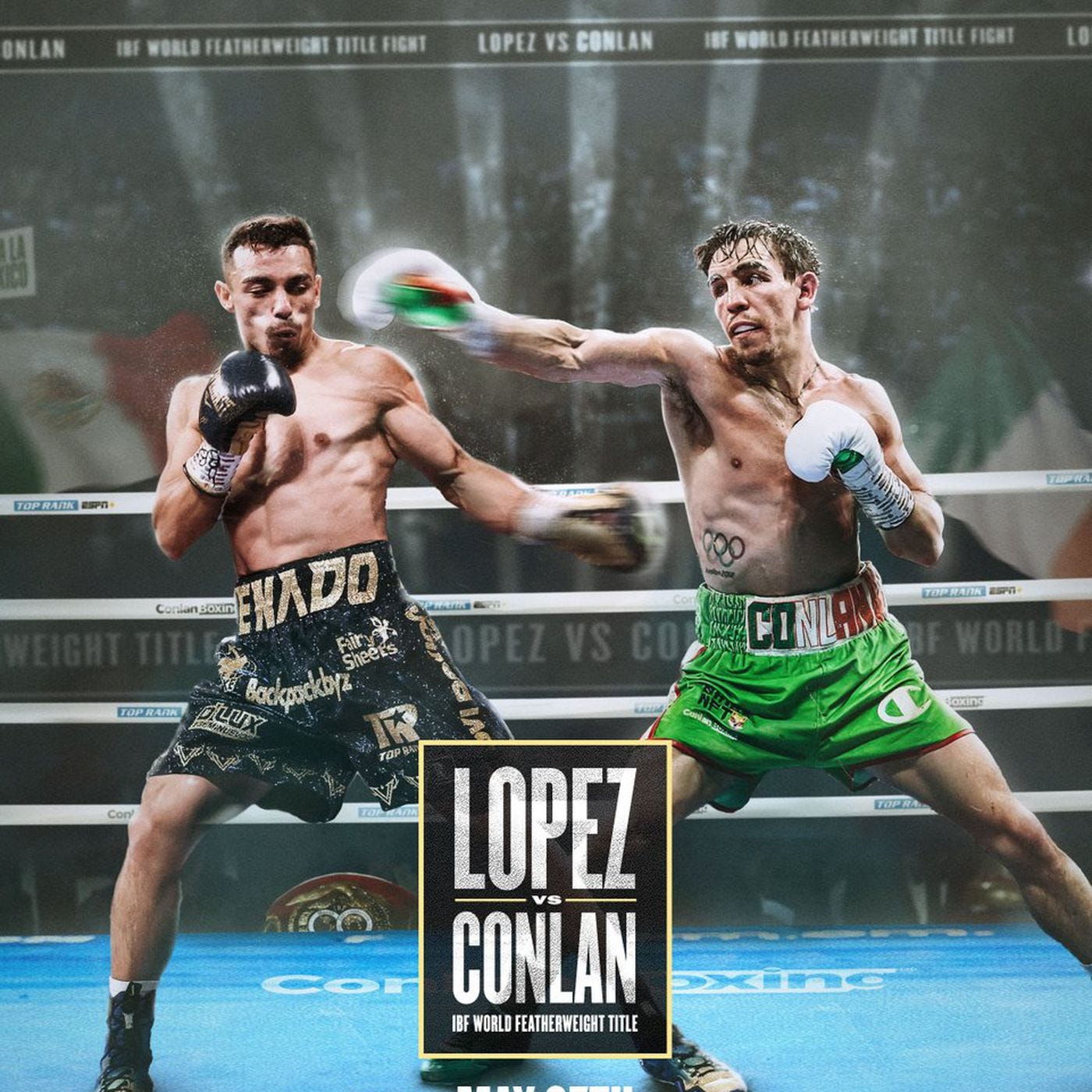 The best fight of the weekend is pretty easy, in my opinion, an interesting bout between the IBF featherweight world champion Luis Alberto Lopez facing Michael Conlan, in Ireland for his first world title defense. "Venado" Lopez is becoming a legend and a road warrior as he has defeated a-side fighters Gabriel Flores Jr., Andy Vences, Cristian Baez, Isaac Lowe, and Josh Warrington, all from the wrong corner.
Now Lopez, who is known for his awkward pressure style will face Conlan, a brilliant amateur, who simply is not translated to that good of a pro. Conlan's first attempt at winning a world title saw him getting knocked out in the 12th and final round of his world title fight against Leigh Wood in a bout Conlan was winning. Lopez is not the guy to fatigue against, even though Lopez himself does get tired.
The story of this fight will be simple; does Conlan have enough movement or power to keep Lopez off him? If he doesn't. Lopez might be nearing the point of becoming a fringe Mexican legend as he would have pulled off three upsets in three different countries, something we rarely see.
Lopez is the underdog in this fight, but man, does Conlan have to fight the fight of his life, since Lopez seemingly does extremely well with the style Conlan fights with.
undercard.
Anthony Cacace is a highly-ranked super featherweight who will face Damian Wrzesinski. At some point, Cacace will probably fight in a big fight, so if you want to get familiar with him, now might be a good chance to meet him.
The best undercard fight of the weekend is a bout between Nick Ball and Ludumo Lamati. A true pick'em type fight that should get a winner who is able to leave the U.K. to fight world-level opposition. The fight will be contested at featherweight and is one to watch for.
Lara vs. Wood II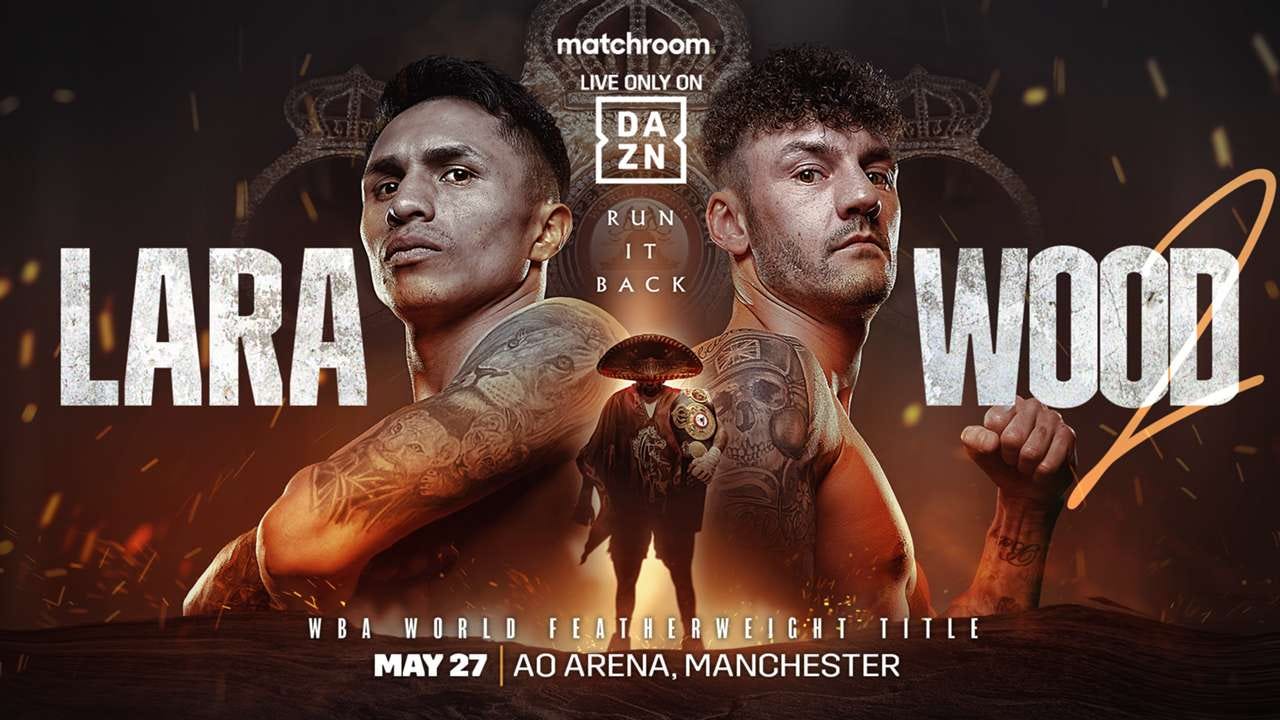 Mauricio Lara and Leigh Wood are rematching for the WBA featherweight title Lara when he knocked out Wood in February. Neither guy has the following they should – which is strange. Lara hasn't quite caught on, probably because despite being a Mexican fighter most of his big wins, if not all of his big wins have been in the U.K., and Leigh Wood had a rocky road until his great 2021-2022 run in which he looked to be a Capital G Guy for Matchroom Boxing.
This is a trajectory fight. Wood seems to have some potential as someone who could be a draw for Matchroom in the U.K., and Lara is an explosive knockout artist. The marketing for the previous fight sums up the view of Lara when the poster read 'dance with the devil.' Lara's punches are scary, and he knocks guys out in an unreal fashion at this weight class.
The winner of this fight is part of the top tier of fighters in the division which are; the winner of this bout, the winner of Lopez vs. Conlan, and Robeisy Ramirez. I tend to favor Robeisy over everyone in the division, but we need to see the fights.
If Lara wants to be one of the best – he needs to make a statement in this bout.
undercard.
Jack Catterall will face Darragh Foley, as Foley is coming off a big upset win. Catterall looks every bit like a top-five junior welterweight and this should be a solid introduction for him into the Matchroom roster, as Catterall looks like a hidden gem of the division.
Terri Harper's bout was pushed back one week as Cecilia Braekhus got sick. Now she will face Ivana Habazin, for the first defense of her WBA women's junior middleweight title, and Campbell Hatton will also be featured on the undercard.
MVP Promotions on DAZN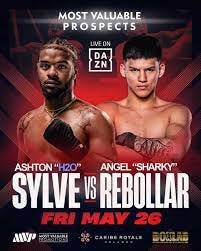 Ashton Sylve is a lightweight with a lot of promise. He will be fighting in Flordia against Angel Rebollar in an eight-rounder. Rebollar is a tough fighter, who has faced Abdullah Mason and Charlie Sheehy, both are signed to Top Rank Inc., and both fighters have hopes of being world champions. Sylve is looking to make a statement against a rugged, tough L.A. fighter. Given that both fighters are from the same area, I would be curious if they have had any history in the past, etc.
A very sneaky good fight for a Friday evening. Sylve has all the potential of being a world champion.
undercard.
When Mike Leanardi tells you someone is good you should listen. I remember watching Kevin Brown, in amateur competition as a Cuban boxer, had a very American name for Cuban fighter. In the co-main event, Brown will face Julian Smith in a ten-round junior welterweight bout. In Brown's third fight, he is already a ten-round fighter. This is his second ten-round fight, as his pro debut was an eight-rounder.
Lorenzo Medina is a solid regional Florida heavyweight who is looking to stand out in an interesting match against Andrey Mangushev.
Jamar Pemberton is another fighter I like from the amateurs, and fights in the very thin middleweight division. I'd keep an eye out for him as well.
Golden Boy Show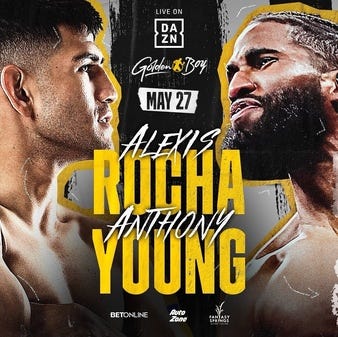 I have two stories this week on ProBox TV News about this fight. An interview with Alexis Rocha and one with his opponent Anthony Young. The 12-round fight is interesting.
Rocha seemingly thought he'd be fighting Terence Crawford, but that isn't happening. Now he is fighting Anthony Young, a dangerous puncher, who retired Sadam Ali. This is a solid main event bout, and one of that if Rocha wants to prove he is worthy of a world title shot, might need to show separation in this fight.
An exciting main event taking place at the Fantasy Springs Resort, in Indio, California. As with the inactivity of the welterweight division as of late, this is one of the better fights in recent memory to find out where fighters stand in the division – as most fighters in this division fight once and wait…or every 14-to-15 months.
undercard.
An interesting bout to be aware of are Melvin Jerusalem vs. Oscar Collazo, which sees Jerusalem looking to defend his WBO strawweight title. Collazo has done a lot of regional media and has been pushed heavily. Junior bantamweight John "Scrappy" Ramirez will face veteran Fernando Diaz. Ramirez is calling out Joshua Franco, and Eric Priest, who was supposed to fight Joeshon James will fight on this card in an eight-round middleweight bout.
Boxxer show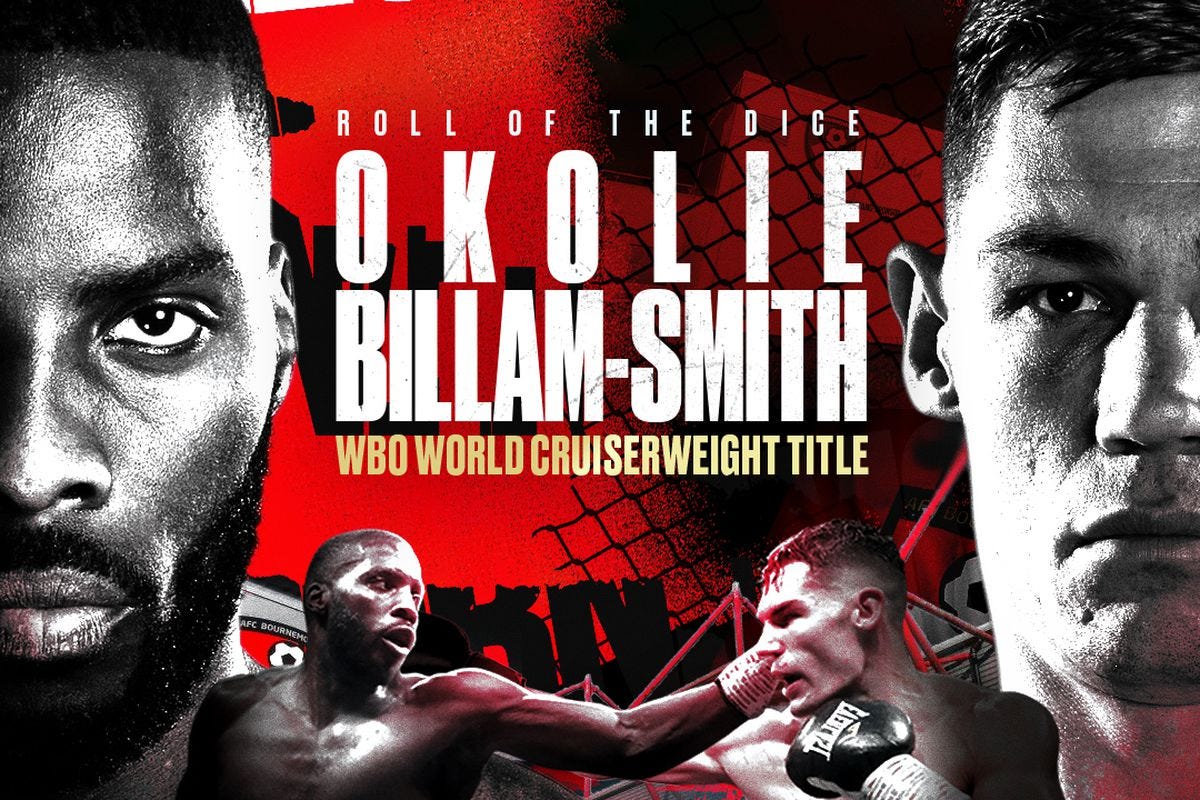 Lawrence Okolie is putting together a solid 2023 if he is able to defeat Chris Billam-Smith and make the fourth defense of his WBO cruiserweight title. Okolie has a style that is as fun as watching paint dry at times. Okolie is risk-averse, but able to win and win, and win some more. Even though he is fighting in one of the worst divisions in boxing, cruiserweight, which is probably only rivaled by the junior middleweight division in terms of depth at the top; Okolie has already beaten David Light, and will be fighting a world-class opponent in Chris Billiam-Smith, who deserves this chance.
If Billiam-Smith has success it will be good if Okolie dominates it might one to watch the highlights of.
Okolie is slowly starting to become a fringe top-15 type of guy as he is starting to rattle off a lot of world-title defenses. Okolie might be the best British cruiserweight since David Haye, and this is one of his first formidable tests since being a world champion.
undercard.
Mikael Lawal vs. Isaac Chamberlain, which will be for Lawal's British cruiserweight title, has the chance to be fun. 154 lber Sam Eggington will fight Joe Pigford, and any Eggington fight will be brutal. Big punching women's lightweight, Karriss Artingstall, who was a 2020 Olympian and the partner of Lauren Price will be in action as well.
Other Notable Bouts
Former world champion Joseph Parker fights in the middle of the week. I wonder if he lands a fight with Jared Anderson in the near future.
Nikita Tszyu, the brother of Tim Tszyu, will fight as well on that card.
–