Boxing TV Schedule Headlined By Charlo vs. Castano II On Showtime
Weekly YouTube Content including Monday night 9 PM PST shows including all the staff of ITRBoxing.com here
If you want to bet on the fights be sure to follow the affiliate link on BETUS and have the chance to earn more.
Charlo vs. Castano

Saturday, May 14th, 6 PM PST | Showtime
This week on the website I broke down the top-15 in 154 lbs division, or at least how I see it which you can read here. In that, I ranked the WBA, WBC and IBF 154 lbs champion Jermell Charlo as the number one guy in the division and Brian Castano, who is the WBO 154 lbs champion as the number two guy.
Rarely do we see the #1 and #2 guys fight at the apex mountain of their powers, yet we are seeing it here. The first fight a modern classic ruled a draw, but Castano overachieving won the goodwill of the fight fans.
The feeling is Charlo has more room to improve, but Castano's style and commitment to keeping his hands up to present a huge stylistic issue for Charlo who isn't all that busy of a boxer in terms of his work rate. Castano is.
If you want to watch a fight this weekend, make sure to check this one out.
undercard
Welterweight Jaron "Boots" Ennis is so good that if he doesn't knock out a world-class boxer like Custio Clayton in the IBF welterweight eliminator, most people will look at Ennis as though he didn't perform well. Ennis has been a bright spot in boxing over the past three years, as he appears to be a superstar in the making. Clayton is no slouch, he went to a draw with Sergey Lipinets and is a tricky awkward fighter, but Ennis feels like he has the potential to be a legend.
This fight should start to tell us how good Ennis is.
Also on the undercard, Jerry Perez, who has been a part of Leo Santa Cruz's camp for years will face Erick Lanzas Jr., who is undefeated in an eight-round bout. As well as Brandyn Lynch will rematch Marcos Hernandez in a ten-round middleweight bout that is a rematch of their previous bout that was ruled a draw, but most thought Hernandez won.
"Zurdo" In Action On DAZN
Saturday, May 14th, 5 PM PST | DAZN
Light heavyweight Gilberto "Zurdo" Ramirez will face highly ranked Dominic Boesel, who seemingly was the highest-ranked opponent Ramirez could face. Since signing with Golden Boy Promotions, Zurdo has had two straight KO wins and was calling out Dmitry Bivol. Ramirez should win, and continue to look good, but Zurdo needs to get himself into some big fights because he is already into 40+ fights with very few the fans have connected with.
One of my favorite lightweights William Zepeda will face game veteran Rene Alvarado in a 10-round fight. Zepeda is all-action and a good power puncher. I am not sure his ceiling, but he is fun.
Diego De La Hoya returns on the undercard, and as always we will monitor two fights the action in the ring, and if De La Hoya can make weight.
John "Scrappy" Ramirez, who is close friends with "Zurdo" Ramirez will be featured on this undercard. Ramirez, a 118 lbs fighter is looking to get into a meaningful fight.
One of the most underrated fighters in boxing, and the most underappreciated fighter in the sport, Japhethlee Llamido will finally get a well-deserved a-side fight. Llamido is amassing a stellar resume very early in his career.
Triller PPV Headlined By Kovalev

Saturday, May 14th, 3:30 PM PST | TrillerFightClub.com
Sergey "Krusher" Kovalev returns at cruiserweight against Tervel Pulev, the younger brother of Kubrat Pulev in a ten-round bout. The bout has a lot of red flags for Kovalev, one of the best light heavyweights I have ever seen fighting 20 pounds above his most effective weight, after years of legal issues, and seemingly questions about his consumption of alcohol, one has to wonder what Kovalev has left, against an unbeaten Pulev, who seemingly is much fresher. That being said Kovalev's jab and right hand are things of legend.
Heavyweight Kubrat Pulev will face Jerry Forrest in a fight that should create a top-ten heavyweight contender and put someone on the landscape of landing a big fight. Forrest is one of the most underrated guys in the sport, and Pulev not unlike Kovalev has a lot of distractions outside of the ring.
The son of Evander Holyfield, Evan Holyfield will fight in a six-round middleweight bout.
The bout will feature all three of the Vargas brother including Fernando Vargas Jr., Amado Vargas and Emiliano Vargas.
Emiliano Vargas will face Mark Salgado in a lightweight four-bout. We had Mark Salgado on the podcast this week, who fights out of Dreamland to talk about getting to fight on his first televised TV bout.
Floyd Fights "Dangerous Don" in Dubai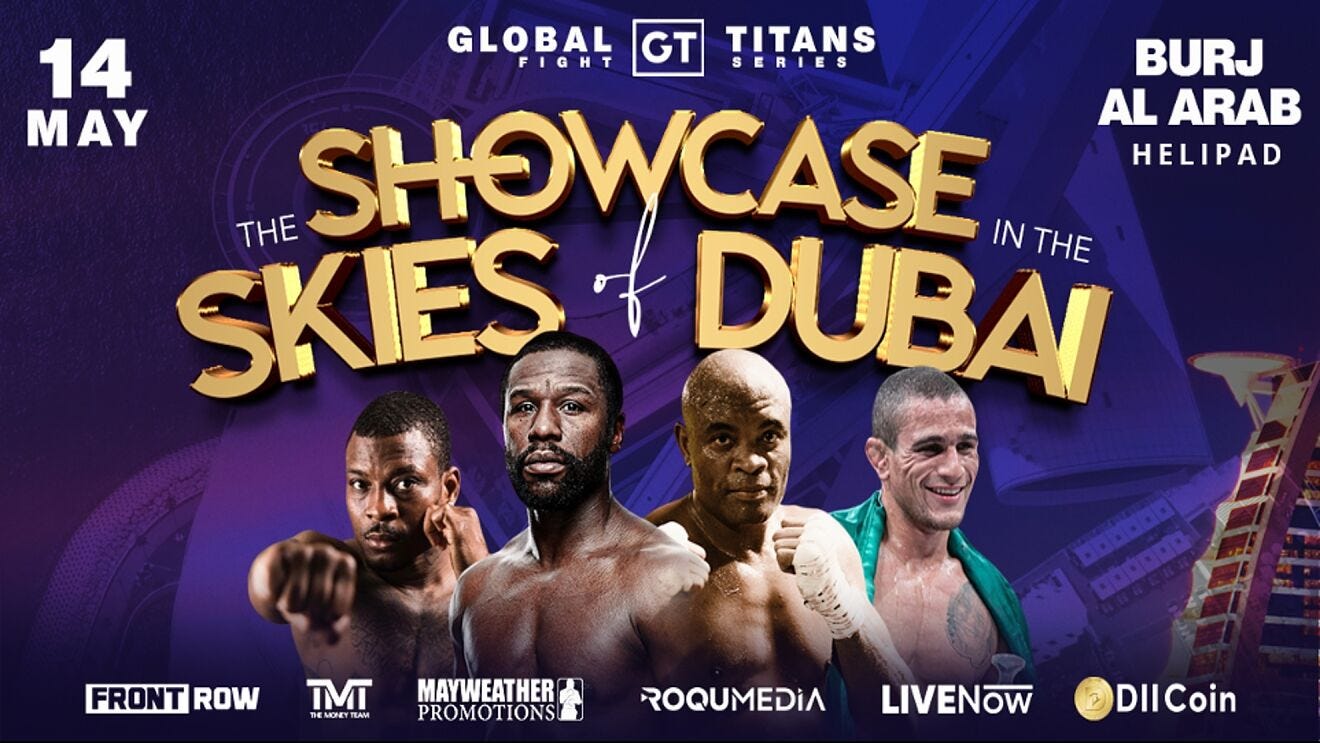 What has the world come to? Floyd Mayweather, who is seemingly a billionaire will fight "Dangerous" Don Moore in an eight-round exhibition bout on top of a helicopter pad. This is just weird.
Anderson Silva will face Bruno Machado which is also an eight-round exhibition bout.
Delfine Persoon will face Elhem Mekhaled in a 130 lbs women's bout that are not an exhibition bout.
Badou Jack fighting at cruiserweight faces Hany Atiyo.
The card will be available to watch on PPV and screams to me as something @TimBoxeo will have some pretty stellar screengrabs from.
Club Shows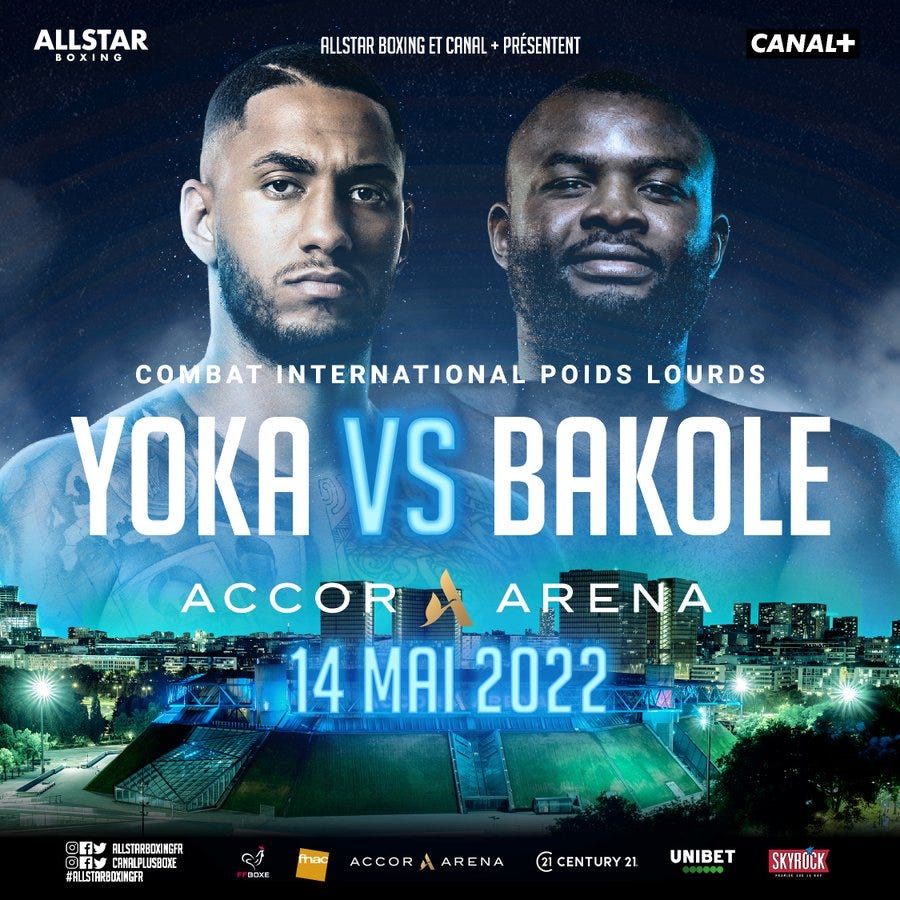 2016 Olympic gold medalist Tony Yoka will face Martin Bakole on ESPN+ this weekend. Yoka should be one of the next major heavyweights once this crop of heavyweights starts to disappear. Bakole is a really big heavyweight, who isn't the most talented, but just a massive man.
Sofiane Oumiha will fight for the second time as a pro, and the first time in France. Oumiha is the Olympian who defeated Teofimo Lopez in the Olympics in 2016.
–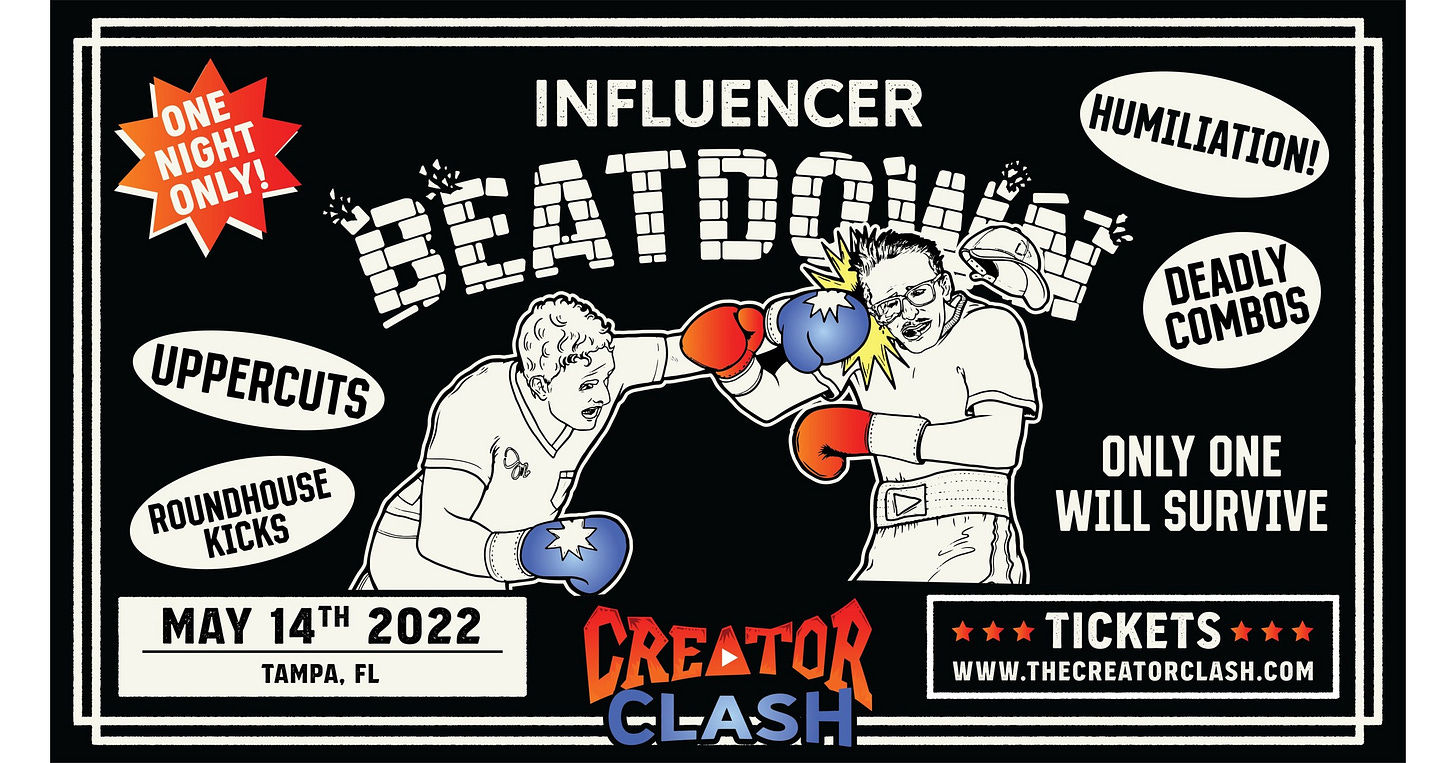 Social media content creators will do battle in Tampa as part of the Creator Clash w/ former world title contender Radivoje "Hot Rod" Kalajdzic facing Ernest Amuzu in a light heavyweight bout thrown into the action of influencers fighting each other.
–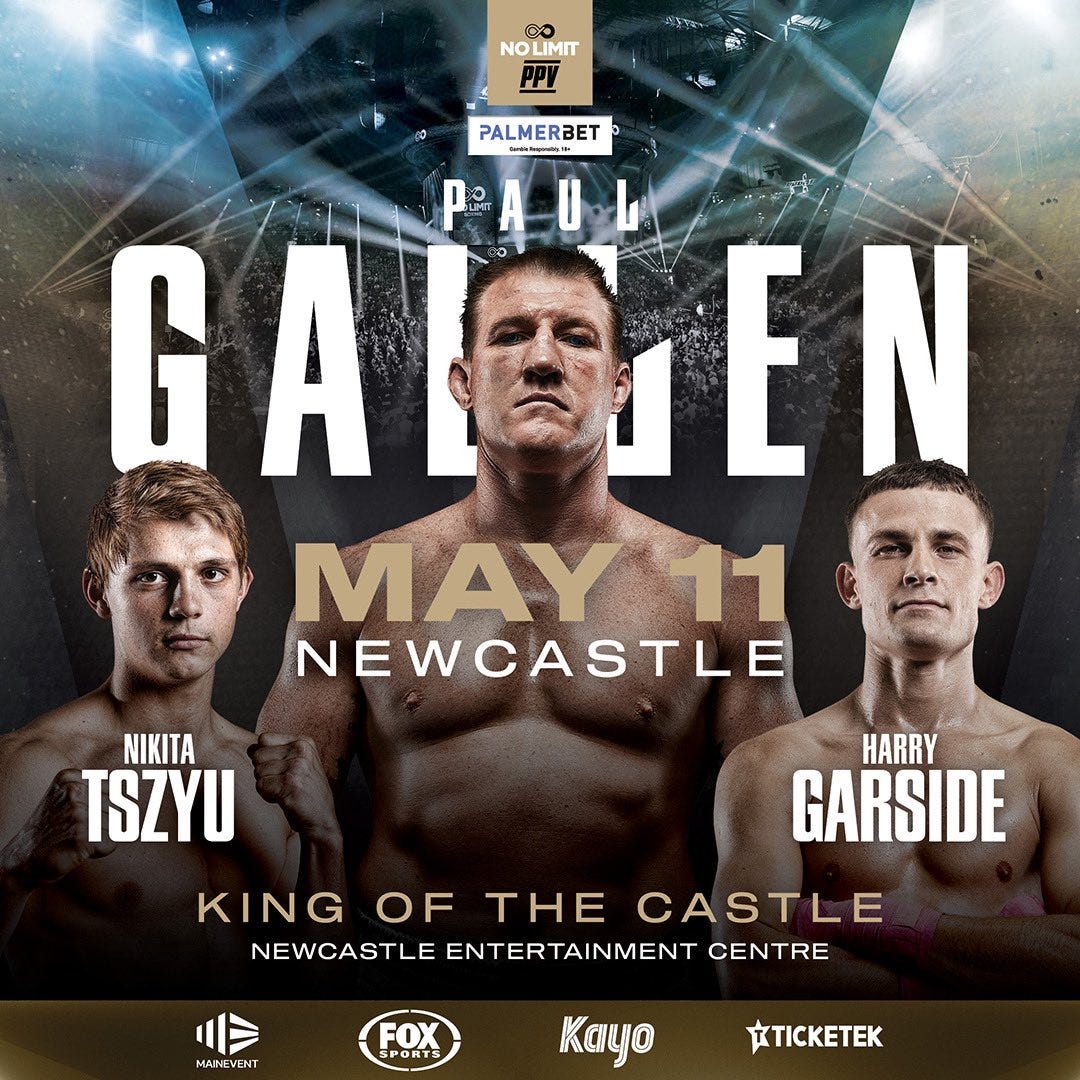 The other son of Kosta Tszyu, Nikita Tszyu is in action against Mason Smith at junior middleweight. Many on the way up believed Nikita was the fighter that had the higher ceiling I believe he waited to turn pro because he went to school.
A very fun Olympian, who enjoyed a lot Harry Garside will be fighting in a ten-rounder. I am all-in on some Garside action.
–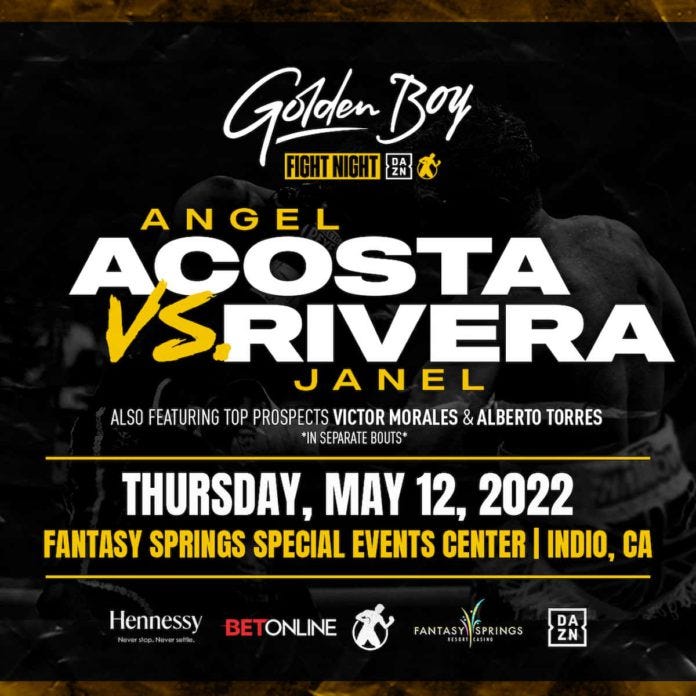 Thursday night fights on DAZN from the desert as Golden Boy Promotions returns with a card from the Fantasy Springs Casino and Resort will see the main event of Angel Acosta vs. Janel Rivera. "Tito" Acosta is viewed as one of the better lower weight fighters and Janel Rivera has been around for at ten years as a world level fighter.
Featherweight Victor Morales will face Sacramento, Ca's, Alberto Torres. Morales should be nearing the point of a marquee bout.
Rudy Garcia vs. Diuhl Olguin is a tricky bout to see where Rudy Garcia is at. Garcia had a draw with Morales recently.
Eric Tudor will be facing Donte Stubbs who dropped Javier Martinez in Martinez's last fight.
–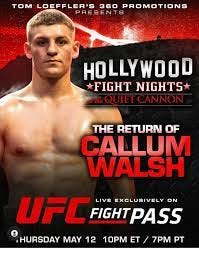 Callum Walsh faces Luis Garcia, not the one from Northern California though, at 154 lbs. Walsh is getting a lot of hype on the underground circuit for an unsigned figther.
Chelsey Anderson will face Jessica Juarez in a 135 lbs women's bout. Juarez recently lost to Skye Nicolson, who is moving very fast – so Anderson and Nicolson might be fighting in the near future.
Wild Card's Marco Deckmann will face Northern California's Jasper McCargo in a fight that will be really good as McCargo has made a lot of really good bouts that should've been televised nationally. McCargo has taken tough fights and fair welled. I am curious how this goes, and slightly favor my hometown guy, McCargo.
Lightweight Ernesto Mercado will face Jose Zaragoza, who just fought Keyshawn Davis, and his goal is to stop Zaragoza faster than Keyshawn Davis.
–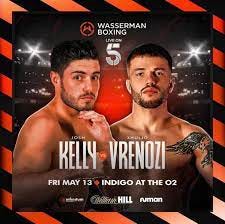 Josh Kelly will face Xhuljo Vrenozi in a welterweight bout. Kelly if he could win a few would be a great opponent for Conor Benn, so let's keep tabs on this.
I am unfamiliar with this bout, but my friends in the U.K. tell me Linus Udofia vs. Denzel Bentley, a 12-round for the vacant British middleweight title is one not to miss. So keep that in mind.
–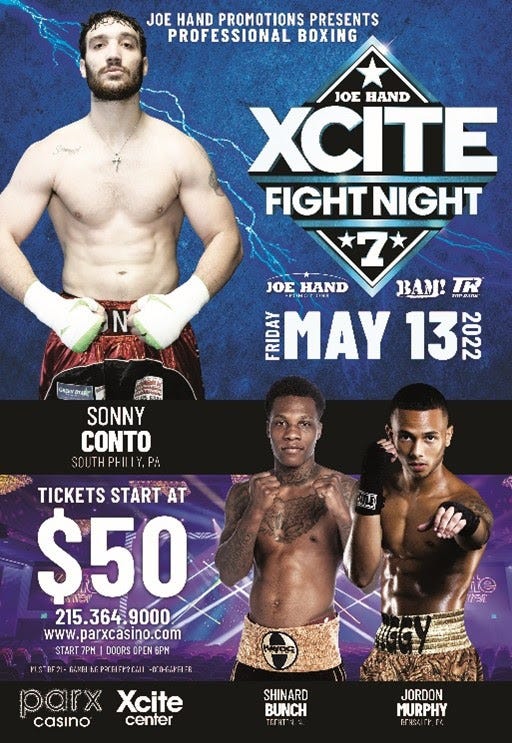 Sonny Conto will face Justin Rolfe as Sonny Conto seems to be back on the regional scene.
Shinard Bunch, a very solid Philly fighter is in action at 140 lbs. He could get a big fight soon.
–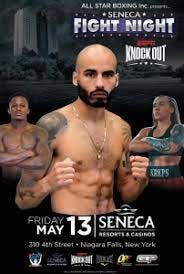 A really, really good 112 lber Anthony Olascagua, who defeated Michael Angeletti at the Olympic Trials will be in action in New York versus Gustavo Perez.
Upstate New York's Mikiah Kreps will be in action as well on this card.
–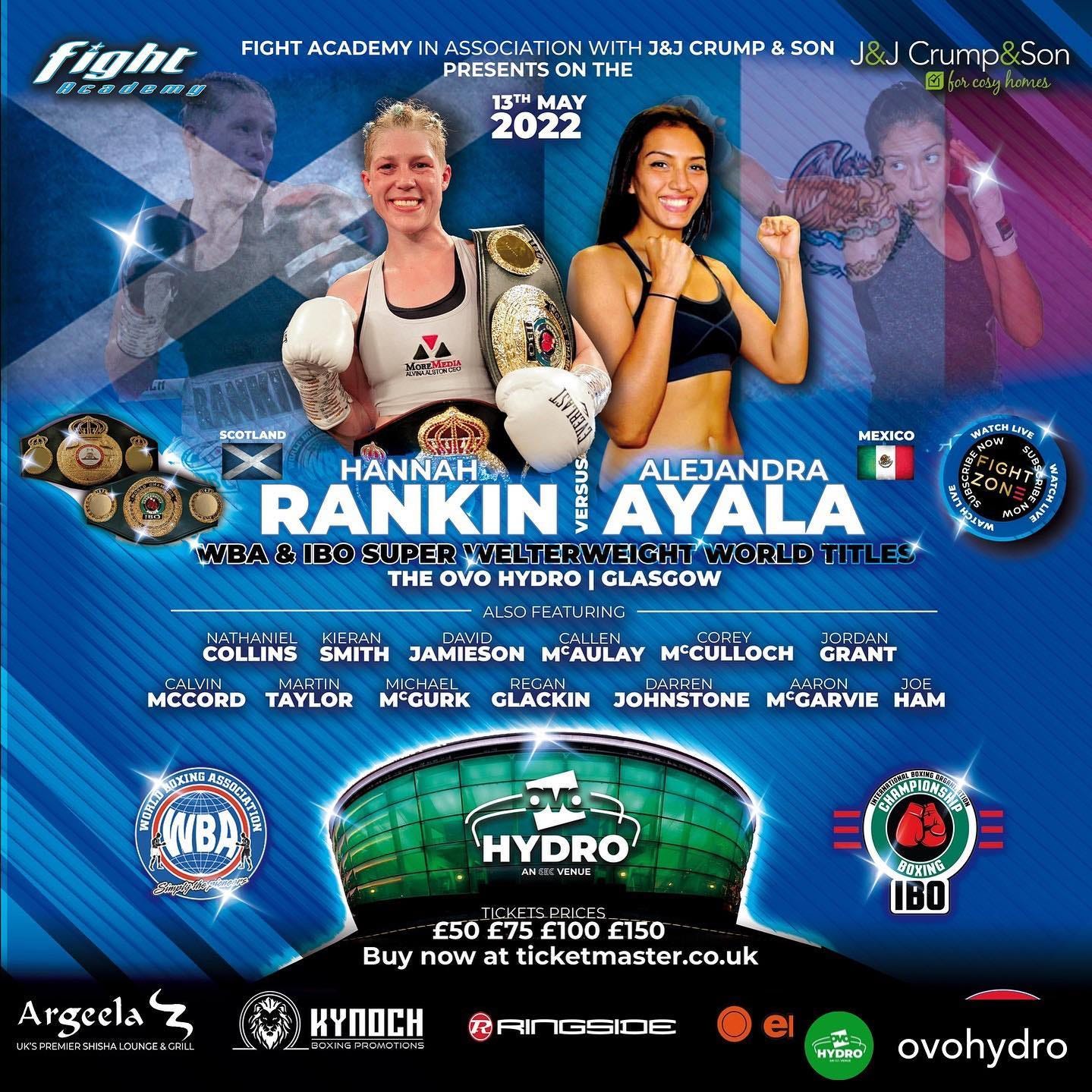 Hannah Rankin, a classical musician, who has claimed a world title will face Alejandra Ayala, as she looks to defend her WBA women's junior middleweight title
–
Czarina McCoy, a very good amateur will be fighting in Mexico. She should be close to a world title fight-type bout.
MMA in 500 Words Or Less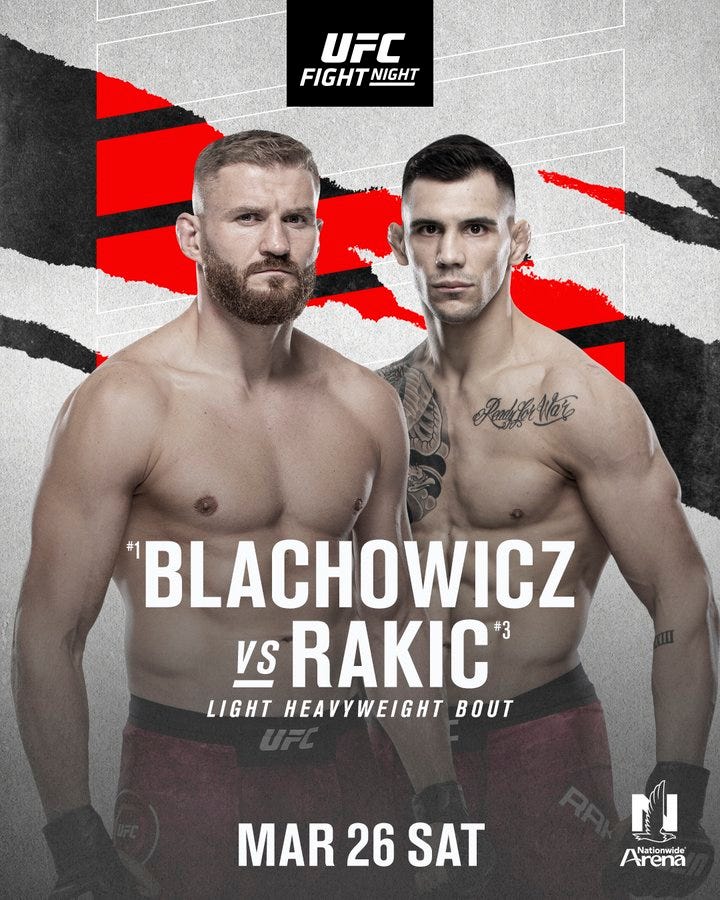 Saturday, May 14th, 7 PM PST | ESPN2
Former champ Jan Blachowicz will face Aleksandar Rakic in a light heavyweight main event. Notable is that this telecast will be on ESPN2, and not big ESPN. Other notables on this card, Ion Cutelaba, Katlyn Chookagian vs. Amanda Ribas, Michael Johnson, and Angela Hill.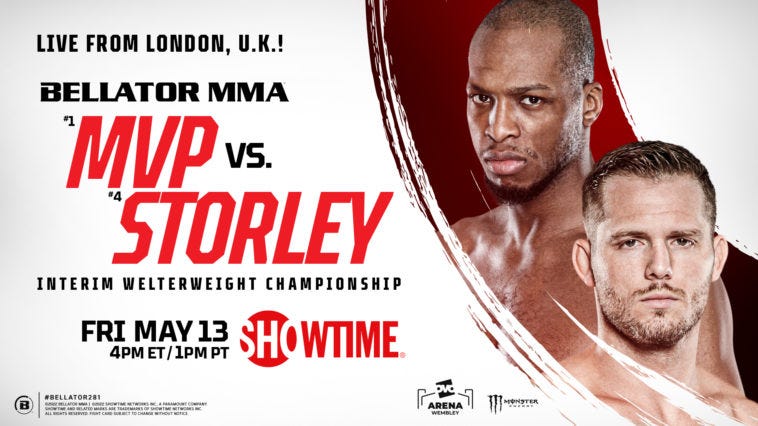 Friday, May 13th, 1 PM PST | Showtime
Michael "Venom" Page will headline a Bellator card, the card also features Lyoto Machida, and Paul Daley. Page will be fighting Logan Storley for the interim welterweight promotional title, and will be fighting in his hometown.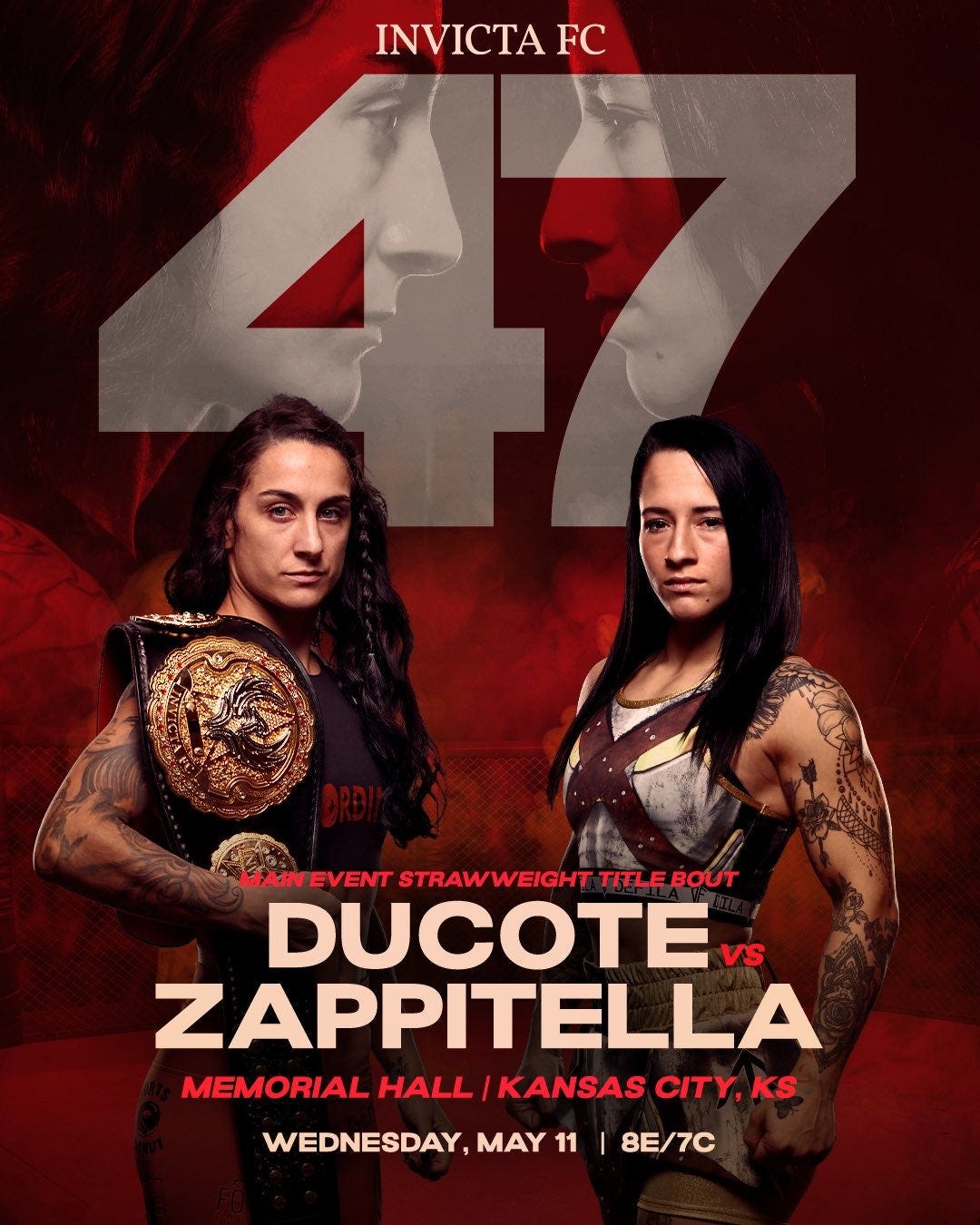 Wednesday, May 11th, 5 PM PST | click here
For fans of women's MMA Invicta FC 47, happens this Wednesday. Invicta is one of the major forces that helped jump-start the career of many female fighters, if possible support this very likable organization.