Bam Rodriguez Looks To Continue Breakout Year, + Boxing TV Schedule
---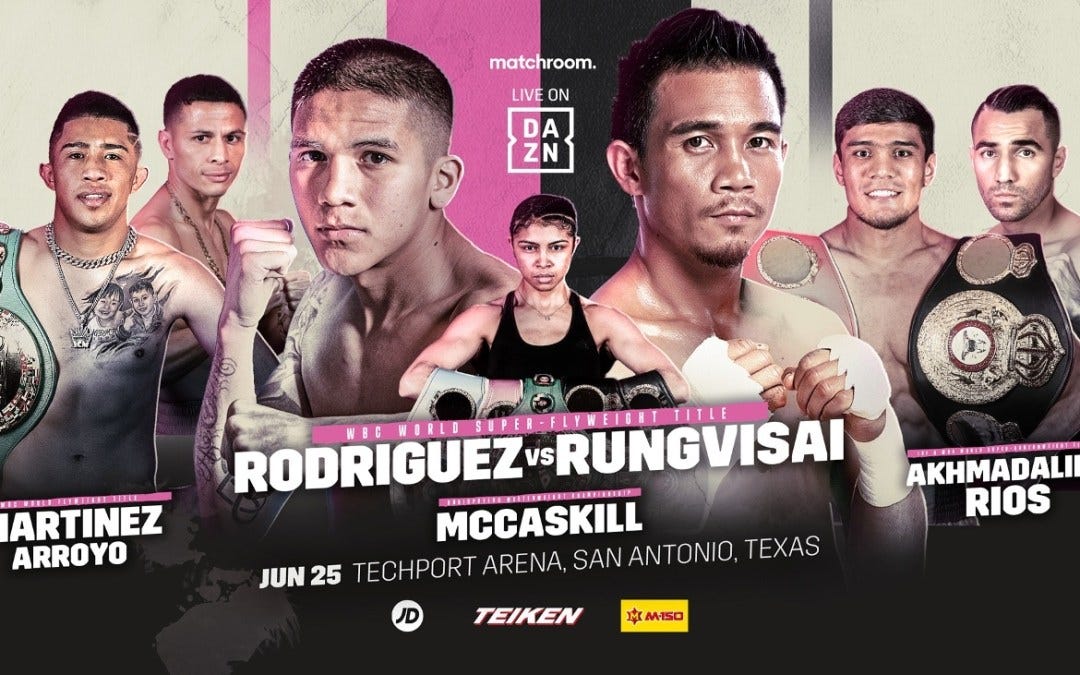 Saturday, June 25th, 6 PM | DAZN
Jesse "Bam" Rodriguez will face former world champion Srisaket Sor Rungvisai, as Rodriguez looks to make the first defense of his WBC junior bantamweight title. Rodriguez is a beloved lower-weight fighter, fighting out of Robert Garcia's gym in Riverside, California.
Rungvisai is best known as the guy who knocked out Roman Gonzalez after getting a close split-decision win in their first fight. Rungvisai had an odd run on HBO, in which he beat Juan Francisco Estrada, but seemingly the network had no clue what to do with him. 
Bam Rodriguez is having a great 2022, and with a win here would be on a short-list of fighters who you could say is the Boxer of the Year.
undercard
Julio Cesar Martinez will rematch McWilliams Arroyo as Martinez will put his WBC flyweight title on the line after his one-sided loss to Roman Gonzalez earlier this year. The bout is a rematch of their fight from last November that was ruled a no-contest after Arroyo couldn't continue from a head clash.
Martinez mocked Arroyo in the ring after Arroyo couldn't continue, as this is a classic puncher (Martinez) versus boxer (Arroyo) match-up with the potential for bad blood to spill over.
Murodjon "MJ" Akhmadaliev will look to defend his IBF and WBA junior featherweight world titles against Ronny Rios. Akhmadaliev looked rather mortal in his last fight as Rios is a hardluck fighter, looking to become a world champion.
The winner should unify with Stephen Fulton to crown an undisputed 122 lbs champion.
The undisputed women's welterweight champion Jessica McCaskill will face Alma Ibarra in a fight that I view as fairly even. McCaskill is showing wear and tear over the past few fights as she tends to brawl her way to victory, Ibarra has the same mindset, but is the fresher of the two fighters. An interesting match-up.
The bout I have circled as my fight of the night will feature Raymond Ford vs. Richard Medina, in a ten-round featherweight bout. Ford has promise as a rising contender, but still has a bad habit of putting himself onto the ropes as well as a draw to his record. Medina is a fighter who has been built up regional and undefeated and is stepping up for a chance at a big win. For what it is worth, Medina is a Texas native. 
Fresno, California's own lightweight Marc Castro will face Omar Castillo in an eight-rounder. Castro is really good and fun to watch. I think some have been soured by seeing all of his fights broadcasted, but I love seeing the progression.
The popular middleweight Nikita Ababiy will also be in-action on this card.
ProBox TV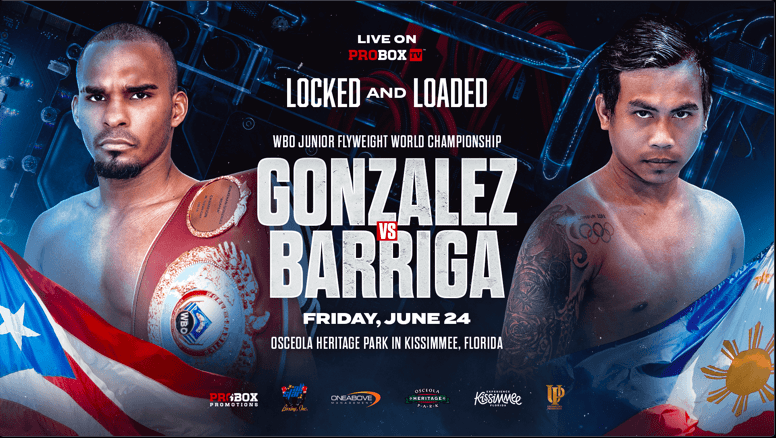 Friday, June 24th, 5 PM PST | PROBOXTV.com
Jonathan "Bomba" Gonzalez will look to make his first world title defense against Mark Anthony Barriga, as Gonzalez's WBO junior flyweight title will be on the line. I saw Gonzalez's win over Elwin Soto live in Fresno, Ca, and remember very little other than Gonzalez is talented.
Two undefeated fighters in Hakim Lopez of GA, and the midwest Cruse Stewart will be the toughest fight of each other's careers. This is a great evenly matched trajectory fight.
My favorite current cruiserweight Najee Lopez will face another undefeated fighter in Jeysson Monroy. This is an exciting bout.
Jaycob Gomez Zayas is a fighter I have circled as a potential Puerto Rican breakout star, who has such a small footprint on the internet. Really good fighters follow him on social media, so I am curious to see his potential.
Featherweight Jan Paul Rivera will be in a four-rounder.
115 lbs Trinidad Vargas, a fighter that many feel has superstar-type talent at the lower weights, will face Josh Aarons, and should like a million, trillion bucks.
ESPN+ Show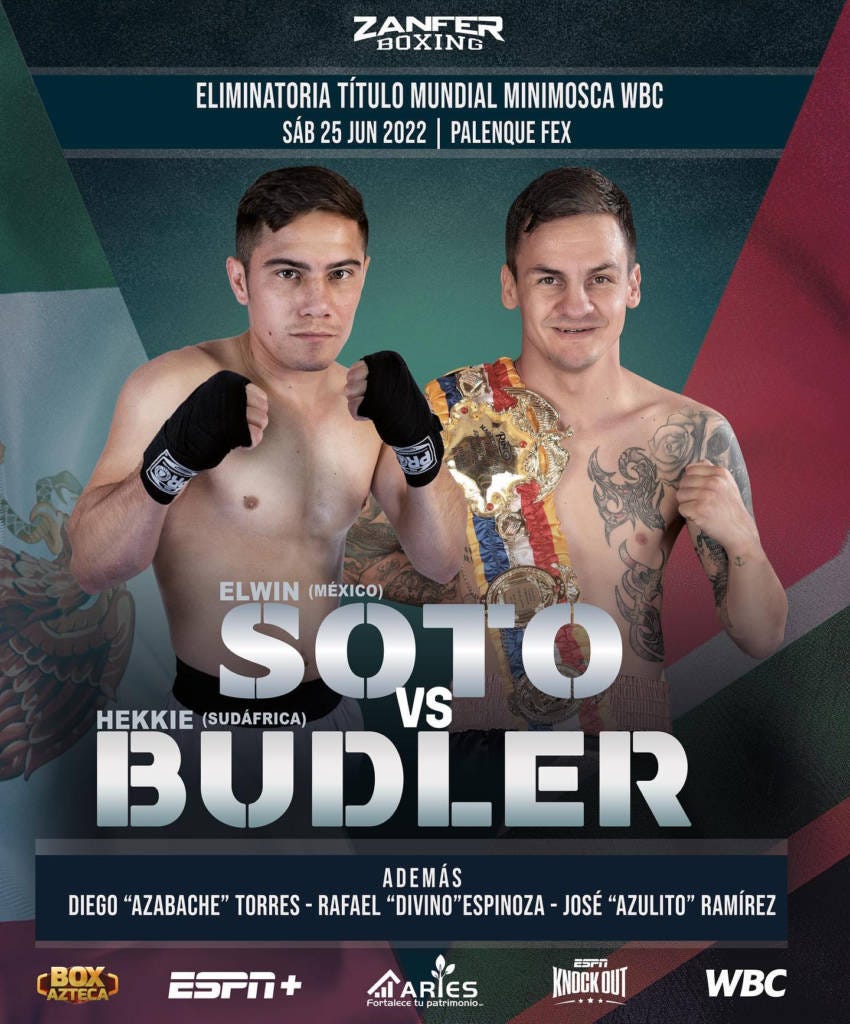 Saturday, June 25th, 8 PM PST | ESPN+
Elwin Soto, will look to bounce back from his loss to Jonathan Gonzalez in Fresno, California as he faces Hekkie Budler, a lower weight legend in a fight for that determines the next title contender for WBC junior flyweight Kenshiro Teraji.
This fight has the potential to be sneaky awesome, on a weekend with a ton of great fights at the lower weights.
Club Shows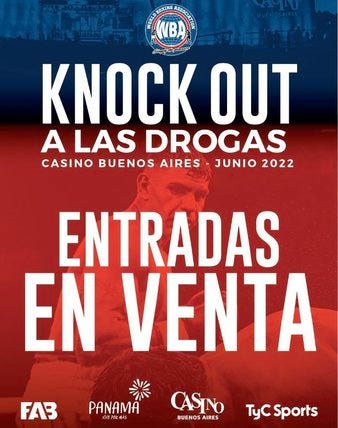 Jarrell Miller will return on a WBA card outside of America after his drug suspension. With a win, Miller should get a big fight based off name value alone soon.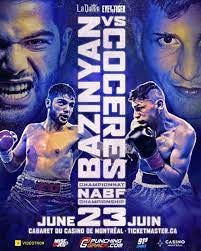 Matchmaking 101, as super middleweight Erik Bazinyan, is undefeated in 27 fights will face a former Edgar Berlanga opponent in Marcelo Esteban Coceres. The point of this fight is to look better than Berlanga, and position Bazinyan in a manner to get a historically relevant and high paying fight.
Big puncher Steven Butler will face Brandon Brewer in a middleweight bout. Butler should face an emerging young fighter in the next year or two.
Former champ Yves Ulysse Jr. will also be featured on this card.
Francis Hogan will fight for his eleventh time in two years, as Hogan has stood out to me based on his high-level of activity early in his career, and being a huge ticket seller in the New England area.
Sefer Seferi, a former Tyson Fury opponent will be in action this weekend as well.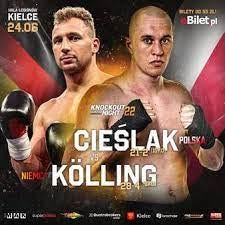 The only man to take Artur Beterbiev to the 12th and final round Enrico Koelling will face Michal Cieslak in a cruiserweight clash
MMA in 500 Words Or Less
The top two bouts on this upcoming card are Arman Tsarukyan vs. Mateusz Gamrot, and Neil Magny vs. Shavkat Rakhmonov. This is the MMA equivalent of random college football games being on television at 5 PM on a Friday night.