Eddie Croft Trained Evgeny Shvedenko Fights In Title Eliminator, Saturday + Boxing Schedule…
With the United States of America celebrating independence on the Fourth of July, boxing is rather barren based on so much going on in society outside of it. Here is a breakdown of the fights in Europe, some stuff I have enjoyed reading, listening to, and watching this year, and also, my mid-year awards. The Fourth of July is often a time of reflection to celebrate the middle of the year and enjoy life as we know it.
Enjoy this holiday!
Support Bay Area People In IBF Super Middle Eliminator

Eddie Croft, the famed coach, and owner of San Mateo, California's B. Street Boxing has been overseas working with super-middleweight Evgeny Shvedenko for months in preparation for his IBF super-middleweight eliminator bout against William Scull that will make the winner the mandatory for "Canelo" Alvarez.
Shvedenko is really good, and I am also really biased. I think the world of him, and his coach, Eddie Croft. That being said, William Scull, has had a life in Cuba, and elsewhere to get to this point, making this an interesting fight. I hope that this is going to be streamed somewhere.
This is my fight of the week! If you can watch, please do so.
ESPN+ card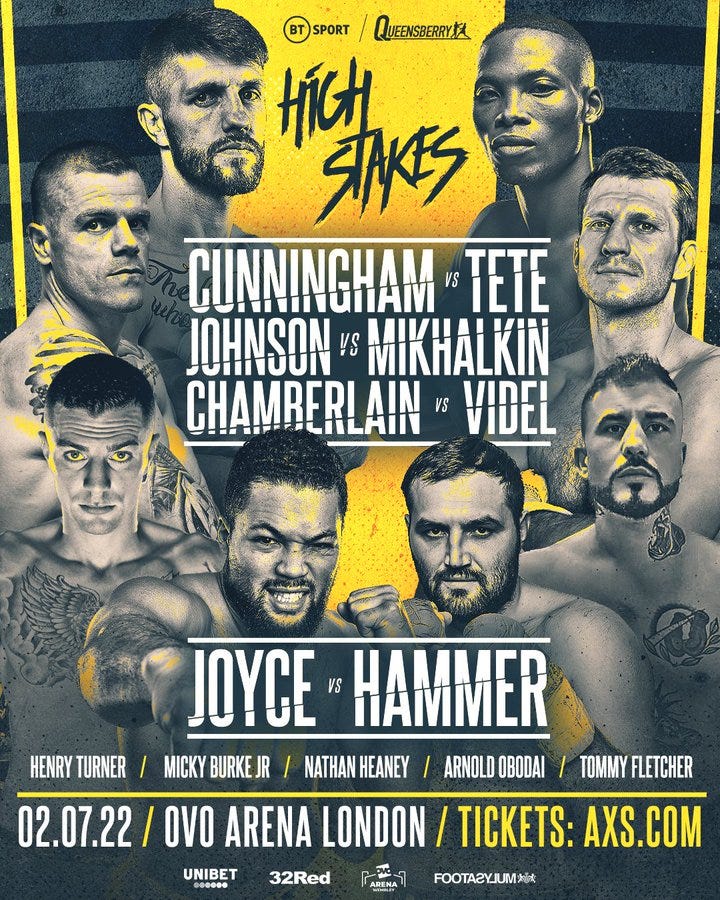 July 2nd, 11:30 AM PST | ESPN+
2016 Olympic silver medalist super-heavyweight Joe Joyce will face Christian Hammer in a stay-busy bout in the U.K. as Joyce has been out of the ring for a while. A fight with Joseph Parker fell through, and Hammer was a suitable short-notice replacement. This should be a fairly quick win for Joyce, who is a world title level heavyweight.
Joyce is a rather likable heavyweight, who I want to see in with the big names.
undercard
A rather decent undercard will showcase Jason Cunningham against Zolani Tete, for Cunningham's Commonwealth 122 lbs title. Cunningham is a solid fighter, and Tete is a proven veteran. Should be fairly even. An enjoyable Fourth of July watch.
The banger of the card is Callum Johnson against Igor Mikhalkin at light heavyweight. Johnson, a former Beterbiev opponent who dropped Beterbiev famously, got COVID-19 in January and has not fought since. Some U.K. boxing experts expressed concern against Johnson as though Mikhalkin has a rudimentary record, compared to Johnson, the fear is, that Johnson might have missed his window of greatness.
Mairis Breidis Fights In Australia 
July 2nd, 2 AM PST | ESPN+
Despite being the best cruiserweight since Usyk, Mairis Briedis career has been a bit sad as of late. Whether it is him chasing Jake Paul via a bad tattoo, and rap song, into a fight that Paul didn't even respond to, which seemingly looks like Eliot of ESRBboxing.com expertly points out, "…it feels as though someone told him a Jake Paul fight would get him a lot of money, and he went all in."
Briedis then would go to Lawrence Okolie's fight dressed as Mario from the Super Mario video games, and it was neither funny nor amusing, just strange. Briedis is trying to stand out, but he is somehow missing the mark.
This weekend he faces Jai Opetaia, and let's be honest unless you're from Australia, you have no clue who he is. I hope it is a good fight, but Briedis doesn't have much left in his career, and it is strange the paradox his career is becoming.
Breidis might be the best example in the modern world, standing out is just as good of a trait as talent, and he is unable to make the leap seamlessly as others have.
MMA In 500 Words Or Less
UFC PPV.
July 2nd, 5 PM PST (prelim) | 7 PM PST ESPN+ PPV
Middleweight champion Israel Adesanya will face Jared Cannonier, a former heavyweight, who transformed into a middleweight. Adesanya is one of the generational-type talents of the UFC, but has struggled with bigger fighters like Jan Jan Blachowicz, so this will show if that will impact him at his natural weight class.
Featherweight champion Alexander Volkanovski will face Max Holloway for the third time. Volkanovski holds two wins over Holloway with the second being a debated split decision. Volkanovski is an underrated champion, who hasn't lost in nine years, but even with a belt and dominant wins, something hasn't translated to the masses, yet.
Sean Strickland, who is all-in on the creepy guy, Tyler Durden persona will face Alex Pereira. I wouldn't be shocked to see Strickland give takes we don't need on social issues or say something odd.
Bantamweight Sean O'Malley seems like a societal thought experiment as much as a fighter. Merging is an influencer, a troll, an MMA fighter, and a slew of other things. O'Malley seemingly is everything that older people dislike about the internet rolled into one.
Robbie Lawler will face Bryan Barberena in a chance of a lifetime passing of the torch moment for Barberena, who I couldn't pick out of a line-up if you offered me money.
A cool old guy fight will see Jim Miller vs Donald Cerrone, in which I am shocked they haven't fought yet.
The deep undercard will feature Uriah Hall, as well as Jessica Eye taking on Maycee Barber.
Mid-Year Boxing Awards
As of now, this is how I see the sport of boxing if we were to give away awards for the year.
Boxer of the Year: Dmitry Bivol
Fight of the Year: Katie Taylor vs. Amanda Serrano
Round of the Year: Viktor Faust vs Iago Kiladze, Round One
Trainer of the Year: Derrick James & Gennadiy Mashyanov (tie)
KO of the Year: Leigh Wood KOs Michael Conlan
Contender of the Year: Sebastian Fundora
Prospect of the Year: Xander Zayas & Katsuma Akitsugi (tie)
Prospect of the Year under ten fights: Bruce Carrington
Upset of the Year: Dmitry Bivol UD12 Canelo Alvarez
Comeback of the Year: Jermell Charlo
Women's Boxer of the Year: Katie Taylor
Women's Fight of the Year: Katie Taylor vs. Amanda Serrano
Men's Amateur Boxer of the Year: Rahim Gonzales and Benjamin Johnson (tie)
Women's Amateur Boxer of the Year: Jennifer Lozano
Women's Boxing Prospect of the Year: Lauren Price
Amateur Boxing Coach of the Year: Christopher Burns
Boxing Manager of the Year: Vadim Kornilov
Club Show Fight of the Year: Sam Gilley vs. Drew Brown
Northern California Fighter of the Year: Devin Haney
Northern California Fight of the Year: Hector Tanajara Jr. vs. Miguel Contreras