Boxing Fight Schedule: Janibek On ESPN+, Love On DAZN
This is now available one day earlier on my Substack here on Tuesday morning.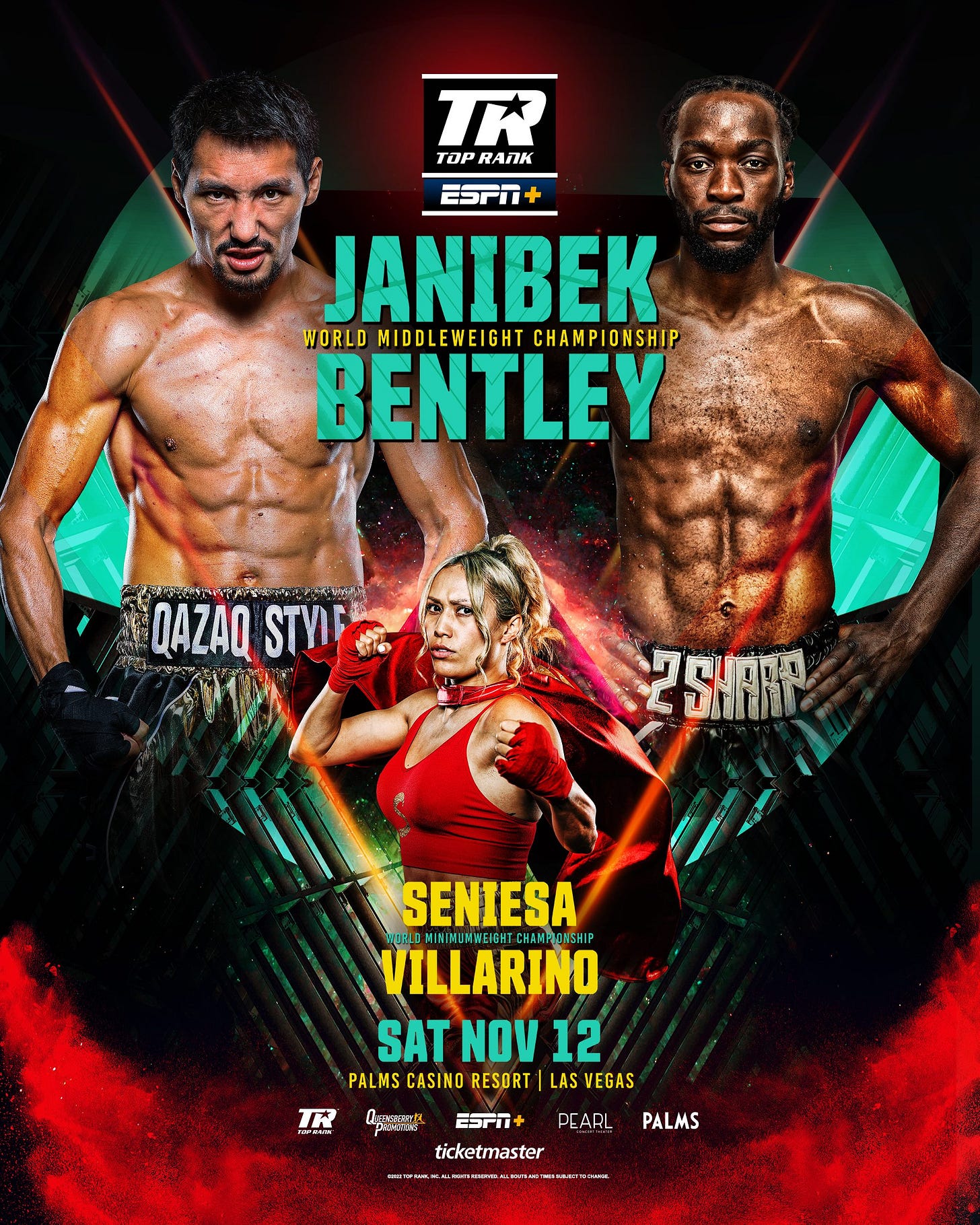 Saturday, Nov. 12th, 4:15 PM PST (undercard), 8:00 PM PST (main event) | ESPN+
Middleweight is a no-man's land right now. No other fighter in the division besides Jaime Munguia, who is taking a tune-up bout is scheduled for a fight that I have ranked in the top 15 of the division.
This division has hit a halt, and Alimkhanuly has gotten a lot of buzz by being a fighter willing to stand out and try to be active.
Janibek Alimkhanuly will look to make his first title defense of his WBO middleweight title against Denzel Bentley, who is probably the third-best guy at middleweight in the U.K., possibly a top-15 guy in the division. The emphasis is clear, Alimkhanuly seemingly is having trouble getting opponents.
Alimkhanuly, who reminds me of a more violent, Viktor Postol, is one of the new faces of middleweight in a division that has a slew of older fighters, or lost the interesting names in the division, once Canelo Alvarez left the division for the super middleweight division.
Bentley is tough, but was stopped by Felix Cash, which is how he lost his undefeated record. Now he will be in the fight of his life as Alimkhanuly is getting better with each fight, and calling out all the big names. This should be a performance similar to what Alimkhanuly did to Danny Dignum, as I see this as two fighters on two different levels.
undercard.
WBA strawweight champion Seniesa Estrada will make her Top Rank debut against Jazmin Gala Villarino. Estrada is a tremendous asset to not just Top Rank Inc., as she recently left Golden Boy Promotions, but she also is a major plus for ESPN. Estrada is a veteran broadcaster, who could fill into many roles in telecast, along with being one of the best fighters in the sport of boxing, not just women's boxing.
Estrada is something special and with the Top Rank machine behind her, she should do very well – and raise her profile even more.
Don't miss this fight!!!! Raymond "Danger" Muratalla, who trains out of Robert Garcia's Boxing Academy, will face central valley fan-favorite Miguel "Caveman" Contreras, in an eight-round lightweight bout. The winner becomes a contender, in one of the hottest divisions. Muratalla looked okay, in his last bout, but not as good as one might have hoped, and Contreras fought Hector Tanajara Jr., to a draw on Fresno, Ca, Top Rank card.
This is a great fight that will set the trajectory for Muratalla, as Contreras is fully capable of winning this fight, and has expectations of winning this fight. Even more dangerous, Contreras is undeterred in his demeanor, even if he is losing a fight. A quality match-up.
Recent signee Emiliano Vargas will make his debut with Top Rank Inc., as the lightweight is coming off a good knockout win to start his career.
Two quality undercard fights, Javier Martinez fighting the known upset artist from Modesto, California, Marco Delgado in a six-round fight. Delgado is an all-gas, no brakes fighter, and Martinez is looking good in recent fights but has had a slew of tough fights.
Lightweight Charlie Sheehy will face yet another undefeated fighter in his career, as he takes on Markus Bowes. Sheehy is one of the more promising fighters I see in the sport right now.
2020 Olympic Trials winner Antonio Mireles will be in a six-round fight, 2016 U.S. Olympian Karlos Balderas will be in an eight-round fight as he faces Esteban Sanchez who just fought Keyshawn Davis, and Floyd Diaz will fight in a six-rounder as well.
---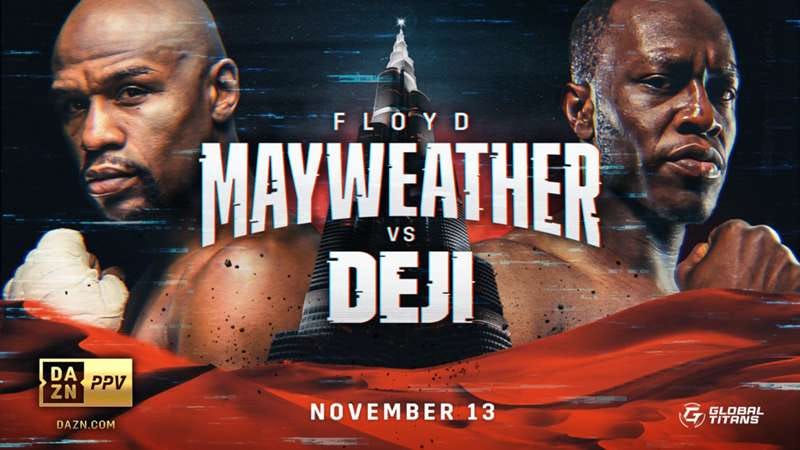 Sunday, November 13th, 12 PM PST | DAZN PPV
Floyd Mayweather will return to fight someone named Deji Olantunji in an eight-round exhibition bout. It is always good to see Mayweather back in the ring, but the strange thing about this fight is it is on DAZN. Something I never thought I'd see – Mayweather on DAZN.
Tommy Fury is in a six-round light heavyweight bout, he is angling to fight Jake Paul again, so this will probably be a fight you can't avoid.
Delfine Persoon will fight on this card as well.
Anthony Taylor made news yet again with his entertaining personality as he called out Floyd Mayweather. Taylor has spent time in Oakland, California, training at 'Lightning' Lopez's boxing gym. Taylor is someone who could make a lot of money through these type of cards as he can talk a good game, and is a tough fighter.
---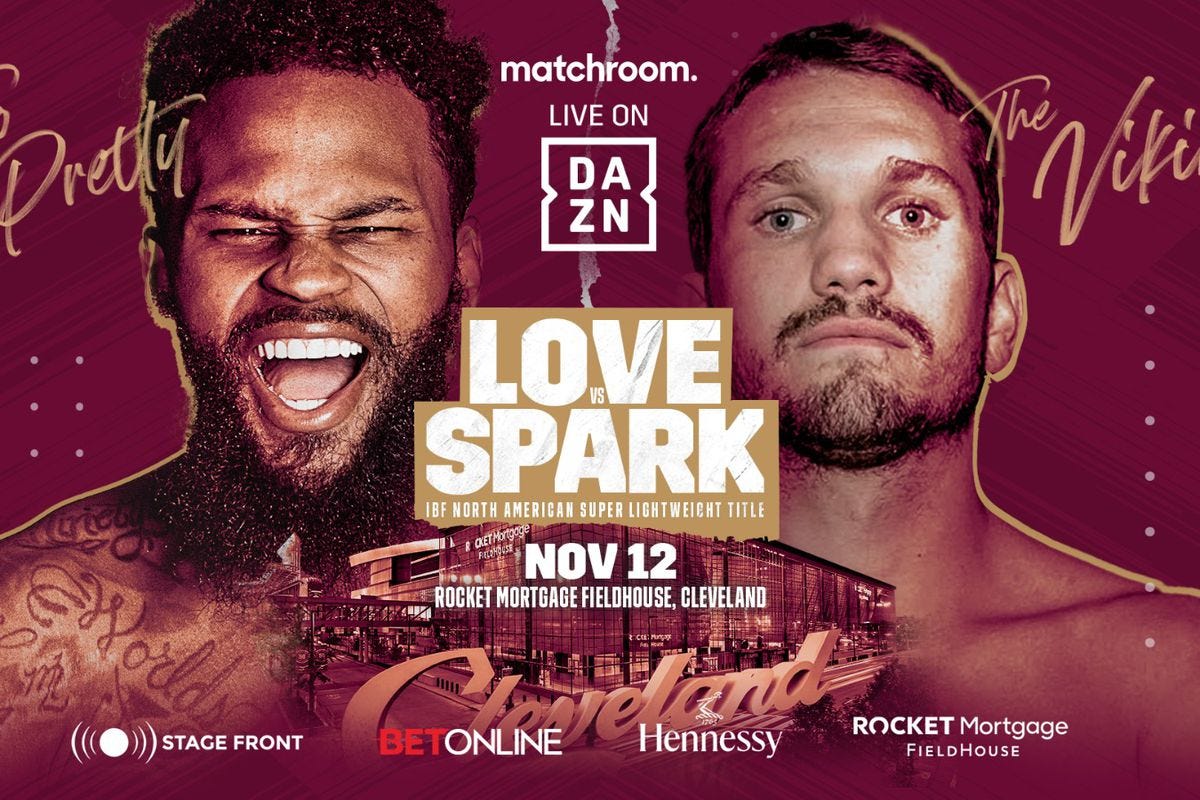 Saturday, Nov. 12th, 5 PM PST | DAZN
Montana Love is the great unknown of 140 lbs., at one time one of the most underrated fighters, now is getting Stevie Spark, a man who was stopped by Tim Tszyu at 154 lbs., but has been floating at 140 lbs for most of his career.
Honesty is key to a good relationship. Love is getting a hometown fight in a big arena of Cleveland, Ohio, he NEEDS to look good. Anything less than looking as though Spark doesn't belong in the ring with him is a failure, in my opinion. Love has a major promoter, a marquee win under his belt, and now needs to look the part of a viable world title contender at home. This fight will set the expectation for Montana Love's run at Matchroom Boxing.
The co-main event will see recently signed, Richardson Hitchins, a former Mayweather Promotions fighter now signed with Matchroom Boxing facing Yomar Alamo in a ten-round bout at super lightweight, the same division as the main event. To be honest, Alamo is a tougher opponent, as he fought Liam Paro to a split-decision loss, and had a draw with Antonio Moran. Hitchins is looking to make up for a lost time, as this is the type of fight that gets you in the top-15 of the rankings of the division, and more so, could lead to a fight between himself and Montana Love.
Hitchins, a 2016 Olympian, seems to want to play catch-up.
Featherweight Raymond Ford is facing Sakaria Lukas in a ten-round fight, as Lukas is coming off a career-best performance against
The best 130 lber you haven't heard of Christian Tapia will take on Ohio's own Thomas Mattice, who has struggled with getting the advantageous outcome on the scorecards. The bout will be a ten-rounder, and Tapia, is flirting towards the top of the division, to the point where I think he should get signed by a major promoter soon, with three of the four major titles being vacant at 130 lbs.
One of the best amateurs of his day, and one of the rivals of Jose Ramirez in the amateurs, Raynell Williams will be making a return on this card against Ryizeemmion Ford, in a six-round, 140 lbs fight.
Khalil Coe will face undefeated Bradley Olmeda in six-rounder. Coe is a fighter who has real power, and if he puts everything together, could be a force in the division.
Peter Kahn managed Nikoloz Sekhniashvili will face undefeated David Rodriguez, as the junior middleweight Sekhniashvili will look to rebound from his lone career loss.
---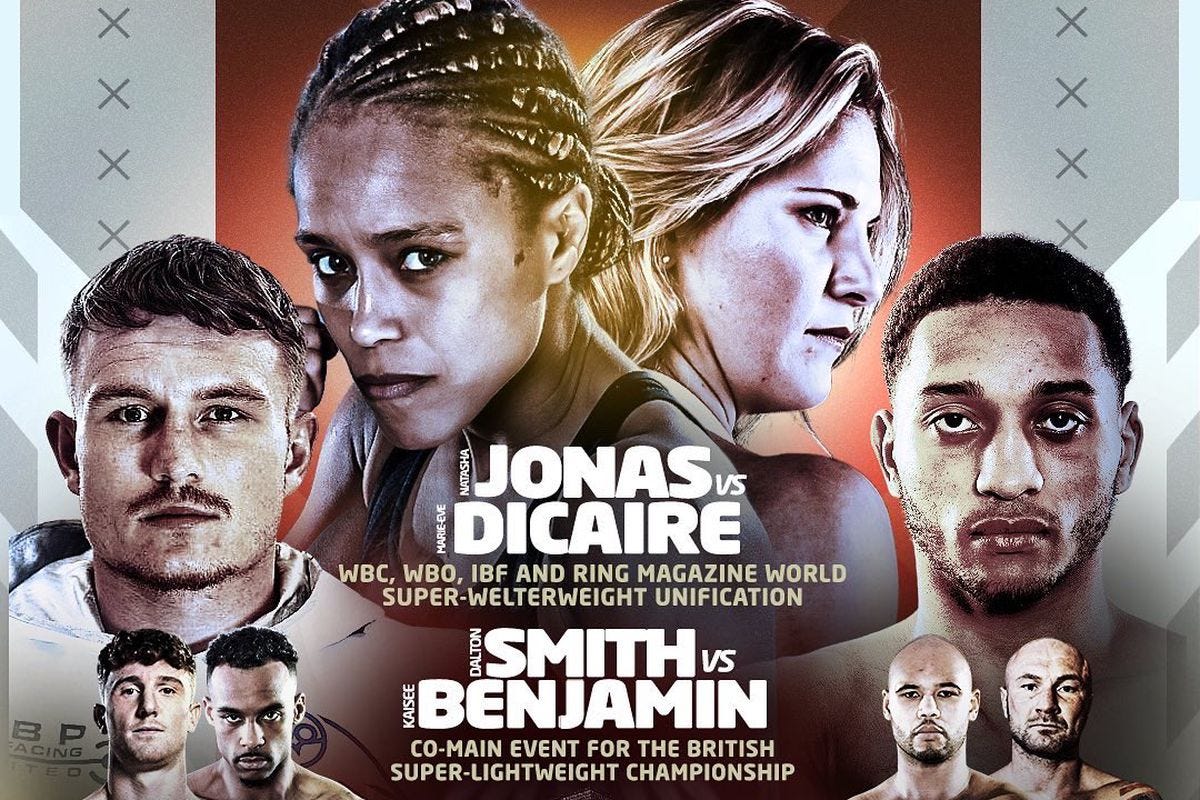 Saturday, Nov.12th | 11 AM PST | Not Available In U.S., Sky Sports in U.K.
Natasha Jonas will look to win three of the four major world titles at 154 lbs as she faces fellow champion, Marie-Eve Dicaire. Dicaire has a very karate-based fighting style, so the goal will be for Jonas to not follow Dicaire too much in the ring. If Jonas wins, this sets up a fight with Terri Harper for undisputed.
Dalton Smith, a fighter I have some hopes for will be tested against a game U.K. fighter in Kaisee Benjamin, as Smith will put his regional title on the line in a 12-round fight.
Middleweight Bradley Rea, who I think has a high ceiling will be on this card, as well as 2020 Olympic Bronze medalist Frazer Clarke facing beloved journeyman Kamil Sokolowski. Other notables, cruiserweightViddal Riley, and talented lightweight Dylan Cheema.
---
Ricky Hatton will do an exhibition bout with Marco Antonio Barrera and will be great memories for those of us in our 40s or a bit younger, who watched these guys in their prime.
Also on the card, MMA legends Dan Hardy and Diego Sanchez will give it a go.
---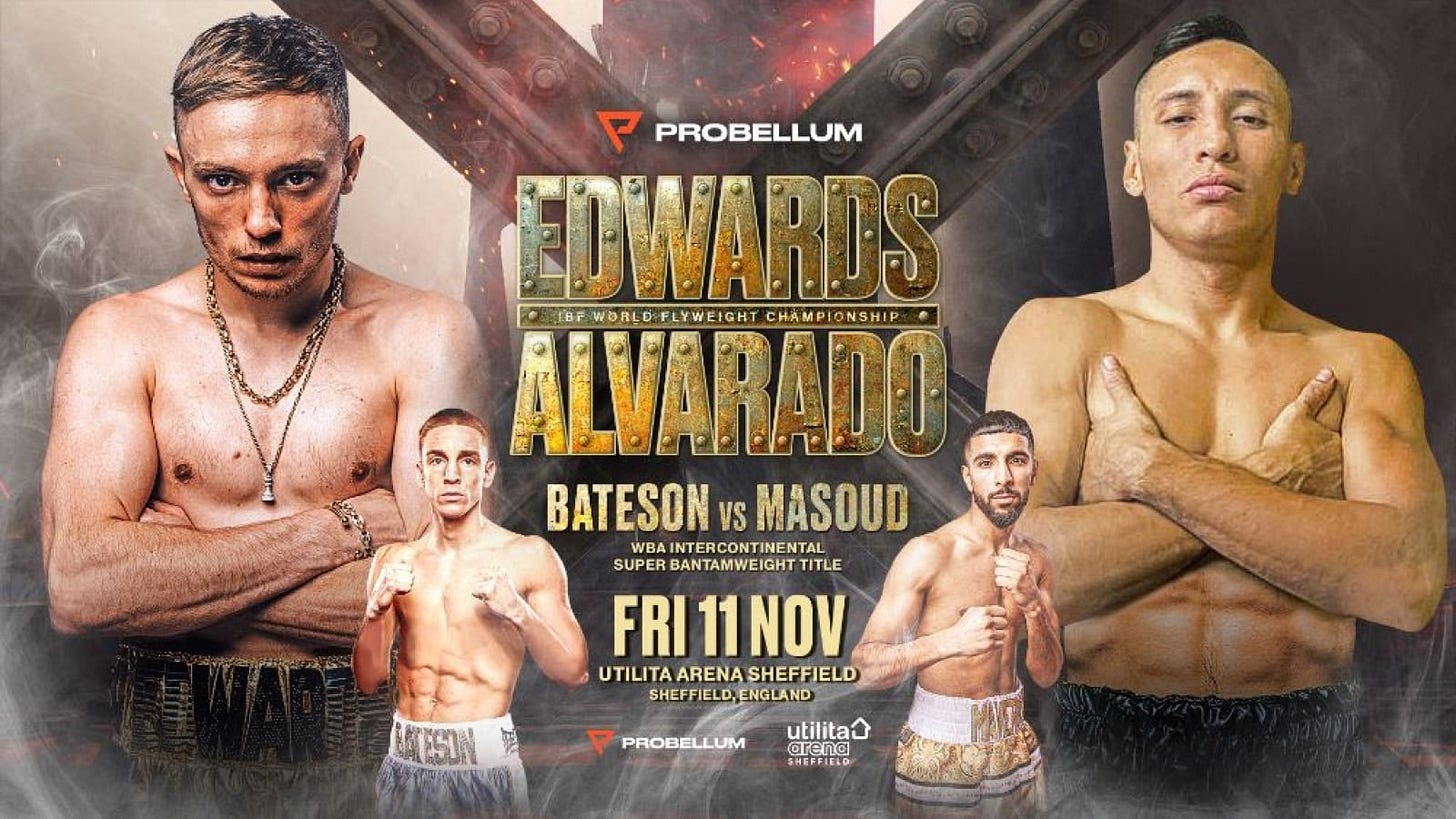 Sunny Edwards is one of the best flyweights in the world, will face Felix Alvarado, who is criminally underrated as Edwards' IBF flyweight title will be on the line. Julio Cesar Martinez has seemingly made it very difficult for Edwards
The 2020 Olympic Gold Medalist at middleweight Hebert Conceicao will be fighting in his third pro fight on this card as well.
–
Emmanuel Rodriguez, fresh off his win over Frank Gonzalez, will take on tough veteran Manual Manzo of Fresno, California, in an eight-round bout at 122 lbs. When Big Al Entertainment promoted shows in Fresno, Manzo was a hot ticket seller for that event.
Undefeated middleweight Robert Terry is fighting the very tough veteran Jimmy Williams in a six-round fight.
Justin Figueroa, a heavily touted middleweight will be in action, as well as heavyweight Derek Starling will fight in a four-round bout.
–
My #8 light heavyweight, based on the Lukie rankings, Dilmurod Satybaldiev will fight in Russia this weekend, he should get a light heavyweight bout in the future. I have no clue how good he is, but he stopped Maxim Vlasov, who I rate highly after the Joe Smith Jr. fight.
–
Kenny Davis Jr., a lightweight from Reno, Nevada, who has fought in the Bay Area, is fighting in a ten-round regional title fight in Iowa.
–
Jack Culcay, a tough 154 lbs fighter who seemingly will never go away will fight this weekend.
MMA in 500 Words Or Less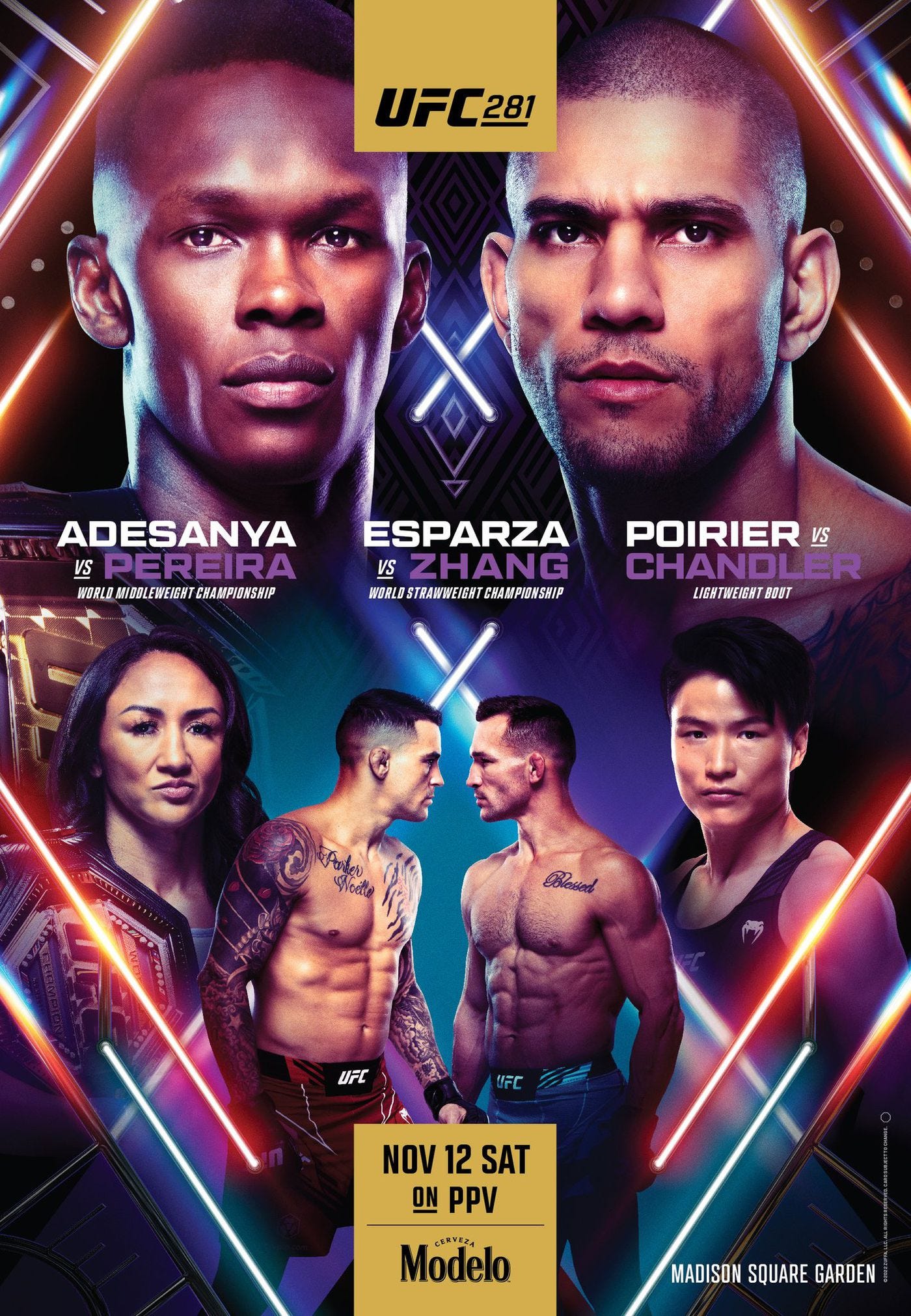 Saturday, Nov. 12th, 5 PM PST (undercard), 7 PM PST (ESPN+ PPV)
UFC middleweight champ Israel Adesanya will face the man who defeated him twice in kickboxing, and essentially came to the UFC to fight him here, Alex Pereira. A good feud between the two should be an interesting bout.
Co-main will see wildly disrespected strawweight champion, Carla Esparza, face Weili Zhang, Dustin Poirier and Michael Chandler will face each other in what should be a wild fight, with Frankie Edgar and Dan Hooker fighting in separate bouts to round out the PPV card.
On the ESPN News prelims, Dominick Reyes will return, as well as the ever-popular Molly McCann.