Two Bay Area Boxing Shows On Saturday + Boxing TV Schedule.
Pro Card At Cow Palace.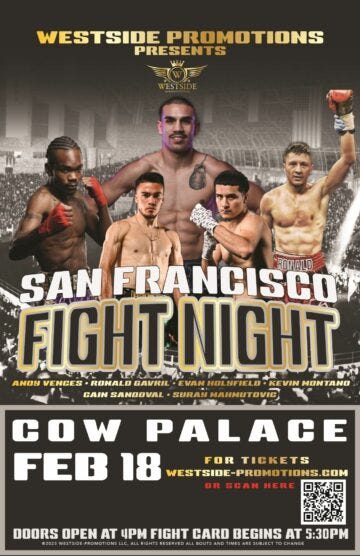 Westside Promotions will host their first event, on February 18th at the Cow Palace with tickets available via their website Westside-Promotions.com. 
The event will blend local talent with nationally known fighters as well. The main event will see the man who fought David Benavidez two times, Ronald Gavril taking on Khainell Wheeler for the vacant WBC Continental Americas Light Heavyweight title. This is only Gavril's second time-fighting at 175 lbs., as his debut came in October of 2022. Wheeler is promoted by Marshall Kauffman, and was stopped on the Stephen Fulton vs. Daniel Roman PBC undercard by Bek Nurmaganbet.
This is a solid test for both guys as Wheeler is hitting the ground running as a pro, and Gavril is looking for one last shot at glory.
A local favorite, Andy Vences of San Jose, California will return to fight in the Bay Area for the first time since his second-round knockout of Sergio Najera in Redwood City, California on April 18th of 2015. Vences will face Cristian Mino, a tough veteran, who has fought all the way up to 140 lbs., and faced quality opponents like Kenny Sims Jr. Vences has lost four of his last five fights, and wants to end his career on his own terms as he brought back his trainer Angel Cordon Sr., to conclude his career. 
I wrote about this in further detail on NYFights.com, which you can read right here.
Above is my interview with Andy.
Other notables on this card include one of my favorite up-and-coming lightweights in Northern California, Sacramento's own Cain Sandoval, an undefeated fighter who had a great amateur record and trains with Marcus Caballero, as he will face San Jose's own Pedro Cruz in an interesting fight. Mikey "The Bull" Portales will be in the most closely contested fight on the card as he faces Ioannis Manouilidis, who recently lost his undefeated record on the Thompson Boxing card. Portales trains with a quality coach Ali Benjamin of Benjamin's Boxing, and I have been hearing a lot of good things about him. Also, Evan Holyfield, the son of Evander Holyfield, will return after his first loss on this card. 
Doors open at 4 PM, no stream – to see the fight you have to be their live.
Women's Boxing In Pacifica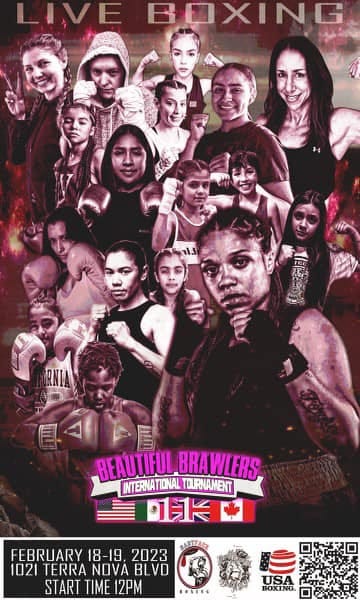 The Beautiful Brawlers continues to put forth a great slew of amateur bouts for the women's card. See a slew of feature stars of boxing including Lupe Gutierrez, Sierra Marinez, "Baby Bug", and many others. This is a can't-miss two-day event on February 18-19th, taking place at the 1021 Terra Nova BLVD, Pacifica, Ca.
Leigh The Legend.
In terms of the Matchroom Boxing stable, I would dare say Leigh Wood might be their best fighter. He has won back-to-back fights as an underdog against Xu Can and Michael Conlan, yet even as a champion, he gets no respect as he is an underdog once again to his challenger Mauricio Lara. 
Wood is everything I love in a fighter. Tough, took a few losses and was not defined by them. Wood is more defined by the way he has come back from a loss than the loss itself, one of the few of this era you can say that about. When they met for the first time in this face-off it is Wood, who asks for a translator to tell Lara what he is going to do. Man, is this a fight that should be exciting, as ITRBoxing gave Leigh Wood the KO of the Year for 2022, and this fight could result in being Fight of the Year when it is all said and done. 
Wood will look to make his second defense of his WBA featherweight title against Lara.
undercard.
In terms of ready-to-go Matchroom prospects, Dalton Smith is probably the best they have. The 140 lbs. British champ will face Billy Allington, whom he holds a lot of advantages over. If you were to look at pillars of the future of British boxing it is safe to say two bets that could land for the future are Adam Azim, who we saw last week, and Dalton Smith fight this week.
Gary Cully, who has the quirky nickname of "The Diva", will face Wilfredo Flores in a ten-round lightweight bout. Cully has a lot of personality, a ton of size for the division, and should make it to the world-class level.
In terms of my favorite British prospect Cheavon Clarke, a cruiserweight has to be up there. Clarke feels like he will very soon be the best cruiserweight in the world.
Gamal Yafai will fight in a 122 lbs fight as well.
Big Fight At 122 lbs In Pomona
Luis Nery will fight Azat Hovhannisyan, in a WBC junior featherweight eliminator in the main event of Saturday's DAZN card. Nery is coming off a big win over Carlos Castro, and Hovhannisyan has just simply not lost in five years. 
The winner will be mandatory for Stephen Fulton Jr.'s WBC 122 lbs title.
The undercard will feature a slew of stay-busy type fights Shane Mosley Jr., fresh off his win over Gabriel Rosado about ten months ago, will face Mario Lozano in a super middleweight bout, while Golden Boy Promotions prospect Aaron Silva will also fight in an eight-rounder. Could this be foreshadowing of a future bout?
Ricardo Sandoval, a very good flyweight who barely lost his last bout will return as well as junior featherweight Asa Stevens, and his stablemate from Hawaii Dalis Kaleiopu, a lightweight will start the card in separate bouts.
ShoBox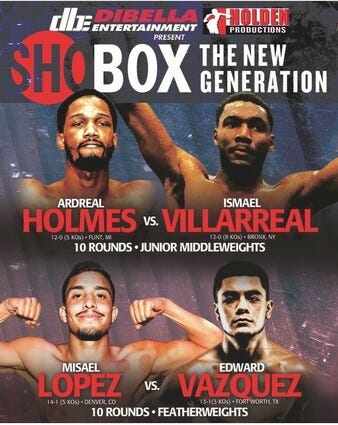 Ardeal Holmes will face Ismael Villarreal in a good ShoBox main event. The battle of 154 lbers will see Villarreal looking to carry momentum off the biggest win of his career, after beating LeShawn Rodriguez. Holmes has been brought up on the regional scene and is looking to take everything Villarreal has worked for. A very even fight.
The fight of the night will be Misael Lopez, a featherweight who recently got a win over Orlando Gonzalez in September of last year and will face Edward Vazquez. Vazquez is best known for his split decision loss to Matchroom's Ray Ford many felt he should've won.
Kurt Scooby has never faced an elite fighter and will step up in a big way against John Mannu in the TV opener at 140 lbs. Mannu has fought four undefeated fighters in seven fights. Scooby has fought three fighters with winning records in his ten pro fights. 
Notable undercard fights, 140 lbs David Lopez, the son of Kris "Lightning" Lopez, a trainer and gym owner in Oakland, CA, will fight on the undercard as well as the return of heavyweight Trey Lippe Morrison.
club shows
On the east coast, a battle of veterans will see Greg Outlaw taking on Willie Shaw in a very even club show fight.
–
Darynn Leyva will face the tough Percy Peterson, in a Fight Club OC event.
Antonio Garcia will face a former Bay Area resident Slava Mayzus, in a middleweight bout that is four rounds.
–
Lightweight Mark Chamberlain fights this weekend, Estelle Mossely will fight in a ten-rounder, somehow Felix Strum, the former champion will be televised on DAZN, and Dylan Price is a sneaky good fight against Joebert Alvarez in a 118 lbs fight.