Boxing TV Schedule: Title Fight, Jake Paul & ProBox TV.
Jake Paul Returns to Saudi.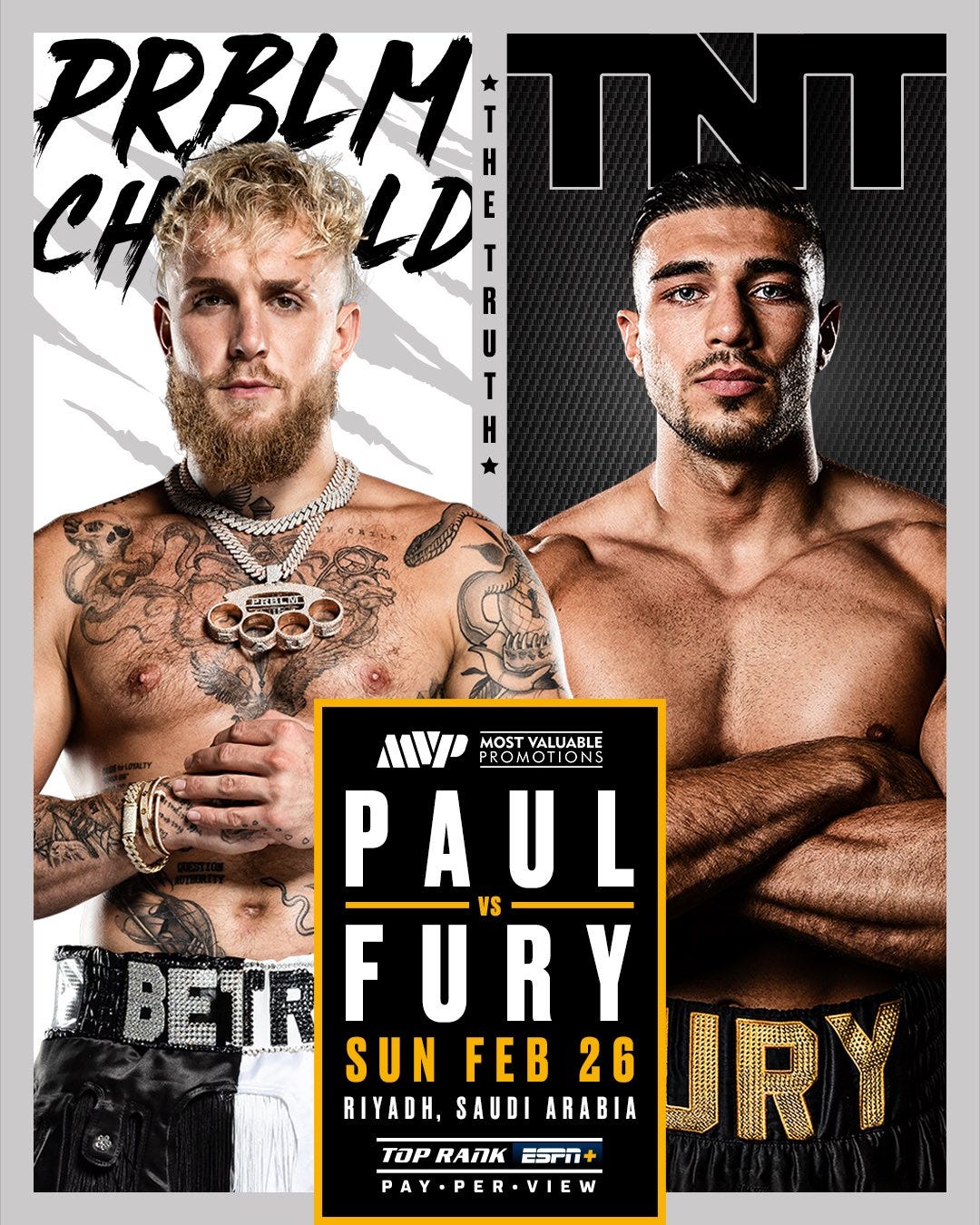 Sunday, February 26th, 8 AM PST | ESPN+ PPV
Whether fight fans want to believe it or not Jake Paul vs. Tommy Fury at some form of a cruiserweight limit will be the marquee a-list fight of the weekend, as the YouTuber turned pro boxer, Paul, face a reality star in Tommy Fury.
The bout which will be on pay-per-view on Sunday afternoon in the United States, will be if nothing else, something to be aware of. It has been ill-fated in two prior attempts, and now on its third go-around it appears to be set as both men are in Saudi Arabia.
The fight is more spectacle than sport, but for those who can't stand Paul, listen to my words when I say Paul is more of the future than he is an outlier. Paul is bringing viewership that legitimate world champions are not.
If Paul wins, Paul will be ranked in the top 40 of the WBC cruiserweight rankings, which is a rather weak division, and honestly fair. 
This fight should go as follows, one fighter will have a skill advantage and just be a lot better than the other, and then an outcome that will be shared on social media for the remainder of the day.
undercard.
The main fight to watch for is WBC cruiserweight champion Ilunga Makabu fighting Badou Jack, as Jack looks to become a three-division world champion, as he fights for the cruiserweight crown.
Matias vs. Ponce Title Fight

Saturday, Feb. 25th, 6 PM PST | Showtime [possible fights prior on YouTube]
The true boogeyman of 140 lbs, Subriel Matias will finally fight for a world title as he will contend against Jeremias Ponce, for the vacant IBF junior welterweight title. Matias has won every fight by knockout, avenged his lone career loss, and his one loss came mere months after a fight he had with Maxim Dadashev, who tragically passed away from complications from the fight.
Matias has been inactive though fighting three times in the past three years, but his competition has been top-tier.
Ponce is a well-rounded fighter, one who can box, but will bang as well. The big thing about Ponce is his ability to target the body, and has drawn some comparisons to Jose Ramirez by fans and pundits. Ponce's win over U.K. prospect/contender Lewis Ritson put him in the spot to earn a world title, and now is his chance to do so. Ponce is being slept on for how live of a dog he is in this fight.
A quality main event on Showtime.
undercard.
Local favorite Jamal James will return after a stoppage loss at home against an Olympian in Alberto Palmetta. James is a big ticket seller in the local market, and this seems like his last chance to fend for a title coming off the longest lay-off of his career.
A great opener will see 140 lber Elvis Rodriguez taking on Joseph Adorno, in a battle of entertaining fighters with flaws. Both fighters were developed on Top Rank Inc cards but will be fighting in the PBC universe, which is interesting, but more so it seems Rodriguez has a bit more power, and it-factor, but Adorno has more amateur pedigree, and has also shown a will to win in uncomfortable situations something Rodriguez didn't do in the Kenny Sims Jr. fight. This is an even fight that I hope vaults the winner into the position of fighting for a world title.
undercard.
The man who lost to Cody Crowley, Kudratillo Abdukakhorov will return against Ve Shawn Owens in a ten-round welterweight bout. Owens has struggled to get a marquee win against the top of the division, but this fight seems to be a 50-50 fight on paper.
Joey Spencer's brother, Kel Spencer will fight in a four-rounder, and heavyweight Adam Kownacki will face veteran and former Olympian Devin Vargas, as Kownacki hopes to regain steam in his career.
ProBox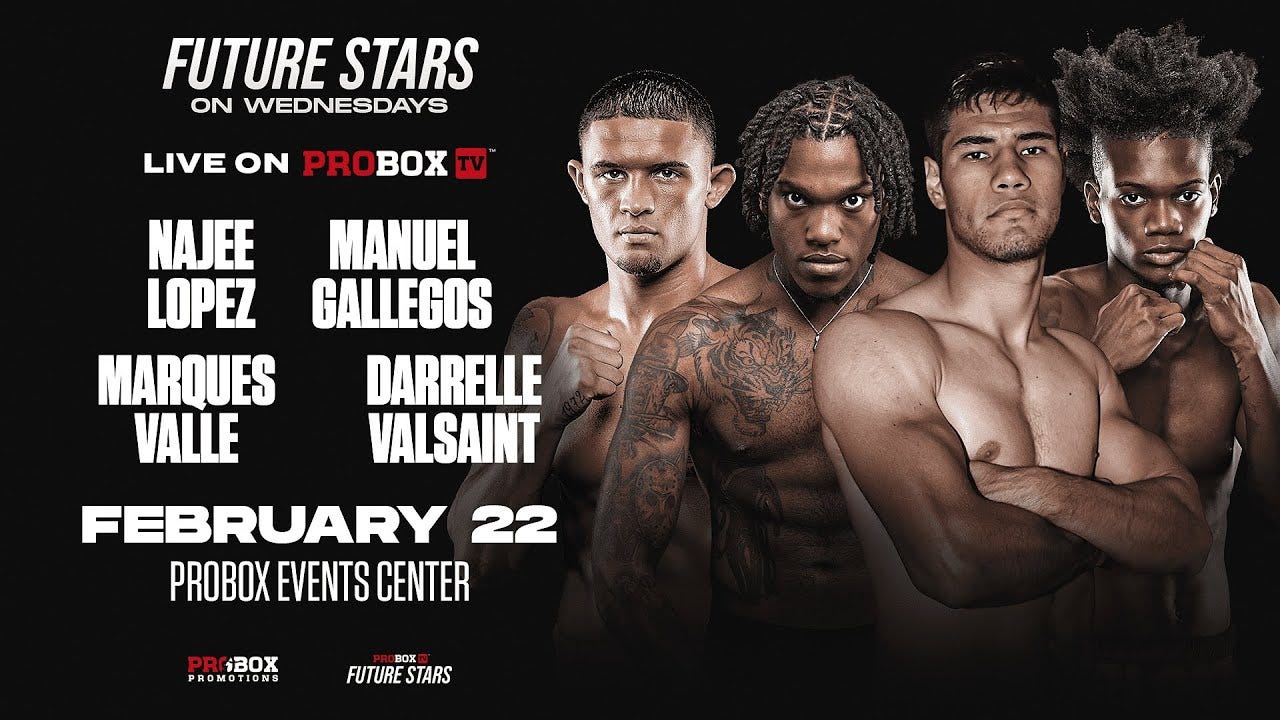 Wednesday, Feb. 22nd, 5 PM PST | ProBoxTV.com, or ProBoxTV's YouTube page
As always ProBox will return with the future stars of boxing, a great series that when will look back on it in three or four years, will produce some notable names.
The main event is a good one as Mexican prospect Manuel Gallegos will make his U.S. debut, as the super middleweight hopes to have success against undefeated and tricky spoiler Richard Vansiclen in a ten-round fight. Gallegos defeated Kevin Newman II, a fighter who used to be with Mayweather Promotions, and Vansiclen defeated Hakim Lopez, the brother of Najee Lopez. Possibly the best fight of the weekend, and it is $1.99 on ProBoxTV.com, or free if you subscribe to their YouTube channel (and don't mind ads)
2020 Haitian Olympian Darrelle Valsaint has been moving very fast as a pro, fighting regional champions and stopping them. Valsaint, who told me last week he hopes to contend for a world title at 154 lbs will face a former Diego Pacheco opponent in Lucas de Abreu, who is promoted by Star Boxing.
Marques Valle is one of my favorite fighters with ProBox TV, as the 154 lbs fighter, is stopping his opponents and showing power, poise and talent. The man Paulie Malignaggi refers to as reminding him of Daniel Jacobs, which he bestows as the highest compliment in Najee Lopez, will fight for the first time as a super middleweight. Previously Lopez had fought at cruiserweight.
Former Jaime Munguia opponent, Jimmy Kelly will round out the card in an eight-rounder, and it appears Kelly is looking to land a fight with Jmmyanibek.
Golden Boy On DAZN, Thursday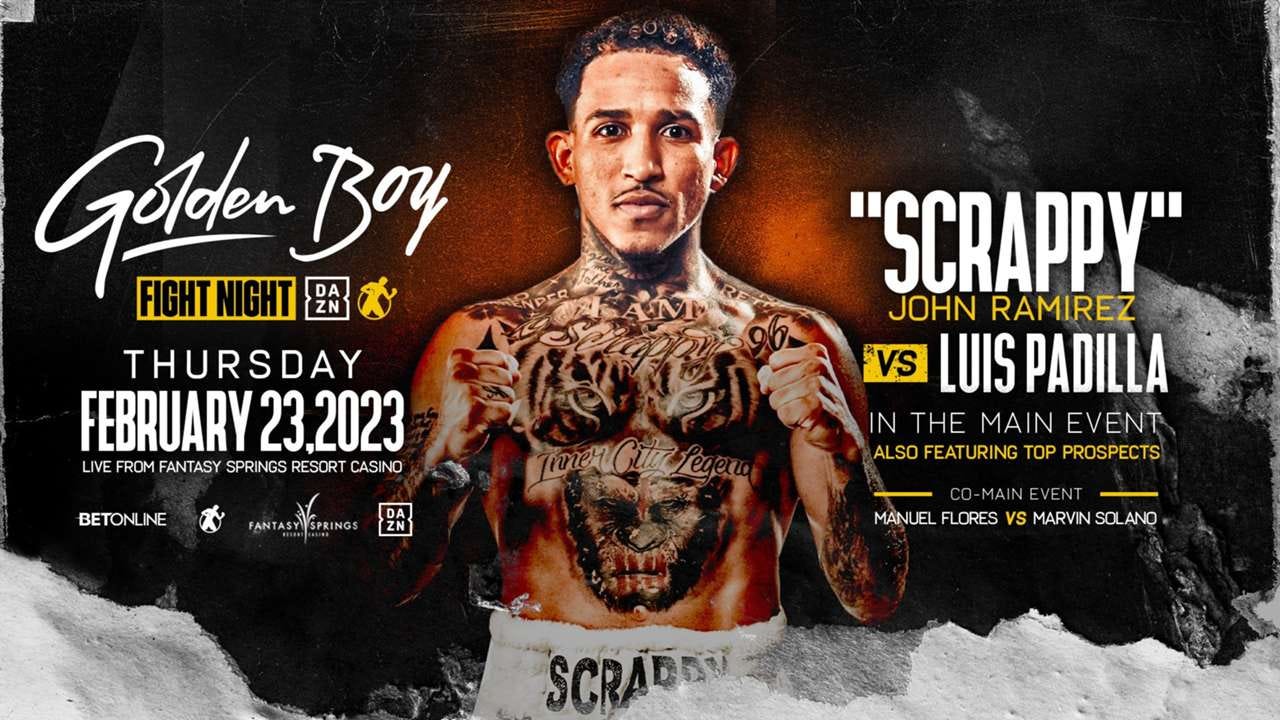 Thursday, Feb. 23rd, 6 PM PST | DAZN
John "Scrappy" Ramirez is a fighter, who is close friends with Gilberto "Zurdo" Ramirez, who refers to their relationship as "big bro, little bro", as he told me when I interviewed him. Ramirez will get the chance to headline a card that feels a lot like Golden Boy's old L.A. Fight Club series of developing prospects on a smaller stage. , Luis Padilla is a fighter who was stopped in one round at flyweight by Samuel Carmona. Ramirez is a world-rated super flyweight, who has been calling for Joshua Franco in the future, this should be a showcase for him to show his talents and personality.
"Gucci" Manuel Flores is a big puncher, and a fan-favorite in the Southern California area. Flores will serve as the co-feature against Franklin Gonzalez in an eight-round fight. Gonzalez has a record with no notable names, but has been battle-tested and is a better fighter than one would assume.
Two interesting women's fights are on the undercard as Lorraine Villalobos, who recently fought Yoka Valle, will face Katherine Lindenmuth in a six-round, and retired powerlifter Stefi Cohen will fight in a four-rounder.
Club Shows
Heather Hardy, a New York legend fights this Thursday, and Dakota of ITRBoxing.com will be there live so check ITR for content.
–
Guillermo Rigondeaux will return to the ring after his eye injury, that most thought would retire him. I hope he is fighting because of passion and not to pay bills.
–
Olympic medalist in the 2016 games, Nico Hernandez will face Stockton, CA's Gilberto Mendoza.
Abel Mendoza, who was recently on ITRBoxing.com's "The Expert Hour", and said that he might land a Leo Santa Cruz fight.
–
Lewis Ritson will fight in a WBA junior welterweight eliminator against Ohara Davies. This is seemingly the ceiling for both guys, and could create a great bout.
Thomas Patrick Ward will fight Otabek Kholmatov, in a WBA featherweight eliminator
Lee McGregor, a 122 lbs fighter with some praise will be in action on this card as well.
–
Joseph Hicks Jr., a very good fighter out of the midwest will be in a six-round fight locally.
–
On Sunday, CBS Sports Network has a card headlined by 140 lbs puncher Nestor Bravo, in the co-main event is Olympian Antonio Vargas.