Boxing Schedule: Tszyu vs. Harrison on Showtime, Diego Pacheco Headlines DAZN
Tim Tszyu Faces Tony Harrison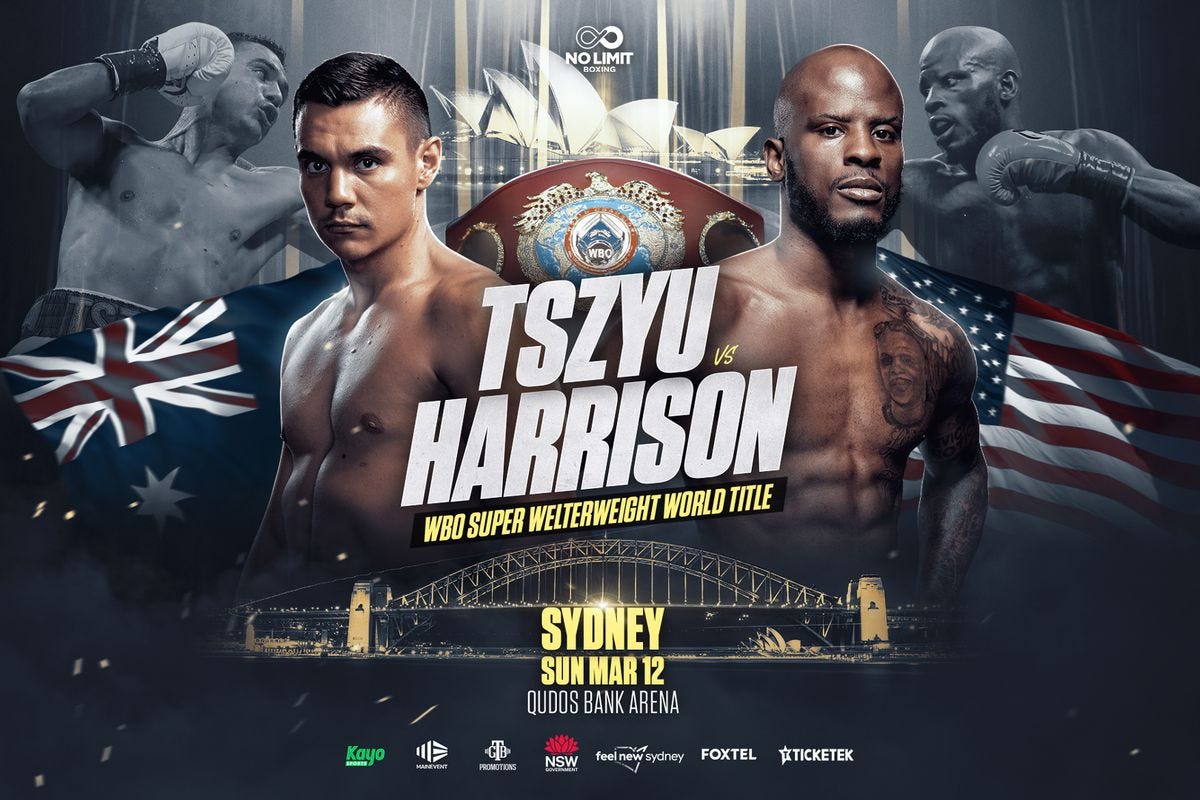 Saturday, March 11th, 6 PM PST / 9 PM EST | Showtime
Tim Tszyu will face Tony Harrison in a 12-round fight for the vacant WBO interim junior middleweight title. This fight is happening after Jermell Charlo, who holds all four world titles at 154 lbs got injured and was unable to fight Tim Tszyu. Tszyu refused to wait and took a WBO interim title fight with the highest-ranked challenger former world champion Tony Harrison.
Tszyu is looking to fulfill his dream of being a world champion, whereas Harrison is looking to show he still has something left, and can become a two-time world champion.
"Of course, right now, [Tony Harrison] has the better resume, he has fought the very best at the super welterweight division," said Tim Tszyu. "If you go into his first twenty fights I don't see any specular names out there, and former world champions, let's just say. I have fought a former world champion [Jeff Horn], Terrell Gausha, who [at that stage in my career] is up there right as well, and a few world title challengers. I wouldn't say my resume is that bad. I am glad I finally got this type of name, Tony Harrison, former world champ, the only man to beat [Jermell] Charlo, because that is the type of name I need to gain the respect." – during Tim Tszyu's interview on the Last Stand Podcast with Brian Custer, this week.
The fight is a real one. Tszyu has never fought a fighter who has been where Harrison is at, a recent world champion, who holds a win over the best guy in the division, Jermell Charlo. Harrison has firmly pitched his tent as one of the top 154 lbers of not just the present moment, but of the era. That said, Harrison was picked for a reason if you're being cynical, all three of his losses have come by way of knockout, and Harrison has mental lapses in fights in which he either loses focus or begins to rush things which can make things come a bit too quickly for his liking.
Tszyu is a relentless body puncher, and despite being the son of a famous fighter, Tszyu is a legitimate top-5 super welterweight on his own merit. This fight will tell us a lot about both fighters.
One thing of concern to me is that Tony Harrison during fight week interviews doesn't sound like himself. It could be jet lag or a weight cut, but Harrison just seems a bit off in his demeanor. This is a quality world title fight, and even though it is happening in Australia is a fight that has huge implications for the rest of the division.
undercard.
Sam Goodman is a highly rated 122 lbs fighter and will face former world champion TJ Doheny in a ten-round fight. Goodman is being hailed as a potential breakout star, and this is the type of opponent and stage that if he wants to live up to that hype, he will need a solid performance here.
Olympian Paulo Aokuso, who some have compared to Roy Jones Jr. (not me though), is a fun and aggressive fighter and will face Yunieski Gonzalez, a veteran of the sport in a ten-round light heavyweight bout. Aokuso could be really good, especially in the talent-thin division of light heavyweight. Aokuso was very popular during the 2020 Olympics and had a huge following on all of the live streams.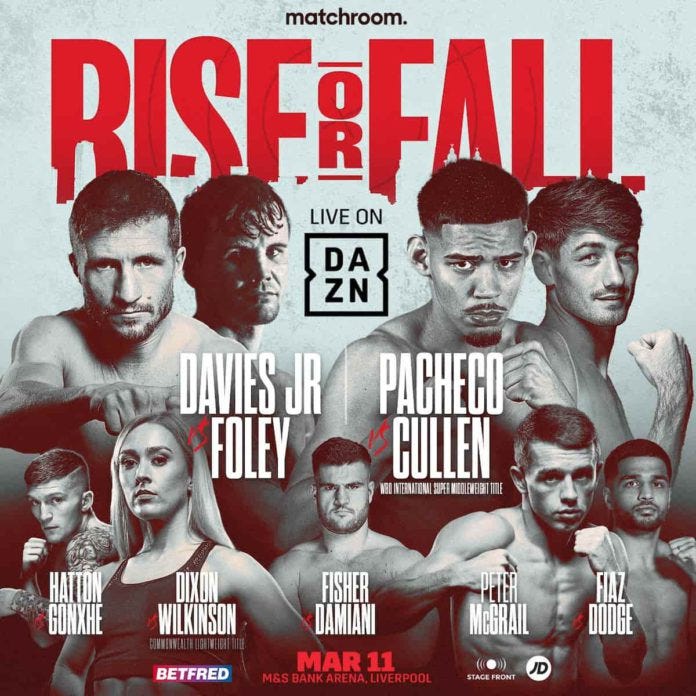 Diego Pacheco seems like Matchroom Boxing's best investment. As Callum Smith pulled out of the main event spot late last week with an injury, minor details his promoter, Eddie Hearn, spoke to how Callum Smith and Artur Beterbiev should be sanctioned next, meaning isn't that injured, I guess.
Pacheco will now headline Liverpool against Jack Cullen, a veteran tough guy, who made it to the world level on mostly heart, and less so on skill. Cullen is best depicted by his video preview package they did in the build-up. In this video, Cullen is hitting a bag with unlaced gloves, it appears as though it was something put together in a manner of 'hey, let's film this real quick, type of thing. The problem is… that seems to be the level of detail Cullen carries over to his fights. To be fair, Cullen was sparring with Callum Smith prior, and Smith is the same height essentially as Diego Pacheco.
Diego Pacheco has moved from East L.A. to the suburbs of Washington state as he is looking to change his life, and this is a perfect showcase to put Diego Pacheco at the top of his division and make a statement. Pacheco might be uncomfortable in moments, but I see Pacheco as a really contender, and one of the best prospects in the sport of boxing. I view as a big talent gap for Cullen to overcome, and Pacheco to make a rally for a potential breakout year.
undercard.
Robbie Davies Jr. has really turned a corner in his career and should be getting close to a contender-type fight. Davies Jr. will be fighting in the 140 lbs division, and a fight I would like to see him in soon would be against fighters like Richardson Hitchins, Steve Spark, or even Montana Love, though Love lost his last fight.
Johnny Fisher, the man internet legend, Chris Lovejoy keeps calling out, will fight on this card. Fisher has a following in the U.K. and is a major force on social media platforms, as well as a big-ticket seller.
The heavily hyped Peter McGrail will be featured on this card as well as Campbell Hatton will fight on this undercard as well
Club Shows
ProBoxTV.com will put on a card on Wednesday night as a pair of evenly-matched fighters in Luis Torres and Misael Cabrera will do battle in a lightweight bout. The co-feature will see lightweight Miguel Madueno, who hits really hard at the division, but doesn't really have anything besides hitting hard but is always a fun watch, as well as 6'3" super featherweight OscarAlvarez, and Alex Fuentes, a 122 lber with a sneaky good resume, despite only fighting in Mexico.
–
Brock Jarvis will fight this week in an eight-rounder. Jarvis is a fighter with a great physique but is the definition of a work-in-progress. Seeing him after a loss in an eight-round fight somewhat signals that as well.
–
Louis Lopez will headline Thompson Boxing's card on Friday night, as he faces Angel Beltran. The bout will be an eight-round affair in the welterweight division and will be a tribute to Mr. Ken Thompson, who recently passed away. Beltran
A great fight will see Jesus Gonzalez, a local junior middleweight taking on Keon Papillion, a very good prospect who was interviewed a few years back. If you love boxing don't miss this fight.
Marcos Hernandez will be staying busy against a tough veteran in Jeremy Ramos in a six-rounder on this show.
–
2016 French Olympic gold medalist Tony Yoka will look to revive his career on ESPN+ Saturday as he faces Carlos Takam. Yoka's last fight was a loss to Martin Bakole in May of 2022. Yoka has been moved very slowly for someone of his Olympic pedigree.
Dan Azeez will fight for the European light heavyweight title, and Lauren Price, the gold medal Olympian from 2020, will fight in an eight-round fight. Spoiler alert, Price is nearing a world title shot soon.
–
Thomas "Cornflake" LaManna will face a seasoned veteran Alberto Mosquera, in a middleweight fight on the regional circuit.