Gary Russell Jr. vs Mark Magsayo, Sacramento Boxing Friday, and UFC PPV Preview
Gary Russell Jr. Returns

Saturday, January 22nd, 6 PM PST on Showtime
---
Gary Russell Jr. has been the WBC featherweight world champion for seven years, yet he doesn't appear on pound-for-pound lists, and if compared to anyone, his closest comparison might be Santa Claus or the Easter Bunny, as, from 2015-2020, Russell only fought once a year. In 2021, he didn't fight, and now he is fighting once again, with an opponent, who on paper is the most interesting Russell Jr opponent since facing Jospeh Diaz Jr., back in 2018.
That being said, Russell Jr. has made it clear this camp, has been the camp from hell. Gary's father, had his foot amputated, and Russell told Kevin Iole of Yahoo Sports, and essentially he is training himself for this fight. Russell is talented enough to get away with that, because of his work ethic and determination, but it is clear from his activity in the ring to the tragedies outside of it losing one of his brothers, as well as his father's medical situation, Russell's mind is not solely in boxing. It is nice to see him back as Russell is one of the best of this era.
Magsayo is a Filipino fighter that I believe will be a world champion, now we just have to see if it is on this night, or if Gary Russell can still fend off some young and hungry fighters. Magsayo is a solid pressure fighter, one who is not afraid to let his hands go, and his defense is his offense as well. Magsayo is the type of guy that can catch someone slipping if they have any slippage.
undercard
Subriel Matias is one of the most brutal super lightweights ever. The damage from his fight against Maxim Dadashev led to the unfortunate early passing of Dadashev, and the next fight he took, on a Premier Boxing Champion-Top Rank joint card, he lost to the man he faces this Saturday, Petros Ananyan.
Despite winning the bout, Petros Ananyan took a year-and-a-half break after the biggest win of his career and now is resuming his career after a comeback fight.
With Josh Taylor, more than likely moving up this year, soon all four world titles will be vacant, and the winner of this should be a guy that someone who wants to be a world champion will have to face. Matias' run of having wins over Dadashev, Malik Hawkins, and Batyrzhan Jukembayev, is as impressive a run as any contender in the division, outside of the work Arnold Barboza Jr. has done.
Opening the telecast was the most interesting of the three bouts as Olympic silver medalist Tugstsogt Nyambayar, coming off his loss at a division above his ideal weight to Chris Colbert was set to face Vic Pasillas, who is moving up from super bantamweight to featherweight. Yet, Pasillas contracted COVID, and will not be able to fight. 
Nyambayar's new opponent is Sakaria Lukas.
Off-TV
As always, I wish Showtime would come up with a way to broadcast the undercard bouts, as a die-hard fan of boxing, it seems we should have the ability to see the young talent on these cards if we'd like, and year after year, we see no movement in this regard, which is annoying when nearly every one of their competitors offers this service.
Evander Holyfield's son, Evan Holyfield will be on the undercard. Evan Holyfield has yet to find a home for his career as his last win was KO on a Top Rank card, now he is off-TV on a PBC card. At some point, one would expect a promotion to take a flyer on him since he has the last name of a legend, but I bet shrewd investors want him to build his record a bit more, before making the investment.
LeShawn Rodriquez, who disappeared after the 2016 Olympic Trials, after losing to "Big" Charles Conwell, a friend of ITRBoxing.com, signed with Main Events, and never could stay active, is now 12-0 and fighting Sixto Suazo, a man who was brutally KO'ed by a friend of our website Nate Weston. Rodriguez has to get going as, a new crop of fighters are now building their records, and he needs to rise to the world championship level before those guys equal his record in less time.
---
News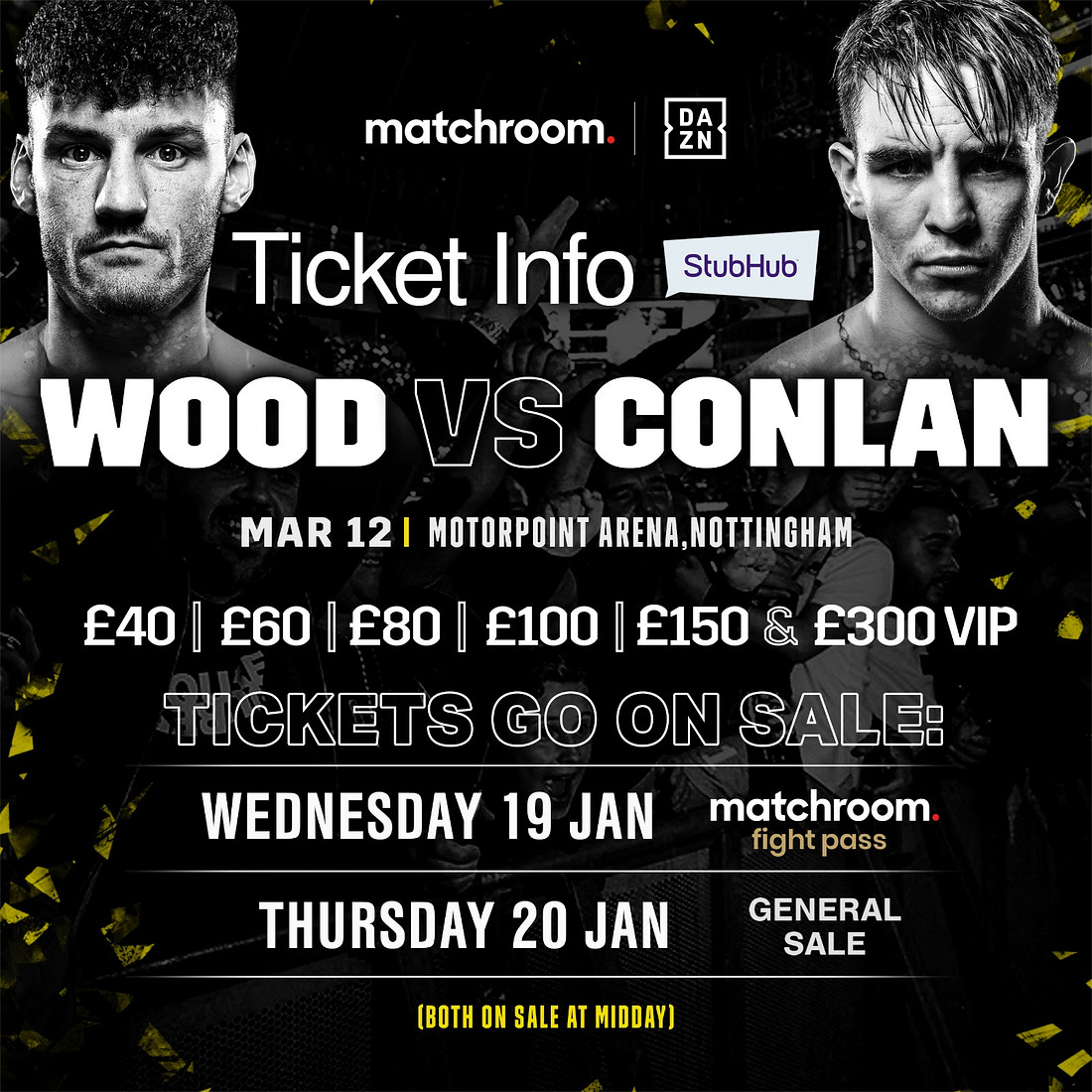 Leigh Wood will make the first defense of his WBA Featherweight World Title against Irish Olympian Michael Conlan at the Motorpoint Arena Nottingham on Saturday, March 12, live worldwide on DAZN (excluding New Zealand and Australia).
Terri Harper vs. Heather Hardy has been added to this card, meaning Harper will forgo a rematch with the woman who knocked her out Alycia Baumgardner, and take on the veteran Hardy, who sadly did a lot of the groundwork for women's boxing in the U.S., and deserves some finical paydays for all her time spent.
The plains are filled with the bodies of pioneers, and sadly Hardy never got what she deserved from the sport of boxing, outselling her male peers, and yet never getting decent slots on television during most of her prime. A true boxing shame.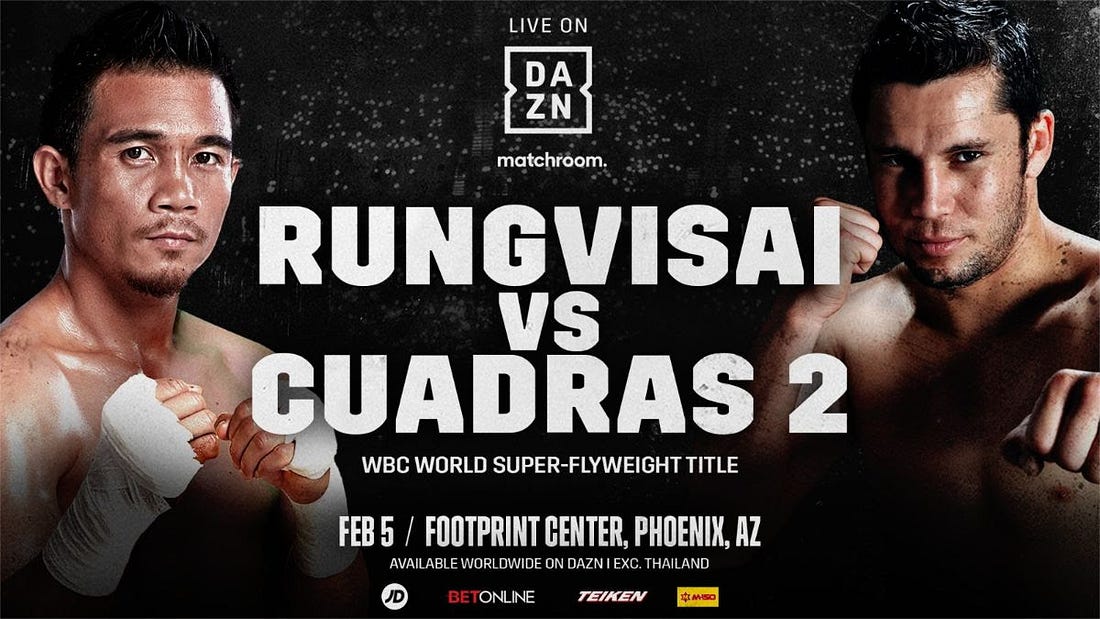 Despite Jessie Vargas contracting COVID-19, and his bout being pulled from the main event of the DAZN card, February 5th in Phoenix, Arizona, the entertaining rematch super-flyweight bout between Srisaket Sor Rungvisai vs. Carlos Cuadras, will now headline this card. This is good news as we were unsure if the card was going to be scrapped altogether after the initial news.
Mauricio Lara after a win and a technical-decision against Josh Warrington will face former Golden Boy Promotions prospect, and brother to Saul Sanchez, Emilio Sanchez at the Pechanga Arena San Diego in San Diego, California on March 5, live worldwide on DAZN, on as the co-main event of Juan Francisco Estrada and Roman 'Chocolatito' Gonzalez.
One of the best series' in boxing ShoBox: The New Generation returns to Caribe Royale Resort in Orlando, Fla, site of the last ShoBox card on SHOWTIME at 9 p.m. ET/PT.
The main event, a good one, will see undefeated lightweight prospect Jamaine Ortiz, who had a hard-fought draw with Joseph Adorno on a Top Rank undercard will face RDR Promotions' crown jewel Nahir Albright in a 10-round bout. Albright beat Thompson Boxing's Michael Dutchover in his last bout – the winner should be a top-15 world-ranked lightweight. 
The co-main event will feature super middleweight, Joe George against Sean Hemphill. The two undefeated will put their record on the line as Joe George is managed by San Francisco 49er, Trent Williams, and Hemphill is managed by Adam Booth. This is a trajectory bout.
The telecast opens with Philadelphia's undefeated welterweight and 2016 Olympian, who didn't get to compete at the Olympics, Paul Kroll facing the very active Marquis Taylor in an eight-round welterweight bout. The opener could steal the show.
Our good friend, Abraham Gonzalez of NYFights.com has launched his boxing podcast "The Boxing Rush Hour Show" this week, be sure to listen to it here. Gonzalez is an American hero serving in the Marines for his whole adult life and is someone I consider not just a friend, but a role model.
Ruben Torres will return on Thompson Boxing's first boxing card of 2022, and the lightweight trained by Danny Zamora is getting close to a big fight in his division and has been skillfully matched by Thompson Boxing. The fight will be available to watch on Thompson Boxing social media, and tickets information is listed in the flyer above.
Established boxing manager, best known for his eye for talent and guiding amateurs into the pros, Tim VanNewhouse, has signed Milwaukee's own Daniel Blancas, a six-foot, four-inch middleweight who was a 13-time national champion.
"I wanted to start my career off right, and I know Tim VanNewhouse will guide me the best way possible," said Blancas, who is just 20-years old. "It's all about working with the right people, and I believe we have built a strong team. I am ready to make my pro debut and take the steps necessary to follow my dream of becoming a world champion."
Anthony Saldana of Supreme Boxing broke this news below, here is a snippet.
"MICHAEL CARBAJAL releases this statement to clear any misconceptions that suggest or imply his support or endorsement of Keenan Carbajal. Any assumptions that he is rooting for Keenan Carbajal are completely unfounded. On the contrary, MICHAEL CARBAJAL will be rooting for Leo Santa Cruz to win and expects an early knockout victory. The animosity between MICHAEL CARBAJAL and the Keenan Danny Josephine Carbajal faction absolutely cannot be understated. There is no merit to any claim that MICHAEL has any involvement, association, or affiliation with Keenan, his fight career, or any part of his life. Further, MICHAEL is not involved with Keenan's trainer, Danny Carbajal (MICHAEL'S estranged brother), or Keenan's mother, Josephine Carbajal (MICHAEL'S estranged niece), in any way, shape, or form. MICHAEL CARBAJAL has never had and will never have any association with Keenan or any member of his team known as "FAMILIA CARBAJAL", which has misrepresented and violated the actual CARBAJAL FAMILY."
---
Club Shows
Sacramento Boxing At The DoubleTree near Arden Fair Mall will return this Friday. The main event will see Kenny Lopez of Ceres, California, face Anthony Hernandez in a six-round middleweight bout. Lopez is a fighter who people have high hopes for, and has a solid a social media following that he has built organically.
National champion-level amateur Joeshon James, a middleweight, will face the pro debuting Bryan Martinez, in what on paper should be the best fight of the night. James is a fighter who could get to the level of the world-ranked fighters.
Super featherweight Lizette Lopez of Salinas, Ca makes her pro debut against Neveah Martinez.
Dreamland Boxing in San Jose, California's Mark Salgado will face Luciano Ramos, who last fought a recent Top Rank signee, and trains with the Diaz family in Stockton, California.
The homegrown super featherweight prospect Malikai Johnson that the promotion has built up will make his return to the ring after a year-and-half-layoff, against Jude Yniguez, in a stay-busy type bout.
Opening up the card, Cmaje Ramseur will look to bounce back from his loss to Mark Salgado as he faces Sergio Ibarra, who is making his pro debut. Seemingly the two were set to face other fighters and ended up being pitted against each other.
Please see the flyer above for information, start time, and tickets.
On Friday, January 21st, we should see the return of Egis Klimas managed, at one-time rumored Canelo opponent, middleweight, Kanat Islam.
Though the main event should be a showcase fight the two bouts beneath it are from that Jose Miguel Borrego vs. Pete Dobson at welterweight in a ten-round bout, which will show us the potential of Dobson, who I see as a hidden gem that could emerge over the next two years. Borrego has struggled against the guys who get to the next level, and Dobson is looking to prove himself. This is a big fight for both.
Mark Reyes Jr. is coming off his first loss to Janelson Figueroa Bocachica and now will face veteran Erick Bone, also in a ten-round welterweight bout. Reyes needs to look good to put himself in a position to get another chance on television.
I am struggling to find any info on this card, besides this bout sheet, so please contact me if you have further information.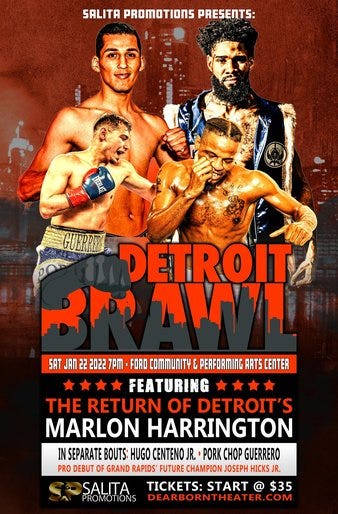 Saturday, January 22nd, we see the return of middleweight Hugo Centeno Jr. taking on Antonio Todd, in Dearborn, Mi., on a Salita Promotions card.
Local ticket seller Marlon Harrington, a middleweight will be also featured on this card.
Welterweight Quinton Randall, whom as a channel and a boxing distribution network we're very high on, will be featured in an 8-round bout. Randall in a recent interview with us stated he wants to fight "…five-to-six-times this year."
Also, 2020 Olympic Men's qualifying candidate Joseph "Sug" Hicks Jr., who was not able to go to the Olympics due to qualifications looking at the 2018 world rankings in amateur boxing will debut in a six-round bout against former Martinez, California FightKore member Justin Baseman.
Also, recent national champion Joshua Pagan has made the decision to go pro after winning the last nationals by defeating Keon Davis, the brother of Keyshawn Daivs, and Pagan is one of these sleepers, who I might have wanted to see stay amateur a bit longer, but has a good ceiling in terms of where he can go as a fighter, and could easily contend for a world title if guided in the right manner.
---
MMA In 500 Words
UFC 270, Saturday, January 22nd, undercard 5 PM, PPV on ESPN+ 7 PM
UFC heavyweight champion Francis Ngannou will face "interim" champion Ciryl Gane, in a rather baloney version of a title unification match, which seemed more so like the organization being mad at Ngannou for wanting to wait out his contract, and not quickly resigning with the UFC, so they created a form of a world title as leverage in a contract negotiation to spite the heavyweight champ. Speaking of which, Ngannou is rumored to be out of his UFC contract after this fight, and Ngannou's contract is slowly becoming the story of the fight for this bout – as we approach fight week.
The bout is being billed as a grudge match as the two heavyweights are both from France, but the timelines don't really match. Ngannou left for America during Ciryl Gane's major time in the gym, and despite Gane having Ngannou's former coach in his corner, the story at least in the public is far less muted than one would think, between two fighters coming from the same camp, fighting for the same thing.
Though people tend to start their stories on a feud, I think the overwhelming sense I get is mutual respect. The two trained together in a lesser-known French gym at the time, and both went on to be known as world-ranked mixed martial artists, and I think all of those involved share a sense of pride, knowing that they were in some shape or form involved in being the best in their era, rather than talking bad about the other.
The interesting part is the oddsmakers are making Ngannou only a slight favorite at -120 and Gane is current at +102 by fight night this could be a pick'em, unless late money comes in on the more popular Ngannou, who is one of the UFC's lone stars currently.
Ngannou is a deeply flawed fighter, who hits really hard and is really big. Without any transcendent talent in the division, that is enough to be a champion. Gane will now show us if he is the next guy or a guy in the division. To Gane's credit, he is the more traditional striker and seemingly more polished fighter.
As with most UFC cards these days, they're not very packed even on pay-per-view as compared to the hay-day ten-to-twelve years ago, and now we get two-to-three interesting fights a card, as the brand continues to be bigger than the fighters themselves. The word oversaturation comes to mind, especially when watching the pre-fight video packages.
The UFC is losing its edge and youthfulness. In the last decade, it was fresh, with new faces and wild personalities. Now we're seeing the same tropes, but the world has changed, and too many less than stellar fight cards have asked the viewer and consumer of the UFC's product to give up a lot of their life, money, and time, as it seems the UFC is now in the business of putting on as many fights as possible to get as much money. Basically the UFC demands a lot out of a fan, and the hardcore fan is even being pushed to the point of casual interest it feels, based on the current climate.
In short, we witnessed a small, mom-and-pop company turn into a corporate giant, that is becoming far removed from what made people love the company – as a counterculture product to boxing and the world. If anything, boxing over the past few years now seems to be edgier than the UFC. I think of the UFC as the skateboarding company, World Industries, that started out edgy, and then was sold multiple times, and began to sell skateboards around cartoon graphics, but lost what made the company impactful.
UFC flyweight champ Brandon Moreno will face Deiveson Figueiredo in a trilogy. Moreno won the title in their last bout submitting Figueiredo in the 3rd round, with the first bout being ruled a draw. An interesting sub-plot is Henry Cejudo will be in Figueiredo's corner and was at one time involved in Moreno's career.
Flyweight has been a division that has really struggled in the UFC as Demetrius Johnson was widely viewed as one of the best UFC fighters ever, struggled to get a grasp of a fan-base whether due to sizeism, lack of finishes or too many weight classes, and without him in the division, I feel the division has staggered to a screeching halt in which most don't the modern fighters at the top of the division anymore. I know I truly don't.
Big puncher Cody Stamann, who is a tough and durable guy, that looks like a UFC fighter from years past, will face Said Nurmagomedov, who has no relation to Khabib, but probably most people watching will assume they're related.
The undercard on ESPN is fairly dry as well with Michel Pereira versus Andre Fialho, being the notable bout. Pereira is a flashy striker, and Fialho is a big puncher who I covered a few times on San Jose, California Bellator cards. This should end in a brutal KO. I always felt Fialho was destined to be a top-tier contender, and this is his UFC debut, so if he were to be that guy, now is his time to prove it.