Boxing On Most Major Networks Headlined By Tim Tszyu's U.S. Debut On Showtime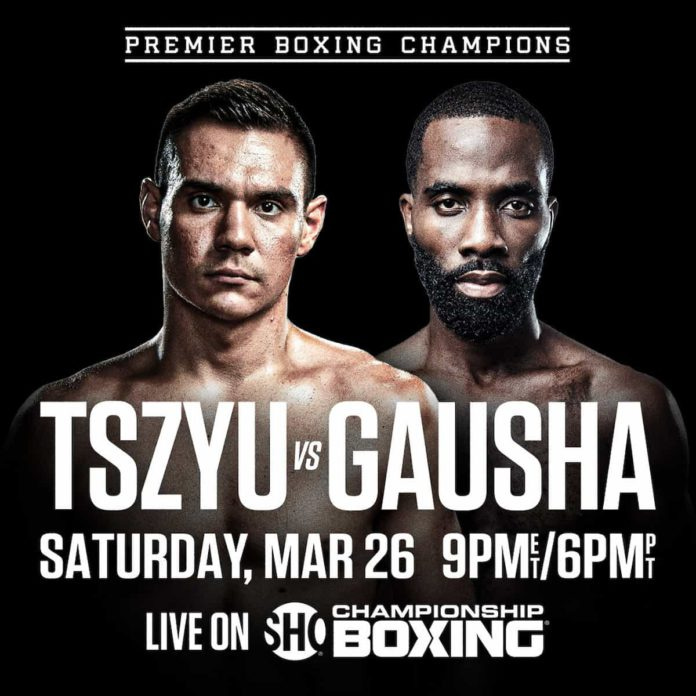 Saturday, March 26th – 6 PM PST | Showtime
Tim Tszyu vs. Terrell Gausha will headline Showtime this weekend and is the marquee bout of the week. Tszyu, the son of Kosta Tszyu is being groomed to be a star, as the big puncher, looks the part, but needs the wins, to make a splash. 
Gausha, who works with Manny Robles, and podcast guest this week Prenice Brewer, knows this is the chance of a lifetime for Gausha, a 2012 Olympian, who has tons of power but hasn't quite gotten his huge moment as a pro. Gausha is coming off the best performance of his career, a second-round KO of Jamontay Clark. 
Tszyu has looked great on foreign soil, but in his U.S. debut, he is a large unknown. Training at Mayweather Boxing Club for the final days of camp, and making a debut on a major network, seems to be the right steps, but now we have to see how he does against world-ranked opposition. I am excited about this fight since I think highly of both fighters.
Lightweight Michel Rivera continues to impress and Joseph Adorno has missed weight two times in a row, maybe even more, as his former promoter Top Rank Inc cut him over this issue. This bout shows the lack of faith in Adorno's professionalism at the scale being set at 138 lbs catchweight. 
Rivera has seemingly all the edges in this fight, as Adorno's life appears to be a mess working with a new trainer, Coach Nelson, as he is no longer training with his father, Adorno has a ton of power, but I am not sure he is still motivated by the same things that got him into boxing. Rivera is the darkhorse of the lightweight division, and facing a dangerous opponent like Adorno who can punch will tell us more about Rivera at this point.
If Rivera wants to flirt with being a main eventer by the end of the year, Rivera needs to have a great performance. 
Big puncher Elvis Rodriguez will face veteran tough guy Juan Jose Velasco, who has been used often in the PBC circuit. Rodriguez is a big man for 140 lbs and packs a bigger punch, one loss to Kenny Sims Jr., seems to have condemned his career to some, but Rodriguez can still have a solid career, especially with Wild Card Boxing Gym.
off-tv undercard
The most interesting undercard fighter is IBF 154 lbs #1 contender Bakhram Murtazaliev, who is promoted by Main Events, managed by Egis Klimas, and trained by Vergil Hunter, fighting on the undercard. Murtaliev has not been on TV for a long of time, and should be in a world title fight soon – yet hasn't been in a marquee TV bout in seemingly forever.
Joey Spencer will face one of his toughest opponents to date a 37-year-old former prospect Ravshan Hudaynazarov in an eight-round bout. Spencer is one of PBC's homegrown guys from the ground up, and now we're looking to see when he will take the next step up in competition.
Brian Mendoza will be in action on the undercard, he has served as a functional test for the 154 lbers in the past. I wonder if Spencer versus Mendoza could happen in the future.
Top amateur Michael Angeletti will face veteran tough guy Angel Luna in a 122 lbs fight. Angeletti is a future world champion.
The Return of Berchelt At Lightweight
Saturday, March 26th, 7 PM PST | ESPN
The lightweight debut of Miguel Berchelt will take place against Jeremiah Nakathila, who most saw fight Shakur Stevenson last year. Berchelt is a former world champion who was brutally knocked out by Oscar Valdez, and after his brutal KO has been out of the ring. Berchelt has now rebuilt himself with Jorge Capatillo in Las Vegas, Nevada, and is working with a new team.
This will show how much is left with Berchelt as he has an action-style with defense being an afterthought, and Nakathila being an offensive fighter in the same vein as another Top Rank spoiler Masayoshi Nakatani. Nakathila is live in this fight, but mostly if Berchelt has regressed or past a point of return.
undercard
The featherweight start for Jose Enrique Vivas has been rough at Top Rank as he had a hard-fight win over "King" Louie Coria, and now will face the exact same style in Enrique Baez in the co-feature. They might not be big name fighters, but this could be a battle of two fighters exchange a lot of punches. A worthy watch.
140 lbs Josue Vargas will be on the undercard, if he wins, I would like to see him versus John Bauza on June 11th at The Garden.
2020 Olympian Delante "Tiger" Johnson will have his third fight on this card. His teammate, Terrell Gausha who fights on Showtime this weekend as well. Johnson sparred heavy hitters like Vergil Ortiz for this camp. Johnson's stablemate, light heavyweight Dante Benjamin Jr., will open the card.
Kiko Tries To Defend His Title On DAZN
Saturday, March 26th, 11 AM PST | DAZN
Kiko Martinez seems to be getting set up once again as Martinez is rematching Josh Warrington, a big ticket seller in Leeds, for Martinez's IBF featherweight title, that Martinez got by brutally knocking out Kid Galahad in a fight that seemed to be a hand-selected stay-busy fight for Galahad that went very wrong.
Warrington, who was stopped by Mauricio Lara, will now look to win his second world title of his career at featherweight, and should have all the confidence as he has beaten Martinez once before.
Trained by Sean O'Hagan, Josh Warrington's father, Maxi Hughes, who has shown growth over the past years will face Ryan Walsh. Hughes is a good quality U.K. fighter.
If looks could kill IBF 118 lbs world champion Maria Cecilia Roman might be in trouble. Roman is facing Ebanie Bridges, who is a sex symbol, but still a rather green boxer at the world level. The visual of the blonde super model-looking Bridges in a boxing ring will always command attention, and her toughness can not be questioned, but this fight will show her ceiling.
Featherweight Hopey Price is viewed as one of the better prospect in the U.K., and will be getting a developmental fight on this card. I look forward to seeing how Price can improve his game, and see how far away he is from a domestic level bout against his peers. Spoiler alert: I think Price fights a good U.K. fighter in the fall, but that is just my guess.
Club Shows
Mohamed Mimoune, a former Viktor Postol opponent on a PBC card will face undefeated Cesar Francis in 140 lbs bout that as with all ProBox shows will offer a fair and competitive bout. Also on this card, heavyweight Christian Thun against Amron Sands, and my favorite cruiserweight in the world not named Usyk, Najee Lopez, who I see as a future world champion, in action for the fourth time in his career.
ProBox is putting together fun shows, and I am hooked on the product.
–
Erik Morales takes on Orlando Salido on Fite.TV in an exhibition bout. It could set up another bout between rival Marco Antonio Barrera who fought recently.
–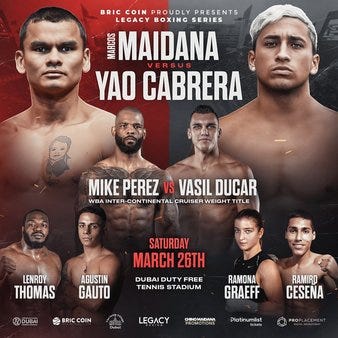 Mike Perez, looks to be getting into the cruiserweight world title picture as he faces Vasil Ducar. Perez is a talented fighter, stained by tragedy early in his career, but winning a world title would be a major deal for him, and cruiserweight is a division in which that can happen.
The card is headlined by Marcos Maidana facing what I am told is an internet celebrity in Yao Cabrera. Nice to see Maidana in the ring, that'll be cool to see a clip this week, but when a world champion faces a novice, we don't need to give much thought on this.
–
Two spoilers in Mikael Zewski and Carlos Ocampo will face each other in Canada. Zewski is criminally underrated on the world level, and facing a former Errol Spence Jr. opponent in Carlos Ocampo. Zewski should get a chance at a big fight soon. 
Marie Pier Houle will be in-action on this card, this is her second fight since her fight in which Jeanette Zacarias Zapata tragically lost her life, and light heavyweight Joseph Ward, who will one day fight for a world title will be in-action.
–
Probellum is cutting into Matchroom and Frank Warren's U.K. rule as we will Lewis Ritson, a notable ticket seller, who has struggled at the world level against former world champion Dejan Zlaticanin in a 140-pound contest. More notable is that Troy Williamson, and Thoms Patrick Ward, two guys who were brought upon on the Matchroom/DAZN partnership will also fight on this card. Sure, most fans might not make decisions based on these fighters, but these fighters used to be a lock for Matchroom, and now Probellum is putting them on shows, and as a consumer, I like it since Probellum is offer content right now without a paywall.
Also, Olympic silver medalist Pat McCormack will be in action in a six-round bout. Outside of Benjamin Whittaker, McCormack is the best prospect from the U.K. out of the Olympics.
–
RDR Promotions returns in Philly with another good card, Isaiah Wise will face veteran Cameron Krael in a six-rounder. Also on the card, is Team Freeway's VeShawn Champion, who we interviewed this week.
–
In the WTF bout of the week, Gustavo Lemos will face Lee Selby for a IBF lightweight world title eliminator. Selby had a close fight with current champion George Kambosos Jnr., and now Selby has to go to Argentina to get a chance at another world title fight.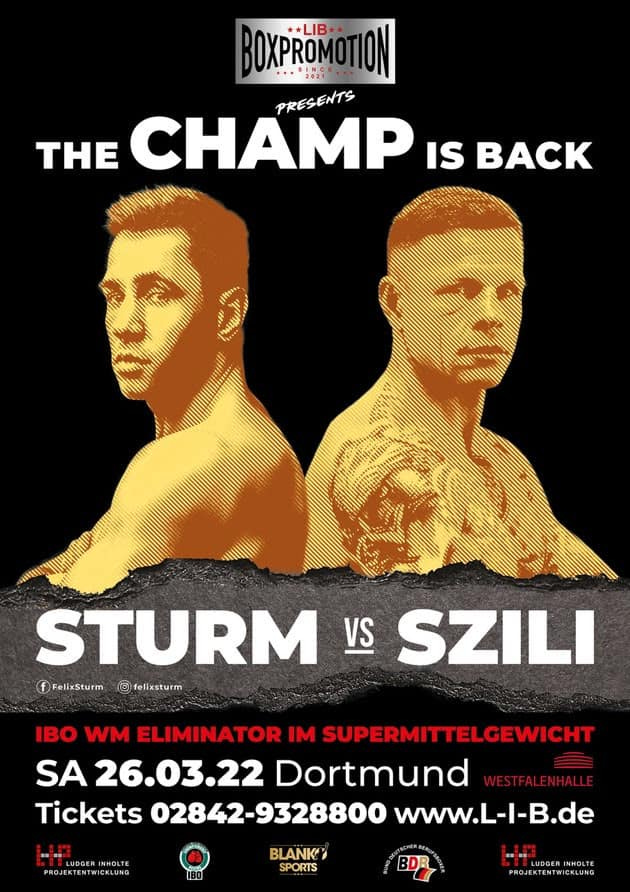 Former world champion Felix Sturm, who was a staple of my boxing watching in my mid-20's in the afternoons is still fighting in Germany, this Saturday he faces Istvan Szili at super middleweight.
Christian Mbilli is a super middleweight worth-watching as he faces former Sergey Kovalev opponent, Nadjib Mohammedi in a ten-rounder
Also, a very good boxer Mary Spencer will be featured in a four-round bout on this card.
–
Caroline Dubois and Chris Kongo will be back in the U.K. in developmental fights. The main eventer Richard Riakporhe, a cruiserweight, is nearing a world title shot.
MMA in 500 Words Or Less
Saturday, March 26th, 4 PM PST | ESPN, Undercard 1 PM PST | ESPN+
Heavyweight Curtis Blaydes will face Chris Daukaus in a serviceable main event, which continues the theme of way too many UFC cards. The two got top-billing more than likely based on being heavyweights.
Blaydes is thought of as a somewhat boring wrestler, who is very effective at what he does, and Daukaus was knocked out by Derrrick Lewis prior to that Daukaus had a five-fight win streak.
Joanne Wood will face Alexa Grasso in the most evenly matched bout of the evening. Wood and Grasso both have star potential, but seemingly never have quite gotten to the top of the division.
Matt Brown, a UFC fighter who caught fire in the last decade, and loves to share his personal views on the internet will face slugger Bryan Barberena in an evenly matched trajectory fight. If Barberna wants to go to the next level this is a great chance, if Brown wants to get some big fights – he needs to win this
Ilir Latifi who has made a career for himself in the UFC after fighting Jon Jones will face Alexey Oleynik, a submission minded fighter in a bout of two talented fighters, who have hard names to pronounce.
The ironman of the UFC Neil Magny will take on Sacramento's own Max Griffin as Griffin will look to make a title run if he can win. Selfishly I would love to see a card in Sacramento, so Griffin winning is a step closer to that.
Sara McMann is also on the card, and she fought Ronda Rousey at one point.