Boxing Fight Schedule: Benavidez on Showtime, World Title Fight On ESPN
Weekly YouTube Content including Monday night 9 PM PST shows including all the staff of ITRBoxing.com here
If you want to bet on the fights be sure to follow the affiliate link on BETUS and have the chance to earn more.
Sign up for ProBoxTV | Monthly Fights For Only $1.99 Per Month or $18 A Year
---
David Benavidez Is Back

Saturday, May 21st, 7 PM PST | Showtime
David Benavidez, could make a case for being the most dangerous super middleweight in all of boxing, and his fight against former world champion David Lemieux for the WBC interim super middleweight title, should remind fight fans just how exciting Benavidez is.
Benavidez told ITRBoxing.com, in an exclusive interview, that he'd be disappointed if he didn't get he knockout in this fight and with top fighters such as Canelo Alvarez and Demetrius Andrade in this division, a great performance could set the stage for a fight that declares him as the best or one of the best in the division.
Though Lemieux is no pushover, he also isn't as talented or strong as Benavidez as this should serve as a way for Benavidez to win his third world title, and do it in his home state.
Felix Gracia Jr., of ITRBoxing.com will be there on the scene to cover the event live, so ITRBoxing should have some form of original content from this fight.
Yoelvis Gomez is a big punching who I believe is already #12 in the junior middleweight division with less than ten fights. Gomez will face Jorge Cota, a tough veteran, who has been stopped by Jermell Charlo and Erickson Lubin. Gomez should look really good, and get into the mix with Tim Tszyu, Sebastian Fundora, and the rest of the young contenders in this red-hot division.
undercard
The undercard is a mixed bag featuring regional fighters, and talent from their roster. I hope this week we get some form of a stream or way to watch the fights on this undercard as once again, the undercard delivers yet the distribution of these fights does not as Marcos Hernandez vs Brandyn Lynch was seen by only the fight fans in attendance, as it was not streamed in any manner.
Luis Nunez, a featherweight who has had see-saw performances on ShoBox, will face Javier Fierro on the undercard in what could be a sneaky fun bout.
Victor Ortiz, now fighting at 154 lbs will face Todd Manuel in a fight he should win. If Ortiz wins can we get a bout where he fights Adrien Broner? That'd be a cool old guy fight.
Undefeated regional talent Elijah Garcia will take on game spoiler Rowdy Legend Montgomery. Montgomery has beaten Martez McGregor and Malcolm McAllister coming in the wrong corner. This is a close fight.
Local guy Micky Scala, who is signed to Mayweather Promotions will be featured on the undercard.
Middleweight Title Fight On ESPN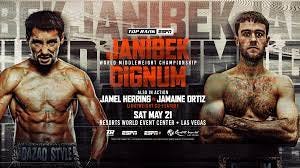 Saturday, May 21st, 5 PM PST | ESPN, Undercard ESPN+
Janibek Alimkhanuly looks to be the next major force at middleweight, and Danny Dignum seemingly has the bad luck to be in his way for the vacant WBO interim middleweight title. The bout which happens this Saturday on ESPN, should be a one-sided coronation of Alimkhanuly, who in terms of resume is probably the fifth best middleweight currently, but in terms of talent, probably is only behind Gennady Golovkin and Jermall Charlo.
Alimkhanuly is going to be someone at 29-years-old, turning the corner and heading into the next era of boxing, looking to make statements. Alimkhanuly also has power broker Egis Klimas behind him as well.
The TV co-main sees former 130 lbs world champion Jamel Herring moving back to 135 lbs to face rising contender Jamaine Ortiz. The bout serves a trajectory bout for both, Herring a former world champion, who now looks to become a 2-division world champion will be without BoMac in his corner, the famed trainer of Terence Crawford, and now works with Manny Robles, and Ortiz is coming off the biggest win of his career against Nahir "Woo" Albright on ShoBox. A very even fight.
2020 Olympian Tiger Johnson has felt like a special fighter from the start, it is just going to be how he passes certain checkpoints, right now each one has been solid. He will be featured in a marquee spot on this card, and hopefully can provide some form of entertaining performance that gets the fans excited to see him again.
Featherweight Adam Lopez, a criminally underrated featherweight faces William Encarnacion, who is a 2012 Olympian, who last fought Abraham Nova on TV in January. This could be a classic compare and contrast to see how Lopez does with Encarnacion.
One of the sneaky really good fights of the card sees Karlos Balderas, who looks as good as he ever has against Max Garcia-trained Ruben Cervera in a lightweight showdown. Cervera is a 135 lbs fighter, who trains with Ruben Villa in Salinas, Ca, and offers a pressure-fighting style. Combine this with Balderas looking as good as ever in his last fight, and we could have a fight of the night-type bout here.
Former world champion Jessie Magdaleno will return in an eight-rounder against Edy Valencia Mercado, as he can't be that far from a world title.
2020 Olympic silver medalist Duke Ragan returns to action after a series of tragedies in his life. Ragan is a really talented guy, and a good story to cheer for.
My pick for the fight you can't miss is Steven Nelson, a close friend of Terence Crawford who will face Louis Rose in an eight-rounder. Why is that? Nelson is coming off a long lay-off, while Rose I believe sparred Janibek Alimkhanuly for a good portion of the camp interesting test
Lightweight Giovanni Cabrera will look to move up the card, as he continues to win, but hasn't quite stood out
Lightweight Charlie Sheehy will finally get to face Burnell Jenkins, he was originally set to fight on the Shakur vs. Oscar Valdez card, only for the bout to be moved back. Sheehy is special.
A guy I really like Kasir Goldston will be fighting once again at 140 lbs., and is a guy who I think over the next year or so, should get himself into the 8-to-10-round fight range. Very experienced for fighter only a few pro fights.
PROBOX TV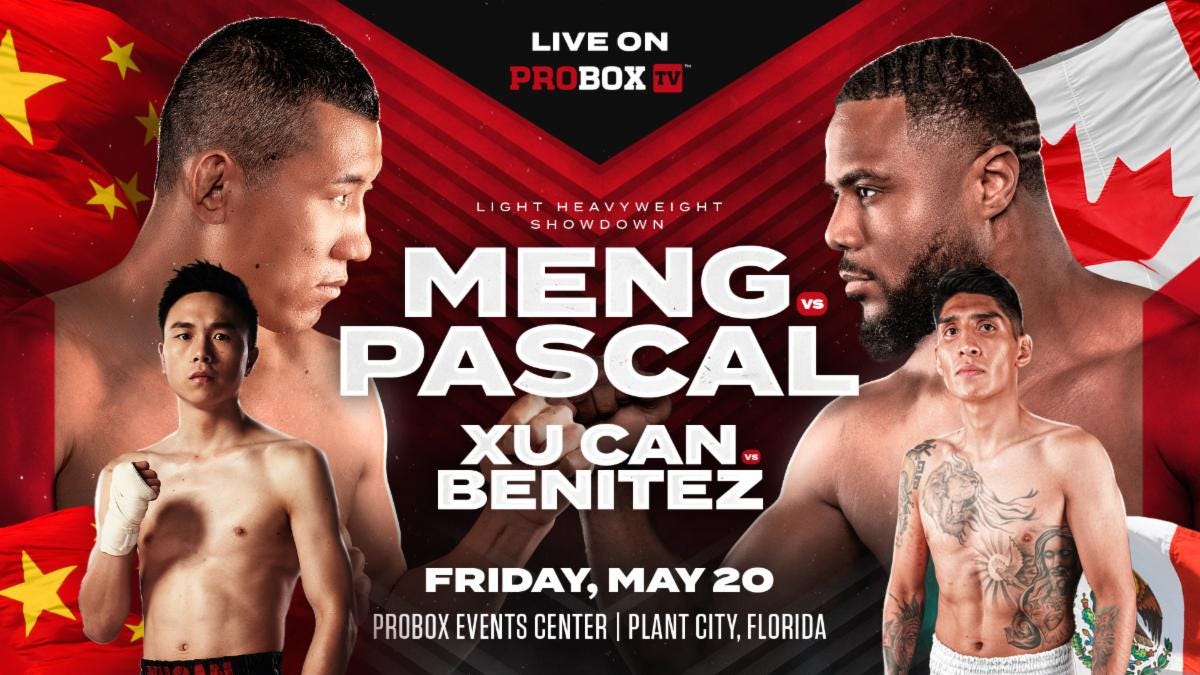 This Friday, May 20th, at the ProBox Events Center in Plant City Florida, we see a bout that should create a light heavyweight world contender or at worst a "Zurdo" Ramirez opponent, as IBF #1 contender in the light heavyweight division Fanlong Meng will face ITRBoxing.com's #4 light heavyweight Jean Pascal in a 12-rounder. 
Stories of the fight, Pascal popped dirty for PEDs prior to his rematch with Badou Jack and has been out of action since, and Fanlong is one of the fighters, who hit a major period of stagnation due to Roc Nation Sports not really creating a sustainable boxing business model.
The success of the series is shown already as Jimmy Kelly got a win over Kanat Islam and now got a marquee Jaime Munguia fight right after.
Also featured on the undercard is the "Last Chance Tournament at 140 lbs", which is a contender-like tournament featuring fighters who would have been gatekeepers to prospects now getting a chance to win a tournament and resurrect their career. A cool idea.
The first wave of bouts features Zhiming Wang vs. Francisco Armenta, two fighters I don't know a ton about. Kendo Castaneda, a guy who could beat the regional fighter, but would lose to the signed fighters facing Sonny Frederickson, a former Roc Nation Sports fighter, who fell on hard times during time in the Top Rank Bubble, and recent losses. Thompson Boxing's Michael Dutchover facing Florida's own Clarence Booth and Antonio Moran, best known as the guy who Devin Haney put on the highlight reel facing, Jeffrey Torres.
Fun Fights.
Tevin vs. Bey PPV Postponed.
A fight between two former world champions, Tevin Farmer vs. Mickey Bey scheduled originally for Ghana, Africa, and then moved to Dubai, has now been postponed after the president of UAE passed away last Friday. This has put the nation in shock and has postponed this event, which we hope happens as both Farmer and Bey deserve to put forth this event, as independent promoters.
Isaac Dogboe, a former world champion, was moved off the card once it left Africa, and Albert Bell, a 130 lbs. fighter who should fight for a world title soon in a fair world, missed out on a fight on this undercard. That being said, it seems like Bell is finishing out camp with George Kambosos Jnr for his fight with Devin Haney.
Buatsi ON DAZN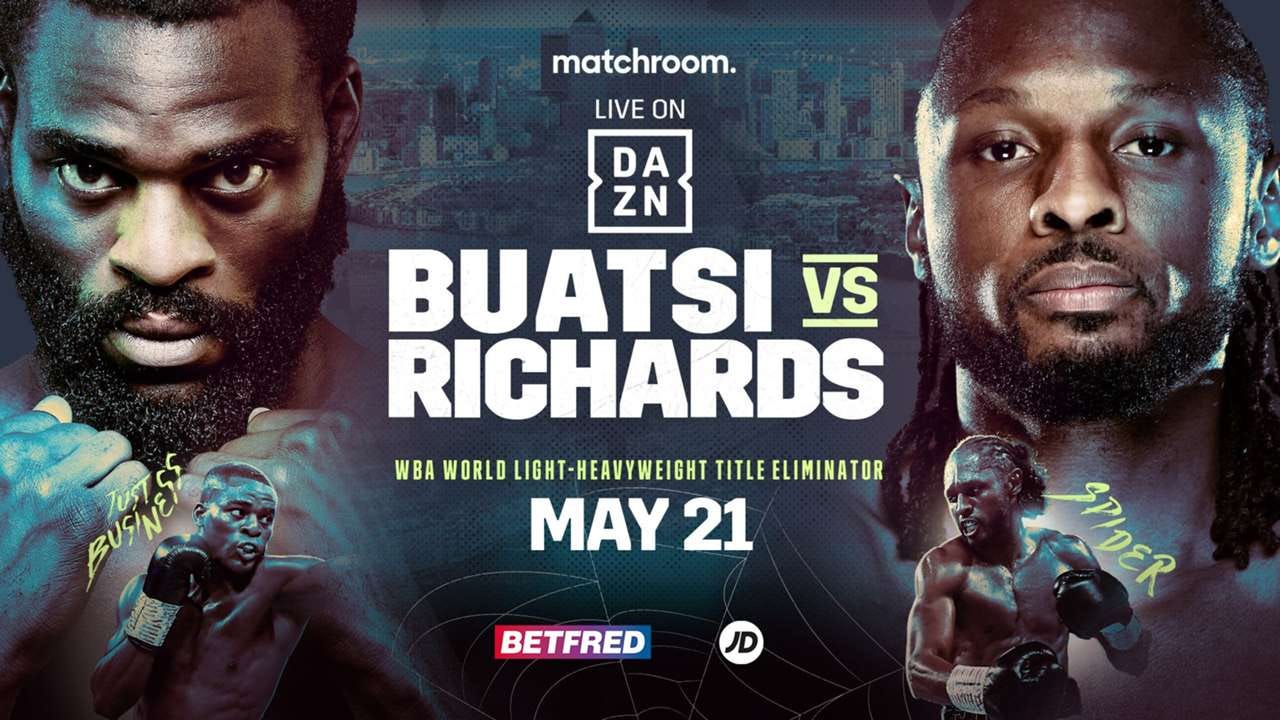 Saturday, May 21st, 11 AM PST | DAZN
Coming out of the 2016 Olympics for Brittan I would have pegged Joshua Buatsi and Joe Joyce as stars. Yet, in 2022 neither has fought for a title which is wild to me. Buatsi takes his first world-class step up against Craig Richards in a bout that will serve as a WBA light heavyweight eliminator. The winner is the #1 contender for Dmitry Bivol, but with Bivol beating Canelo, that could take a bit of time to get to that fight.
Buatsi holds every advantage in this fight and I would be shocked if he were to lose.
undercard
Come forward pressure fighter Alen Babic is on the undercard. He is a fun fighter, who will be in some rock'em sock'em-type fights.
A fighter I think is the absolute truth, Chantelle Cameron will face Victoria Bustos as she looks to defend her WBC/IBF women's junior welterweight title for this bout. Originally expected to fight for all four belts, Kali Reis is unable to compete currently, causing Cameron to seek other fights. Cameron reminds me of women's boxing answer to Roberto Duran.
140 lber Robbie Davies Jr. will continue his tour of fighting guys who used to fight on Friday Night Fights, a decade ago, when he takes on Javier Molina, a 2008 Olympian. Davies is an interesting contender with good power, but this should serve a showcase, and a way to build up his resume.
Cheavon Clarke was mentioned by Eddie Hearn as someone who could beat Jake Paul. He is on the undercard.
Club Shows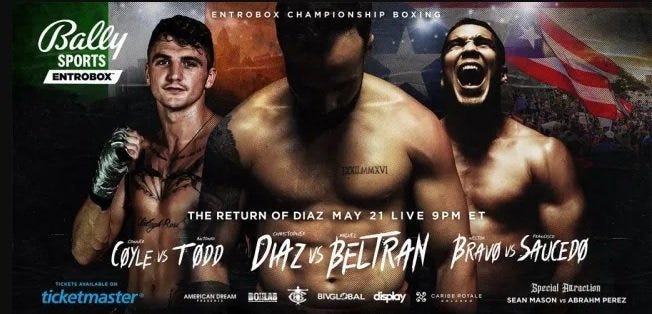 Christopher Diaz will be fighting in Florida this weekend, also on the card Joseph Adorno, and Olympian Alexy De la Cruz. De la Cruz was one of the Olympians I felt like could make the jump rather quickly to the pros.
–
Jake Paul's newest signee featherweight Ashton Sylve fights in the L.A. area.
–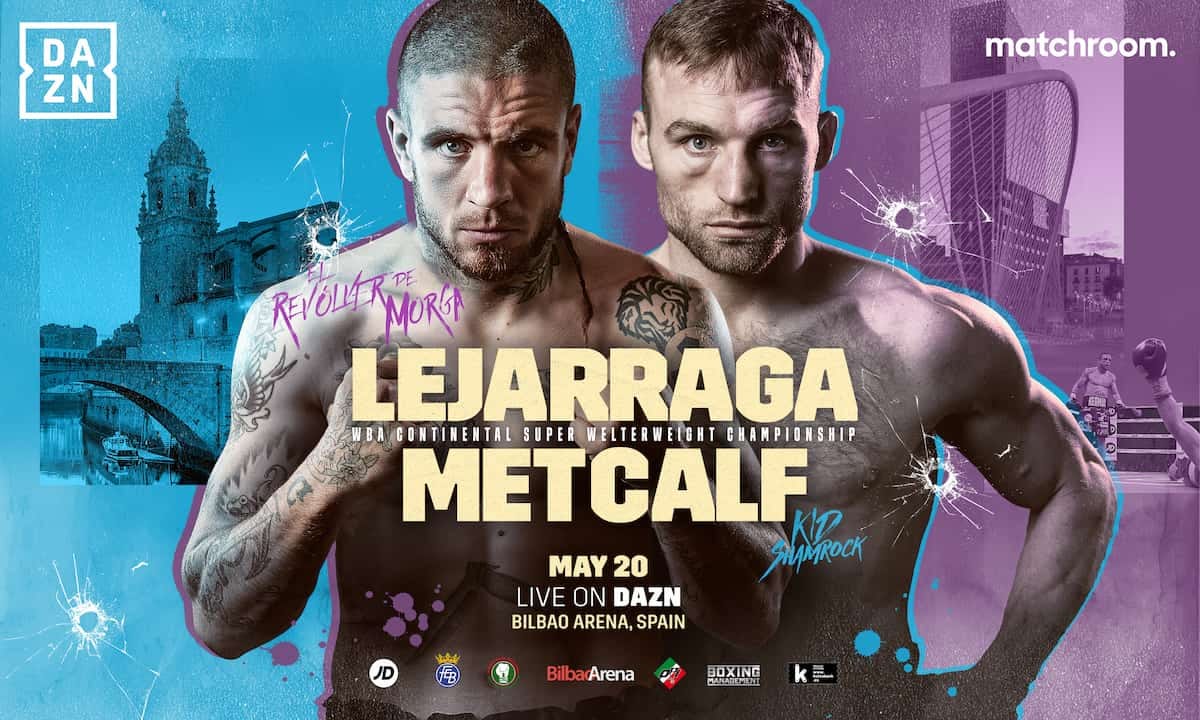 Kerman Lejarraga will face James Metcalf in a 154 lbs bout, Friday on DAZN. Lejarraga is getting a network backing, though I am not sure what he is end game is at the division.
–
Justin Cardona of Salinas, California will be fighting in Mexico, Cardona fights at lightweight.
–
Super bantamweight Jose "Chocolatito" Gonzalez fights in New York, in Queens, on Saturday.
–
Floyd Schofield and Andrew Tabiti will fight in Texas on Davies Entertainment card. Schofield should fight for a world title one day.
–
A slew of Cuban Olympians are turning pro in Mexico as well. Seemingly all of the medal winners from 2020, but it is confusing to decipher who exactly, as it seems to keep changing.
MMA in 500 Words Or Less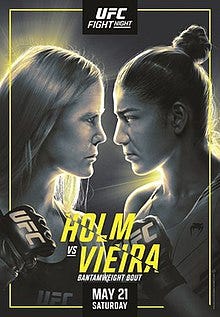 Saturday, May 21st, 4 PM PST | ESPN+
UFC and boxing icon Holly Holm takes on Ketlen Vieira in the main event of Saturday night's UFC card. Most know Holm from knocking out Ronda Rousey, and Vieira is hoping to get more status in the org with a win over Holm, in a women's bantamweight bout.
A card void of true star power, beyond the top, Michel Pereira will face Santiago Ponzinibbio in a fight that features two unique personalities.
The ESPN+ fight cards seem to be for hardcore fight fans only at this point.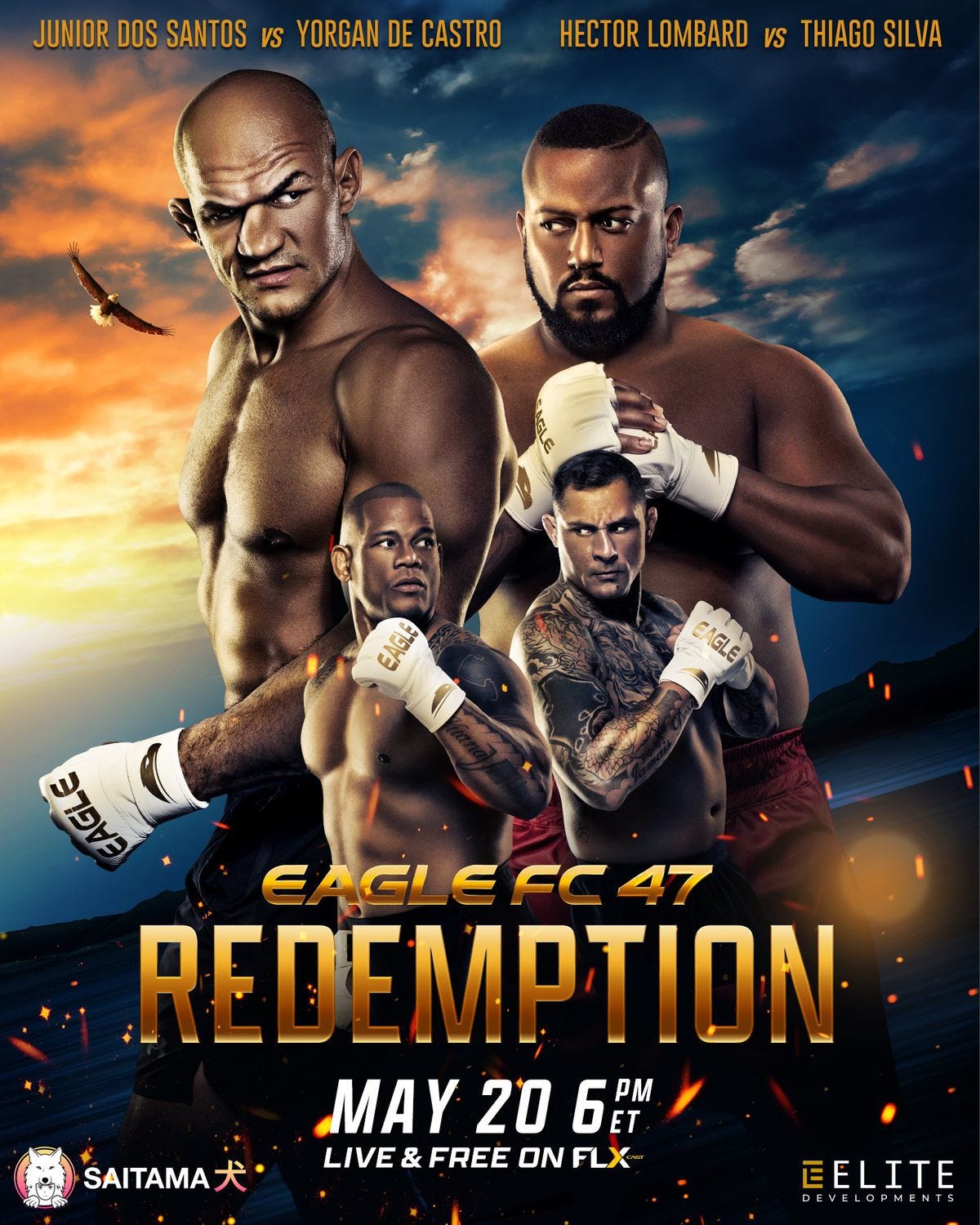 Friday, May 20th, 3 PM PST | FLXcast
Eagle FC returns on Friday on FLXcast, the promotion headed by UFC legend Khabib, will feature Junior Dos Santos as the main event. The co-main is a good one on this card as Hector Lombard vs Thiago Santos will face each other which should be interesting.