Boxing TV Schedule: Berlanga Headlines ESPN, Two Cards On DAZN + ShoBox
Inoue Stops Donaire
When Inoue fights like this, it is hard to believe he could lose, let alone to think of a fighter who could beat him. As the first fight was a classic, the second fight was nothing short of a destruction. 
"The Monster" Inoue lived up to the billing of just that stopping Nonito Donaire in two rounds, in their second fight. Their first bout was a classic, the second a one-sided affair that saw Inoue's power be the difference, as Donaire was hurt late in the first round and stopped in the second.
Inoue has an amazing resume, a ton of power, great timing, and oddly very little impact on the boxing world, outside of hardcore fight fans. It is strange, as he is nearly an undisputed champion, and even still, I don't feel as though he has caught the world's attention beyond being a geographical draw in Japan, as opposed to a truly worldwide fighter, even with some of the best knockouts of the past ten years.
When Inoue first signed with Top Rank it seemed he had elements of being a Manny Pacquiao 2.0, but two years later, Inoue has made little to no progress in the U.S., if anything he has regressed from a popularity standpoint. The win over Donaire is a big one, as it righted a wrong of his past, but the 29-year-old, Inoue is no longer a future phenom, he is the present and brings him back into the picture of the most marquee, and must-see fighters in the division.
Inoue was born to be a big puncher, his timing makes him a legend, now we need to see if the legend can grow, or if this is where he will be again for the next few years.
I have high hopes for the future of Inoue and would welcome a Stephen Fulton fight. Inoue needs to face his equal who is around his age at some point.
Oh, and Inoue's right hand is one of the greatest right hands ever, period. I just hope we get to maximize the fights with a talent as big as Inoue.
Berlanga headlines ESPN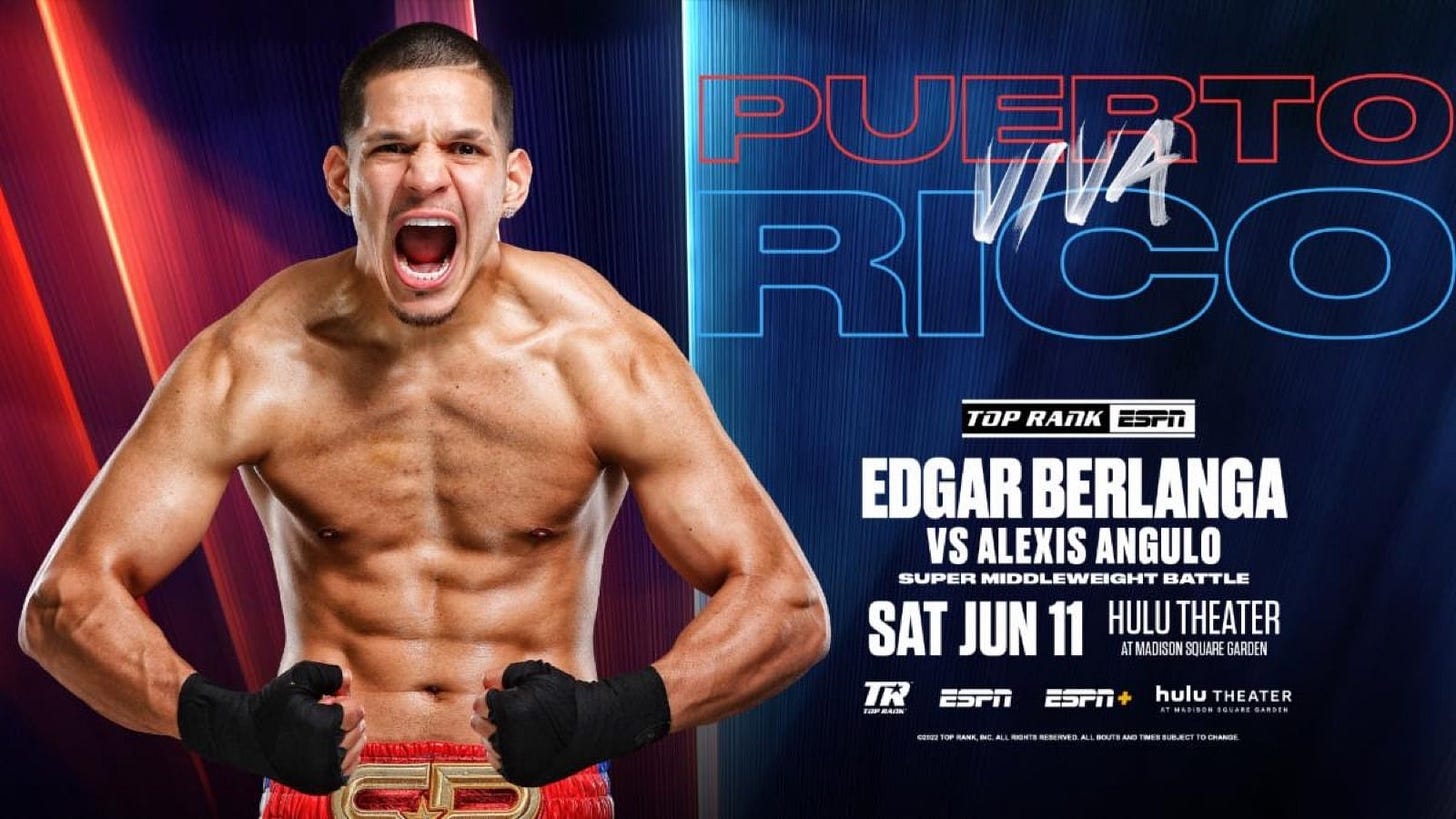 Saturday, June 11th, 6 PM PST | ESPN
"The Monster" Edgar Berlanga looked to be the next face of boxing, merely a year ago, now some are wondering what happened? Berlanga is now riding a three-fight decision streak after starting his career with 16 straight first-round KOs. Berlanga seemed like a fighter who was a living embodiment of a tall tale, a fighter closer to Paul Bunyan than Vasyl Lomachenko.
When Berlanga fought, we saw two clocks on the screen. One for the round counting down how much time is left, and another to show how much time has passed since the start of the first bell, because he was stopping people so quickly, people wanted to know things like that.
Yet, Berlanga looked very mortal against Steve Rolls, and it appears fighting on Puerto Rican Day Parade weekend in New York City, at The Hulu Theater at Madison Square Garden, Berlanga is looking to graduate to the big arena, and to do so he needs a big performance. A knockout, a throwback to just a year ago, when he might have been the most talked-about super middleweight in the world.
On paper, his opponent, Roamer Alexis Angulo, who is 38-years-old, and holds a win over a prospect in Anthony Sims Jr., and was brutally stopped by David Benavidez, should be built to order. The big thing is as of late, it seems some of Berlanga's confidence is not the same, as it was three fights ago. Add to the fact, that in the Rolls fight, Berlanga had a slew of coaches, but it didn't appear he had one strong, firm voice. Berlanga needs to find his identity in the ring once again.
It could be the step-up in competition, but also a tad bit of his temperament, as when he is hitting people they're not just going down anymore, and that is a new feeling for the power puncher from the bright lights of New York City. Regardless, Berlanga is an interesting and compelling boxer to follow, who started out so great, we have to see where this goes, and I believe he can be a world champion as well as an interesting main eventer for years to come. He just sped up the process with such noteworthy performances that the bar is now very high.
Berlanga spent his last camp in Las Vegas, and moved this camp to Puerto Rico, sparring Gabriel Rosado.
Saturday on ESPN, we learn more about Berlanga.
undercard
The theme of the undercard is, with Xander Zayas off the card, can anyone make a name for themselves on the undercard? Zayas is looking the part of a future star of the sport of boxing, and the next Puerto Rican boxing sensation, but with him having to pull off the card due to illness, we now see a chance for fighters who might have gone unnoticed.
The leader in the clubhouse to make a statement would be 130 lbs Henry Lebron taking on Luis Lebron. Henry Lebron is talented, but he hasn't separated or stood out as a pro, yet. With one of the best prospects in the sport no longer on the card, Lebron should try to do something massive on this card.
Carlos Caraballo, a 122 lbs fighter, who lost to Jonas Sultan, a few months ago. Caraballo is someone I believe the promotion had high hopes for, but now he has to win some of these title-contending bouts.
Josue Vargas, a 140 lber is looking to continue the rebuild of his career after a first-round ko loss to Jose Zepeda. Vargas is a promising young fighter, but since the loss, has looked shaky against rather unknown Nicolas Pablo Demario.
Armani Almestica, a lightweight with a lot of personality looking to entertain those in attendance and should be a notable prizefighter for the next ten years, but the big question will be can Almestica go viral as his fight will more than likely be early on the card.
Omar Rosario vs., a 140 lbs fighter has been very impressive early in his career, this would be a card that I would expect him to do something massive to move towards the main card of future fight cards.
Also, Christina Cruz, women's flyweight, will be on the card, as I believe she is from Hell's Kitchen, and a city girl. Cruz is a very experienced amateur looking to be moved quickly.
Jaime Munguia returns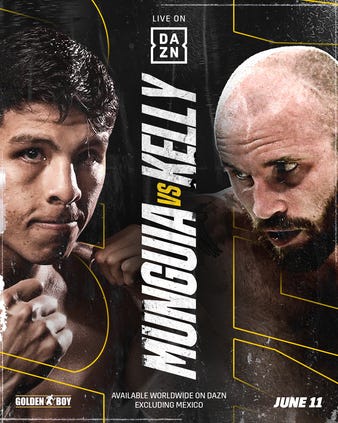 Saturday, June 11th – 6 PM PST | DAZN
I think everyone including Jaime Munguia is frustrated with the stagnation of Munguia's career. A once-promising Mexican superstar appears to have gone from being a world champion at 154 lbs to a contender at middleweight despite being one of the biggest names in the division.
His fight on Saturday against Jimmy Kelly will take place at 165 lbs., a tad troubling sign as one would've hoped, that Kelly, who had success in his last fight south of 160 lbs., could get a chance at making the most of his Kanat Islam win, somewhere around that weight he just fought at, not roughly eleven pounds above that weight.
Even more troubling is that Munguia, as we saw in his last fight, appears to not be keen on making the middleweight limit for much longer, and one would've hoped he could've nabbed a world title there before moving up. For those that missed it, Munguia showed extreme discomfort after making weight prior to his last fight.
This is a trap fight, as Kelly is at the highest peak of his confidence in some time, but his most notable fight was a stoppage loss to Liam Smith. Smith is a guy Munguia beat back on HBO.
I have Munguia ranked as the sixth-best middleweight currently in the division, and Kelly as number thirteen, but that being said people expect Munguia to dominate in this fight.
Munguia at some point needs to fight someone we care about. As it feels like a lifetime ago when we mentioned him in the same breath as Canelo. Munguia can punch, but the fears around Munguia after the Dennis Hogan fight still linger, years later.
undercard
Oscar Duarte will make his return back to America after a split decision loss in the states three years ago facing veteran Mark Bernaldez, welterweight Evan Sanchez will face Carlos Ortiz, and Yokasta Valle will put her IBF Minimumweight World Championship on the line against Lorraine Villalobos. Before the DAZN card starts, Golden Boy will have face streamed on their YouTube channel as well.
ShoBox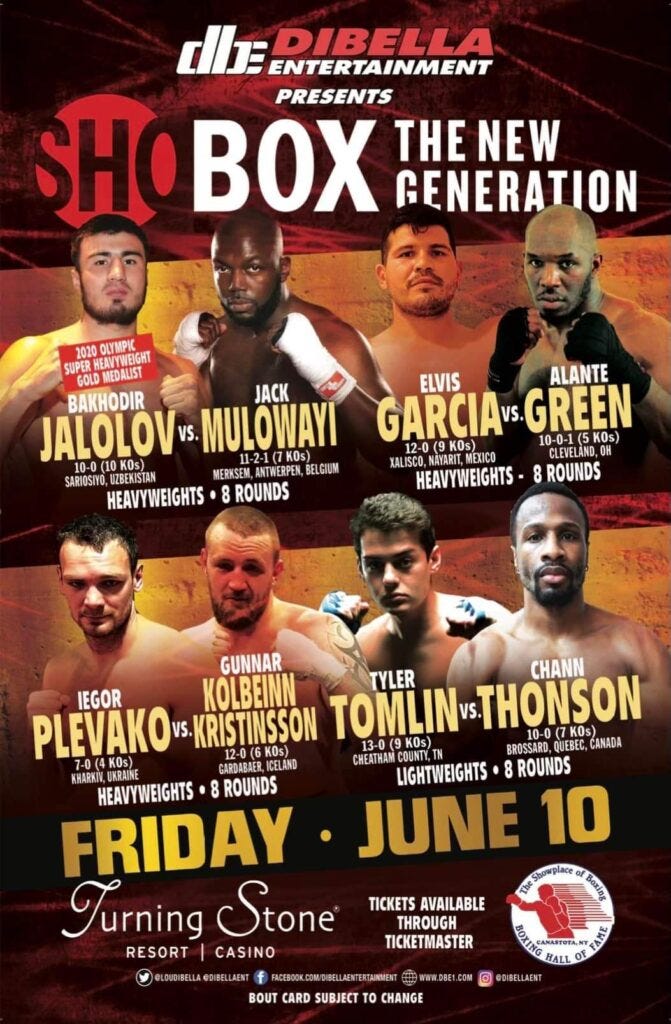 Bakhodir Jalolov, the 2020 Olympic gold medalist at super heavyweight feels like the Darko Millic​ of boxing, all the attributes in height, weight, and power that you want in a great fighter, yet something seems to be missing. Jalolov will face ​​Jack Mulowayi, nicknamed "Big Jack" in an eight-rounder to main event ShoBox.
Mulowayi's only notable fight is a loss to Frank Sanchez. Mulowayi has never been stopped and I would assume the hope would be that Jalolov gets a KO win on a major TV platform that could get some momentum going for his career. Jalolov will always have a great fight to be made with amateur rival Richard Torrez Jr. waiting for him.
Ohio's Alante Green will get his chance to get on the national radar as he will face undefeated George Arias. Arias is coming off the biggest win of his career, defeating Cassius Chaney. I am really excited about this one. Green feels like a hidden gem in the country right now.
An exciting 8-round lightweight contest will see Tyler Tomlin fighting Chann Thonson. Tomlin is a likable, emerging lightweight contender, and this is the first major test of his career since signing with DiBella Entertainment.
After a great fight against Kali Reis, Jessica Camara will face ​​​Valentina Keri in 140 lbs bout. If Camara wins and she should get a big fight.
The pro debut of 2020 Olympic bronze medalist Oshae Jones will happen against ​​​Dahiana Santana, in a six-round bout. Jones is one of the most promising women's boxers in the last decade.
Light heavyweight Charles Foster will face Bo Gibbs Jr. The brother of William Foster III, will be in the world title picture at some point.
DAZN Friday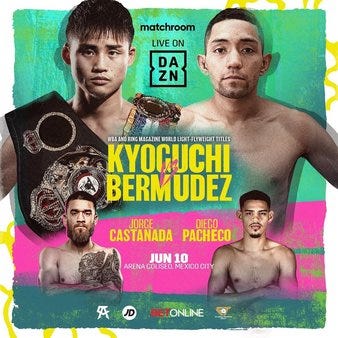 Friday, June 10th, 3 PM PST | DAZN
A fight that most people probably have no clue is happening, will see Esteban Bermudez facing Hiroto Kyoguchi with the WBA junior flyweight title in Mexico homecoming.
Bermudez stopped champ Carlos Canizales in his last bout. Kyoguchi has a solid resume full of ex-champs, and solid competition, as this could be a very competitive fight that no one has any form of a connection with unless you're related to the fighters or going to the fight.
The biggest puzzle, I can't for the life of me understand who the champion is for this fight, as the poster says Kyoguchi, and BoxRec.com states Bermudez.
undercard
A tough workhorse boxer Jorge Casteneda, who has two upset wins in a row faces a former prospect in Eduardo "Rocky" Hernandez. Casteneda should get a big fight soon, a name I have heard is Kid Galahad. This is a big win if Castenda can get this win.
Hernandez was with Golden Boy Promotions, but lost to Roger Gutierrez via a brutal first-round KO, and hasn't been heard from since.
A slew of prospects will be fighting on the undercard.
Super middleweight Diego Pacheco vs. Raul Ortega will be in a ten-rounder, Pacheco now trains with Jose Benavidez Sr. and is Matchroom/DAZN's best chance to be a homegrown champion from their first wave of American fighters.
140 lber Aaron Aponte, managed by Peter Kahn who is on a legendary run as a manager will face Leo Leon Martinez in a six-rounder. Aponte was featured on a few Triller cards a year ago, seems a bit raw, but it will be nice to chart his progress.
"Superman" Anthony Herrera will fight for the first time as a Matchroom fighter taking on Kennyn Valenzuela. This should be a showcase for Herrera.
Harley Mederos, a tremendous amateur who should be a great pro, will fight on this card against Eduardo Torres Esparza. Mederos should get a viral KO.
Club Shows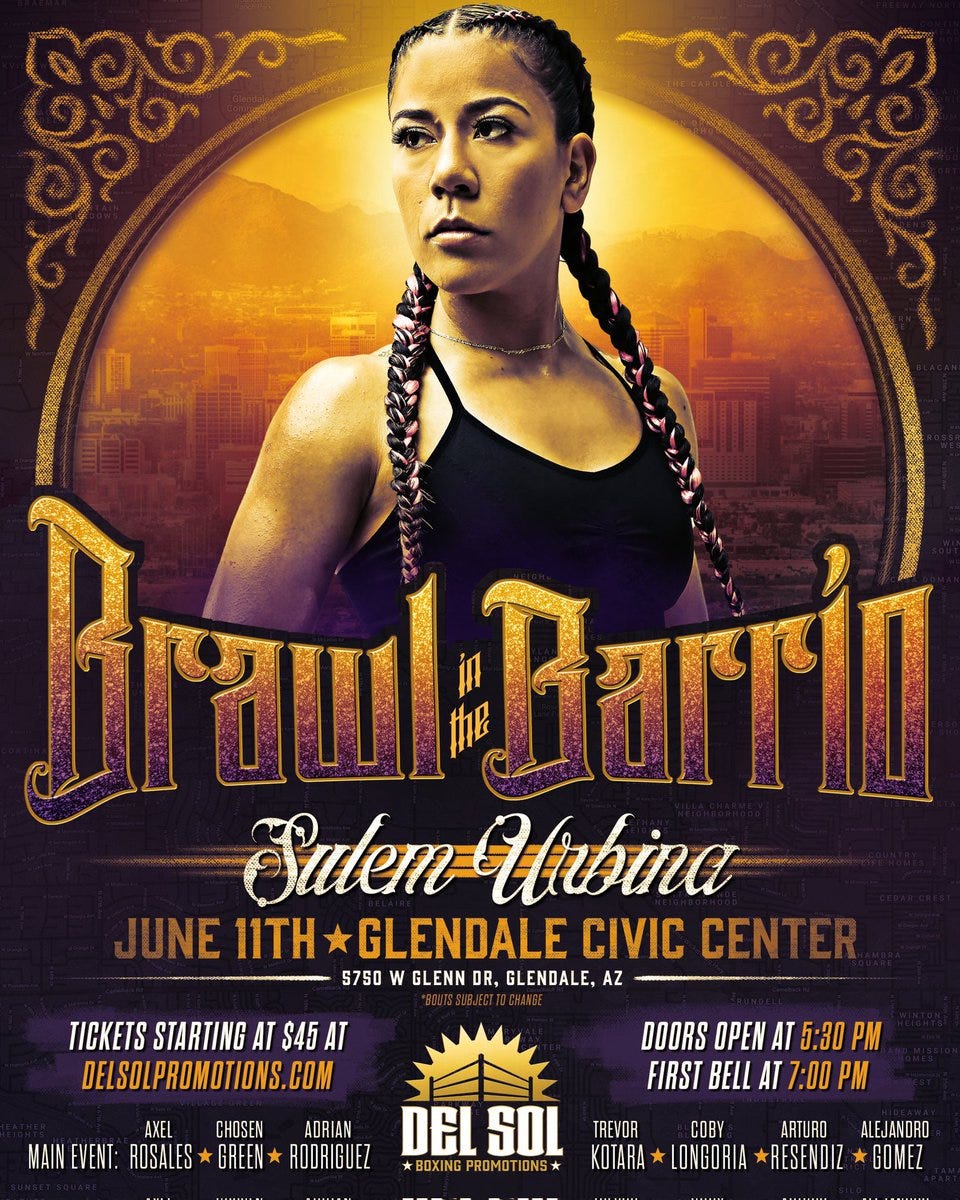 Popular women's flyweight Sulem Urbina will fight Saturday in Glendale, Arizona, at the Glendale Civic Center.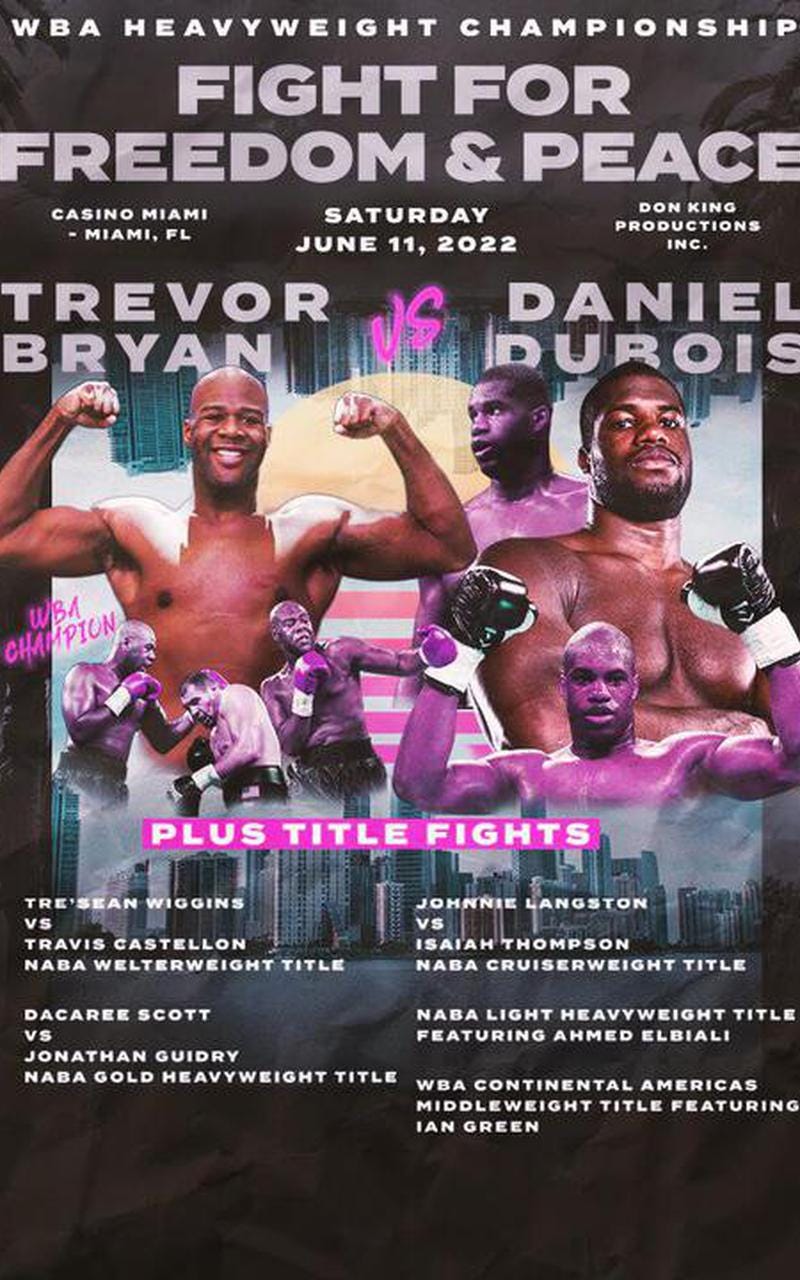 A form of the WBA heavyweight world title champion Trevor Bryan will face Daniel Dubois in Florida on a Don King PPV. Bryan has spent most of his career, on shows with little coverage. Dubois, an undersized heavyweight is looking to bounce back from getting badly beaten by Joe Joyce in which he suffered a bad eye injury.
Dacarree "Mac Truck" Scott will face Jonathan Guidry, a former Trevor Bryan opponent. Scott is now ranked in the heavyweight world rankings, I believe about #13 per the ABA.
Also, former prospect Ahmed Elbiali will fight on this card as well.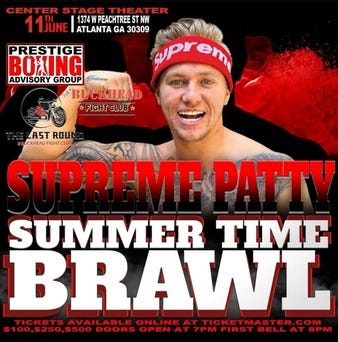 A slew of good fighters are fighting in Atlanta this weekend as Peter Dobson, and Alfredo Angulo will be in action in separate bouts, former Joe Smith Jr. opponent Steve Geffrard will be on the card, and a Glen Johnson trained heavyweight Raphael Akpejiori, as well as supermodel, turned pro boxer, Avril Mathie.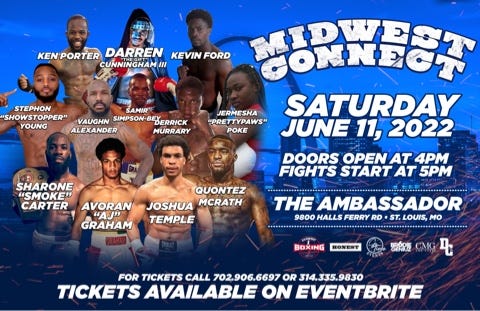 St Louis will feature a lot of home talent as Stephon Young, Darren Cunningham III, and Vaughn Alexander all will return home.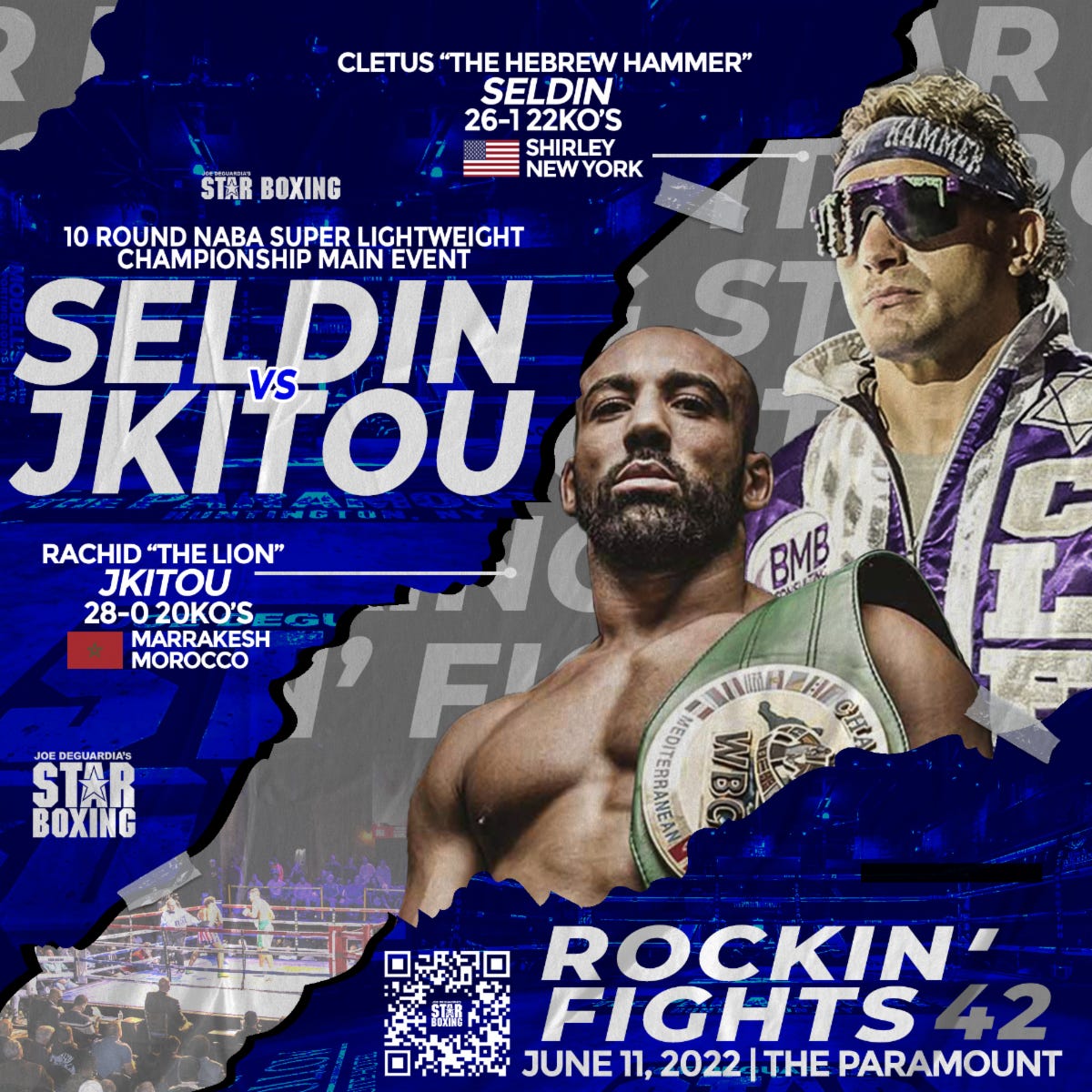 Also, in the New York era, Cletus Seldin will be fighting as well.
MMA In 500 Words Or Less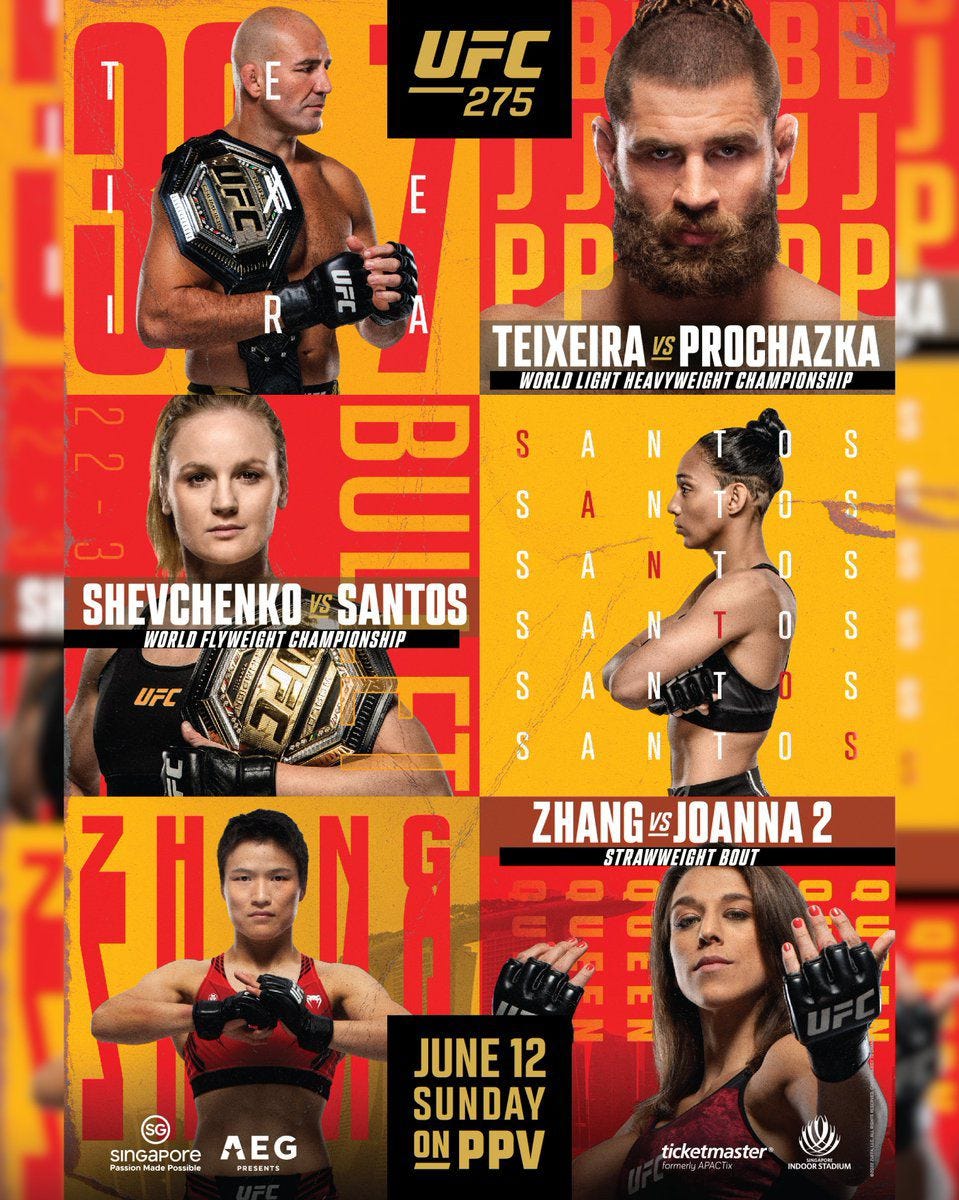 Saturday, June 12th, 7 PM PST (PPV), 5 PM PST (ESPN)
Bigger than the fight itself is that this card, a PPV mind you, will take place in Singapore, as the UFC is expanding to become an even more global brand.
Current UFC light heavyweight champion Glover Teixeira is the underdog against Jiří Procházka, a knockout artist, with a hard name to pronounce, and two KO wins over feared UFC fighters including Dominick Reyes. Looking at the odds, Procházka is heavily favored. If Procházka were to win, I would expect to see him in Asia, and Eastern Europe more than in America.
Women's flyweight champion Valentina Shevchenko will face Talia Santos, and honestly, Shevchenko is one of the most dominant champions ever in the UFC. We're talking Georges St. Pierre dominate, it is hard to believe Shevchenko can lose. How dominant, I have no clue who Talia Santos is, and she is fighting Shevchenko, probably largely, because she hasn't fought her yet.
A rematch of Zhang Weili and Joanna Jędrzejczyk, which saw them leave a piece of themselves in the ring a few years ago turn into a modern classic. The two will fight with potential title shot implications on the line, and two very entertaining styles. This should be a good one.
The only notable undercard bout to me is André Fialho, a scary puncher, who used to train in the San Jose, California area, facing Jake Matthews. This could be a fight that levels up the winner.