Wood vs. Conlan Highlights Weekend Boxing Schedule
Saturday, March 12th, 11 AM PST – DAZN
Leigh Wood vs. Michael Conlan, do battle in Wood's hometown of Nottingham, as Wood's WBA "regular" featherweight title, will be on the line in his first world title defense.
Wood and Conlan occupy similar spots in the sport. Both of whom, are guys in the featherweight division, but with different journeys. Wood was viewed as a guy who might never reach his potential but became a world champion late in his career working with Ben Davison.
Conlan, conversely was one of the biggest Irish prospects ever, and hit the pros running hard off an Olympic robbery that saw him flip off the judges, after getting shafted on the scores.
The obvious belief is that Conlan should win because everything leading up until this point leads us to believe that – decorated Olympian, high valued Top Rank signee, etc, BUT… the fight is in Wood's hometown. Conlan has never looked the part as a pro for a sustained period. Conlan is the x-factor, as Wood is a hardworking guy, who will give it all he has. If Conlan is truly great, Conlan should win this one.
undercard
Terri Harper will fight on the undercard, it is her first fight after getting knocked out by Alycia Baumgardner, and losing her world titles. Harper was set to fight Heather Hardy, but an injury pulled Hardy from the bout – and now we will see how much the KO impacted Harper in a stay-busy-type fight.
Gary Cully, a lightweight, will face Miguel Vazquez roughly ten years after Vazquez's prime.
Kid Galahad will be in tough against Jorge David Castaneda in the former world champs first bout at 130 lbs. Galahad was knocked out by Kiko Martinez in his last bout, losing his featherweight world title, rather than getting the pointless rematch, for Galahad to attempt to get the belt back, Galahad is moving up to 130 lbs. Castaneda has a boxing style similar to 90's grunge rock, it might not be glamourus – but in the 90's it ruled music along with the birth of gangster rap.
Castaneda is now looking to take his awkward pressure that gave him wins over two undefeated fighters in back-to-back fights, Otha Jones III and Youssef Khoumari. Castandeda in many ways is riding a high and more confident than Galahad, going into this career defining fight.
Looking like a million bucks is nothing to Sandy Ryan, who is facing a former Mikaela Mayer opponent in Erica Farias in a 140 lbs fight. I see Ryan as one of the faces of women's boxing for the next decade.
ShoBox
Friday, March 11th, 6:35 PM PST – Showtime
ShoBox will feature a slew of Split-T boxers with the headline being middleweight Ardreal Holmes hoping to get a good win and maybe a viral moment against Vernon Brown in a ten-rounder.
Split T's Luis Acosta, who has been on the regional scene will take a big step-up in competition against Edwin De Los Santos in an eight-round bout. De Los Santos lost his bout on ShoBox in January.
Giovanni Marquez, a recent Split-T mgmt signee faces Nelson Morales in a 140 lbs., as this will be Marquez's debut. Marquez is the son of Raul Marquez.
David Navarro, the Olympic Trials runner-up, will face Gavino Guaman in his first fight since his lone career loss on a ShoBox undercard.
Olympic Trials runner-up heavyweight Jeremiah Milton, not with Split-T, but rather Victory Sports, and Tony Holden Promotions, looks to return as he is set to stay very active.
Club Shows
Gabriel Maestre, the shamed welterweight who got an awful decision that he shouldn't have against Myke Fox, one so bad that the WBA had to blow up the belt system they had consolidating all the title will fight Taras Shelestyuk in Canada on a Probellum card.
Also on the card, Kim Clavel, who was featured in the Top Rank bubble will face Mariela Ribera Valverde in a female junior flyweights bout.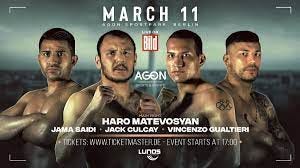 Jack Culcay, a great amateur and former world title contender is in-action against Khalil El Harraz, at 154 lbs.
WBA 108 lbs. world champion Yesica Bopp will face Jessica Nery Plata this weekend as well.
MMA In 500 Words Or Less
Saturday, March 12th, 4 PM PST – ESPN+
Light heavyweight Thiago Santos, a former world title challenger, and big puncher, will take on Magomed Ankalaev, as it feels the Russian invasion of the UFC continues, as the organization appears to be looking for the next Khabib, as well as riding his wave of popularity that he spured in the Russian market, as Ankalaev will face an established main event, and top guy in the division. The fight is void of excitement for the casual fan, but hopefully it gives a fight we're excited about after it.
Bantamweight Marlon Moraes, a former world champion in World Series of Fighting, will face Song Yadong, an action fighter, in a bout that could be the one to watch if you choose to sit down for this card. Moraes is one of those guys, who is a pro's pro, only losing to the best, so for Yadong, this is a big challenge.
Featherweight Sodiq Yusuff will face UFC personality Alex Caceres in the only other bout on this card I see as a meaningful to watch.